A few weeks ago I headed out of the office and met up with a local Sheffield company called CAST. CAST are based in Kelham Island, Sheffield and are a unique jewellery business allowing you to create and design your own rings, pendants or earrings. They do this in two ways; either book a session in person in their studio or an online masterclass with one of their jewellery making kits. Either way you get to create you own piece of jewellery, unique and individual to you.
Recently they have found that more and more couples have booked them to create their own unique wedding rings. So they invited me along to talk about their newest venture Ceremony by CAST. I have to say I wasn't sure what to expect, I see a lot of jewellery companies in this job, all claiming to be doing something new and different. BUT I was blown away by how new and innovative this was, how simple the idea was, how beautifully the whole process had been put together.
This is a first class operation that allows you to be as creative as you want. It allows you to create something personal to you, something individual, not only creating a beautiful wedding ring, but creating beautiful memories together and a one of a kind piece of jewellery you will cherish forever.
As mentioned, you can create your wedding rings in two different ways. By booking a 3 hour session in the Sheffield Studio, where you can work first hand with one of the studio designers for £300 a couple. Alternatively, you can buy one of their Wedding Ring Kits and create your rings in the comfort of your own home. Either way the process is pretty simple, starting off with the CAST signature blue wax, that you will work, cut, file and shape into your own ring designs. This is then sent off to be cast in silver or you can choose to upgrade to a different metal. The results will be your very own, one of a kind ring that you know no one else in the world will own!
James and Luke the Co-Founders of CAST have been kind enough to answer a few questions for me, telling you more about this amazing business.
Welcome to Ceremony by CAST. We specialise in helping couples design and hand craft their dream Wedding and Engagement Rings.
We are an expert team of designers, makers, thinkers, doers and dreamers, with teams based in Sheffield, Birmingham and now (drumroll please), Denver, Colorado!
We love what we do, the people we meet, the stories we're a part of, and the bespoke pieces we help bring to life. You name it, it's possible.
Creating your own Wedding Rings couldn't be easier. Design in-person alongside our team in our Sheffield design Studio, or from home, with one of our award-winning Wedding Ring Kits.
We've helped hundreds of wonderful couples ditch cliché, mass-produced Wedding Rings, in favour of bespoke heirlooms, bursting with THEIR personality.
What made you start your business?
The CAST brand launched in 2016, and we have been helping people design their very own pieces of jewellery ever since. We've now cast over 35,000 customer-creations, each one original and unique to its maker. Pretty crazy really!
Within the 35,000 unique creations, we've also helped couples make their own Wedding Rings. It wasn't something we massively advertised or even spoke about, but it was quickly emerging as a huge part of our business. We also absolutely adore the idea of helping people make such special pieces, and that we have the means to help create a truly unforgettable moment in time. That's what it's all about for us.
This year, we decided to launch Ceremony by CAST, which would house all things 'wedding-related'.
For bespoke Wedding Rings, Engagement Rings and fun-filled Hen Parties, the team behind Ceremony have it covered.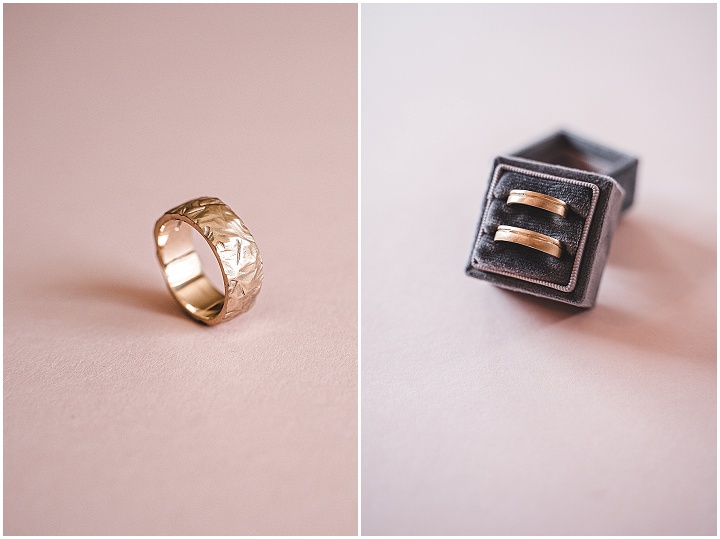 Where are you based? 
People travel far and wide to visit us in our Sheffield Studio (we had a couple travel from Qatar to make their Wedding Rings with us!!).
The 'make at home' kits allow us to work with couples globally – We've sent kits and organised video design-consultations with couples in the United States, Holland, Germany and Australia!
We host Hen Parties here in Sheffield, and at pre-arranged venues across the UK (we can help arrange a venue). Groups have the option to purchase a kit per group member and do it all virtually via a scheduled video call with our event host. In short, we're up for anything!
What is your biggest achievement so far?
For us, there's nothing more exciting and fulfilling than helping a couple design their dream rings. To have now done that hundreds of times over, and with such love and joy each time, is something we're most proud of as a team.
We've also collaborated with Nike, Wimbledon, Google, Netflix, IKEA, Stylist and The Gleneagles Hotel .. But who's counting. Accolades and big name collaborations are great, but nothing compares to the joy we experience when working with couples in love!
What makes you different to your competitors?
Fun, creative, collaborative, interesting, exciting, entertaining, engaging .. and that's just our team!
EVERY small detail counts. We pride ourselves on delivering the most magical experience and highest quality product. Our hosts are supremely talented, which makes almost anything possible (even without any experience or 'creativity').
The design-part is done by YOU, which is unlike most competitors. We guide, you create. That ultimately means that the rings you create have been made by your own hands, together. How cool is it to say that you made your own Wedding Rings?!
What sort of couple do you think you attract?
Our couples are fun-loving, creative, curious memory-makers. They know what kind of rings they'd like (or rather, that they can't find), and they recognise how amazing it would be to make together.
The creative process is much easier than it sounds, and our team is with you every step of the way. This means skill, experience and even creativity are completely irrelevant – all you need is an open-mind and a little imagination.
Can you give me some information on your pricing structure?
It's £300 to book the Studio which includes a 3-hour workshop, all materials and tools required to handcraft your Wedding Rings, an expert host and a bottle of fizz. Our Wedding Ring Kit is £250 which includes two sets of tools, access to The Makers Table, our online hub for step-by-step guides, tutorials and inspo, plus the opportunity to book an hour's 1:1 virtual masterclass with one of our design team. Both of these options also include your two Wedding Rings cast in solid recycled Silver. When upgrading the metal to solid Gold or Platinum, each price is based on the weight of the piece the customer creates, rather than blanket costing everything. So it's relative to the customer and their design! Get in touch for more info on pricing.
What can you never leave the house without?
My phone. BUT. It's a healthy obsession, I promise. I'm always taking photos and making notes and voice notes when I'm on the move. My mind is always whirring and I find inspiration in almost anything. My camera roll is full of photos and screenshots. Without my phone, I'd have to go old school and make sure I carried a notepad around.
Who would be your 5 dream dinner guests dead or alive?
Impossible question. Louis Theroux, Miriam Margolyes, Pharrell, Maya Angelou, Brian Cox.
What would you do if you won the lottery?
I think I'd like to see more of the world. I love to learn, and there's no better way than to see the world through other people's eyes.
If you weren't running your business, what would you be doing?
Probably something to do with the film industry. Making films. Writing films. Watching films. Starring in films.
Mini Moon Experience
If you love this idea as much as I do, then you will be interested to know that CAST are offering a Mini Moon experience. For £600 per couple CAST have joined forces with local restaurant JÖRO for a super special culinary experience. JÖRO is amongst the best (if not THE best restaurant in Sheffield)  This offer gives you the 3 hour CAST workshop, two silver rings, an 8 course tasting menu at the restaurant, an overnight stay at the House of JÖRO and breakfast the following morning. Believe me this is an absolute treat of an offer!
The Heirloom Kit
'Jewellery with Soul' (I love this idea) The Heirloom Kit gives you the chance to preserve finger prints of babies and little people and paw prints in the CAST unique wax and then turn them into your own pendant, ring or earrings. A beautiful idea to hold those cherished years close to you forever. These are wonderful as mementos or for personalised gifts, pendants, cuff links, the possibilities are endless.
Hen Parties
For £100 each you get a 3 hour jewellery workshop, drinks and a piece of jewellery cast in silver. I just LOVE this idea! What a fun way to spend your hen celebrations, and you all get a wonderful memento of your time together. This also comes in kit form, making it the perfect activity whatever part of the country you live in.
News hot off the press
They will be adding an in-house CAD design to their Studio services. Couples will soon be able to book a 1:1 CAD workshop with the team, and design their dream Engagement Ring. They will also be opening bases in London, Bath and Edinburgh within the next 12 months….Exciting!
I can honestly say that I LOVE this idea. When I came home from the CAST Studio I really wanted to book myself in for a workshop to create my own piece of jewellery. I love the set up these guys have. They are young, creative, vibrant and full of fresh ideas. 'Ceremony by CAST' is an inspired idea, and perfect for any couple looking to create something that is original, personal and unique to them. How cool to design and help make your very own wedding rings…….The possibilities are endless!
For more information on CAST
www.experiencecast.com / [email protected] / FACEBOOK / INSTAGRAM / INSTAGRAM / PINTEREST
This is a sponsored post