Happy Hump day everyone! We are now half way through the week and I have another busy day here on the blog with a post for you this morning and another this afternoon! We are starting this fine Wednesday with the wedding of Sydney and Austin who were married on 31st October 2021 in Sedalia, Missouri. They held their wedding on Halloween but kept the theming very subtle, with black accents in the napkins and the bridesmaids outfits, instead they focused on the autumnal reds and oranges in the flowers, giving the day a warm and cosy feeling. Big thanks to Brooke Buck Photography for the lovely photos.
More from Brooke the photographer
Sydney and Austin's Halloween wedding was a treat for us all. The Heritage Ranch barn was decorated with fresh and dried flowers that the bride foraged herself. The wedding party wore classic black and white suits and dresses and Sydney wore a stunning lace gown. Her veil and Hollywood bouncy waves pulled some retro vibes into her look. The couple had fun and aesthetically pleasing details such as an old school photo booth with props, mailbox for letters to the couple, trick or treat boxes with a wide variety of candy options, disposable cameras for the guests, and beautiful signage that the bride made herself. They served "brinner" and danced the night away under the twinkling lights.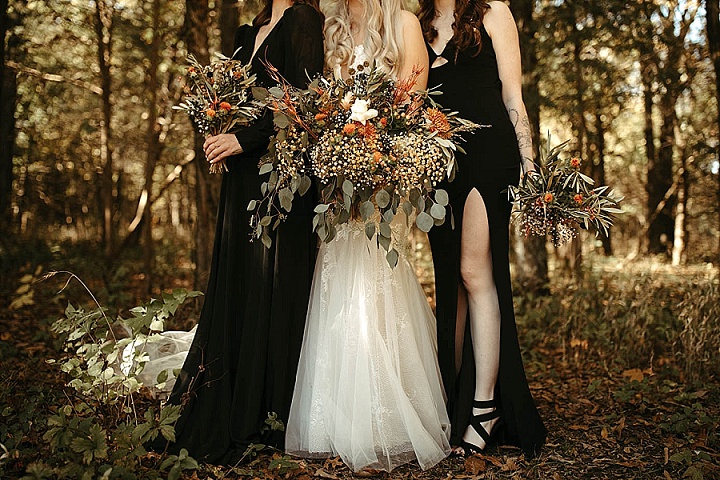 Supplier Shout Outs
Brooke Buck Photography