Happy Friday you lovely lot! I hope the week has been kind to you and that you are ready for the weekend ahead? This week has just flown by, I am so busy at the moment, every minute seems to be accounted for, so I am looking forward to the weekend and a bit of time to unwind and get a few jobs done! What about you? Is anyone getting married? It's getting to that time now isn't it! Wedding season is upon us, it's so exciting! So to end the week I am taking you to York for the gorgeous Tipi wedding of Lisanna and Gary. This whole wedding is a real celebration of fun and love, they look like they are having so much fun, a real delight of a wedding day! I love the chilled vibe and you really can't go wrong with a tipi wedding. Big thanks to Matt Sim Photography for these gorgeous images.
The best Tuesday we will ever have. Funniest, happiest, magical celebration
Lisanna and Gary were married on 9th August 2022 at  Skipbridge Country Weddings. 'We loved the feel of the venue and how quirky it was like our own mini festival. We had 100 guests, it should have taken much less time plan but we had to postpone due to covid, so 3years in total.'
How they met
Out at a bar in Leeds, we txt for what felt like months, before finally going on a date, 2 months later Gary moved into mine then fast forward 2 years I was pregnant with our little lady Dixie, we later bought our first home on the outskirts of Leeds and began planning our wedding. We have now been together 8 years.
The proposal
We had gone to Scotland to visit my family ( I am Scottish despite the name suggesting otherwise) we had gone to coast for a few days while there we were having a walk along the beach with my parents, I was lending down to show Dixie (our daughter) the swans at the water and just heard will you marry me turned round to Gary holding a ring, my parents had little confetti poppers and champagne when I looked up…. Good job I said Yes lol!
How did you allocate your budget?
Not really sure we did lol!
Where did you splurge and where did you save?
Splurge on venue/ food and saved on digital invites and decoration as the venue was beautiful and didn't require much
How did you choose your photographer?
I loved the fact that Matt pictures where all very natural and pretty unique, I never wanted all the staged type and wanted the pictures to really tell the story of the day rather than forced smiles and staged– we met for coffee and instantly we knew Matt was the right choice for us as a fellow Scot I knew it was a sign, his calming manor on the day was amazing, we didn't even notice him while we were getting ready or around the venue and the pictures speak for themselves, they tell the story of the day perfectly, we cant thank him enough as these will forever be the best memory to look back on.
The dress 
I had my dress and Dixie matching flower girl dress custom made by Allana Costume Maker and Seamstress it was the best decision and the most enjoyable experience I can't recommend Allana enough and your accessories and shoes? I had White Italian leather peep toe heels and some matching converse for evening with Dixie. White satin gloves and a birdcage veil.
The suit
Gary wore a Kilt to celebrate me being Scottish it was a lovely touch and bridesmaids Wore multi wrap dresses from Victoria Lou
Theme or colour scheme
The theme was a party / festival vibe and we had sage green as an accent colour I wanted it all pretty chilled and natural so it wasn't massively themed by colour.
Flowers
Scottish thistles with pampas and eucalyptus
Decoration
Again, this was fairly relaxed the venue speaks for itself so we didn't need much, some table names in frames and a few flowers
Food
Various Large Canapés to start and then a tapas main – everything from  patatas bravas, paella, cured meat, salads and selections of breads Catering Yorkshire designed the menu and it was perfect the day itself was 30 degress plus so glad it was relaxed.
Wedding cake
No, we had a desert table of over 250 different deserts included custom made shortbread with tartan icing to match Gary kilt and a donut wall.
Entertainment
My niece Lamaya sang me down the aisle followed by Andrew Lingard who took us through the wedding breakfast followed by DJ for evening entertainment
Who supplied the stationery?
Our Invites where digital and actual free as it was a company starting up there was an app so was easy to keep hold of RSVP and also any dietary requirements – Table plans where by the crafty Northerner who draw litter images of Gary, dixie and myself with Yorkshire and Scottish sayings.
Where did you go on your honeymoon?
We had a family honeymoon with our beautiful daughter Dixie to Puerto Rico In Gran Canaria
Personal touches
My brother wrote a poem on the day as part of the ceremony which we didn't hear it till the day it was very personal and pretty funny
Special moments
Having everyone together after Covid there was parts of Covid I didn't see family for up to 10 months so was nice to have us all together for a party.
Advice for other couples
Enjoy every minute it really goes so fast! Take time to check in with each other during the day
Biggest surprise
The weather with an outdoor venue in the UK this is never a guarantee but we couldn't have been luckier it was the warmest week of the year !!!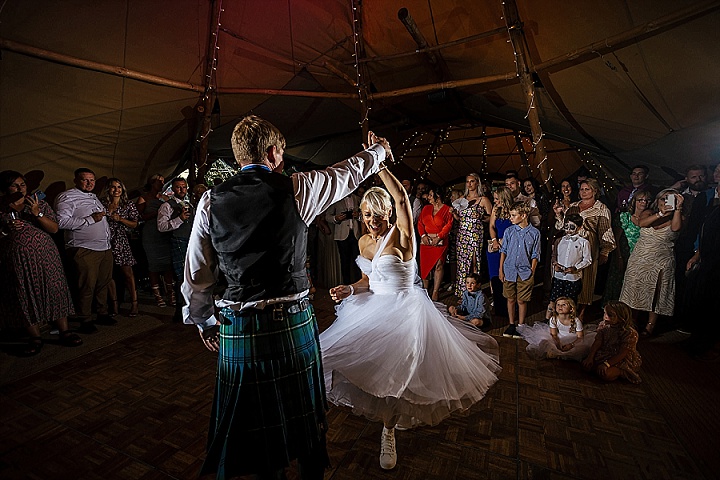 Supplier Shout Outs