Your wedding day deserves to be whatever you've dreamed of. Whether you want the best and biggest of everything or a more intimate affair, there are ways to make your wedding stand out. Start with unique wedding favours — you'll give your guests something to talk about for months after your wedding ends. With a little brainstorming, you'll find wedding favours everyone will love.
These Unique Wedding Favours Are Sure to Wow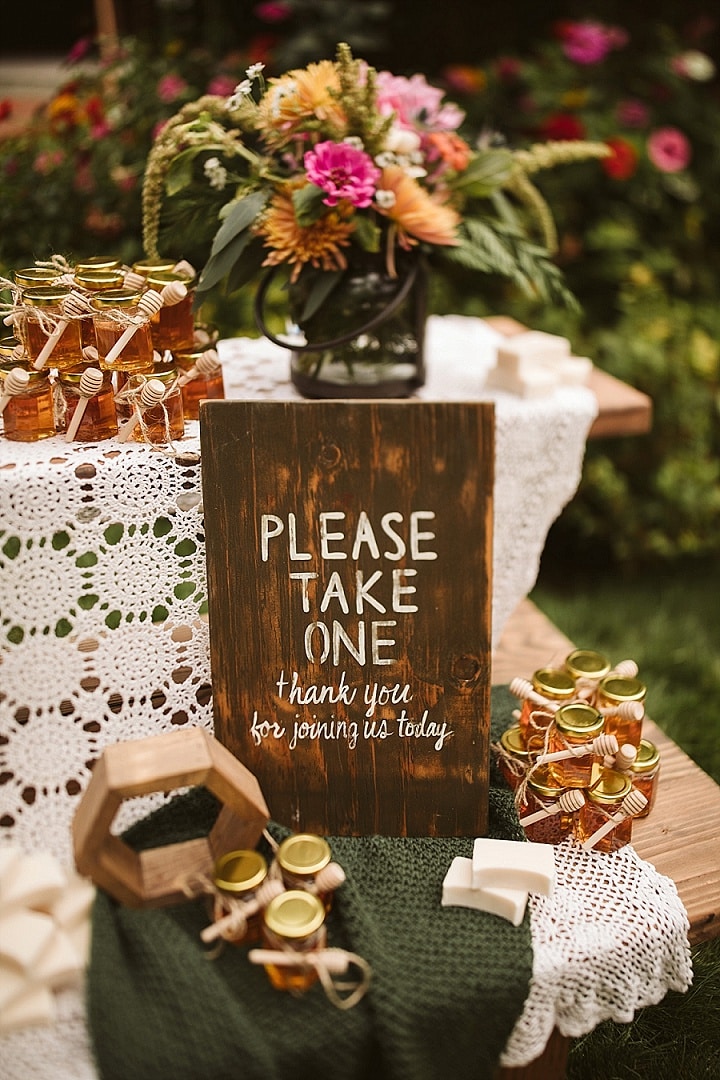 1. Woven Fans
The summer months are often the most popular months to get married, so you might expect a warmer temperature for your big day. If you're getting married outside, it can get hot quickly. Woven fans are the best favor for anyone getting married during this time, as they can keep your guests cool — especially if your ceremony takes place under the sun.
2. Blankets
On the opposite end of the seasonal spectrum, fleece blankets could be a great wedding favour if you get married in the colder months, especially if you plan on having an outside ceremony.
Blankets provide your guests with warmth throughout the night, and you can even embroider them with a guest's name, the wedding date or some cute saying that makes the gift less personal and more general. The best part is that you can order the blankets in your wedding colours.
3. "Let Love Grow" Succulents
Everyone loves succulents, as they're beautiful plants that don't need much care. Succulents can't sit in water like other plants, so your guests should know to thoroughly drain the pot whenever they water them. Other than that, these plants are content to sit wherever they're placed and look pretty.
Your guests will enjoy the purer oxygen in the air and remember your day whenever they look at their succulent.
4. Marble Wine Stoppers
You don't have to customize something to make your wedding memorable. Your wedding favor might see more use if it's a practical item with some value, which is why a wine stopper is the gift that keeps on giving. A marble wine stopper is elegant and gorgeous, and it will fit in with almost any decor or aesthetic. It's a great idea for an elegant wedding favor that guests will surely use for any open bottles in the future.
5. Mini Pizza Cutter
A mini pizza cutter is definitely a unique wedding favor. It would be a great addition to a more casual wedding, especially one with a pizza bar or pizza-themed afterparty. Whenever your wedding guests make pizza in the future, they can pull out the mini cutter and think of the special day they shared with you.
6. Flower-Shaped Candle
Candles are a great option, especially if they're made of soy wax and ethically created. You can make your candles slightly more personal by ordering ones in the shape and colour of the bouquet or decorations on your big day. Your guests can have a sweet-smelling candle to burn to remind them of one of the sweetest days they've ever experienced.
7. Sleep Masks
Sleep masks are a great way to promote any healthy habits your wedding guests want to chase. Light-blocking curtains can help you sleep deeper by making the room darker, but sleep masks make it more possible for your guests to have a restful night of sleep. You don't have to personalize the masks too much, but a fun saying embroidered in the fabric could be a cute way to memorialize your big day.
8. Artistic Keepsakes
Making something by hand might add a bit of pressure to your wedding preparations, but it can yield a beautiful result. If you have an artistic flair, you might create something out of clay that your loved ones can keep forever. Make sure to work on a silicone mat, which stays in place so you can focus on crafting. Hand-crafted pieces can be the sentimental cherry on top of a great day.
Alternatively, you could hire a local artist to create mini canvases you can display at your wedding. Then, people can pick one out to take home with them — a tiny reminder of your wedding in their home forever. These canvases could be small enough to be displayed anywhere in the house to fit any interior aesthetic.
9. Treat Bar
Instead of offering your guests treats to take home, let them pack doggy bags for their animals who couldn't attend the ceremony or reception. Around 70% of households have pets, meaning that many people who attend your wedding will be delighted by a dog and cat treat bar. Find an assortment of treats for all kinds of pets and offer them to your guests. It could be a sweet way to honour any pets you have at home who weren't featured in your wedding.
10. Trinket Dish
Sometimes people need a catch-all after a long day. A cute trinket dish shaped like a heart could be a great way to show your guests that you care. It's a great option for small rings that people wear often, and as long as it's not too personalized, it'll likely see a lot of use in any household.
Find a Wedding Favour That Works for Your Guests
Every wedding is different, and every guest list has a variation of people that may prefer some favors over others. For example, if most people on your guest list don't drink alcohol, you might not want to get wine stoppers. However, they may love burning candles or hosting pizza nights, so some other unique favors would work well for them.
Assess who your guests are at their core. You should be able to find a favor that works for them. Ultimately, your wedding will be a celebration to remember, and the wedding favors will just be the icing on the cake of a fantastic night.
this is a collaborative post