Happy Monday everyone! How are you all? I hope you had a wonderful fun filled weekend? Mine was lovely, I went to Chester to see an old school friend, we have been friends now for 42 years, so we had lots to catch up on. We went out for a delicious meal, walked, talked, drank, just what the doctor ordered! I am now rested and ready for another busy week on the blog. I have some cracking weddings to share with you, starting off with this gorgeous wedding from Lauren McCormick Photography. After spending 3 years renovating their home, Erika and Roger decide that it was the perfect location to hold their wedding. They created so much of the decoration themselves, from the wooden chargers, to the signage, the flowers, the seating chart and the garland wall, they really did put their heart and soul into the day and the results are spectacular. I just love the easy, laid back nature of the day, I'm sure you will to.
You spend 10 months planning one day to just hope it turns out. It was beyond anything we could have ever dreamt.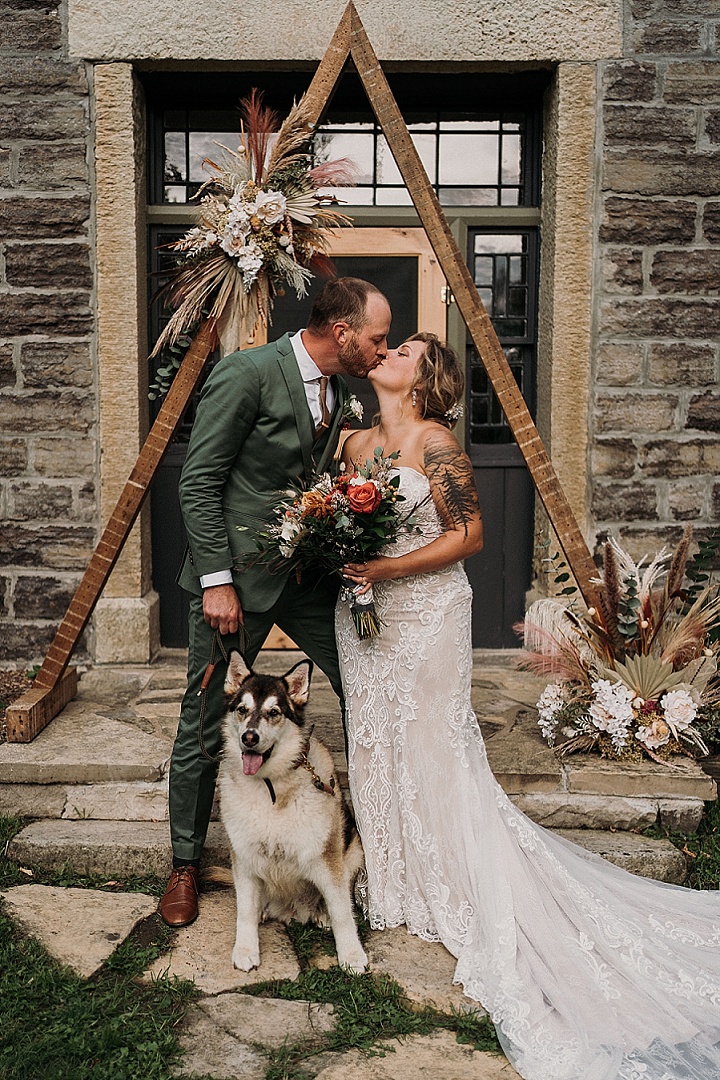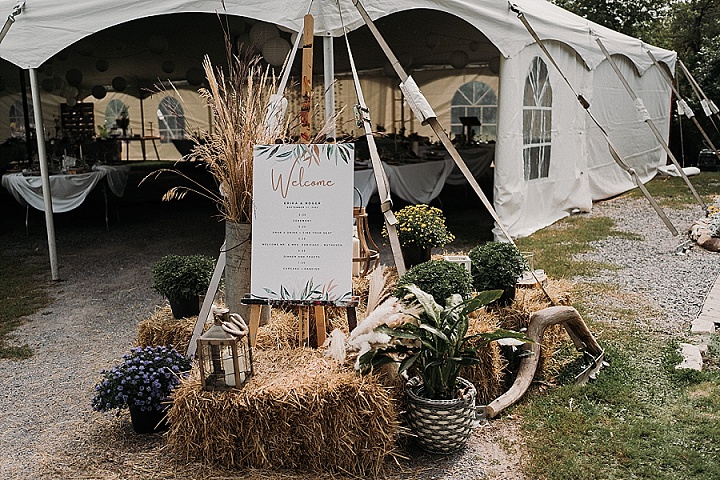 Erika and Roger  were married on 17th September 2022 at their home Almonte, Ontario, Canada. 'We have spent the last three years of our lives updating and renovating our house to make it home. We never plan on moving again, so it was a no brainer to get married at the most important location. We had roughly 110 guests, we started planning in December 2021 and married in September, so roughly 10 months'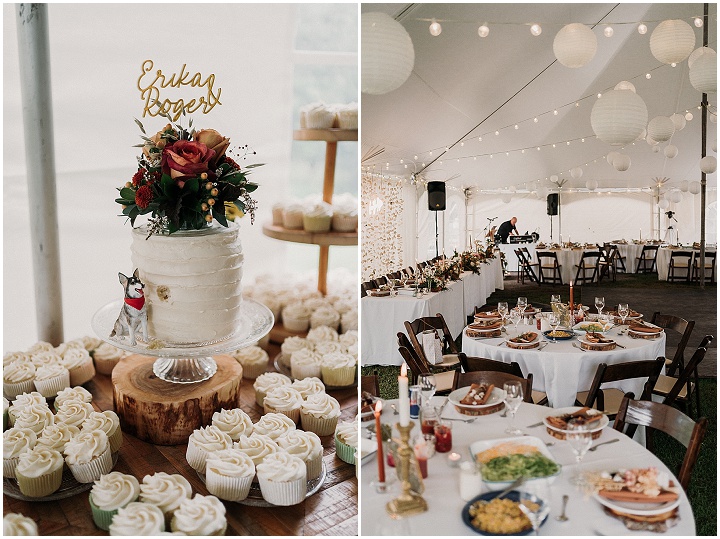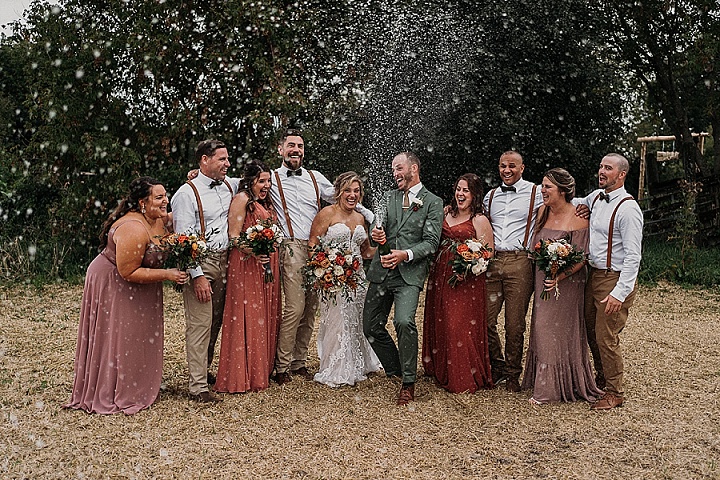 How they met 
We met on Bumble and both swiped right. On our first date we realized that we had been to many of the same concerts, shows and events. I went to High School with his sister, he chatted with my brother frequently about music. When they say it is all about timing, it could not be more accurate. We bonded over all the same things, music, sports, camping, dogs and love for old homes and renovations. We were together 5 years before getting married.
The proposal
Roger planned to go camping in Algonquin in October for the last camping weekend of the year. The forecast showed rain all weekend and with that he asked if I still wanted to go. Of course I did, I just wanted to get away. Every year Roger takes a piece of wood and carves something into it to remember the summer. He reached over and grabbed a beautiful piece of oak I just spent hours cutting for the fire and started carving away. It became dark quite quickly while we were making dinner over the fire and I said, "please don't cut yourself doing that". Not knowing what he was carving. When he was finished, he put it carved side down on his chair and asked me to pick it up and tell him if he liked it. I picked it up and read "Will you marry me?" and looked over at him where he was down on one knee. It was perfect, just the two of us, our dog, and a campfire in one of our favourite places to camp with no one around.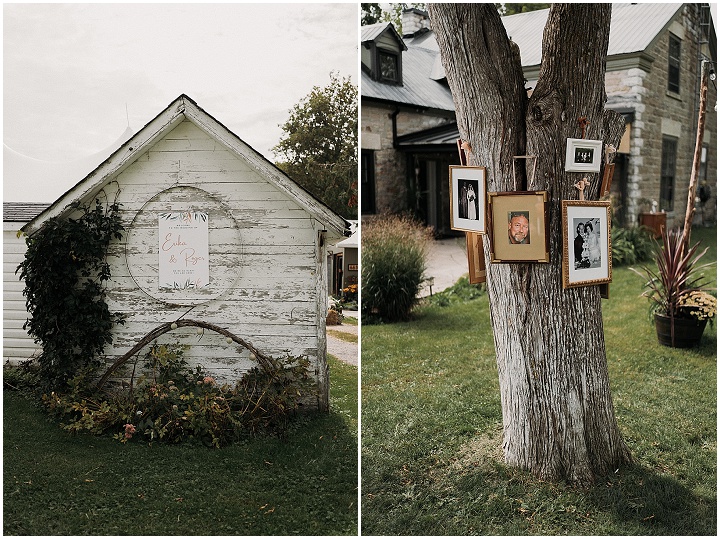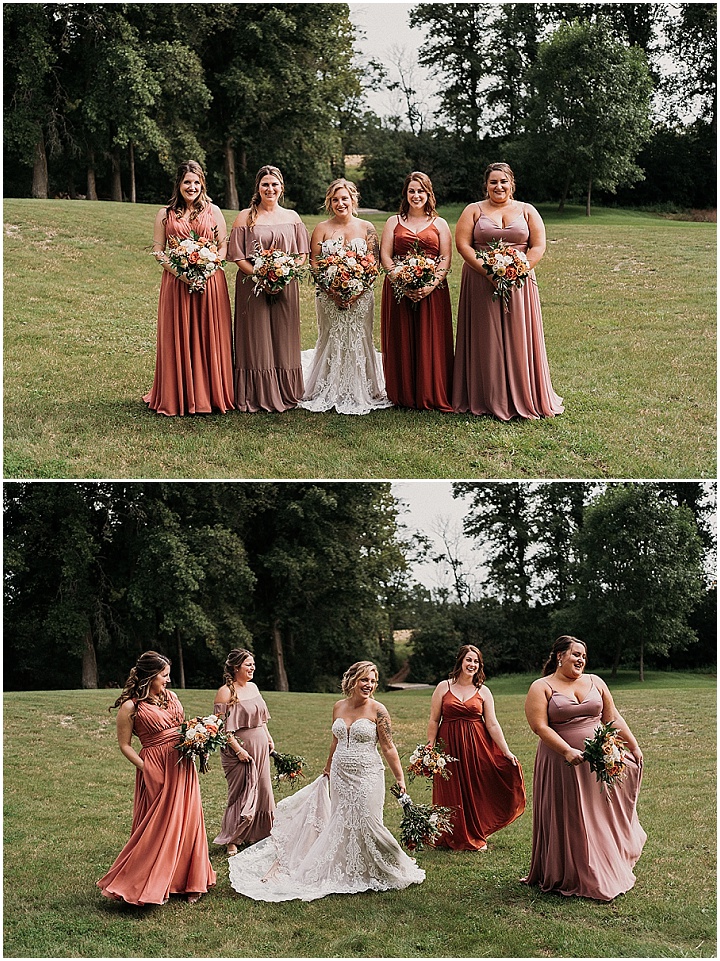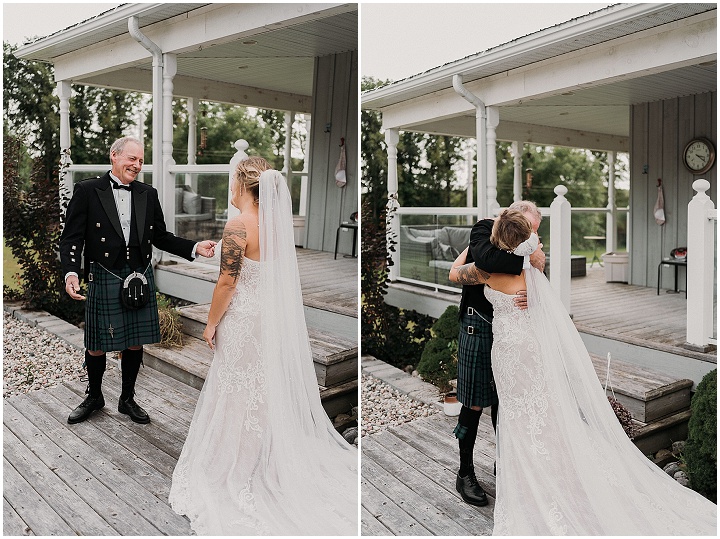 How did you allocate your budget?
We honestly just came up with a number that we were comfortable with spending and then blew the budget completely
Where did you splurge and where did you save?
We didn't really splurge anywhere exciting…. Because we had the wedding at our home we needed to rent a lot of things and I had no idea how much a tent costed. All the rentals blew the budget right off the bat. I did most of my own florals (except the bouquets) which did save and I thrifted most candle holders and made all my own signage.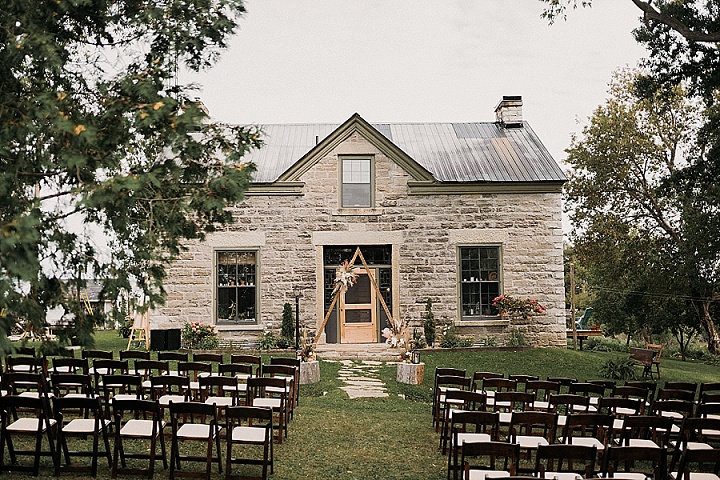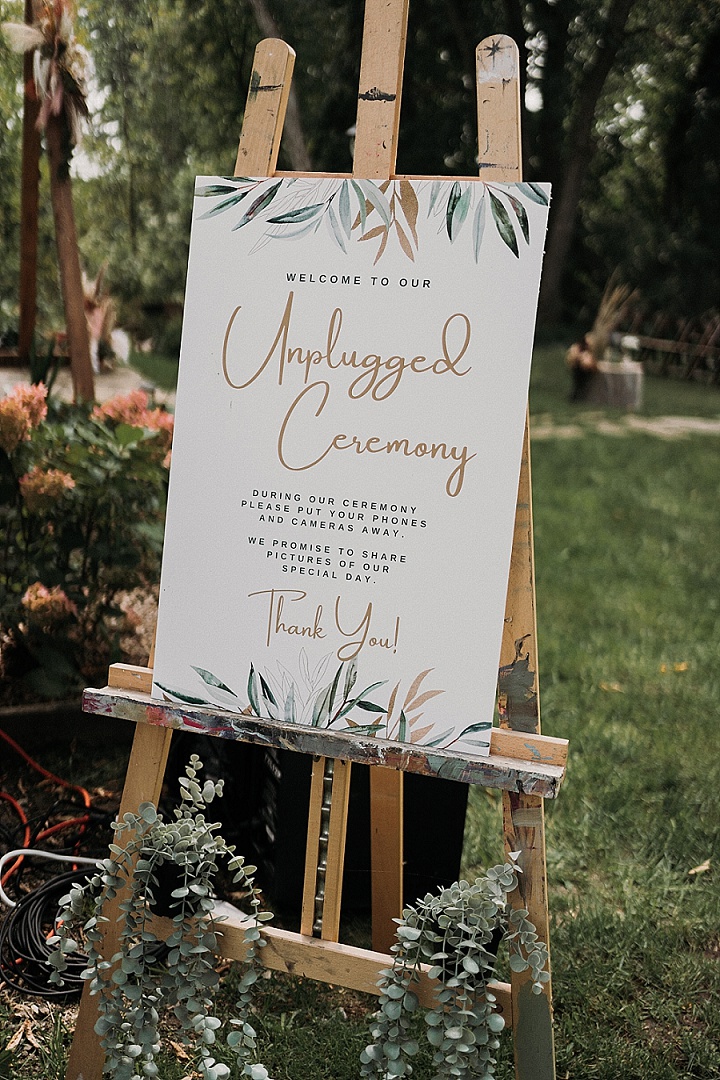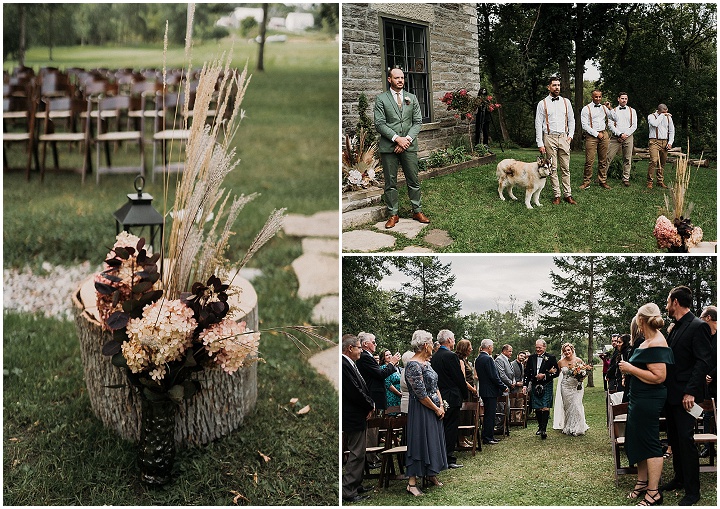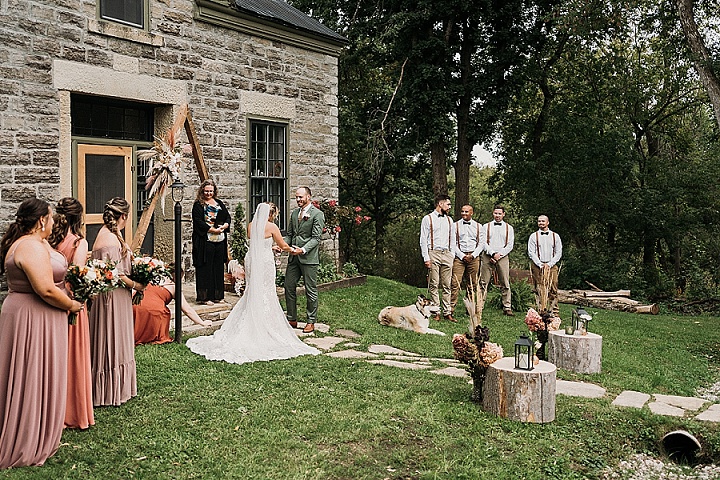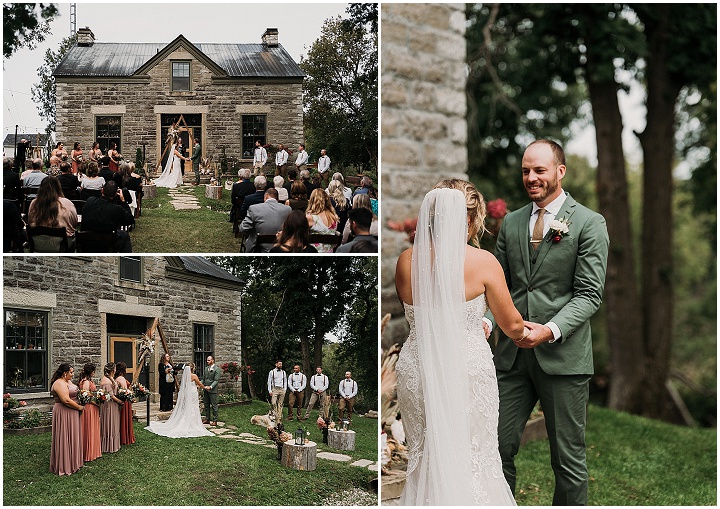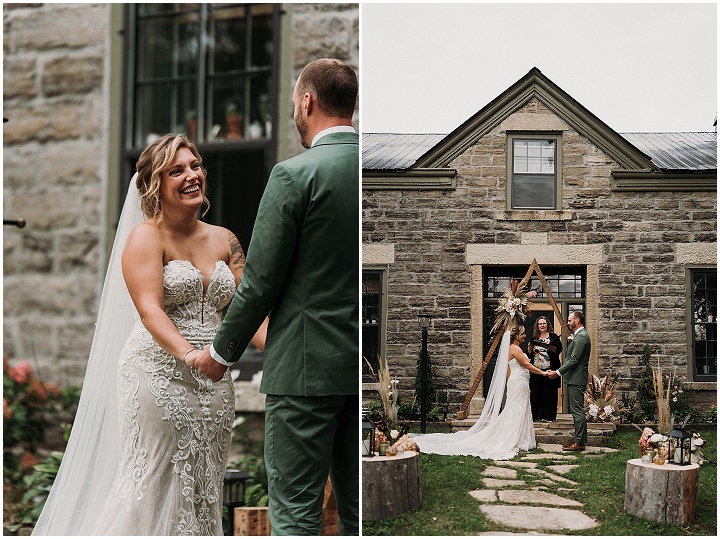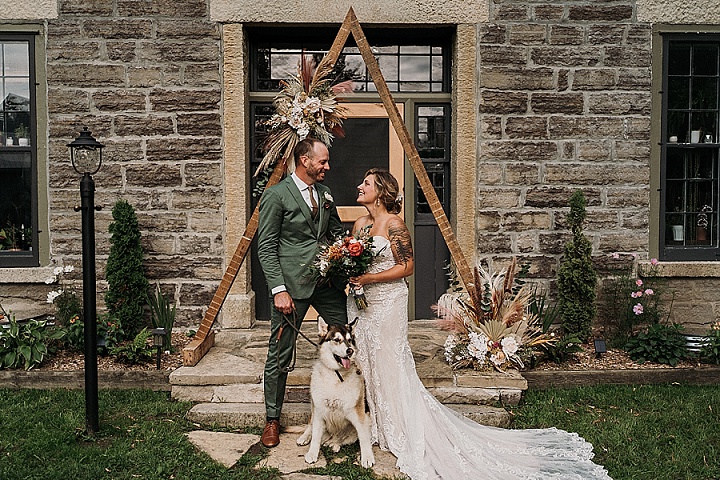 How did you choose your photographer?
Instagram helped, I have a very certain style of photography that I gravitate to and Lauren was perfect. She was one of two that I reached out to and she happened to have my date available.
How did you choose your videographer?
At first this wasn't something we thought we needed/wanted. As time went on we tried to find someone who meshed with our style. Growing up I knew Sylvain when he lived with my Uncle. He came out of retirement and just happened to have the date available still. We were beyond the moon excited and thought this was a sign.
The dress
The dress is Essence of Australia, the shoes were Badgley Mishka, The accessories were JJs House
The suit and bridesmaids
The suit was Indochino, the Bridesmaid dresses were selected from With Love Bridal in Kanata, Ontario, Canada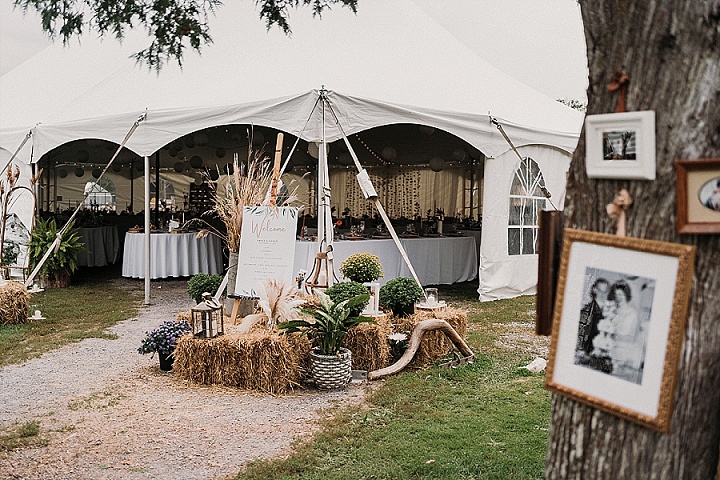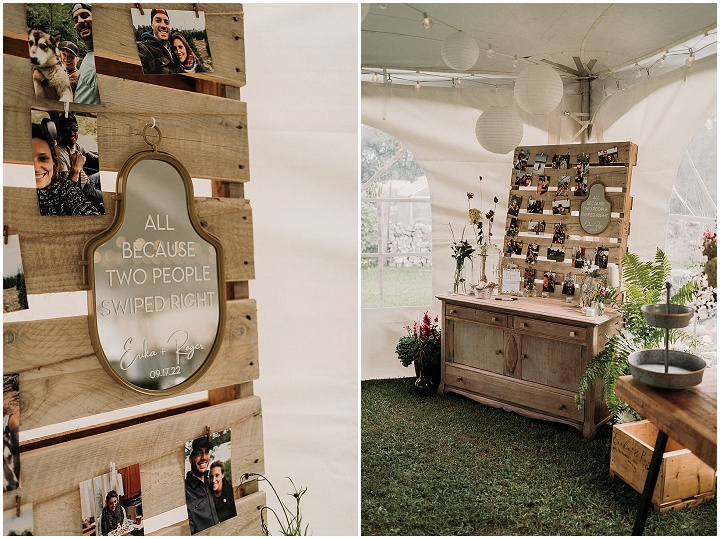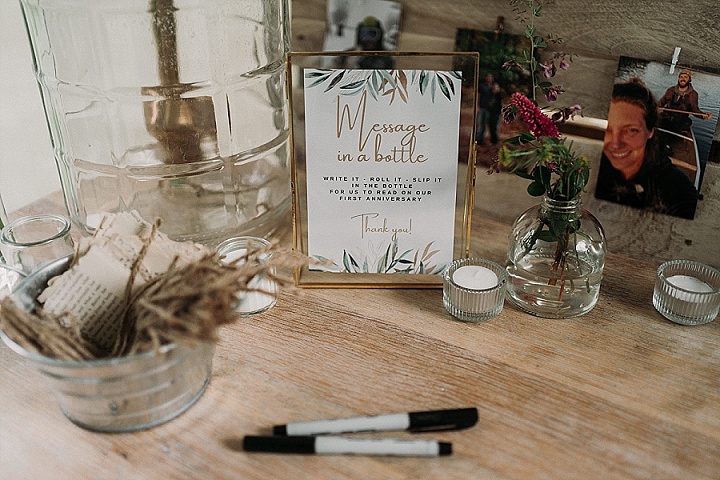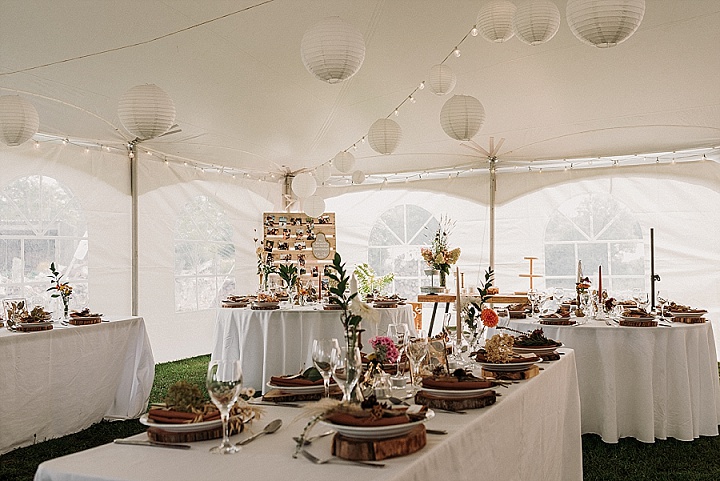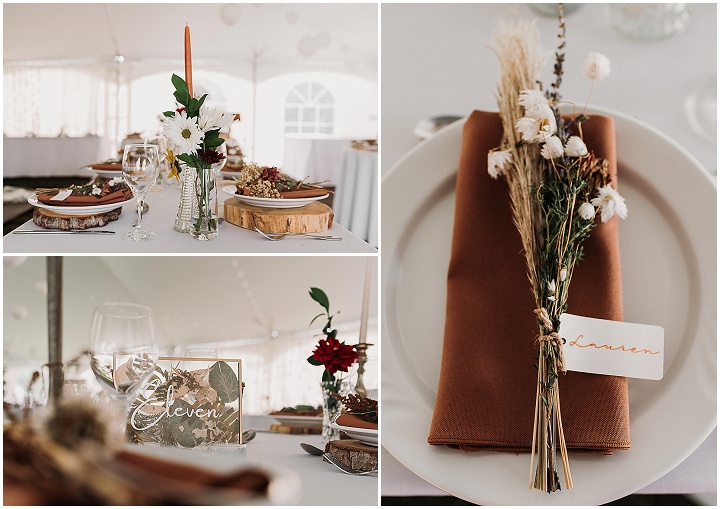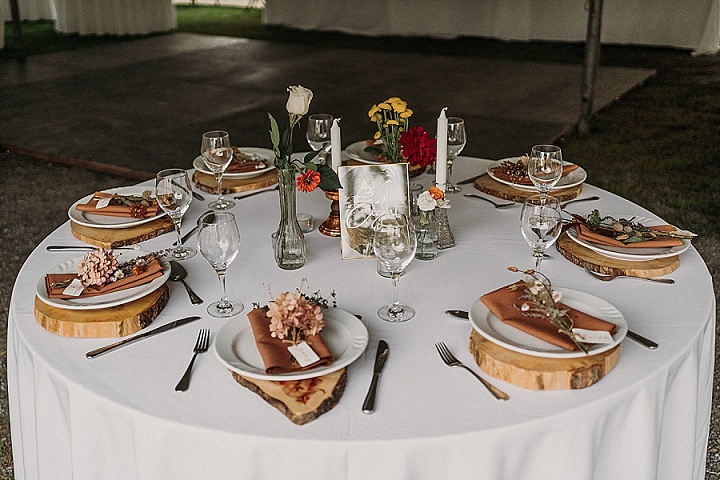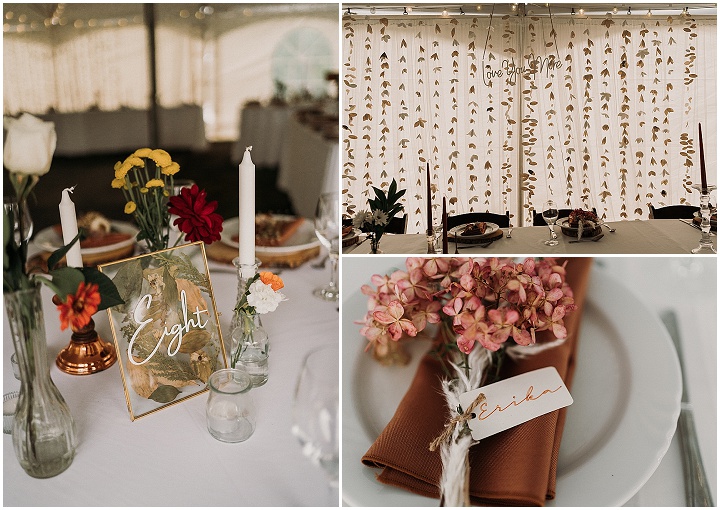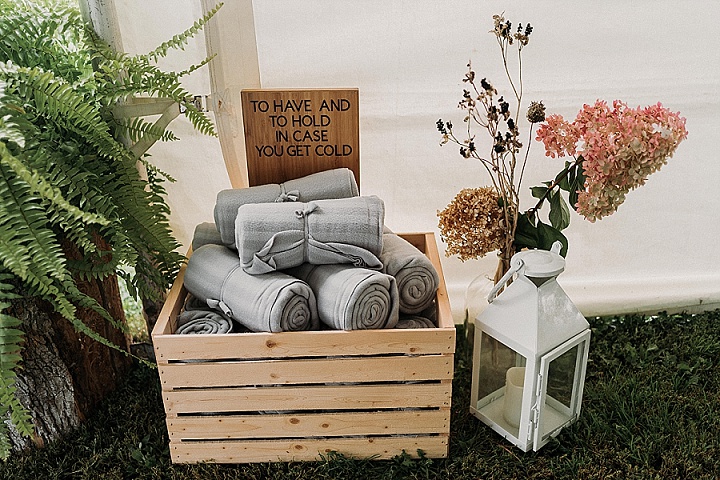 Theme or colour scheme
The colour scheme was to just be very natural. We love plants and greenery and wanted everything to feel very earthy. We went with warm white, terracotta, dark green and muted colours.
Flowers
This is something I was not picky about. I gave the florist colours that I was going for and gave her full creative ability and trust that she would kill it. She did, they were perfect.
Decoration
Nothing crazy. In the tent we hung paper lanterns, so it didn't look too sterile, I made a garland from old paper to mimic flowers, we hung lights around the fire pit, a home made corn hole board. There was no big item, just a bunch of small things that we enjoy.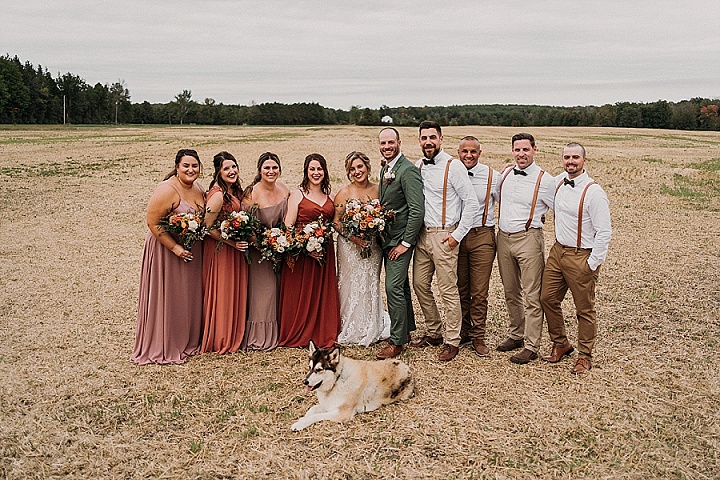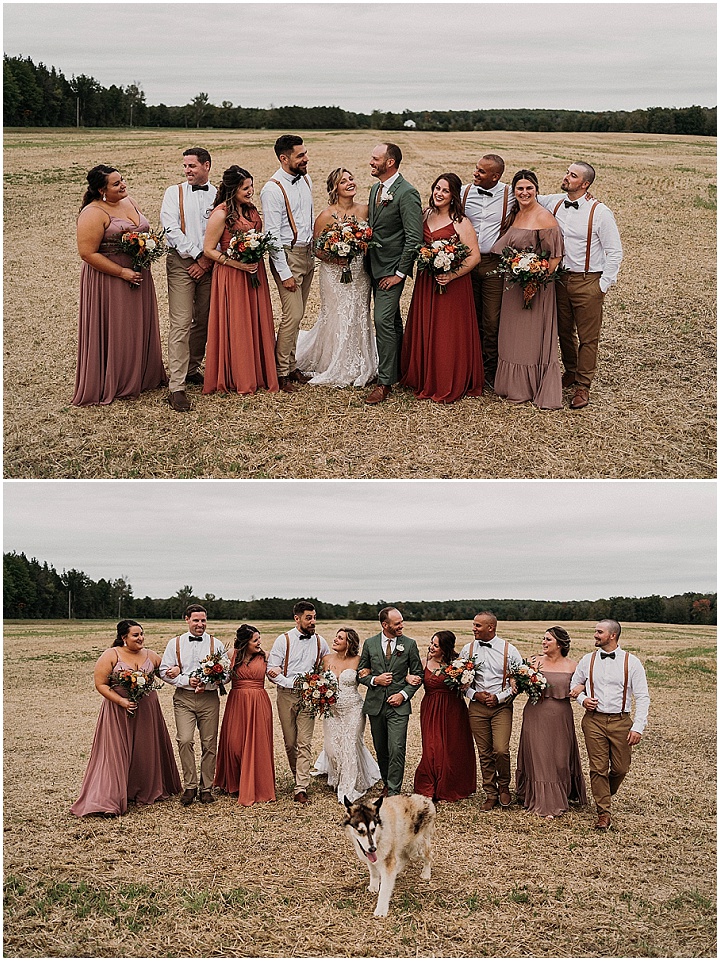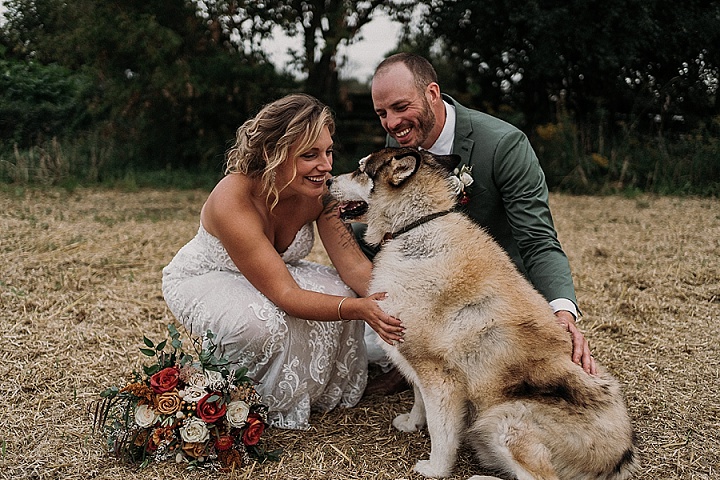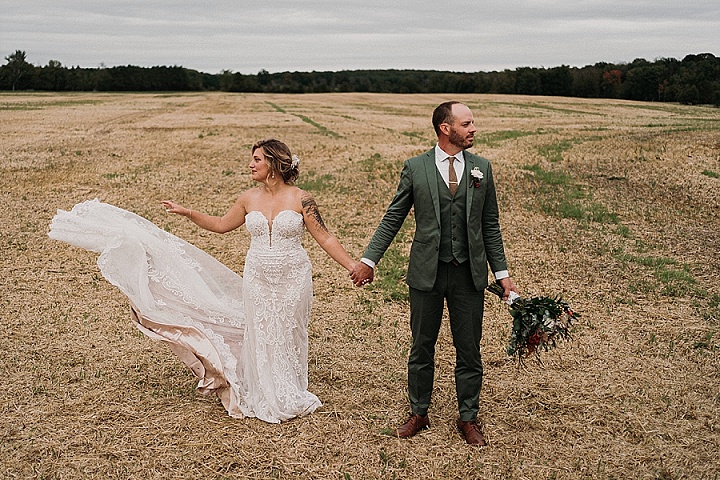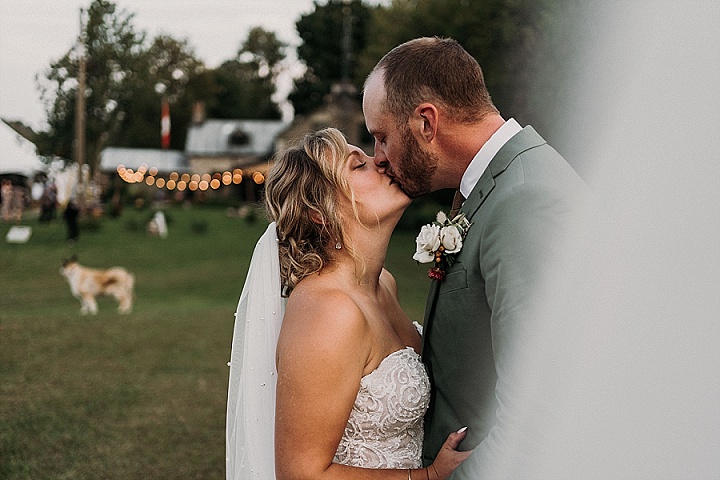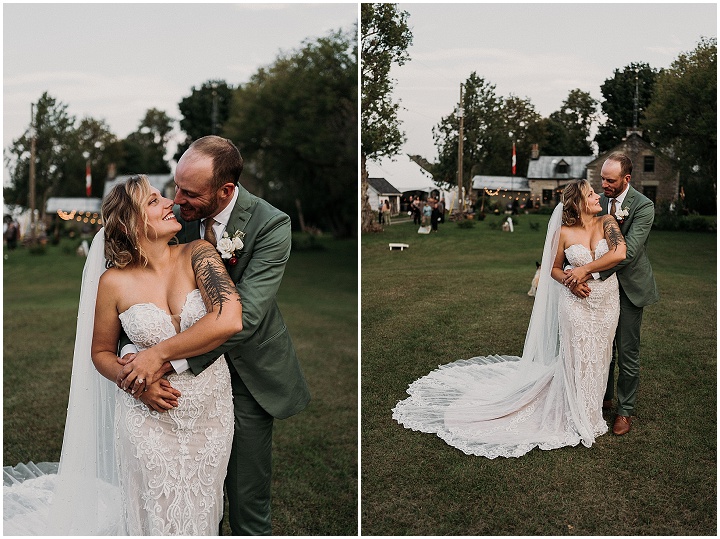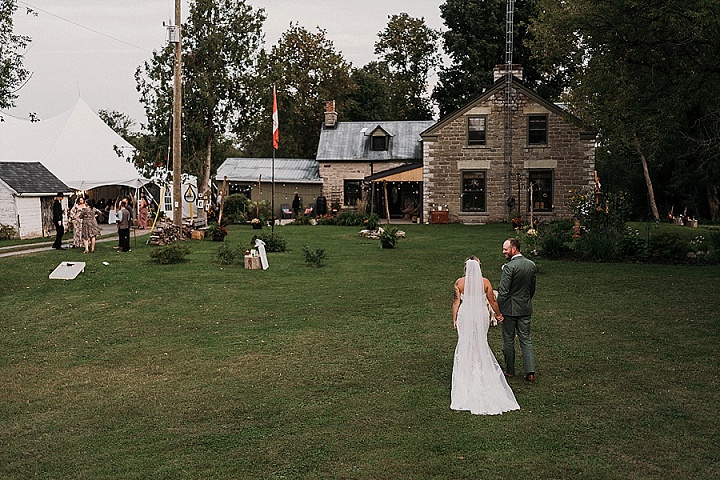 Food
TACOS! Family style Taco meal for the win! from Sandee's Country Kitchen
Wedding cake
The wedding cake was gluten free vanilla with vanilla icing. Simple Our friend Stacie made the cake and cupcakes for us.
Entertainment
We had a DJ to play for the reception, Capital Events and Entertainment
Who supplied the stationery?
We did all our own stationary for the wedding but had the large prints printed at Staples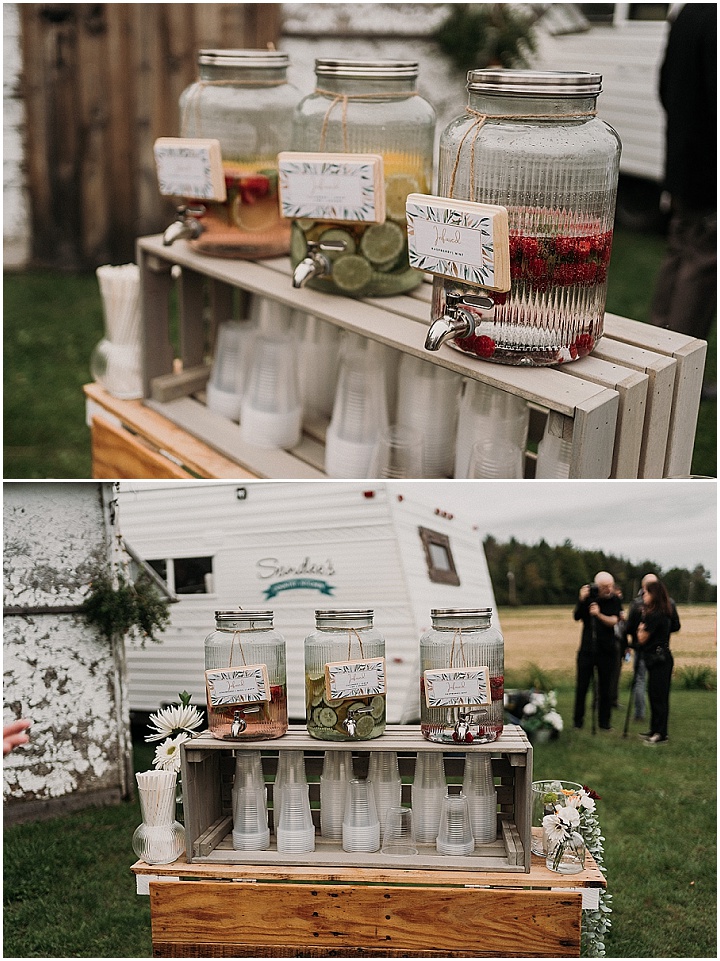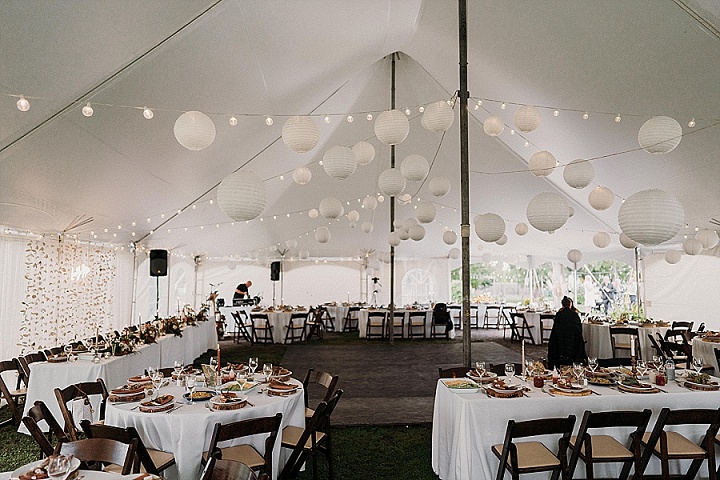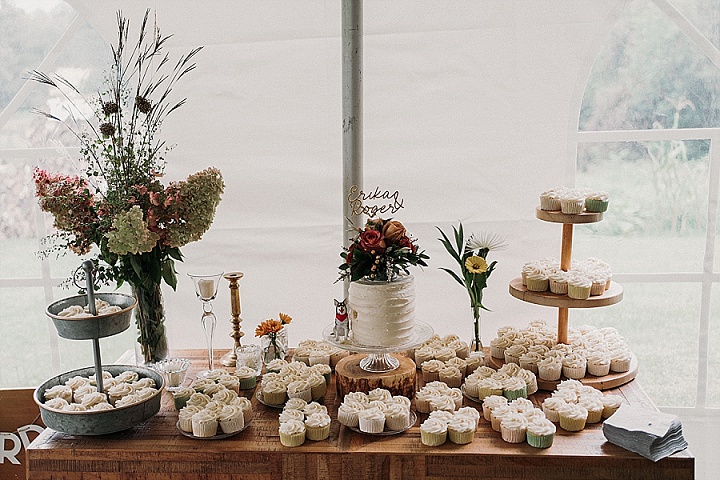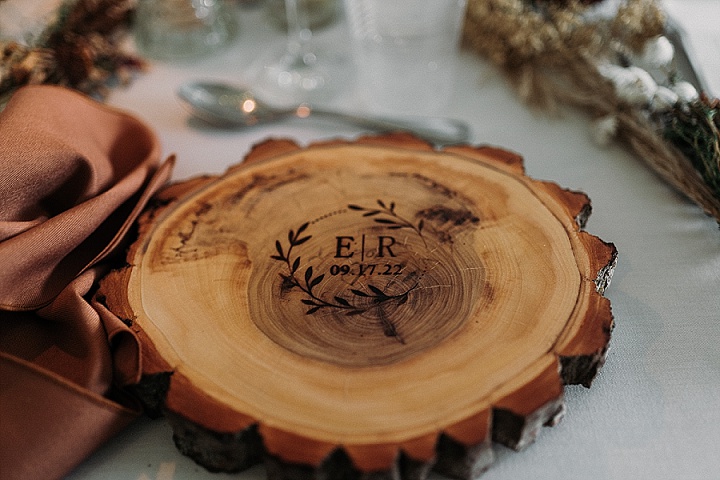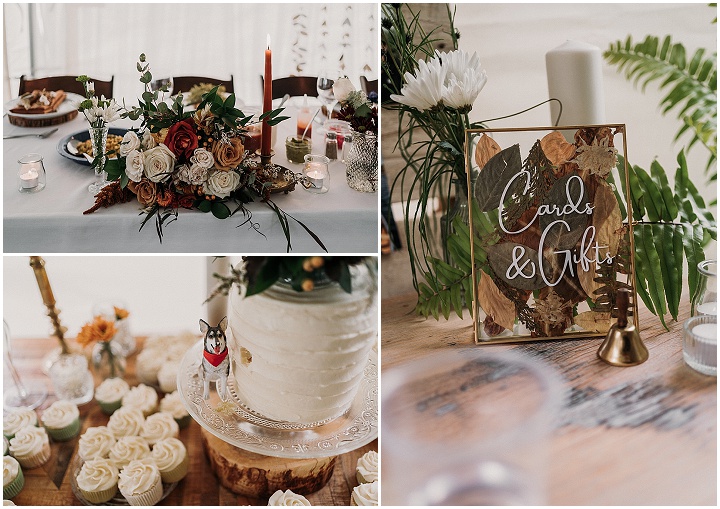 Personal touches
We did a lot of things ourselves. We made all our wooden chargers from trees on our property. We hand sanded them, branded them and top coated them. I made the garland wall out of old paper from books in our home. I made the seating chart and all table numbers with florals from our home. The confetti bags were handmade with flower petals from our garden. The arch was made by us with old wooden studs from our 1850's home. We made the floral bunches on the arch. We made the cornhole boards from wood around the house. The cheers sign and blanket signs were made by us. A lot of the work that went into this was us, lots of blood sweat and tears.
Special moments
The morning was perfect. We were expecting rain all week and it held off to make the perfect day. We wrote our own vows but only wanted to say them to each other. In the morning we took a blanket down to the creek, just the two of us and the dog and read our vows and exchanged gifts. This was so special to us that we could do something with no one else around. The moment with my Dad before walking down the aisle is something I will never forget. After dinner and pictures we went to the top of the hill at our house and just took it all in.
Advice for other couples
It is all worth it. All the arguing, tears, fears, worries, highlights, lowlights and everything between. It is all worth it.
Biggest surprise
It all just faded away. All the stress just disappeared. Roger and I were talking about how we were so scared to be the centre of attention because we both hate that. Once the day comes it truly does feel like it is just you two and nothing else in the world mattered. I didn't think that would happen, but it did.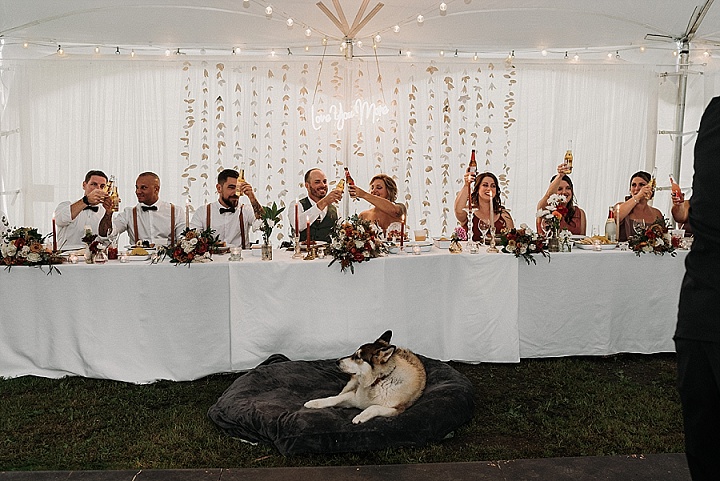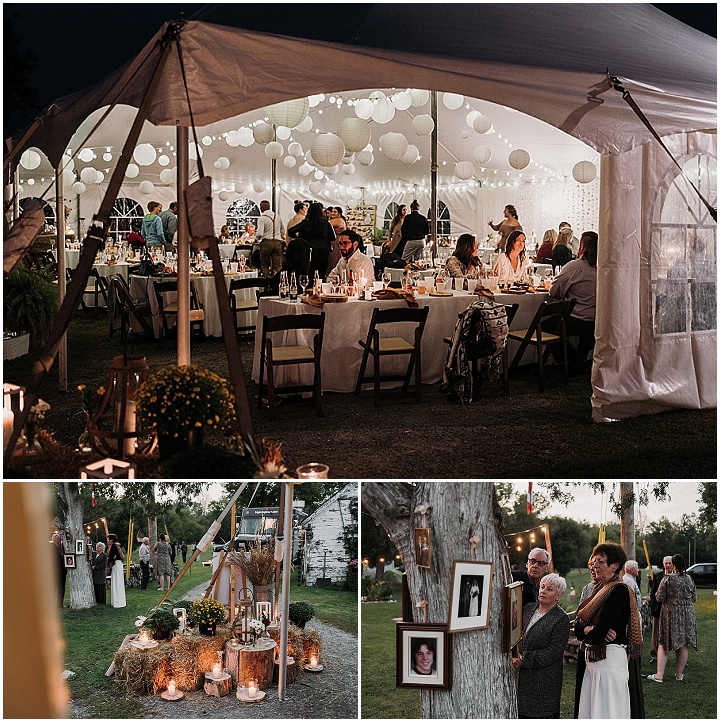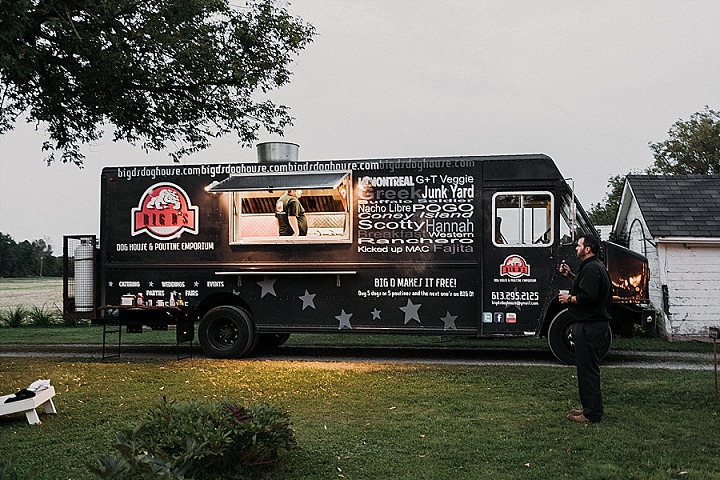 Supplier Shout Outs
Lauren Mccormick Photography
www.laurenmccormickphotography.com / [email protected] /  +1 (613) 227-7141 / FACEBOOK / INSTAGRAM / PINTEREST
I focus primarily on documenting wedding days as they happen, rather than staging my couples. Through a deep connection with my clients, a strong ability to empathize, and a knack for anticipating moments, I'm able to capture people being exactly who they are – as if I'm not even in the room. My couples aren't thinking about having their photo taken, or how they're standing. They're experiencing the moment as it happens and feeling comfortable expressing their emotions in a deep, connective way. This allows me to capture the pauses; the hidden moments between heartbeats, and the "in-between" candids that truly depict the couple's chemistry and tells the story of their day.