Well hello you lovely lot and happy Tuesday to you! Today I am taking you off to Devon for the delightful wedding of Rebecca and Dexter. This laid back couple wanted a chilled easy wedding, that left them calm and stress free and this they found in the wonderful venue that is River Cottage. With an intimate number of 35 guests, their wedding really was a rustic delight. They filled their day with dried flowers and the most amazing food supplied by the venue and Emma Stoner  was there to capture the day for us.
Everywhere we had food and drinks! Everyone felt very fat by the end of the way and waddling around. Calm! I felt so zen! I didn't have a worry in the world and even the hairdresser and make-up artist commented on how I was the calmest bride they have had so far!
Rebecca and Dexter were married on 9th March 2022 at River Cottage, Axminster in Devon. 'It had a calm and rustic feel. We wanted to have a stress-free day and have the venue look pretty without having a mass number of decorations, couple of fairy lights and we were golden. We had 35 guests. It took around a year to plan but there was very little planning needed, I was very surprised that people say how stressful wedding planning can be when ours wasn't even a sweat!'
How they met 
We met through friends; we have been together for just over 8 years.
The proposal
I was in cornwall for work for a few days and I guess he missed me so much that when I got home, he made me close my eyes and walked me down stairs to the living room told me to open my eyes and there was little love heart candles and flowers and he was down on one knee! He did buy heart balloons too, but he said they looked too much like a kidney which had me in stitches.
How did you allocate your budget?
I used Excel, I looked at what the package offered at River Cottage (which was pretty much everything) and then did everything as cheaply as possible! We had our beautiful venue (at an amazing price) so everything else could be done with a cheaper alternative.
Where did you splurge and where did you save?
We didn't really have any splurge spending moments, you could consider the venue itself to be a splurge but considering everything included in the package we chose, I would say it was an amazing deal! We picked a weekday so we could get a cheaper package on the venue, photographer, which saved us a fair amount! I saved so much money but buying myself a pair of second-hand ted baker shoes which were pretty much brand new!
How did you choose your photographer?
I typed into google alternative Devon photographers and Emma popped up!
The dress
I had bought my dress from la boutique Exeter which has the dresses donated and the money is given to charity.
The suit and bridesmaids
Dex bought his suit from Moss Bros Exeter, and I had bought the brides maids dresses from John Lewis sale!
Theme or colour scheme
Green & Blue
Flowers
We had dried flowers, but I can't remember the name of them!
Decoration
Fairy lights and dried flowers! Simple but pretty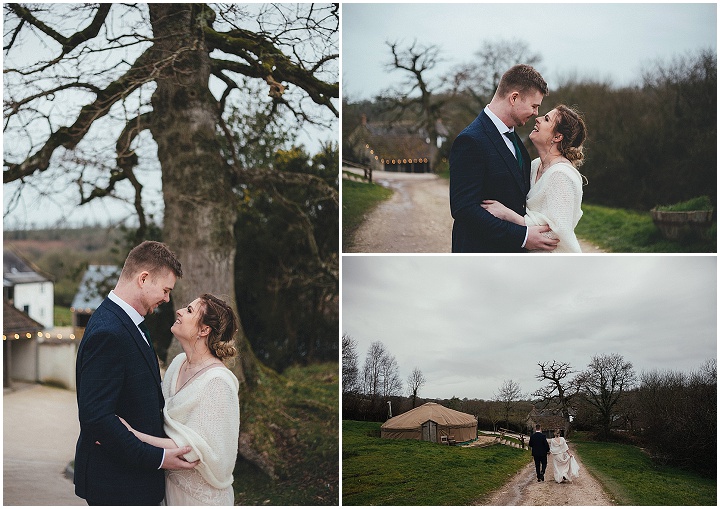 Food
What didn't we eat! We had so much food throughout the day, but the showstopper was the beef brisket with seasonal veg and roast potatoes. YUM!
Wedding cake
Beautiful Victoria sponge with strawberry jam made in house at River Cottage
Entertainment
We had a nice acoustic Spotify playlist on the go and we all milled around and socialized
Who supplied the stationery?
I made it!
Where did you go on your honeymoon?
We went to Japan! 2 ½ weeks and it was amazing!
Personal touches
I made the stationery along with my mum and mother-in-law
Special moments
Walking down the isle and seeing my partner, we both almost cried but we kept it together, my maid of honour was hoping he would cry (she though it was romantic).
When the cats made an appearance! I had a couple photos taken with them and abandoned dinner halfway through to do so, no one battled an eye lid because they are all aware I am a massive animal lover but more so cat lover!
Advice for other couples
Go for an all-inclusive package! It makes the whole planning process an absolute breeze and we literally didn't stress the entire process. Also have your ceremony and reception in the same place, having this all in the same location makes things so much easier.
Supplier Shout Outs
FOR MORE INFORMATION ON EMMA STONER
www.emmastonerweddings.com / www.emmastonerweddings.com/blog / FACEBOOK / INSTAGRAM