Happy Monday everyone and how are you all? How was your weekend? Was it full of snow or did you not get any? Well my weekend started on Thursday lunch time when Dexter got sent home from school early because of the snow. Friday we had a full on snow day, the sun shone, the sky was blue and it felt like we were on holiday, the kids had a ball! Saturday was igloo building and Sunday we managed to dig the car out and get out of Sheffield. So a pretty eventful weekend! I am hoping that's the last of the snow, although we do have more forecast this week. As much as it was lovely, I think everyone will agree it's time we saw spring now and got some warmer weather! Speaking of warmer weather, today I am taking you back to last summer with this stunning 'Rustic Boho' Wedding in Scotland. Samantha and Jamie waited an extra 2 years to get married due to Covid but this just gave them more time to plan the most perfect wedding and believe me the results are worth waiting for. They DIY'd so much of this wedding from the bridesmaid's dresses to the place names, so much time and effort has gone into making this wedding super personal and full of the most gorgeous details and décor. Big thanks to Nicola Stewart Photography  for the gorgeous images.
A day & weekend we'll not forget quickly that flew by but was better than we'd hoped for and worth all the extra effort. We'd happily re-live it!
Samantha and Jamie were married on 17th July 2022 at Pittodrie House Hotel, Inverurie, Scotland. 'We almost didn't go and see Pittodrie House, because we'd felt so disheartened by the venues we'd already been to see. But we did go and the old world house, amazing staff and gorgeous grounds felt so right for us to share our day with our friends and family. We had 45 guests. We thought we'd planned it all within a year, booking our venue 23rd March 2019, ready to go by March 2020…but the world had other ideas, the UK went into lockdown and we suddenly had 2 more years to plan. Although the big things remained the same, the chance to make more decorations and build on our original ideas didn't go to waste!'
How they met 
We met while snowboarding in France back in 2012, so together 10 years before we got married!
The proposal 
We'd been on holiday in Australia, Sydney visiting family. It was our last night there and Jamie said we should take a walk down to the beach for the last time. So we set off down the hill to Little Manly Beach at sunset and we walked out onto the rocks that are only visible at low tide. Jamie said to turn around and when I turned back to ask what he was doing he was on one knee!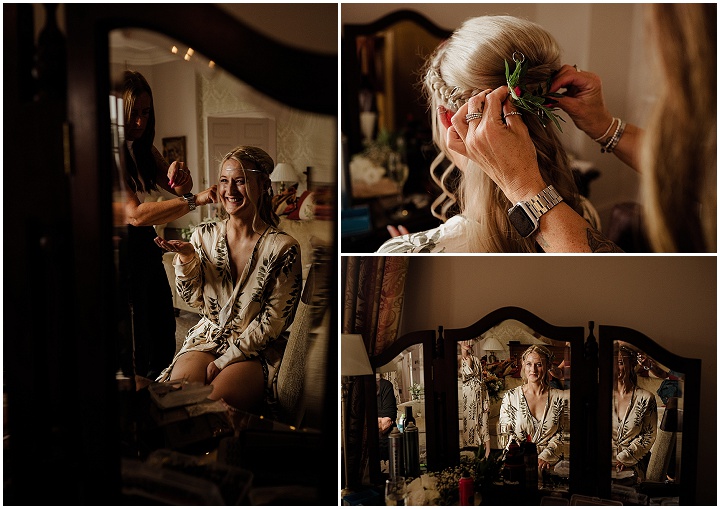 How did you allocate your budget?    
Hmm…budget….don't look….and don't go stupid
Where did you splurge and where did you save?  
All our decorations were DIY which saved us a fair bit and the venue was set up by a combination of the wonderful staff at Pittodrie House as well as friends and family. We decided not to have a specific cake. I wasn't prepared for the cost of wedding dresses when I started looking, and despite saying I'd never spend that much on a dress…I did and I don't regret it!
How did you choose your photographer? 
This was tough, there are so many photographers who have such amazing work; but we kept coming back to Nicola's photos and then when we spoke to her on the phone we knew! She had so much energy and was prepared to take photos in the rain,  had the rain arrived!
The dress 
My dress was a Grace Loves Lace dress, and they were also the best trying on experience of all the shops I went to (and I travelled the whole UK looking!). When I put my dress on, yes I loved how it looked, but it was so much more about how it felt on, I just felt so comfortable and like I could still be me. My bracelets and rings were mostly made by me and despite also making my earrings I changed my mind on the morning of the wedding as to which ones to wear! My shoes were New Look, comfy, block heel so I didn't sink into the grass and nothing too fancy to detract from my dress
The suit and bridesmaids
I (Sam) made the bridesmaid dresses. Even in the lead up to our original date I'd not decided on dresses for the bridesmaids, I've asked them to try on way too many to count but wasn't decided. The two extra years meant I could continue to look, but in the end what I wanted didn't seem to exist so I thought it couldn't be too hard to learn to sew 3 dresses! One I had to make the week before the wedding as Crisi was pregnant and we needed it to fit. The morning of the wedding I had to trim the straps on two dresses, something I'd forgotten to do beforehand!
The suits were more stressful than they needed to be, not because the suits weren't easy to find but due to some questionable customer service, but despite last minute shopping it all came together in the end.
Theme or colour scheme
Our theme was "what we liked the look of" which evolved over our planning time and as decorations came together our colour scheme landed on a burnt orange/dark green theme, but we weren't strict about keeping to it
Flowers 
I think my description to our florist was big, informal, fluffy textures that bring the colour of the bridesmaids into my bouquet with lots of greens, whites and oranges
Decoration 
Rustic, boho, festival were the themes running through my mind – We made our outdoor archway which was put up by a team of friends and family the night before (It then stood in the constant rain all through the wedding morning!); Our friend added draping material to it and laid out the rugs for the aisle. The reception decorations were all also handmade, including the wooden free standing letters "S & J", these were still being completed the morning before the wedding, nothing like last minute works of art!
Food
Wonderful 3 course meal provided by Pittodrie House Hotel, I'll be lying if I can really remember the food, I was swept away in the day!
Wedding cake?
We didn't have a big wedding cake. We love the "Frosted Fancies" by Mr Kipling that are only sold at Christmas, so we bought a load and kept them in the freezer until the wedding and also bought a plain white cake from Cloudnine cakes which was delicious!
Entertainment
While we were both away having photos taken, we'd made garden games to entertain the guests. We brought everyone back together with "Mr & Mrs" which my bridesmaids put together and then we had Hip Flask Ceilidh Band in the evening.
Who supplied the stationery?
All designed and made by us.
Where did you go on your honeymoon?
The day after the wedding we drove down in the Mazda MX5 to Portmeirion in Wales which was incredible (also heat wave in the UK!).  We have since also gone back to Australia as part honeymoon, part family holiday, back to where we got engaged 4 years ago!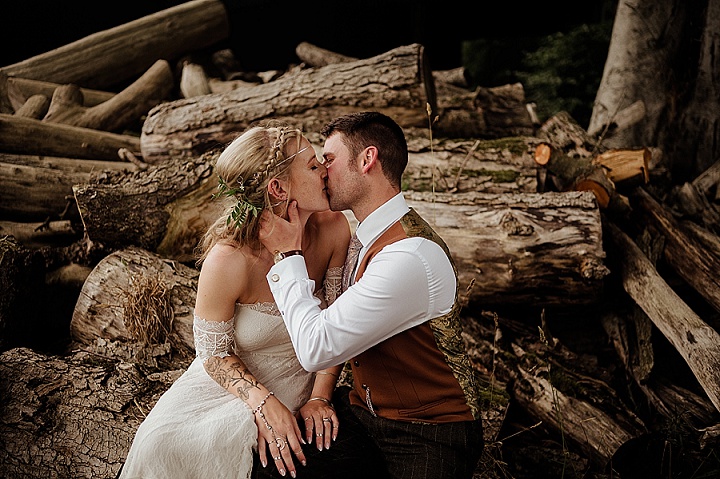 Personal touches
Our guest book was an old snowboard that we'd striped back and painted white for everyone to sign their names and messages on. Our favours were wooden mountains that we'd cut from scrap wood, stained and painted with people's names, none of these were left behind and people have asked for extras since! As well as everything else made by us, macrame wings for photobooth, garden games, light up letters, ceremony archway and aisle decoration, centre pieces, seating plan, llama Mr & Mrs cake topper. I (Sam) particularly enjoyed making everything and have seriously considered starting a business as a venue decorator.
Special moments 
Getting ready in the morning with the girls and Mum (Sam); The Maid of honours husband bringing a beer without words in the morning of the wedding to Jamie; being lifted up at the very end of the night in true Scottish style! Having all our friends and family together.
Advice for other couples 
Don't have things left to do the day before the wedding, we suggest finishing everything a week before and just enjoy it. All of it. And if you can, make a weekend of it, we did and it gives to time to talk to everyone and really get sucked into the whole celebration.
Biggest surprise 
The length of time it takes to write out que cards for speeches! Even though the speech may be written, writing takes ages! Don't leave it to the morning of the wedding!
Supplier Shout Outs
Nicola Stewart Photography
www.nicolastewartphotography.com / [email protected] / FACEBOOK / INSTAGRAM / PINTEREST
I am a wedding photographer based in Aberdeenshire, Aberdeen and across all of Scotland who loves nothing more than to capture those real moments in an alternative and relaxed way with a creative approach.