Happy Wednesday everyone, you've made it to the mid point of the week, how are you all? What have you been up to so far? Yesterday I got my nails done, which was such a treat and today Nik and Dexter both have hair cuts booked. I have hung my hairdressing scissors up for the foreseeable future! Today is my last day in the office till next week as both Nik and I have taken Thursday and Friday off to take Dexter out to some of the fun places he has missed over the past few months. So on with today's wedding and this is a wedding that took place last year despite the many Covid restrictions.. Aislinn and Samuel carried on with their wedding plans, despite having to scale down their day to 17 guests. They decided that a micro wedding was the way forward and planned a gorgeous day filled with rustic touches in the most adorable venue. Big thanks to Karen Jackson Photography for the lovely photos.
Not exactly how it was imagined initially, but nevertheless amazing. It was a close and intimate day, surrounded by those closest to us that could be there.
Aislinn and Samuel were married on 10th October 2020 at The Rhynd, Leucahrs in Scotland. 'The Rhynd is located right beside Tentsmuir Nature Reserve and Beach. Pre Covid we would probably go for a walk at the beach most weekends and love the area. When we found the Rhynd had an events space we immediately settled on it as our venue, the space itself is a beautiful barn that has been restored by the owners and we were able to take time to go down to the beach and forest area for photographs.  We had 17 guests – the maximum we could have given the restrictions in place at the time. We had been engaged for 14 months by the time the wedding came around, and we had made what we thought were the final plans within 5 months of getting engaged. Of course, things changed a lot and the process was ongoing up until the week of the wedding.'
How they met 
We met at a house party at a mutual friends house, and have been together for 7 years.
The proposal
Sam was very insistent on talking a walk in Dunkeld that weekend, and even having a friend staying at our flat while she was on nightshifts was not going to deter him from his plans. Even getting in an argument on the drive there could not deter him.
We walked back into a valley that we had been to before years ago and stopped at a lake for lunch. Sam started skipping stones, encouraging me to try it (I can't) and started poking around in his bag commenting that "we don't seem to have brought haribo". He got down on one knee and was promptly asked what he was doing, but he proposed anyway.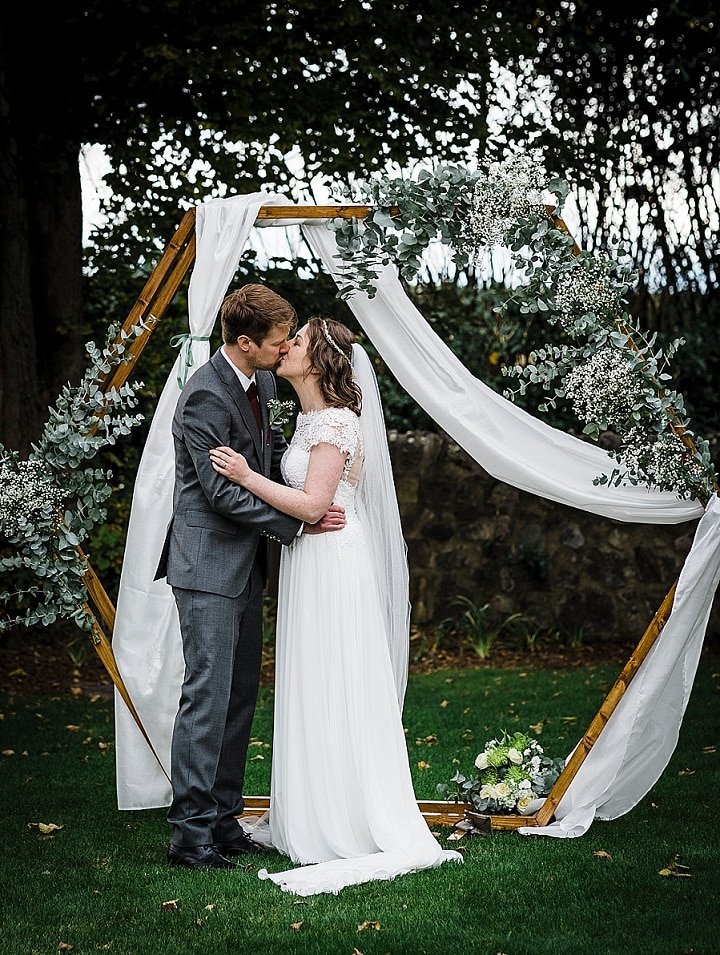 How did you allocate your budget?
We knew what savings we had and what we were comfortable with spending, we ended up coming under budget because we unfortunately had to cut some elements out to comply with regulations but we knew we wanted to do as much as we could ourselves to spend more on the catering and ensuring we had the photos we wanted
Where did you splurge and where did you save?
We decided our biggest splurges was going to be the catering, as we both really love a good meal and wanted to have something different from pervious weddings we went to.
We made savings by buying our flowers direct from a wholesaler and doing the decorating, cake making and organisation ourselves. We also chose not to have any wedding cars
How did you choose your photographer?
While researching for a local photographer we came across Karen's page and her blogs and we immediately were drawn to her ability to capture candid photos as well as her fantastic shots out in nature.
The dress
The dress was by Pronovias, the shoes were Carvela by Kurt Gieger. The veil was handmade by the wedding dress tailor. The hair piece came from Britten.
The suit and bridesmaids
Sam's suit was a Hugho Boss suit. The bridesmaid dresses were bought from Oasis
Theme or colour scheme
We wanted to stick to Burgundy and greens for the wedding to fit an autumnal theme
Flowers 
Our flowers were a mixture of thistle, eucalyptus and baby's breath
Decoration 
We mainly used our flowers and the eucalyptus to decorate. The biggest decoration was a hexagonal arch made by my father (Aislinn) that was decorated with the foliage and flowers. We filled small glass vases with flowers and set some tealights out as well
Food 
We chose a tapas style menu, with a tapas starter, followed by lemon and harrisa chicken with potato skins and salad. The dessert was churros, autumn berries and ice cream. For a late evening snack we had a cheese board and cake
Wedding cake
I (Aislinn) made the wedding cake, which was a lemon and elderflower cake with raspberry jam and elderflower buttercream
Entertainment
Given the guidelines at the time out planned Ceilidh was scratched and instead everyone sat back and just enjoyed being able to talk to and sit with others for the first time in a while.
Who supplied the stationery?
Sam designed the wedding invitations and seating plans, along with some social distancing signs. We printed them using Vistaprint and they looked great
Where did you go on your honeymoon?
We took ourselves off to the Scottish Highlands for a week of walking and eating, with a stay in a wee converted barn to cottage followed by a stay at Glenshee Ecocamp. We are still really hopeful someday we manage to get to Sicily, where we had originally booked.
Personal touches
We did quite a bit ourselves. We did all of our floral arrangements, including the bridal flowers, decorating and setting up the tables and arch, the cake was homemade. The biggest personal touches were Sam's invitations which were an illustration of the two of us.
We also wrote our own vows, which made it feel like the promises being made were heartfelt.
Special moments 
Getting down to Tentsmuir on a beautiful day, dressed up walking amongst others out walking their dogs and just enjoying the first few hours of being married.
Advice for other couples
Things are different just now, but go with it, because if the goal is to get married then nothing can and should stop you.
Biggest surprise 
Sam's biggest surprise was that the bride arrived on time.
Covid restrictions forbade dancing inside, but didn't say anything about dancing outside. We surprised our guests by inviting them into the courtyard to watch us spin around to our favourite music, to much laughter.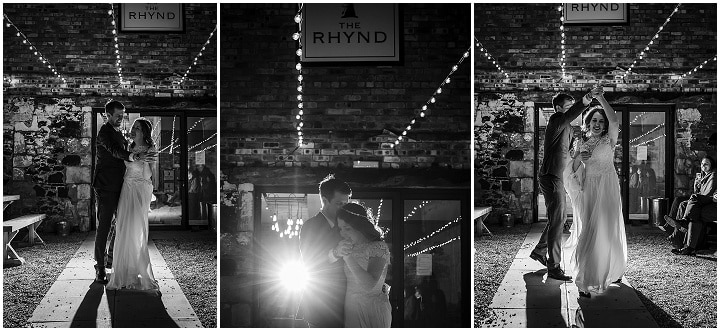 Supplier Shout Outs
For more information on Jackson Photography and Films go to 
www.karenjackson.co.uk / www.karenjackson.co.uk/blog / FACEBOOK / INSTAGRAM / PINTEREST