I have the most gorgeous wedding to share with you this fine Thursday morning as I whisk you off to the tropical delights of Koh Samui in Thailand. What a wedding this is. Not only does it look spectacular but it is Eco conscious and sustainable. Greta and Mani wanted to make sure their wedding left no environmental footprint so went about looking into every last detail of how their wedding was put together. From the ceremony area to the food, the flowers to the dining area, this wedding is full of tropical goodness and the attention to detail is outstanding. Big thanks to Liam Collard for these stunning photos.
Greta and Mani were married on 12th June 2022 at YL Residence, Koh Samui, Thailand. 'After postponing twice due to COVID19, we knew that if we were to go ahead with our big day in 2022 we were not going to be picky and rather work with a date and location that would allow for us to actually go ahead safely!
I fell in love with YL from the moment I stepped foot in it because of how vast, gorgeous and unique it is! I felt like we could have so many beautiful and different sections to the wedding, which would make it even more special, as people would have travelled from so far, I wanted to make sure the big day, especially after waiting 2 whole years, felt like an experience for all those who could come.' 
Colour scheme
The colour palette was definitely Earth Tones with white and golden accents to symbolise love and harmony! The only thing more beautiful than celebrating love, is definitely celebrating Mother Earth herself!
Theme and Styling 
I would say our wedding styling was "Eco-Lux – Eco-conscious" which really tries to bring out the natural beauty of a tropical island and give it that touch of magic and elegance! Essentially using what is already available in term of Mother nature's beauty and then using natural monstera leaves, tropical white flowers natural golden and earth tones to compliment what is natural stunning! As an environmentalist it was very important to me that we considered the impact and footprint of the wedding above "how it looked".  We made sure that nothing was only used once or for a very short period by repurposing it even throughout the day or week. With the help of Aey, we effectively re-used as many things as possible throughout the timeline of the day, and in the different sections. We discussed all sustainability related matters, and what was and wasn't possible. On the day, everything looked even more beautiful than I could have ever imagined and Mother Earth blessed us with the most surreal sunset and pink skies we have ever seen! Truly such a dream.
Food
Oh my god, the food! Yum, yum, yum I don't think we or our guests will ever forget our food!  Mani and I, as self-proclaimed foodies, wanted our food to be as much an experience as the rest of the aspects of the wedding, we viewed it as an opportunity to share our love for the taste of Thai food and culture! Often food is simply a means to an end at weddings, or seen as an afterthought, but the fact that we had a manageable number of guests made all the difference, and with the help of our angel wedding planner Aey. We picked every dish for the starters and mains together, selecting Thai classics as well as very special more unique dishes that Mani and I loved. It was a sure hit with all our guests, with some of them saying it was the best Thai meal of their entire stay!
Cake
As someone who has such a sweet tooth in general (Greta) my desert station and cake were particularly important to get right! I wanted it to stick to the tropical theme, but this is also where I brought in a very special aspect of my life, my love for elephants! Instead of two small Bride and Groom mannequins of Mani & I at the top of the cake, I requested to have 2 eatable golden iced elephants! There is no greater bond than that between elephants, and this was a sweet touch. The cake was absolutely gorgeous in the end, with a white chocolate outer layer and a vanilla and raspberry centre. It wasn't too sweet and a perfect pairing with our wines and champagne! We also had options for vegan guests at our weddings with custom made elephant cookies and fruit/coconut yoghurt jars.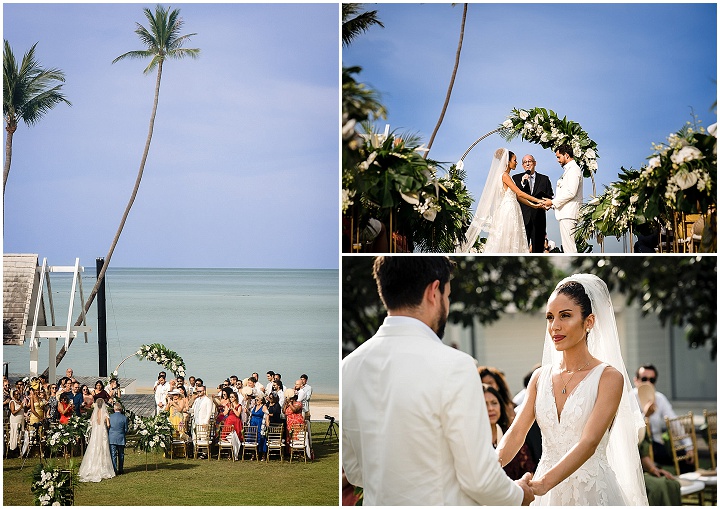 Entertainment
Simon our DJ was fantastic because we know that as an Ethiopian-Venezuelan-Italian-German Wedding, with family and friends from over 28 countries – the music requests and styles which were being asked and loved by everyone were so vast and unique! Nonetheless, he handled this so well and kept us dancing no matter where we were!
Personal touches
Having so many cultural mixes in our family – Ethiopian, Venezuelan, Italian and German, we wanted to bring these out in the various details and moments in the night. For example we named our cocktails unique names relevant to us and our love story, we had limoncello shots that went down really well after such a hearty meal, and definitely got everyone very happy! Haha! We had a late night streetfood station with an Arepa cart (sooo special!) and Thai roti too, we couldn't have a wedding in Thailand without that and of course, we also had to have a fire show to entertain our guests! It was honestly one of the most beautiful shows we've seen, all the guys were so epic! Finally, we had a very Venezuelan tradition of "La hora Loca" at midnight, which translates into "The crazy hour", whereas the title suggests, everyone gets a little crazy, wears costumes, masks and essentially "revives" the wedding party in case anyone thought it would begin to die down! It was so fun and such a memorable way to extend the night!
Advice for other couples 
1) try and enjoy every moment, even the moments of stress will teach you so much about your relationship, your tolerance and ability to go through tough things together! For that alone, they are worth it – we promise!
2) Create a detailed and well-informed budget well in advance, do as much research as possible to validate that you have accurate estimates and compare, compare compare! Sticking to a budget, and making peace with the fact that you may have to say no to some things early is the best way to avoid clashes between each other.
3) Consult your partner on all decisions, as it is both your day after all and having a sound board to reason through decisions is so vital, it also means that when something does go wrong, not only one of you takes the load of guilt or having to resolve the difficulty. You're a team through this, it's important to remember that!
4) Be flexible as can be (now more than ever too)! The truth is so much is out of your hands, whether its in the planning, the actual day or logistics, being flexible, accepting to go with the flow and not letting the challenges sweat you, the most likely you and your partner will laugh everything off and be able to enjoy the whole process like we did. and finally
5) start as early as you can! I think everyone underestimates just how much of a production putting a destination wedding together is, so the earlier you start, the better. And if you can afford it, have a wedding planner, they can be the angel guide of your dreams, which sorts through the many layers of your big special day but also keeps you focused and on budget.
Supplier Shout Outs
FORE MORE INFORMATION ON LIAM COLLARD 
www.liamcollard.com / www.liamcollard.com/miami-destination-wedding / [email protected] / 44 (0) 7584 255 361 (UK Number) / FACEBOOK / INSTAGRAM / PINTEREST / TWITTER
Based in London, we are internationally-awarded London Wedding Photographers, french bulldog lovers and passport stamp collectors who have worked at destination weddings across 4 continents. Real moments are what make your wedding photography stand out from everyone else's. That is why we developed our signature style of working unobtrusively around your wedding day, while always staying available to guide you through it every step of the way.