The venue has been booked, the guest list has been finalised and you've chosen the theme for your special day – now all that's left to do is find the perfect invitations! With everything from traditional to rustic, Atelier Rosemood has a wide range of wedding invitations that are sure to suit your style and have shared their top tips on how to choose the right wedding invitations for your theme.
Invitations for a boho wedding
When it comes to a bohemian wedding, let your free spirit soar with wildflowers and watercolour designs. From a flower crown in your hair to a venue adorned with botanical garlands, you are sure to be surrounded by floral designs on the day of your wedding. Why not match your wedding stationery to fit this boho-chic theme? Atelier Rosemood's boho wedding invitation suite features colours and designs that tie into the season of your special day.
For a spring or summer bohemian wedding, pastel shades of blush pink, champagne and sage green complement the blooming flowers of the warmer months. Choose floral wedding invitations featuring wildflower wreaths, bouquets and botanical motifs in watercolour shades to match your accessories and venue.
If your bohemian wedding will take place in the winter, consider a colour theme with deep shades of burgundy and plum that work well with neutral colours such as cream and grey. No matter the season of your special day, you can rest assured that if you don't see the colour scheme that you have envisioned for your bohemian wedding, you can personalise all of Atelier Rosemood's designs to create the wedding invitations that are perfect for you.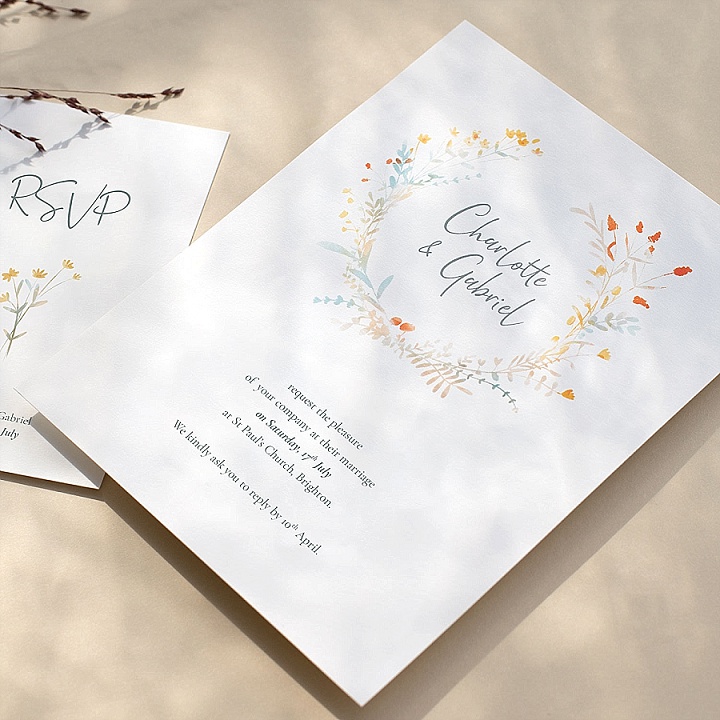 Invitations for a rustic wedding
Whether your rustic wedding will take place in a stylishly decorated barn adorned with string lights or a country garden with sunflowers in full bloom, Atelier Rosemood offers a wide range of wedding invitations to match the colour scheme and decor of your big day. Their top tip? Opt for deep shades of maroon to match the barn your reception might take place in, complemented with a sunflower bouquet.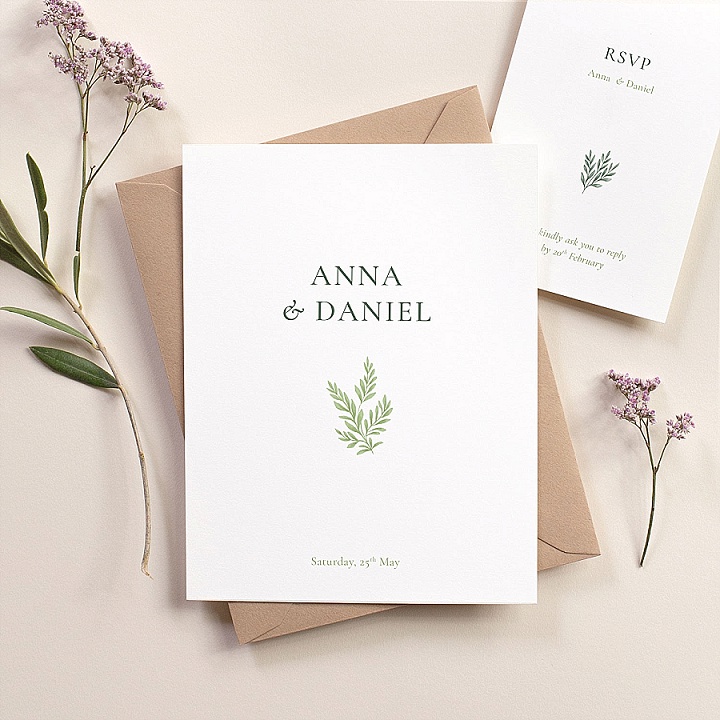 For a more neutral colour scheme, try fawn or taupe to match an array of wildflowers. Opt for watercolour florals or a personalised illustration of your wedding venue to create rustic wedding invitations to suit your country-chic style.
 Traditional
If you've always imagined the wedding of your dreams taking place in a church or a formal venue, traditional wedding invitations are just what you need. Timeless neutral colours with elegant fonts are an ideal choice for a traditional wedding, or choose black and white stationery inspired by classic French designs for sophisticated invitations that are both elegant and chic.
If you plan to wear a timeless white dress complemented by a bouquet of red or pink roses, create traditional wedding invitations to match your classic black and white or neutral colour theme, complete with stylish calligraphy and blooming floral designs.
Modern wedding
If you would describe your style as anything but traditional, Atelier Rosemood's catalogue features a variety of modern wedding invitations to match your unique taste. When it comes to a modern wedding, think sleek and chic.
From a contemporary venue with minimalist decor to a wedding dress that defies the traditional white colour scheme, we know that your unrivalled individuality will shine on the day of your wedding. If the colour theme of your modern wedding is a chic black and white palette, choose wedding invitations in a minimalist design, with art-deco motifs or personalised illustrations.
If your theme is one that colours outside the lines, Atelier Rosemood's modern wedding invitation suite features stationery that is both original and entirely customisable. Make everything down to the format of your wedding invitations unique by opting for their customisable illustrated invitations or their photostrip-like bookmark invitations to showcase the love shared between you and your future spouse through photos.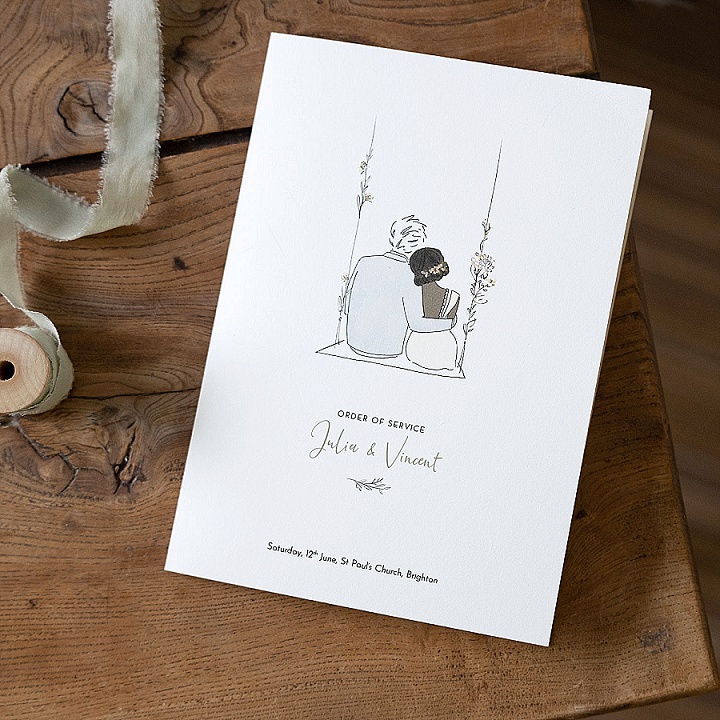 Summer Wedding
You'll be glowing more than the sun as you beam with happiness on the day of your summer wedding, so why not invite your nearest and dearest to your special day with wedding invitations that match the season you'll be saying your vows in? Whether your wedding will take place on the beach or in a garden surrounded by blooming flowers, you can choose from designs featuring everything from colourful florals to nautical motifs.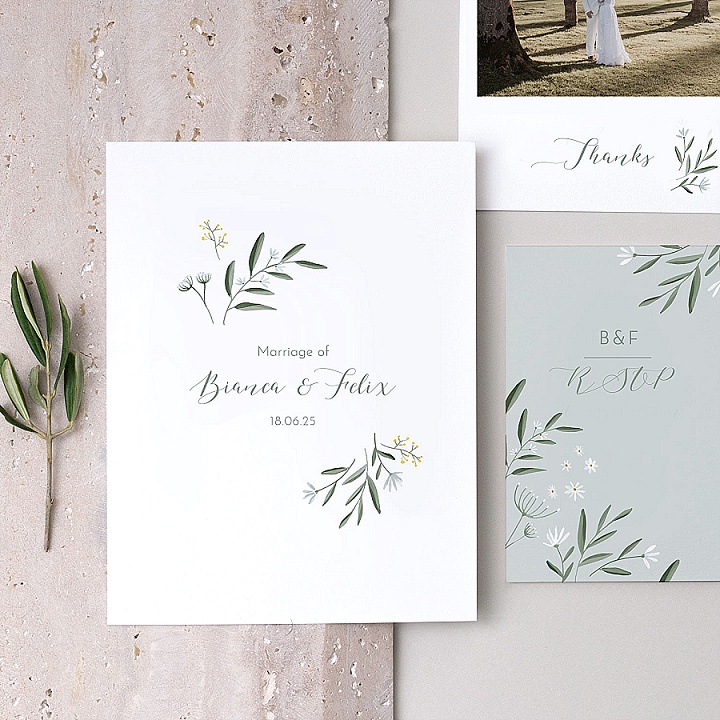 Go-to colour themes for summer weddings include hues of blue such as aquamarine or ocean blue to match the sparkling sea in the background of a waterfront wedding, or radiant shades of rose or peach. As with all of their invitations, Atelier Rosemood's summer wedding invitations are crafted with personalisation in mind and offer a variety of colour schemes to choose from.
The love shared between you and your future spouse is like no other, so let your wedding invitations be just as unique! These are just a few of Atelier Rosemood's favourite wedding themes, but their entire collection of wedding invitations features designs for every theme under the sun. Discover their complete wedding invitation collection to find the right invitations for your special day.
this is a sponsored post