Happy Friday everyone, how is it nearly the weekend already? this week has flown by! I hope the week has treated you well and that you are now ready for the weekend ahead! We are off to York Maze, which is always a good weekend, hopefully the weather will be kind to us all! As for today's wedding, it's a real stunner of a day. Jordan and Tyler were married on 1th November 2021 in Sarasota, Florida. They wanted a 'Tropical meets Boho' themed wedding, with clean modern lines but with a boho twist. The decoration is absolutely divine, the flowers, the styling, all incredible. I'm sure you will agree this is one fine looking wedding, big thanks to Juliana Montane Photography for the beautiful pictures.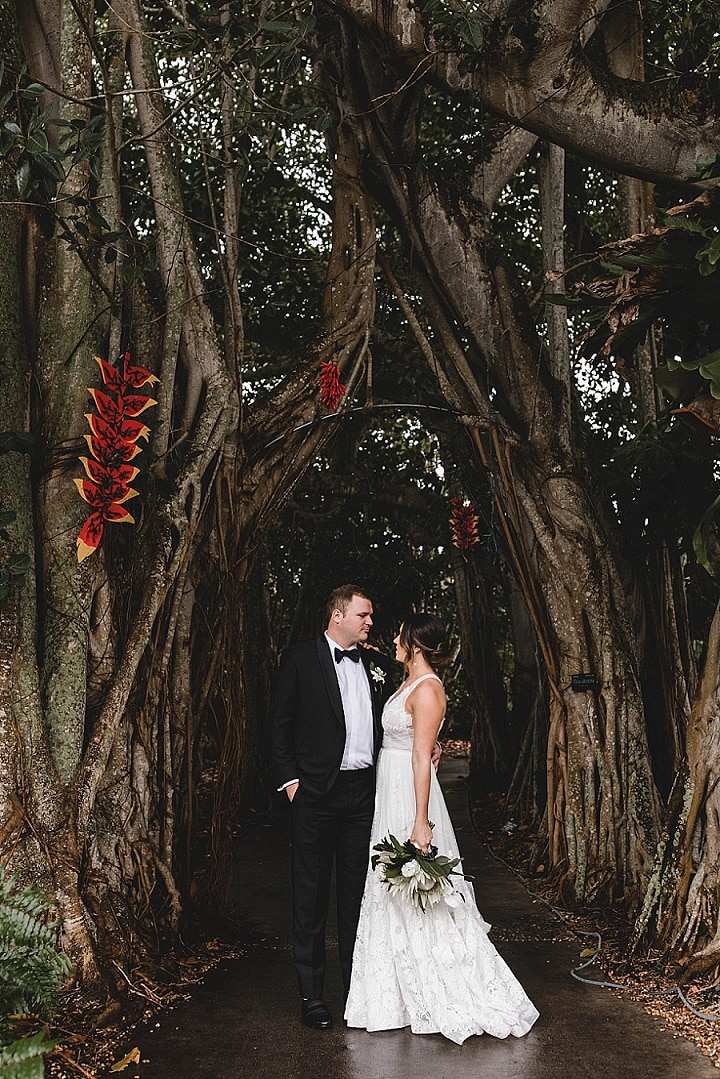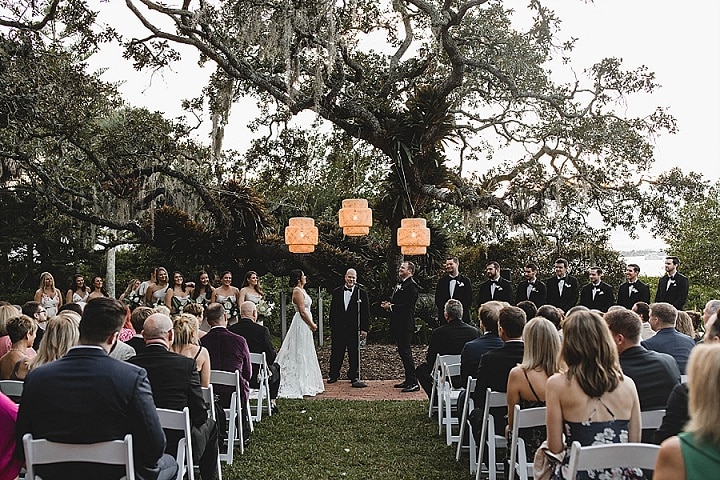 Juliana the photographer tells us more about the day
From the moment I got to the rehearsal dinner, I could just feel the love and energy with everyone there and I knew this was going to be a killer wedding…
Jordan & Tyler's Selby Gardens wedding surrounded by SO many friends & family – it was amazing! Isn't it always the ultimate dream to have this giant, loving support system!? Well, they've got it and on both sides! They had 8 bridesmaids, 8 groomsmen, 2 adult flower girls, and 2 ushers. Every single person in their bridal party was fun, polite, helpful, and just so sweet. We started the day at Jordan's Aunt's beautiful home. It was homey and fluid as 20-25 people just had fun getting ready together. They decided to read their vows to each other privately during the first look rather than during the ceremony and it was perfect. I'm honestly still riding on the energy from this wedding. The love you felt throughout the day and especially at the reception with these amazing toasts and one of the best dance floors I've seen in a while.
How they met
We met in college! We went to neighbouring high schools and I knew about my future husband for a while. When we were at the same party in college I reached out and the rest of history. From the day we met we never looked back!
Outfits
I think our looks really brought together the theme. My dress was more boho with large flowers and my husband wore a classic simple black tux!
Theme or colour scheme
We wanted a tropical theme with a pretty neutral colour palate. I liked the boho look but wanted to keep it super clean. I would say tropical/boho meets a classic colour palate!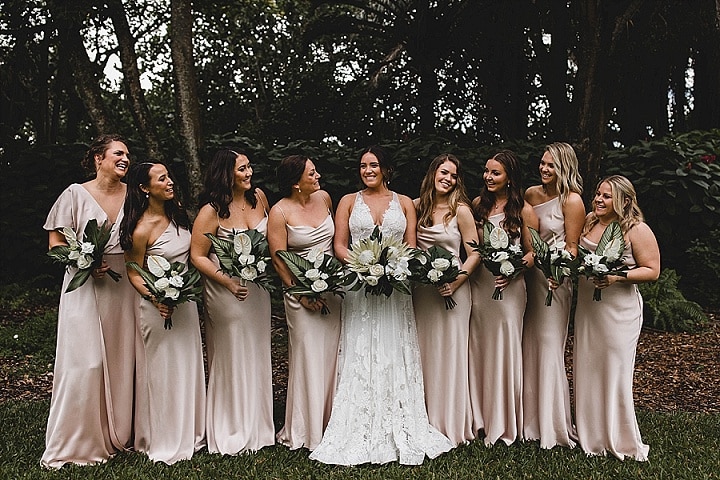 Decoration
We really leaned our Jennifer Matteo's team to bring the look together. We loved the Rattan lights and pulled that into the chargers as well and went with a lot of greenery. I was OBSESSED with how it turned out. Also, the venue was stunning itself so I didn't want to over do it on decor to take away from that.
Flowers
Flowers were pretty important to me and for this piece I did not want them to be traditional. I really tried to avoid roses at all cost. I was obsessed with how they turned out. The palm leaves were a big part of the decor and I loved how the orchids and protea's turned out in our centrepieces and bridal bouquets.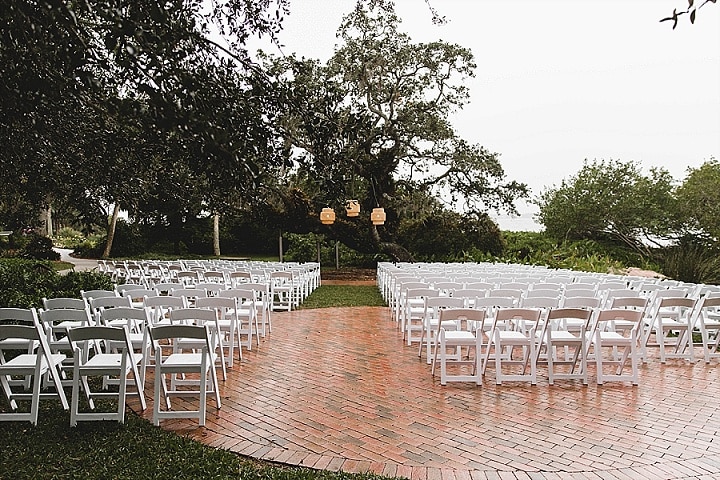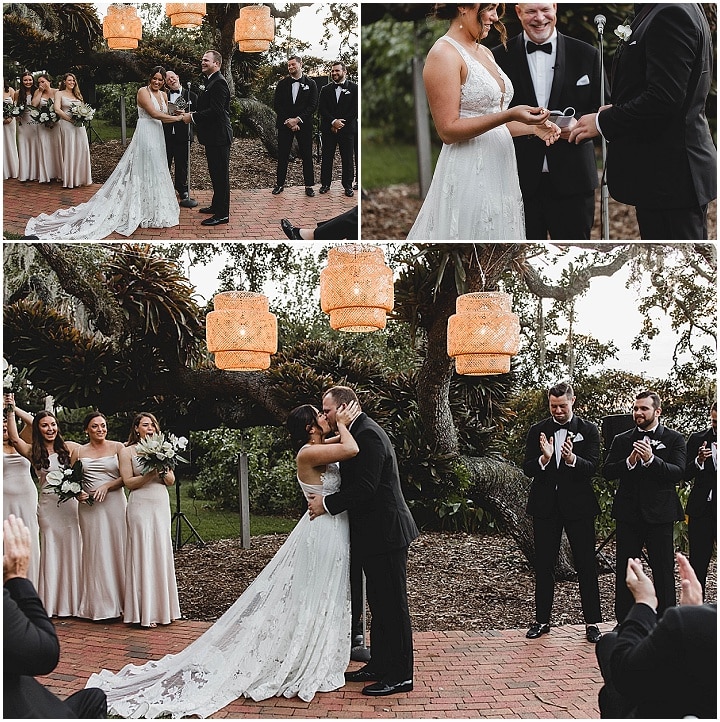 Personal touches
We had some elements of personalization – we had personalized napkins with our dog on them. We gave decks of cards to each of our guests because we are a big games family! We also included a neon sign with our Last Name! Our favourite part was probably the band. They were amazing and totally worth it.
Advice for other couples
Happy wife, happy life! My husband really let me run with the vision I wanted. Also, ask for help! Delegate! Wedding planning is a lot of work and I could not have done it without help from our planner and my mom.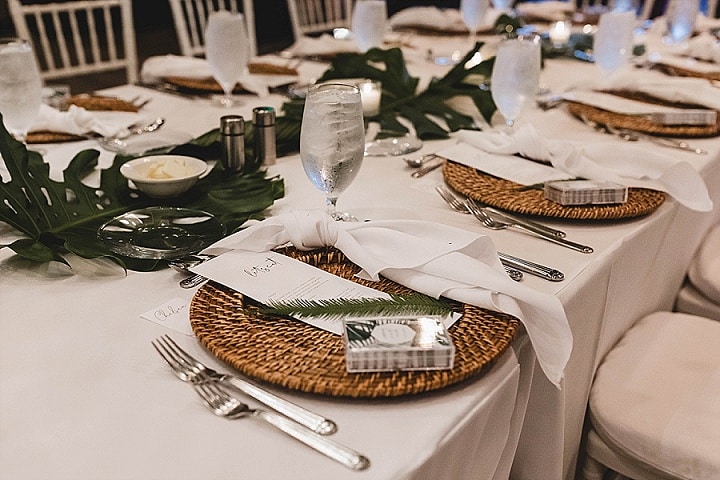 Supplier Shout Outs
Juliana Montane Photography