Happy Friday everyone! I hope you have had a wonderful week in all the lovely sunshine we have had. What are your plans for the weekend? Any weddings to go to? Or maybe you are getting married. I'd love to hear all about them if you are. We are going car shopping on Saturday morning, then seeing some friends. Sunday we have a big family get together planned. On with today's wedding and it's an absolute delight. So many amazing decoration ideas and super pretty details with a tropical theme set against the Mexican beach backdrop. Jazel and Jeremy waited an extra year to get married due to Covid, but my word was it worth the wait! So much pretty in one wedding. Glam, modern, yet full of Boho chic touches and so much fun, not to mention the Mariachi band and all the tequila! Big thanks to Luxart Wedding Studio for the beautiful photos.
Jeremy and I have been looking forward to this day for so long and we knew we really wanted the wedding to be a party for everyone to enjoy! I'd describe it as vibrant and fun, filled with love, laughter, and lots of tequila.
Jazel and Jeremy were married on 7th May 2021 in Tulum Mexico, Los Arrecifes Beach Hotel. 'Jeremy and I always knew we wanted to get married in Mexico on the beach surrounded by our closest friends and family. We wanted to pick a location where it took peoples breath away and disconnected you from the real world. Naturally Tulum was the first place that came to mind! Tulum is a magical place, truly a boho-chic fantasyland. From the Mayan Ruins & pyramids, transparent waters, cenotes, spectacular wildlife, artsy ECO friendly hotels, the best restaurant scene what else could you ask for! My sisters and I went location scouting a year prior to the wedding to pick out the perfect venue. We fell in love with Los Arrecifes Hotel because of how much untouched beach space it offered.  Walking through the lobby and looking out over the view, it felt like we were transported to a private island with nothing around. It was a blank canvas with which we could make our dream wedding come to life! We had a fun filled week of activities for our guests. We had 60 guests. We originally planned our wedding back in 2019 for a May, 2020 wedding, but we all know that didn't go as planned.  Luckily, we were able to secure all of the same vendors this time around and I couldn't be happier!'
How they met 
Jeremy and I met at the gym, my friends and I called him Superman, but past that, I never did anything about it. One day, I was walking along on the treadmill and he came up to me and asked for my name. I was so nervous, all I could say was "my name is "J"" and then I pretty much ran away.  Luckily he didn't give up there and befriended my friends so our next few interactions went much smoother and we ended up going on our first date to a Phoenix Suns game.  We have been inseparable ever since that date. We have been together for 7 years now and engaged for 3.  A few years into our relationship, I found out that I had some fertility issues and may have a hard time getting pregnant.  There was no doubt in both of our minds that we were going to be together forever, so we decided to push our wedding plans back and focus on starting a family. We tried for 3 years without any luck, failed rounds of IVF and doctors telling us that a baby would be close to impossible.  With a broken heart, we shifted our focus to planning a badass wedding which was scheduled for Spring of 2020, knowing it would be best for my body and our hearts to take a break, so we could reset and do one last round of IVF after the honeymoon. Of course, COVID postponed our wedding, but we are happy to say that during that lull we were blessed (and surprised) with our first baby, Ventura Cruze!  A replica of Jeremy, he was 5 months old at the wedding, and the cutest ring bearer you've ever seen.  Through all the craziness of the last 7 years, we finally feel complete.
The proposal
It was the weekend of Jeremy's 32nd birthday and his entire family came to town to celebrate.  My family lives within a block of me, so we decided to have a big pool party on Saturday with everyone together. Friday night, we decided to have a nice dinner at the Four Seasons.  Our best friend was the chef at the time and we knew everyone would enjoy the amazing food. I sent out a text to our friends and was shocked at the amount of people that agreed to go given the price and the distance, but didn't think too much about it.  Once at the restaurant our waiter came to grab Jeremy and I saying that Sam, our friend/chef had something special planned for us.  Again, no big surprise as she always plans something fun when we come see her.  He pointed in the direction of the lawn and Sam was there with a bottle of champagne, so we left the balcony and met her on the grass.  I was expecting her to lead us into the kitchen as she usually does, but instead, she just said "enjoy" and walked away. The sound of the chairs scooting out from the table caught my attention and when I glanced back up at the balcony, I saw our friends and family watching from above.  At this moment I knew what was happening and I am so grateful our loved ones were there as Jeremy got down on his knee and proposed.  And that "pool party" we had planned was actually a surprise engagement part for us!
How did you allocate your budget?
We focused on what was important to us, creating an experience that our loved ones could really enjoy.  They had stood by us for so much of our fertility journey and relationship that it was truly about celebrating together, not just the two of us.  That being said, we knew we needed to allocate money not only towards the wedding itself, but to a welcome dinner and drinks, transportation to and from the airport for guests, and other fun experiences. My advice would be to make a list of everything you "want" to cover, add up the costs and then go through and cut the items that aren't necessary.
Where did you splurge and where did you save?
My "top two" were food/drinks and entertainment/music to create the perfect ambiance, so we definitely allocated the most of our budget towards those two areas.  Luckily my flowers were super simple to compliment the natural beauty of the surroundings and we were able to reuse things such as chairs from the ceremony for dinner. Also, I spoke with my furniture vendor on how much I wanted to spend and she worked with my budget and cut cost in where was needed.
How did you choose your photographer?
My wedding planner referred them to me. He knew the style I was going with and having them do the photos and the video a must on my part.  I stalked them on Instagram and requested them to send me some of their recent wedding videos. I fell in love with their work! They captured raw moments and every shoot was so different and nothing was forced just organic.
The dress 
My dress is Casa Blanca and my shoes Loeffler Randall which are the MOST comfortable dress shoes I have ever owned! If you are planning on dancing the night away. These shoes are for you.
The suit and bridesmaids
Custom Suit from a local spot Brothers Tailor. No bridesmaids I just told my sisters and mother to wear a dress that they felt the most beautiful in and it had to be long.
Theme or colour scheme
Tropical Modern boho sexy chic. My location was my theme.
Flowers
Birds of Paradise and tropical greenery. My bouquet was a giant protea flower with greenery.
Decoration
Very minimal we were blessed that our hotel was pretty much our style so we just added some tropical flair, boho lounge areas and played off our location.
Food
We wanted the most authentic food what the Yucatan region is known for.(farm to table)  3 main course options Catch of the day, Cochinita pivil, vegan option. Everything was served with a tropical salad, lime soup, guacamole, salsas and fresh made tortillas. For desert we had tres leches, flan cake and fresh fruit with cream.
Wedding cake
The deserts that were served to our guests were what we loved.  The wedding cake for us wasn't that important we just had one for the pictures.  It was vanilla cake with cajeta and nut filling.
Entertainment
Entertainment was big for us! We wanted our guests to have a wow effect through the entire wedding. As soon as our guests entered they were greeted by a mixologist crafting delicious cocktails.  At Cocktail hour we had a Shaman up on the roof top welcoming our guest with a cleansing energy ritual. No bad vibes allowed! When it was time for dinner everyone headed back downstairs to two mayan ladies making fresh tortillas from starch. During dinner we had a Mariachi band playing. To get the party going we had a Salsa Band to start the dance party and a Dj to end the night. During the dance party we had a "shot guy" dressed in a sombrero servings shots and drinks on the dance floor.  Plug In Audio Visual really brought my dream of having a jungle disco party to life with colored lights on the surrounding palm trees, a giant disco ball and a light up dance floor.
Who supplied the stationery?
I created all the tags from a design on Etsy and I had them printed in Mexico with the help of MSM rentals and our cater YD Dream Management provided the menus.
Where did you go on your honeymoon?
We were in Mexico for 15 days! But really, given that we had a 5 month old tagging along in Mexico, we didn't want to leave him for too long.  My sisters were kind enough to take him so he could hang with the cousins for a few days while we snuck off to explore Tulum and stayed at Be Tulum Hotel which was incredible! Not necessarily the "traditional" honeymoon experience, but we wouldn't trade it for anything.
Personal touches
Being from Mexico I wanted everything to have some Latin flare which it did but I also made sure Jeremy had his favorite things incorporated like our late night snack was double bacon cheese burgers with mini beers. He has a burger blog and the beach front villa patio was used as his gentlemen's corner where he could enjoy Cuban cigars and sip his whiskey with his friends. I made all the tags and traveled with the Maracas, fans, flip flops and goodies for the welcome bags. The welcome bags I had made there and delivered the day I checked in.
Special moments
There was so many of them but one that stood out was I looked around at one point and everyone had the biggest smile on their faces.
Advice for other couples
It's YOUR DAY! Don't worry about the little things that went wrong or didn't go as planned. People will feed off your energy so take a deep breath, shot of tequila and make sure to let loose and enjoy the happiest day of your life!
Biggest surprise
The mariachi band was a surprise from my family.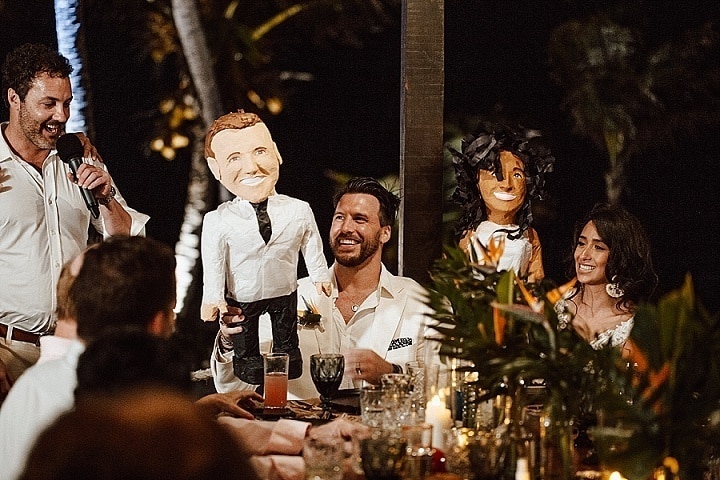 Supplier Shout Outs: 
[jprel]