Happy Friday everyone, I hope you have had a good week! I hope the sun is shinning where you are! What have you got planned for the weekend? I am super excited as it's our school's 50th birthday and we are having a BIG family Fun day to celebrate. I have been putting my planning skills to good use and have been working with some other wonderful mums on the PTA for months planning the event and it's going to be AMAZING!! As is today's country wedding! Laura and Jack were lucky enough to hold their wedding in Jack's parents' garden. And who wouldn't want a tipi wedding in their parent's garden! So full of country charm and lots of DIY details and family projects. I absolutely adore a tipi wedding and this one is no exception. Big thanks to Aden Priest  for the great photos.
Our wedding day was the best, most meaningful, relaxed, and happiest day of our lives surrounded by everyone we love. It also went by far too fast and we wish we could have had another the week after.
Laura and Jack were married on 21st August 2021 at All Saints Church in Sancton, East Riding in Yorkshire and then the reception was at Jack's parents' garden also in Sancton. 'We always wanted a church ceremony and we have been to services at the church in the village where Jack's family live and it's a beautiful 800 year old church, so we knew early on that's where we wanted to get married. We then started to look at locations and venues to put the tipis for the reception and the cost for this wasn't something we budgeted but luckily Jack's parents' garden is beautiful and large enough to host the reception plus it's a 2 minute walk from the church so it worked out perfectly. We had 75 guests during the day and around 40 more for the evening reception. It took Roughly 2 years but we bought a house which was a huge renovation project and then we had the pandemic to contend with during that time. We prioritised booking the big stuff first and then spent the weeks and days leading up to the wedding finishing off the DIY decorations. We were relaxed about the whole process.'
How they met
We met through Tinder and have been together over 6 years now.
The proposal
It was a complete surprise. It was Valentine's Day 2019 and I never expected Jack to propose on Valentine's but he took me to where we had our first date, we sat at the exact same table and he proposed. I was in complete shock, but it was the easiest yes ever.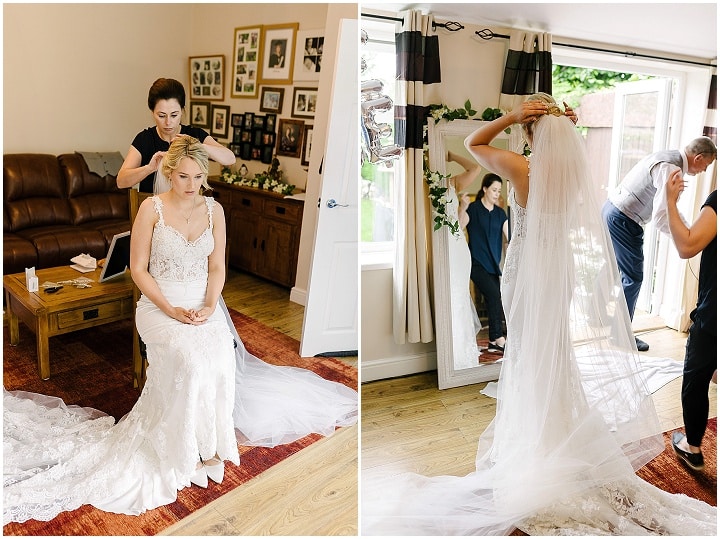 How did you allocate your budget?
We didn't really have one, but we were sensible with our decision making and our parents were very generous and supportive.
Where did you splurge and where did you save?
We splurged on the reception because we knew getting the atmosphere in the tipis was important. We opted for the 3-tipi set up so there was plenty of space and we also paid for extras such as the fire pits, disco ball, extra matting for the walkway up to the tipis which we decorated with shepherd hooks and lanterns either side to set the scene. Food was also a splurge, we wanted to ensure everyone was well fed and there was plenty of options, we got so many compliments on the catering. We saved by doing all the décor ourselves. I created the table signs, name cards, welcome signage and Jack made our large light up Mr and Mrs Turton letters himself.
How did you choose your photographer?
I had seen Aden's work on social media through friends and mutual friends' pages and then had a look at his website and I loved his work. Then we met him and got on so well with him it was a no brainer. I think  Aden was the second thing we booked after the tipis.
The dress
The designer is Enzoani and I got it from a local bridal shop that was closing down so it was hugely discounted. I had been to several shops and tried so many dresses on before going there and I was starting to feel defeated, but I had the best experience, and the lady was so lovely. It's such a shame she's retired otherwise I'd be pointing all my engaged friends in her direction! My shoes were from ASOS and accessories were from a local jewellers.
The suit and bridesmaids
The suits were from Slaters Menswear with waistcoats from ASOS and the bridesmaid dresses were from an online website called Ever Pretty. Luckily the first ones I chose the bridesmaids all liked and looked beautiful in.
Theme or colour scheme
We used the natural colours of the tipi and the setting of the garden and chose colours to compliment this. Our main colours were dusty pinks, white and greens.
Flowers 
I didn't have a specific flower in mind when thinking about the floral arrangements, but our amazing florist Maggie Turpin understood the brief of pinks, whites and greenery and she did an amazing job. My bridal bouquet was more beautiful than I ever could imagine. My only request was to have a yellow rose facing me as a tribute to my Grandma who passed away as they were her favourite flower. Every time I looked at that rose throughout the day I smiled. Jack also requested a 'Snap Dragon' flower to be in his button hole as they hold a special memory from his childhood.
Decoration
We bought and decorated everything ourselves to save money. We had trestle tables so stuck with a simple table runner, a couple of lanterns and candles in gold votives. It was simple but looked great in the tipi setting. We did a lot of DIY decorations. We made the table names, table plan, welcome sign and direction signs which pointed our guests from the church to the reception. My Mum and I planted milk churns to place at the bottom of the table plan and welcome sign easels. Jack is great at DIY and building things, he made the giant light up Mr & Mrs Turton which was the perfect back drop to the dancefloor. We also used old pasta sauce jars as vases and painted them using old paint samples we had and popped artificial flowers in and dotted them around. It was very ad-hoc but it all worked together in the end and we loved how it all looked.
Food
We had canapes and welcome drinks at the reception as we wanted a relaxed atmosphere before we sat down for the traditional 3 course meal later in the day. The canapes were mini-Yorkshire puddings, duck spring rolls, mini jacket potatoes, halloumi wedges. Then for the 3-course meal we had bruschetta to start, chicken supreme and then a trio of desserts which was my favourite part of the meal. On the evening we had pizza and street food. We got lots of compliments on the food and people were saying how stuffed they were at the end of the day which is exactly what we wanted!
Wedding cake
My Mum is an excellent baker, and she made our wedding cake which was so special. We had 3 different tiers: vanilla, lemon and chocolate sponge. She also did a gluten free and diary free cake separately to cater for family members with dietary requirements. I'm sure it was quite stressful for her to make but I wouldn't have wanted anyone else making my wedding cake!
Entertainment
For our ceremony music we had Parisi String Quartet who sounded amazing in the church, they also played for an hour at our reception during the welcome drinks. We put a Spotify playlist on during the meal and then we had a DJ on the evening.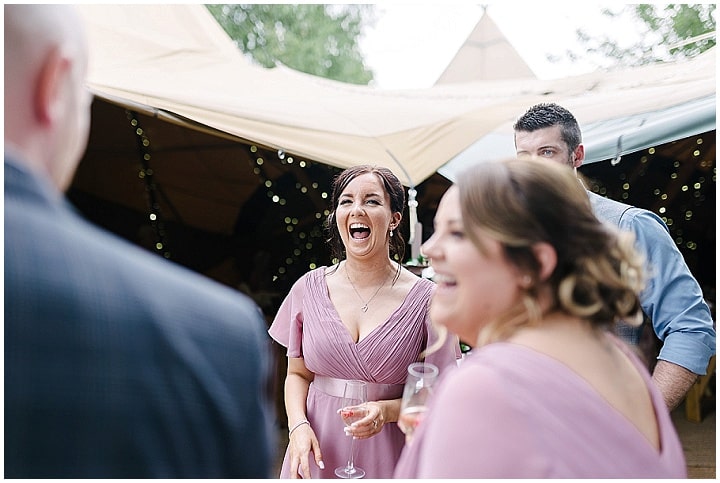 Who supplied the stationery?
We got our invites from Tree of Hearts Stationary who I found online but the name cards, table signs, ceremony programmes were all done by us.
Where did you go on your honeymoon?
We did one week in Grasmere in the Lake District, and it was 22 degrees for the entire week which was amazing! We go to the Lakes at least once a year and we have never had weather like it. It allowed us to go on plenty of stunning walks, we went stand up paddle boarding and even went swimming in the lake. The second week we went to the Yorkshire Dales where we chilled out in a cottage and pretty much did nothing for the entire week.
Personal touches
Jack's Uncle did a reading during the ceremony, and he also did a reading at Jack's parents' wedding so that was a nice touch. My Dad didn't know what a "first look" was so together with our photographer Aden we sort of tricked him into one. His reaction was completely natural and it's such a special memory to look back on. One of the DIYs that we did was to create a modesty board to sit in front of the top table. It was 2 sheets of plywood which we stained and then I used old picture frames from Grandparents, parents and charity shops and put photos from throughout mine and Jack's relationship in them. I wasn't sure how it was going to look but it was a really good feature that I'm proud of.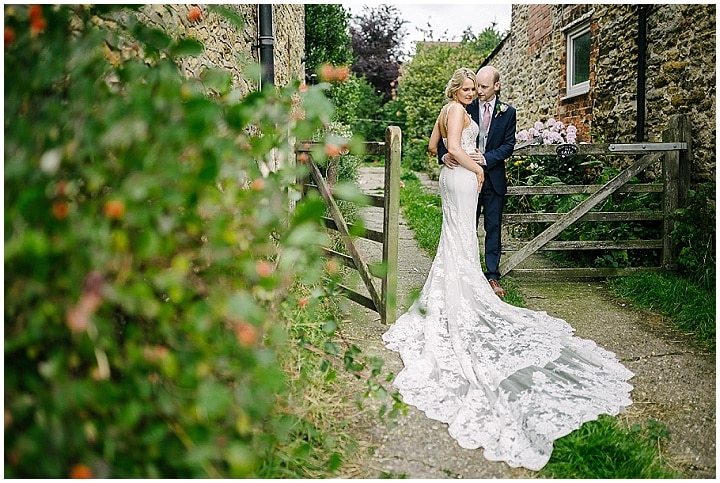 Special moments 
Is it a bit cliché to say that whole day was special? It's hard to pick specific moments. The weather forecast was meant to be thunderstorms and rain all day which we were worried about but as I pulled up to the church the rain clouds cleared and it remained that way for a few hours after the ceremony too meaning everyone was able to enjoy the garden and socialise outside at the reception before heading into the tipis for the meal, speeches, and the evening reception. The thunderstorms and torrential rain hit on the evening at around 7pm as evening guests were arriving but it added to the cosy atmosphere in the tipis especially with the fires lit and all the fairy lights inside. It didn't dampen our day at all!
Advice for other couples
Focus on what you both want on your wedding day, try not to let outside influences affect your decision making. Take time to be together away from your guests, the day goes by so quickly and those stolen moments as newlyweds are so special. Easier said than done but don't sweat the small stuff because at the end of the day they don't matter.
Biggest surprise of the day
How calm and relaxed I felt all day. I thought I would be so nervous, but I just felt an overwhelming sense of calm. Everything ran smoothly from start to finish. My Mum, Bridesmaids and I were ready early, and I even got to the church 20 minutes before the ceremony start time, so the driver was doing laps of the village to kill time. I just wanted to get inside to see Jack and get married.
Supplier Shout Outs
Aden Priest
www.adenpriestphotography.co.uk / www.adenpriestphotography.co.uk/blog / FACEBOOK / INSTAGRAM / TWITTER