Happy Monday everyone! I hope you all had an amazing weekend and that lots of you were at weddings. Maybe some of you even got married? I had a great weekend. Dexter was at a beavers weekend, so Nik and I took ourselves off to Manchester to watch Diversity. The show was amazing, so, so good! We then went out for a bit of food and a few drinks. The rest of the weekend was spent holiday planning, and birthday planning for Nik and Dexter……life is so busy at the moment! So on with today's wedding and I have this 'Boho Dream' of a wedding and it's a real stunner! Lydia and Christopher created most of the wedding themselves, with so many handcrafted projects. From the dried flower bouquets and button holes, to the hanging decoration, signage and table plan. This wedding really is a labour of love but oh my was it worth the time they invested! It looks amazing, well done guys! Big thanks to Kev Elkins Photography for the wonderful photos.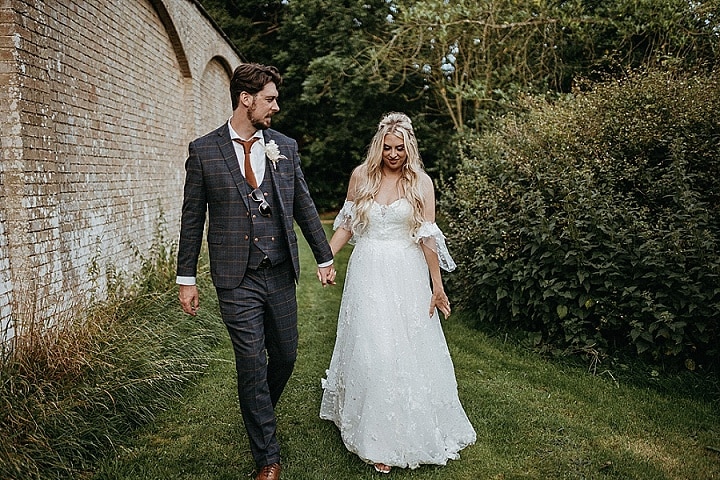 Lydia and Christopher were married on 12th August 2021at St Benedict's Church Scrivelsby in  Lincolnshire with the reception at Scrivelsby Walled Garden. 'We'd seen a few venues but nothing had stood out for us. We visited Scrivelsby on a weeknight after we'd both finished work and fell in love as soon as we stepped through the gates to the walled garden. We booked our date the next day. We had just under 70 gusts in the day and around 100 in the evening. It took just over two years to plan,  we started planning as soon as we got engaged.'
How they met 
We met outside a bar in Lincoln on Lydia's A-level results night and spent a lot of the next few months together before going our separate ways before Lydia went to uni. We bumped into each other nearly 7 years later in 2015 and have been pretty much inseparable since.
The proposal
We went away to Japan for two weeks and Chris spent the entire time walking around with the ring in his pocket trying to find the perfect spot. On the very last day we went back to a park we'd been to on the first day which was full of beautiful cherry blossom trees and Chris got down on one knee under a pagoda where we had stopped to look at the view.
How did you allocate your budget?
To be honest we didn't budget. We kept track of what we were spending and tried to keep costs down everywhere we could by doing so much ourselves and shopping around but we never had a set amount we wanted to spend.
Where did you splurge and where did you save?
We knew we wanted great food and plenty of drinks so we always knew one of our biggest splurges would be for catering. We saved on flowers by doing them ourselves. Lydia's Mum, Paula, made the bouquets and buttonholes and helped Lydia make the pampas cloud that hung over the top table and the display around the church door.
How did you choose your photographer?
Kev is an old friend of Chris'. When Chris told me that he had "a friend that does wedding photography" I was very dubious and started looking for a photographer myself, then Chris showed me Kev's Instagram account and I realised he was an actual wedding photographer, not just a mate with a camera. I loved Kev's unposed, natural style and thought he'd capture our day perfectly – which he did!
The dress 
My dress was by Madi Lane with the custom arm cuffs made by Amy at Chalk Tailors in Nottingham. My Mum made all my jewellery on the day, moonstone earrings and bracelet that matched my moonstone engagement ring. She also made moonstone earrings that I gifted to my bridesmaids (and a bracelet for my bridesman) on the morning of the wedding. I had three pairs of wedding shoes – both pairs of heels were from ASOS. The gorgeous pair I have on in the ceremony were the most excruciatingly painful shoes I've ever worn – I thought I wouldn't feel the pain once I was at the church but that was not the case at all and I was so thankful I had asked my friends Joe and Hannah to take my slightly lower block heels with them in their car in case I needed to change them. My bridesman, Megit, ran to their car after the ceremony and him and my bridesmaid Aimee helped me switch the shoes over in the back of the tipi as soon as we got there! I then had white vans to change into in the evening and Chris had matching black ones.
The suit and bridesmaids
The suit was Marc Darcy which we bought from Gere Menswear in Lincoln. The groomsmen all wore the same trousers and waistcoat as Chris.
Theme or colour scheme
Our theme was definitely boho and our colour scheme was white and warm earth tones.
Flowers
All the decorations were dried flowers which I'd ordered online, the bigger vases were done by my sister, Alice, and my Mum in the days before the wedding. The bouquets were a mixture of dried and fresh flowers that we got from a flower wholesaler in Spalding called Sunflower. All the table flowers were done by Lydia, the bridesmaids and Chris' Mum at the venue the day before. The church flowers were all done by my Mum and were all flowers from either her garden, my garden or her very generous friends who live in the village!
Decoration 
On the tables we had cut glass candlestick holders and vases that Lydia collected from charity shops and Facebook marketplace for two years. We had a large fabric backdrop sign that my Mum made us that said 'You've Got The Love' which is one of our favourite songs, our singer sang it as we left the ceremony. Then we had peacock chairs, rattan lamps, vintage leather pouffes and big vases of pampas everywhere as well as our pampas cloud that hung above the top table. Outside we had our own bell tent set up with a low seating area on a huge vintage rug which was another Facebook marketplace bargain.
Food 
We had canapés and prosecco as we arrived at the garden and then sat down to…
Canapes: Tomato and Bruschetta, Honey and Mustard Cocktail Sausages, Parmesan biscuit, Goats Cheese Mousse and Shallot Marmalade, Blue Cheese Croquettes
Mains: Confit Pork Belly with Black Pudding, Red Cabbage, Mustard Mash and Cider Jus, Bacon wrapped Chicken Breast with Garlic and Herb Stuffing, New potatoes, Green Beans, Confit Tomatoes and Creamy White Wine Sauce, Mushroom, Chesnut and Thyme Pivithiers with Confit Tomatoes.
Dessert: Raspberry and Strawberry Eton Mess, Vegan Version of Eton Mess
Wedding cake
The wedding cake was made by Lydia's Auntie Julia. I asked her to follow my private wedding Instagram account I had made where I posted all the pictures I had found as inspiration for our decor and gave her free reign to do whatever she wanted to fit our theme as I completed trusted her to create the most beautiful cake and she definitely delivered! The first ever wedding cake she decorated was for my Mum and Dad's wedding so it was even more special to have her make ours.
Entertainment
We had Brad Matthews singing sets in the day and DJ in the evening and we created a Bridgerton-style playlist that was played during the meal. We had a macramé badminton net and skittles in the garden which were supplied by Emma Lane Designs.
Who supplied the stationery?
Our invitations were created by Lydia using a couple of templates bought from Etsy that were merged together to make our own unique designs. All the wedding signs and stationery on the day were made painted by Lydia (Chris made the actual signs from old skateboard decks and wood bought from a local timber yard)
Where did you go on your honeymoon?
We were planning on going back to Japan but had to settle with a beautiful little wooden pod in Devon with the dog for a week!
Personal touches
We did most things ourselves, not particularly to save money – although it did save us a fortune – but just because we enjoyed doing it all ourselves and having full creative control. The hanging skateboard seating plan was one of my favourite things we created along with the fabric You've Got The Love sign. Lydia lost her Dad in 2017 and it was really important to all of us to have something there for him so my brother bought three of his favourite whisky's and the venue very kindly allowed us to have these set up on a barrel for guests to help themselves to whilst raising a glass to my Dad, which meant my Dad was getting toasted all day and night!
Special moments 
The church ceremony was the best bit for both of us. We also loved walking all our guests over to the garden from the church and we very much appreciated being able to dance on a dancefloor for the first time in over a year!
Advice for other couples
Don't be scared to do things yourself – we had so much fun creating everything and it made the whole day so much more personal. Just give yourselves plenty of time!
Biggest surprise 
The cake – we had no idea what it would look like until we got to the venue after the ceremony!
Kev Elkins Photography
www.kevelkinsphotography.co.uk / www.kevelkinsphotography.co.uk/blog / [email protected] / 07969253976 / FACEBOOK / INSTAGRAM