Hello Thursday, I hope you are all well and getting through the week. I don't know about you but this week is flying past! I am off tomorrow and Monday as I am taking a few days to celebrate my birthday. It's a pretty big one this year so I am taking extra time out to celebrate and really make the most of the celebrations. I have the most gorgeous Cheshire wedding for you today, courtesy of Jess Yarwood. Jessica and Alex wanted an autumn wedding as this is Jessica's favourite season, and with this as their theme they really went to town on the flowers and decoration. With burnt oranges, deep reds and browns, forest greens and a pop of deep yellow the flowers and wedding details all look superb. A gorgeous day that I'm sure you are going to love.
A Fun, Autumnal, relaxed, Fete – we tried hard to avoid a Halloween/thanksgiving vibe, but rather wanted more of a fete/festival atmosphere. We didn't do everything by the book, which added our own character to the day.
Jessica and Alex were married on 10th October 2021 at  Abbeywood Estate and Gardens, Delamere, Cheshire. 'We wanted something that brought the outside in. While it is an estate, it remains very rustic and not overalls formal which was exactly right. We and our family enjoy nature and the out doors; Abbeywood's glass house allowed us to feel outside whilst being in, and we could also wander the beautiful gardens, weather permitting. Jess's grandma was also very keen for us to have it here too! We had 90 guests in the day and 130 total by the evening. We set our self 2 years to plan the wedding but Covid made it a three year affair!'
How they met 
We met online, and our first date was dinner and drinks in Manchester. When we got married, we'd been together 7 and a half years.
The proposal
After 4 years, a house and a dog…We  had planned a weekend away in Keswick, Lake District, after Jess had just finished work for the school summer holidays. It was one of the hottest days of the year and after a big hike together, Alex surprised me by proposing in front of Derwent Water, on a a little jetty. After happy tears and a quick paddle in the lake to cool off, we hopped on a boat back to a little bnb!
How did you allocate your budget?
We think it came to about £22k, but we didn't keep track…and because we spread it all out over 3 years it felt more manageable. We're so thankful for our parents for helping, and family and friends for getting crafty and artsy to help cut costs.
Where did you splurge and where did you save?
We splurged on a videographer because I wanted something to watch and relive over and over. All families love sitting down and watching home videos, and I wanted to have one that our future family could watch. We also chose the higher end food packages and did some bespoke stuff because you only get married once and food is a big deal for most people. Some couples say they never got a chance to enjoy their wedding food because they were so busy but we made a point to eat everything!
How did you choose your photographer?
We found Jess yarwood through Abbeywood and loved how natural and candid they were. Friends of ours who had recently got married and told us that their wedding photographs had been too staged and planned and time consuming so we took their advice and went for something laid back that fitted around us. This was documentary style photography which Jess and her team smashed!
The dress
Christina-Wu, at The Bridal Shop, Hoylake, Wirral
The suit and bridesmaids
Next! (Bargain) And the dresses were David's Bridal, Birmingham!
Theme or colour scheme
Autumn is Jess's favourite time of year, especially early autumn when you still get the last of the flowers, greenery and the beginnings of orange leaves, so she wanted that to be our colour palette. Abbeywoods garden florals provided the last few pops of colour, whilst their woods and ferns gave us the green and orange. For decorating, we used burnt oranges, yellows, and dark green, with pops of purple and pink here and there. The Bridal party wore forest green dresses and ties.
Flowers
Wild and unstructured. I didn't want too much orange either, but still wanted to  achieve an autumnal vibe. I also wanted to utilise what Abbeywood have in their gardens at this time of year, so I wasn't fussy at all about what they used.. They have a florist on site, so all of the flowers came from their gardens which was lovely
Food 
Canapés – onion bajis, halloumi fries, duck spring rolls and mini Yorkshire Pisa with beef
Starters – Greek Meze – olives, pita, koftas, falafel etc
Mains – lamb roast, sea bass Thermidor or butternut squash wellington (ve)
Pud – trio of small dessert (brownie, white chocolate mouse and cherry bakewell slice)
Wedding cake
Our cake was lovingly made by are close friends – our best man's wife, felicity, who used to have her own cake company. 3 tier, Victoria sponge, chocolate fudge and the carrot cake.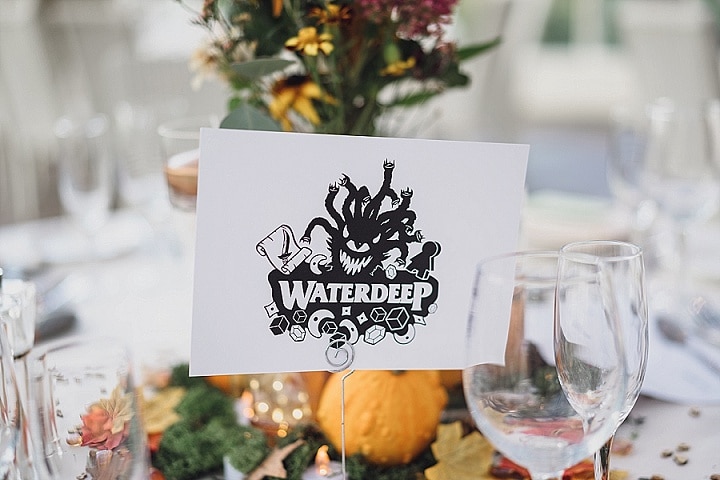 Entertainment
DJ was enough for us! We also did traditional Jewish dancing, and chair lifting, which was really fun and got everyone in good spirits for the rest of the night! All of our none Jewish friends and family really loved this and it was a great laugh.
Who supplied the stationery?
Our stationery was a combined effort. Luckily my brother is handy with an iPad and adobe. He created our save the dates. A friend, Hannah Newall (she won't mind the shout out) created our initial invite illustrations, which my brother later spruced up with text and typography. He also hand designed bespoke table name designs, as well as the seating plan layout which we hung from the largest tree. Name places were written and spray painted onto large pebbles on each table.
Where are you going on your honeymoon?
We had planned a big back packing/inter-rail trip round Japan, but sadly covid has forced us to cancel this. We have instead opted for the same style trip but round Scandinavia (fingers crossed)
Personal touches
We really went to town, because Our family and the bridesmaids love getting craft.
We made our own tissue paper tassel bunting (Pinterest idea) and hung this throughout the glass house and café/barn area.
We collected lots of different coloured bottles and vases from charity chops and these went on tables, and any flat areas, and had either candles, flowers or dairy lights in them. We collects and bought acorns, leaves, conkers, fir corns etc which were scattered on these areas also.
To dress the larger areas, empty spaces and the aisle: My family grew gourds and pumpkins for us, which we used to dress bigger areas. We used  tree stumps and logs (Abbeywood have a big log store) and decorated them with the items listed above and fake leaves and vines. We also bought large second hand lanterns for these areas, and these lined the aisle.
We used 2 large willow branches, and decorated them with pompoms and fairy lights which made 2 large table centre pieces.
We did also hire 2 large autumnal trees, a Chuppah (traditionally Jewish couples are married underneath this) and various other bits and bobs. Huge team effort
Special moments 
Rather than spending a chunk of the budget on favours (which people forget to take home) we made our own Wedding Tombola, and spent the same money on a selection of prizes (from a chocolate orange to champagne). Every guest received a raffle ticket during their meal with a chance to win. Alex is quite the comic/performer and did the draw after his speech, playing bingo hall music with a little tombola barrel and got the winners to come up for a handshake and to collect their prizes. It was honestly the funniest part of the day and the most enjoyed and unexpected part for our guests.
Advice for other couples
If you feel confident to craft, do it because it really does help your budget. We also enjoyed spending the time together as a family doing it. If you aren't confident and want it stress free I would recommend hiring things in. A wedding planner would be the dream, but comes at a cost.
Top tip: create a completely separate email address that you can both access, which is only for liaising with venue, vendors etc. that way you have everything in one place. And can keep all the stress out of your personal inbox.
Watch out for the venues wifi, as sadly our dj lost connection at various points
Biggest surprise 
How everything just came together, hassle free and come the ceremony at 2pm, everything was just perfect and golden. Abbeywood are a brilliant team. Lovely warm weather was also a lovely bonus too in October!
Supplier Shout Outs