Happy Monday everyone, I do hope you had a wonderful weekend and that you managed to make the most of the lovely sunshine? Lets hope it carries on for a lot longer, its really glorious! We have a busy week in store for you on the blog, starting off with this beautiful Cheshire wedding, with a blush and peach colour scheme and a music theme running throughout the day. Amy and Tim added lots of wonderful details to their day from the flowers to the decor, to the amazing entertainment, it really is a fun packed day, that looks amazing. Big thanks to Jess Yarwood for the fab photos.
It was an amazingly fun, beautiful and chilled out day. It was all about the people we love coming together and having a great time.  
Amy and Tim were married on the 9th July 2016  at The Oak Tree of Peover, in Knutsford, Cheshire 'We originally wanted a rustic barn type venue but the ones we loved were too far away for some of guests to travel to. When we saw the Oak Tree of Peover we were stunned by the beautiful oak beams and the intimate feel if the venue, it was like nothing we had seen before (and there wasn't a carpet in sight!). There were 72 of our our closest family and friends in the daytime, 9 of which were children who really made our day so much fun. We had about 90 guests in the evening, we only invited people we were really wanted to share our day.  We booked the wedding about 2 years in advance but most decisions were made in the last 6 months!'
How they met
We met doing what we do best, out dancing with great people listening to great music. My brothers band were playing in a local pub and Tim was there with his friends. A lot of the people there that night were there to celebrate our wedding, even Conrad Ellis, the guitarist/singer from local band The Luka State. He actually supported my brothers band that night (even though he must have only been about 13 at the time). This all happened almost 12 years to the say that we actually got married.
The Proposal
Tim proposed on the 6th July 2014 at the Bloomsbury Hotel in London. He had always told me I'd have a ring on my finger by the 10 year mark and to be honest I had given up hope of this actually happening, so when he surprised me with tickets to watch our favourite band in Hyde Park for our 10 year anniversary I didn't suspect a thing. It wasn't untill we were sipping prosecco in the beautiful hotel bar that he casually pulled out the box and proposed. It was perfect and I was blown away by the ring, Tim has very good taste so he also had lots of input in the wedding day. I spent the rest of the evening showing my ring off in ports-loos and worrying about losing it in the muddy field.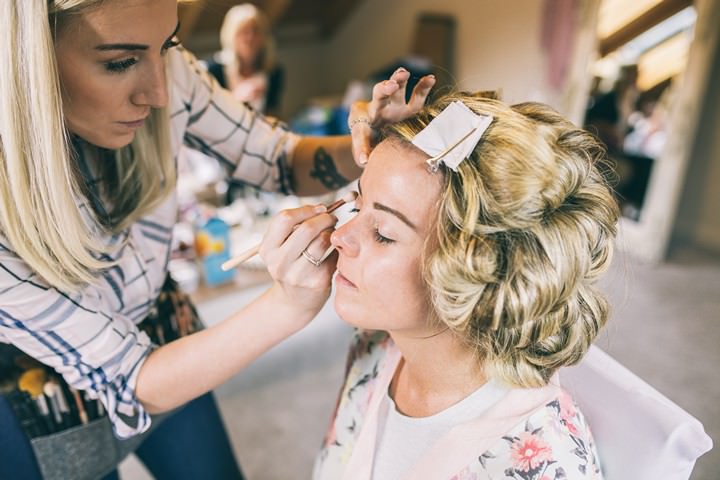 How did you allocate your budget? 
Food, booze and music! We wanted to make sure that everyone just had a brilliant time and to us, they are the 3 essential ingredients to any good party. Most of our budget and thought went into this. Everything else wasn't really budgeted for, we just used our common sense and decided on things as and when we needed to.
Where did you splurge and how did you save? 
We didn't try save exactly, we just made sure we didn't go overboard. But we also didn't want to make lots of compromises. We only plan on doing this once and we just wanted it to be perfect. Everything was carefully picked from the venue to the decor to music and food. They were our biggest splurges.
How did you choose your photographer? 
Jess is friends with one of Tim's friends, Lisa Daly of Shoot the Kids photography,  and her children attend the same school as ours. When we first saw some of her pictures through Lisa we were stunned by the relaxed, natural and intimate pictures she produced. She seemed able to take any environment and capture its beauty. The photographs didn't look posed and that's exactly what we wanted. From our first meeting with Jess she made us feel comfortable and at the wedding she fitted in perfectly among our family and friends.
The Dress
My dress was by designer Stella York. When shopping my mum wanted a big princess dress and I wanted flowing lace and something a bit different and special. I spent a long time dress shopping, nothing was like the dresses I'd seen on Pinterest and I was starting to lose hope. When I saw my dress on the hanger with its daring back and detailed straps it won me over.My lace veil was by Royce Jackson. I loved the lace edging and how it didn't cover the lace detail at the bottom of the dress.
I wore a white gold bangle that Tim got me for Christmas about 10 years ago and some beautiful white gold earrings from a local jewellers. There were fresh flowers in my hair.My shoes were from the same shop where I purchased my dress.
The Suit and Bridesmaids
The suits were by Peter Posh and hired from L and J formal hire. Tim wanted wanted something that gave a nod to mod culture, think 'This is England', which is why he chose the braces. We chose the ties and bow ties because we wanted something a bit quirky and something that was a bit of fun.
I loved the multiway dresses as the material flowed in a lovely way and they could be worn in different ways to suit different body shapes. This was perfect as 2 of my bridesmaids were pregnant when the dresses were purchased and they were sure to fit them no matter how their shape changed. I just loved how the skirt flowed like the dress Jennifer grey wears to dance in on a Dirty Dancing. They were a dusky pink to match our colour scheme.
Theme/colour scheme
We didn't have a particular theme. I have always loved a mid-summer nights dream and weddings styled around this theme but we didn't want to go so over the top. We knew we wanted to bring the outdoors in using natural colours. The colours were blush pink tones and peach with greenery brought in through the flowers and centrepieces. The vines and blossoms that wound around the beams at the venue suited our theme beautifully. When we met with Steph at Flossies Weddings she knew exactly what we wanted and she had so many wonderful ideas.
Flowers
I love peonies, they look like big fluffy clouds, so I chose ivory peonies and peach David Austin rose. Brunia was used as well as gypsophilia because I love how delicate and romantic it looks.
Decoration
We spent a year collecting jars which we then decorated with different types of beautiful lace. These were filled with flowers and candles on the day and used as part of the table centrepieces and dotted around the venue. Flossies weddings provided our stunning centrepieces, tall candles decorated with moss and Pine cones and tall, twisted branches decorated with pink roses and hanging candles. Flossies weddings provided lots of other details to the day including an old wooden suitcase for our cards, a beautiful log mirror for our table centrepieces, stunning wooden logs with pillar candles and blush pink ruffled chair covers. We hired the giant light up love letters from Jemma 4 little letters and they looked amazing with the light reflecting on the stone tiled floor of the venue.
The Food
We chose Olive Tree catering for our food throughout the day and it was fabulous. We opted for a tapas style menu as it meant that sharing dishes could be served to the middle of each table and this would get our guests talking and interacting with each other. Everyone said it was the best wedding food they had ever eaten. We feasted on feta and cucumber salad, tomato and basil bruschetta, artisan breads with oils, paella, glazed sticky pork belly, Spanish style meatballs, potatoes with pancetta and basil oil and pork loin marinated in chilli and garlic. For dessert we shared bowls of Eton mess and plates of chocolate brownie with warm chocolate sauce. We are known for our love of food so we made sure there was plenty to enjoy! In the evening our guests enjoyed a chicken fajita wrap bar with chips, salads and dips. They were freshly prepared and wrapped tightly by the staff at Olive Tree and absolutely delicious!
Wedding cake
When I thought of whom to get our wedding cake from, my mind went straight to Suzanne, a lady I went to college with. She was always bringing in cake for us to eat and it was by far some of the nicest cake I had ever tasted. We aren't big wedding cake people, so we went for a semi naked cake. One layer was traditional Victoria sponge, one was lemon flavoured and the later was raspberry ripple. The cake was decorated with fresh peonies and David Austin roses by Aimee at Forget Me Not Florist in Winsford, Cheshire.
Entertainment 
We didn't want any part of the day to be boring or dull so we made sure our guests were entertained. We had lawn games after the ceremony which the children thoroughly enjoyed. After our meal we had Conrad Ellis of local band The Luka State perform some of favourite songs on the patio outside. Soon the bucking bronco turned up and kept the children and adults laughing, until the evening reception kicked off with our band The Singles Table. They got everyone up dancing to a mixture of old classics and new chart toppers. They were amazing and said that they enjoyed themselves just as much as our guests. They played well into the night, DJing in between sets even playing us one last song we asked for, which led to a spectacular dance off between Tim and our nephew Rowan.
Stationery
All stationery was beautifully done by Flossies Weddings. It incorporated lace and had a rustic, vintage feel. It also featured a stunning silhouette of a tree to match the name of the venue, The Oak Tree of Peover. Our tables were named after our favourite music artists and they all had some lyrics from each artists songs that we love.
Personal touches
We chose the table names because we are huge music lovers and that is just a snapshot of the type of music we have spent the last 12 years listening to.
The lace covered jars that decorated the venue were all made by us, we chose each type of lace and spent over a year collecting them.
We found some stunning Nantucket drinks dispensers for our reception drinks to be served in. We chose gin and apple and pimms and lemonade for our cocktails as we know that not everyone likes champagne bottles of peroni were also supplied. There was also a dispenser filled with cloudy lemonade. Alongside the dispensers we had laid out mini glass milk bottles and patterned paper straws for guests to pour their own drinks into. Each milk bottle was labelled with a heart shaped tag saying 'drink me'.
Our wedding favors were peach, blush pink and mint macarons in little clear boxes, each with a heart shaped tag saying 'eat me'. They were made by the same lady who made the cake and they were absolutely beautiful.
We had set out a lovely picture of a bare tree and ink pads for guests to leave fingerprints like leaves on the tree. Unfortunately the kids were left to use it unsupervised which led to some very funny results!
Tim is a very keen cyclist so a bike had to make an appearance on the day. We used Amy's vintage style, mint green bike with its basket filled with flowers. Tim even managed a little ride on it around the venue.
The parasol that can be seen in some pictures was my mum's from when she married my dad about forty years ago.
We provided some lawn games like Jenga and a ring toss game that everyone enjoyed playing.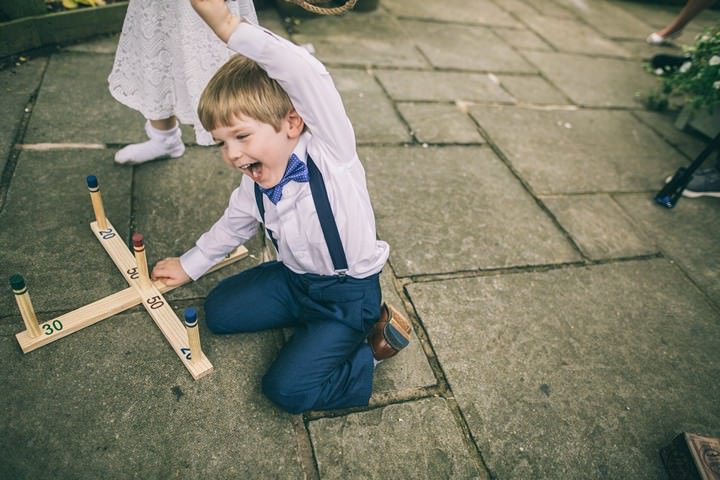 Special moments or highlights
Amy's dad's speech was a highlight for us both. He actually had a speech prepared on his phone but on the day he forgot to bring his reading glasses. What he said though was incredibly lovely and it will stay with us forever.
My bridesmaid Lucy did a reading of an extract from Phillip Pullman's, 'The Amber Spyglass' which Tim and I had picked. She was very brave to get up and read it and listening to her made me very emotional.
Another highlight was the dance off between Tim and Rowan (10 years old), that kid has got some moves! But overall the whole day was incredibly special, all of the food and the people and the music and the dancing. We just wish we could do it all again next weekend!
Advice for other couples
Relax, enjoy it and spend as much time together on the day as you can.
Biggest surprise
Just how perfect everything was, it could not have gone better.
Supplier Shout Outs: 
For more information on Jess' work go to: 
www.jessyarwood.co.uk / 07850485147 / [email protected] / FACEBOOK / T: @Jessyarwood85