Well hello you lovely people and welcome to this fine Tuesday, I hope that you are well and happy and that your wedding planning is coming along nicely. Today I am taking you to Dubai for the quite stunning wedding of  Sabah and Usman who were married on 15th & 16th December, 2021 at Al Seef Heritage Hotel, Nestled in the Al Seef Souq. Sabah, is Creative director and Founder of Ātisuto Events based between UAE & India. Usman is British-Pakistani, while she is an Indian Muslim. 'We recently got married in Dubai in December 2021, it was an intimate rustic sustainable wedding of 25 people inspired by our cultures & old world Arabia set at Al Seef Heritage Hotel, Dubai.' Every part of this 2 day wedding is exquisite, the attention to detail is first class. Shay Photography was there to capture it for us in all it's beautiful glory.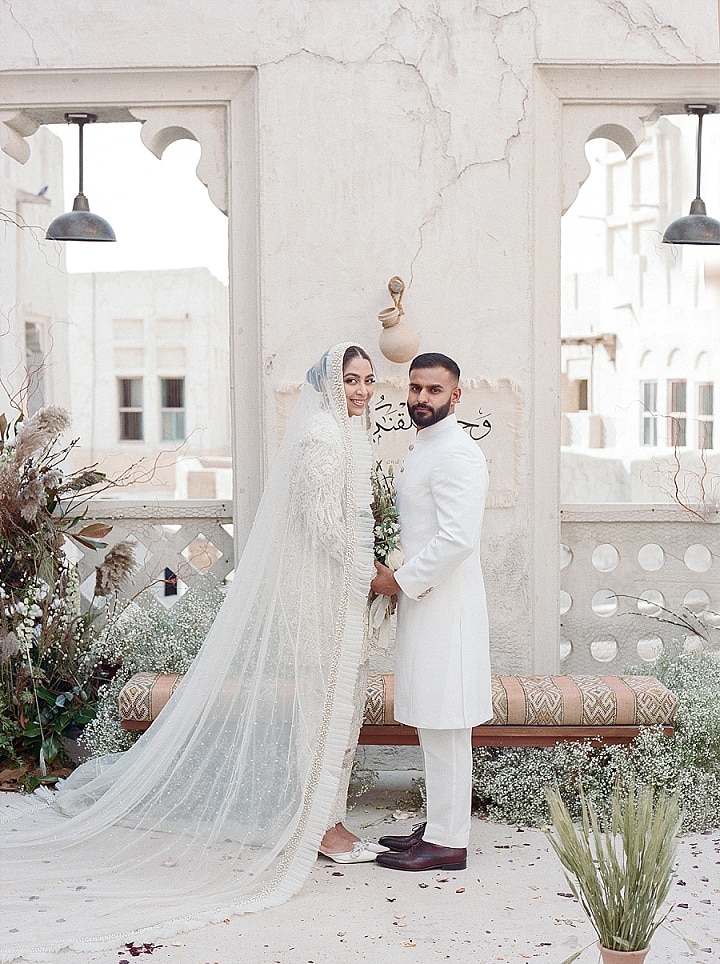 How they met
We got to talking on online for about 10 days. The first time we met post that, we instantly knew that this is it for the both of us. Usman is brought up in the Uk, while I've been living in India. Due to the pandemic, it was extremely difficult for us to bring our families together. Most of our family members met ON our wedding day! However we did manage to get our parents to meet in between the slightly better months of Covid and finalise all the details. After meeting for the first time in August, our wedding was already confirmed by End of December. 2021, was a difficult year. With both the variants, we had a long distance relationship after which I moved to Dubai in July to plan the wedding. So we first met in August 2020 & we were married by December 2021!
The proposal 
I was stuck in India when the borders were closed for a long time, it was a long journey to get here. I had to quarantine in Qatar for 15 days before I got to Dubai. The day I landed, Usman took me for breakfast. It was a gorgeous setting, with farm to table style food. This stunning little wooden bridge was tucked in the corner with greenery and waterfalls, this is where he officially proposed me. We shot the whole thing on polaroids (my favourite form of photography)! Unfortunately it was just the two of us here but we celebrated with our families over Facetime.
The venue
Both of us are extremely private intimate people that live for great experiences. That is what we wanted our wedding to reflect. Our wedding consisted of 25 closest family and friends, spanned over 2 days in Dubai. Our guests flew in from UK and India. We were on a hunt for something that reflected our personalities and would be a holiday style  approach for our guests. We then came across Al Seef Heritage Hotel, Nestled in the Al Seef Souq, it's one of the most beautiful rustic-heritage hotel's in Dubai. The first day we visited, we instantly fell in love. It was a scene from a countryside village in Marrakech. What more could you want? This hotel instantly set the mood for the wedding & we were excited to host our guests here! As a wedding designer myself, I decided to get into immediate planning. We worked closely on the stationery, decor & event experience. Although it was intimate, it meant even more to us! Our wedding took place 15th & 16th December, 2021.
Design and Co-ordination
Being in this industry myself, i planned and designed my own wedding. I don't think i would be able to let anyone else do it! I had an extremely particular vision. However my friend (Tina Bakshi) helped me do all the last minute coordination's for the wedding. She owns a Planning & gifting company called Lateral Events. Extremely hands on and great at her work! With endless calls and back and forth, she helped me coordinate the wedding between Dubai & India and i cant thank her enough.
Stationery
We all love stationery. Stationery is your first vision to your wedding, the first look that you want your wedding to be directed at. As a modern minimalistic bride, I knew I wanted to create a similar approach within my wedding & event stationery inspired by the venue, decor and my love for neutrals. After much deliberation, we came up with the idea of getting both Usman and my mom to write our names down which was then scanned and designed into a wedding signage on organic jute fabric. We used this for all the 3 events that we had, and today it hangs as a keepsake in our home.The ideology behind the signage was to have a minimal interpretation of the venue, the sand dunes of Arabia & the memories of our parents on the day we decided to spend our lives together.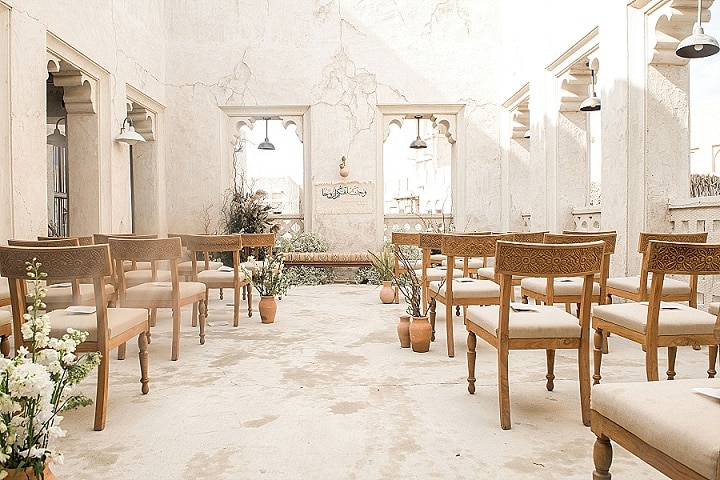 Henna:
The Henna marks the beginning of most weddings and ours was a prelude to the festivities to come. Personally I'm not the biggest fan of henna, so I did an extremely basic design and had our names written in arabic with a flowers and the moon/stars. My two most favourite things on earth.
Nestled in a corner outside the rooms, is a beautiful courtyard overlooking the Majlis and mud houses of a middle eastern souk; this formed the landscape for my decor design. I knew from the get go that I wanted an amalgamation of our cultures incorporated in this beautiful heritage hotel and the decor illustrates this notion. The Bridal seating is encompassed by traditional Indian marigolds and moss grown flowers, locally sourced handmade terracotta pots and dessert cacti which are reusable and now reside in my home garden. It was a beautiful intimate event inspired by our cultures & Arabia. We welcome you to our minimal countryside oasis that amalgamates both bespoke luxury and middle eastern heritage; tucked in a beautiful Souk that provides the perfect setting for our intimate wedding of 25. We loved the organic aesthetic, so all we had to do was to accentuate the natural beauty of the property to reflect our personalities within the experience and the decor of the events. Our guest seating included beautiful wooden heritage benches and furniture and pouffes, while the low tables were accessories with fruits to bring in colour. We added a personal touch with intricate Moroccan hand fans that were made by local vendors, which our guests to take home as souvenirs from the Henna.
Henna Dinner:
Straight from the setting of a middle eastern folklore, our sit down dinner hit all the right notes of rustic minimalism. Following the Henna ceremony the Moroccan souk inspired decor theme continued to a late evening soiree, where music and authentic middle eastern cuisine added to the revelry. Each of our guests had personalised menu cards with their names and the food was served on sharing platters on each table. A lot of moss was used along with different kinds of bottles and lanterns to create warmth on the table along with candles, spices, nuts and condiments as part of the decor. Surrounding the venue we had little majlis on the floor for people to sit and enjoy the music and the weather.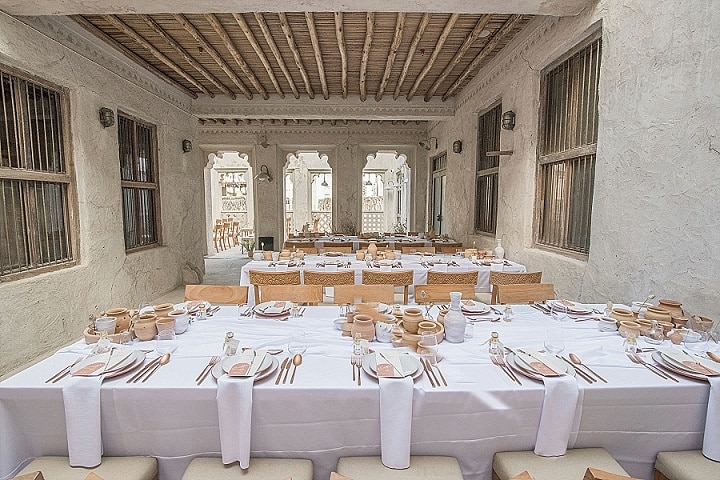 Wedding:
We were very particular on wanting to have a sustainable local wedding! The venue itself played its part but we got married amongst moss filled dried florals with the beautiful backdrop of the souk. We had a hand painted signage of our most beloved verse of the Quran as a backdrop amongst the florals. ( This art piece is currently hanging in my house as well) This is where we read our Nikah & had our wedding ceremony. We are both big fans of Kunafa ( a local arab sweet) and we got the chefs at the hotel to create a "life-size" kunafa surrounded by wheat grass and cut that as our cake instead. The ceremony was followed by lunch. Our lunch tables featured different styled and sizes of local produced terracotta pots with no florals in them. I wanted to keep the tables as minimal as possible and let the venue do the talking! I wanted to set an example for other minimalistic brides in the future that there are many ways of styling your table without having to fill them with flowers!
Our wedding was followed by a reception dinner.
An intimate candle-lit dinner with a personalised photo booth! Over here, we featured a post-card guest book, we are a couple that loves to travel and especially document it! Guests had to click a picture in the photo – booth, choose a stamp and a post card and leave us a note! These post cards are now being turned into a coffee table book that resides in my house as part of decor.
Supplier Shout Outs