With Valentines day just around the corner, now is the time to be thinking about gifts for your loved one if you haven't already done so.
As Valentines day is so close to my birthday I have made a no present rule in our house, instead I am taking the night of work and we are having a delicious meal delivered to us at home by a fab local catering company. But if you are in the business of buying a little treat for your other half then I have some fab ideas for you today.
Studs of Hope
Vurchoo launches Studs of Hope – a collection of accessible earrings that support children around the world.
Helping children around the world escape poverty and find education, Vurchoo has launched Studs of Hope: an evergreen collection of unique and affordable earrings that represent and donate to the country they are inspired by.
Beautifully and individually designed, the pieces are first and foremost an accessible way to help those in need but are also made to be delicately desirable and effortlessly fashionable.  Comprised of gold, silver and mixed metals as well as ethically sourced gemstones, Studs of Hope brings ethical jewellery to the masses for only £40 per pair – proving it doesn't need to cost the earth to make a difference. www.vurchoo.co.uk/collections/studs-of-hope
Mermaid Pink Gin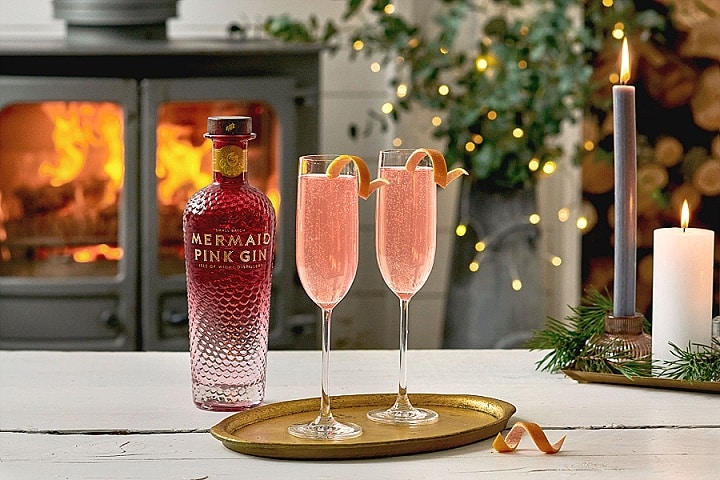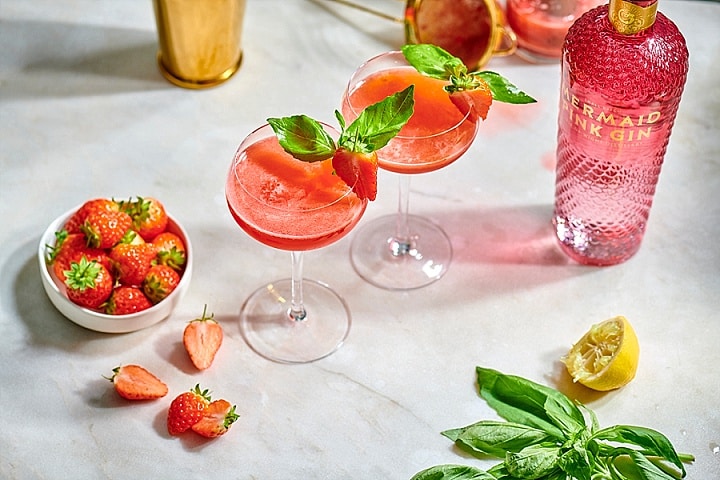 For all you Gin lovers, here is something pretty special for valentine's day. Mermaid Pink Gin infuses the fresh flavour of Isle of Wight strawberries with the smooth yet complex taste of the award-winning Mermaid Gin, creating an aromatic and refreshing drink. How pretty do these drinks look! Perfect for a Valentine's day celebration.
RRP from £38.00. ABV: 42%. Available to purchase from John Lewis, Tescos, Harvey Nichols, M&S, Fenwick and Waitrose.
Cewe – Chocolate Photo Gift Box
If you are looking for something that your other half is guaranteed to love then you can't go wrong with chocolates. Cewe have this delightful personalised boxes of chocolates that are sure to put a smile on the face of the one you love. You can personalise the whole product by adding a photo and text of your choice to the outside of the box. When your Valentine opens the box, they'll be greeted with a selection of either Ferrero or Kinder chocolates, as well as another beautiful photo of the two of you. It's the sweetest way to show you care this Valentine's Day. Chocolate Photo Gift Box – From £17.99
Viners Opulence Rose Gold 5 Pc Knife Block Set
If you are looking for something a bit more unusual for a valentines day present then what about a set of rose gold kitchen knives. If your partner is a keen chef then they will love this idea and will appreciate the idea of having something a bit different. This Viners gift box set of kitchen knives has everything you need for your kitchen and food preparation. Each knife stores safely and easily,​ on display in the opulent rose gold universal knife block. The kni​ves have titanium coated stainless steel blades to match the rose gold block. RRP £52
Typhoon Living Set of 3 Chopping Boards ​
Staying with the cooking theme, these chopping boards are fantastic for those of you striving to be eco friendly. Typhoon Living chop boards come in a handy set of three sizes which is perfect when preparing food for a large meal. Again a wonderful idea for those of you who care keen cooks and looking for something a bit left of centre as Valentines day present. Typhoon Living set of three chopping boards are made from sustainably sourced bamboo which is a quick growing plant and great for the environment. RRP £18.50
Lucy Quartermaine 'Drop Collection'
I have to say I am a BIG lover of earrings and they really do make for he perfect gift for the female in your life. These gorgeous sterling silver earrings from Lucy Quartermaine are just ideal. Lucy's iconic drop collection is at the forefront of her designs. Her main inspiration for this classic collection is taken from the beauty of mother nature and hypnotic way that water falls.Lucy Loves to watch organic shapes that rain droplets make, as they cascade down a window pane, she draws inspiration from all around her as she enjoys a cosy day indoors watching mother nature. These meting drop hoops are £85 and can be found here www.lucyqdesigns.co.uk
Cazcabel Tequila
If you are looking for an alternative to the bottle of fizz on Valentines day then what about a bottle of tequila to get the night started! Cazcabel Tequila is a range of authentic, high quality, natural tequilas. Innovative and unique, Cazcabel create flavours that can be sipped, savoured and enjoyed. The Cazcabel Tequila range includes Cazcabel Blanco, Reposado, Coffee, Coconut and the world's first Honey Tequila. The full Cazcabel Tequila range is available from Amazon and Master of Malt. And range from £24.99 – £29.99.
So what do you think? is there anything here that takes your fancy? I would love to know what gift you are giving on valentines day? or are you doing something different this year? Feel free to leave a comment below and start the conversation.
[jprel]