I LOVE todays wedding and it's the perfect way  to start the week, thank you so much to Alexander Leaman Photography for sending in this beautiful collection of photos. The couple are Laura  and Jo (nicknamed Ding!) who held their civil partnership on 13th August 2011 at at The Dome Cinema on Worthing Seafront with 50 ceremony guests and 85 evening guests.
I just love everything about it, the two beautiful brides first fo all, what a gorgeous couple they make, and so many smiles between them, it looked like they had a really fun day. THAT dress…OMG I die! Laura looks incredible in this dress! I Love the styling, the beach theme works so well, all the DIY details are fantastic and shows how you can really make a wedding your own, by putting your own personal stamp on it……the colours are beautiful, as are the portrait shot on the Pier………and what can I say about those cup cakes? so cute! All in all a wedding I certainly would love to have been a guest at!
Laura and Ding describe their day as 'Fun, relaxed, filled with so much love from all of our guests, perfectly personalised, beachy and just totally us!'
How they met
We met on the small Greek Island of Poros at a mutual friend's wedding over 7 years ago.
Venue
The Dome Cinema on Worthing Seafront. The Dome is the oldest working cinema in England; it was renovated a few years back and has an intimate Dome area for the ceremony, a large function room with a terrace overlooking the beach – just perfect for us!  The great thing is that when we  go to the cinema it will remind us of our special day!
We considered various hotels and venues in Sussex but we love our home town so didn't want to venture too far.  The Dome was the perfect size, style and overlooks the beach which is our favourite place to be!  We relocated to Worthing together 5 years ago and wanted all of our wedding guests to come and see where we live and enjoy some time at a true British seaside town. Lots of our guests stayed overnight and made a weekend of it – the Worthing Birdman competition was taking place the following day – we did consider entering in our Wedding attire!!
Outfits
My dress is called Garbo by designer Jenny Packham – it is absolutely the dress of my dreams!  I didn't want a traditional wedding gown but I wanted something elegant with a vintage edge – I never thought I find what I was looking for when I explained my style to my friend Nina who was also getting married in 2011, she told me about Jenny Packham's gowns and I must say that every last one in her collection was stunning.  I found a stockist in Sussex but most gowns were over budget at around £2,500…by a stroke of luck I found a stockist in
Southampton called Shay Harris and Garbo was there waiting for me – It was obviously meant to be!
Theme
We wanted to try and create a 'chic beach' theme using natural textures and with a powder blue accent colour.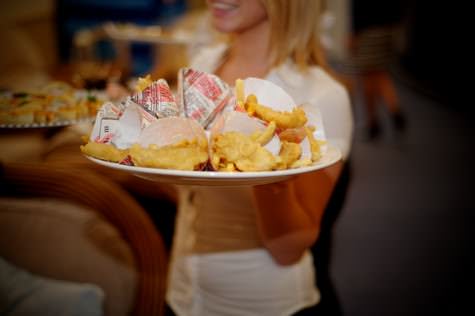 Personal touches
Yes, lots – we did the whole thing ourselves!
– From designing and making the table decorations,
– The ceremony room styling,
– The cupcake display crates,
– Our mum's helped by planting up the ceramic buckets with pale blue flowers and grasses to bring a bit of the outside in!
– We ordered personalised sticks of rock,
– Beach themed cupcakes,
– Personalised water bottles,
– Confetti of white feathers and blue petals,
– Photo's of us over the years in frames,
– Old postcards of Worthing on the tables, some of which over 100 years old original, used postcards featuring the dome and Worthing seafront in sepia,
– Lobster pots with wooden fish and starfish.
Doing it all ourselves meant that we got exactly what we wanted; everyone commented on the personal touches we made which made it different to any other wedding they'd been to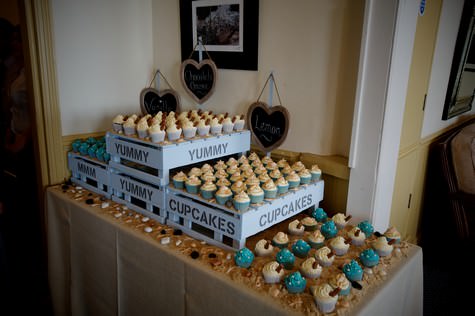 Special moments
Meeting each other for the first time on the stairs of the hotel before going together to the ceremony room, travelling in Dougal the amazing campervan, hearing our personalised vows
to each other, ceremony guests singing "all you need is love", anthem band in the evening who made the night so much fun, the air guitar was out, Ding spending the morning of the big day with sis and bridesmaids, walking into ceremony room and seeing all of our close friends and family smiling and happy and genuinely celebrating our special day with us, fun beach shots with our close family, going off with our photographer Jason onto the pier for our couple shots – every part of our day was magical and just having all of our amazing friends and family in one room together was fantastic.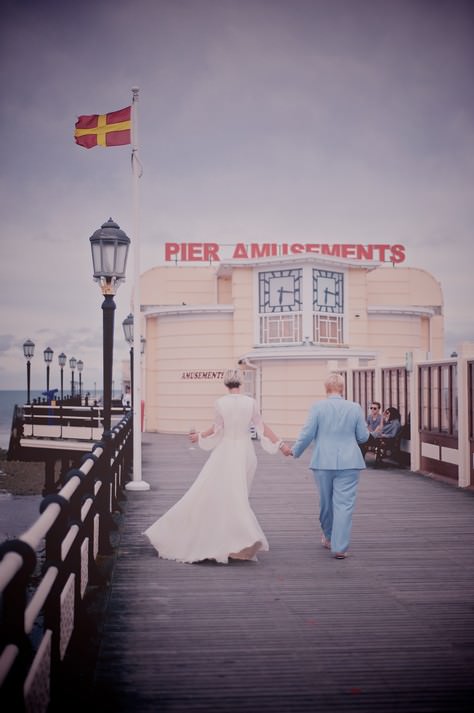 Planning Advice
Make sure you are equally involved as it's too much for one person, try and have fun along the way as it's easy to get caught up in the stressful parts – and remember, it is just one day so don't sweat the small stuff because on the day you'll be in your own little bubble of happiness and it really won't matter!
Biggest surprise of the day?
Ding – Laura bought me a stunning diamante Thomas Sabo watch
Laura – Ding bought me the hair piece that I couldn't afford.  My sister said she'd make me one and I trusted her so much so that I didn't even see it until the day … and low and behold it was the one from the shop that I loved but it was just over budget!  She did stitch a cute little blue diamante onto it though so it had a little personal touch!
There were also several serendipitous moments – 3 instances of friends or relatives who knew eachother very well but had no idea that they shared us as mutual friends or relatives!
Supplier Shout Outs
Butterfly Cake Company, Angmering, West Sussex – Clare was absolutely fantastic!  Her customer service was superb and she makes the most incredible cupcakes you'll ever taste as well as stunning designs.  She worked with us to create the most perfect and delicious cakes and we felt as if we were her only customer throughout!  We are using her services again for a family Thanks Giving party in November and she will be designing some more thanksgiving theme cakes.  All of our guests raved about the cakes and every single cake went!  Luckily we had the forethought to ask for a box of 6 just for us which we enjoyed next day!
Anthem Band – this band have to be the best ever wedding party band we've ever seen.  They were fun, entertaining, interacted with the crowd whilst singing and playing – they really have to be seen to be believed – they made the night what turned out to be one of the best parties ever!  All of our guests absolutely loved them!
The Rock Company  – we bought personalised rock favours which were perfect for our beach theme, had our names and a heart inside with a personalised label and colour
Jason Alexander Leaman – Jason was our fab photographer.  Such a lovely guy, professional and friendly making us feel completely at ease.  We both love photography and agreed that the photo's were one of the most important aspects of the day.  Jason has captured fantastic, artistic shots of our day and we are so happy with the album!
The Dome – We cannot say enough about the staff team at the Dome.  The catering was outstanding and all of the guests we spoke to said how great the BBQ buffet was.  The team were friendly, professional and all of our needs, large and small were catered for, nothing was too much effort.  Would definitely recommend them – they looked after us on the day that we were setting up the venue checking on us and giving us free lunch and drinks all day!
Vanilla Splits – We hired a beautiful VW Campervan called Dougal as our wedding transport from this company – fab company to deal with so friendly and really professional – we are completely in love with Dougal and hope to take him camping again in the future.
The Burlington Hotel – Great price and lovely sea view rooms – wonderful customer service and did a great rate for our guests staying there.  It's relaxed, informal with great bar food and beautiful views of Worthing seafront
Percy Holley – Percy designed and made our rings – Ding had a platinum band and Laura a platinum band with princess cut diamonds.  Such beautiful rings and Percy was wonderful to work with.
Shay Harris Bridal Lounge – incredible designer dresses and Shay and Daisy are such lovely ladies!  It is a boutique style lounge – Shay is able to customise and gives fabulous advice…she also has matching accessories so you can really see your full outfit come to life.
For more information on Jason's work go to
www.alexanderleaman.co.uk
www.alexanderleaman.co.uk/blog
[email protected]
FACEBOOK
TWITTER