If you are a lover of the outdoors an currently looking for a wedding or elopement photographer then look no further then todays featured photographer Helen Rose of Helen Rose Photography. Helen is based in Sheffield and loves traveling around the Peak District and Derbyshire countryside to capture those special moments between wedding couples and families. Describing herself as an 'adventure photographer' Helen is passionate about getting out into the wild and making memories with you. Helen's work is soft, fun, honest and natural, perfect for any Boho couples. I know you will love Helen's work as much as I do.
I am an adventurous Wedding photographer who lives in Sheffield on the edge of the Peak District National Park.
Having spent my childhood in Scotland and Norway I have always been drawn to nature, quiet, wild places and mountains from an early age. As I have evolved as a photographer over the years I have always found that I feel that my biggest passions are photographing people but photographing them right in the heart of nature. I love the contradiction of a Wedding couple dressed up so gorgeously in a place you wouldn't necessarily expect them to be, it feels very mischievous!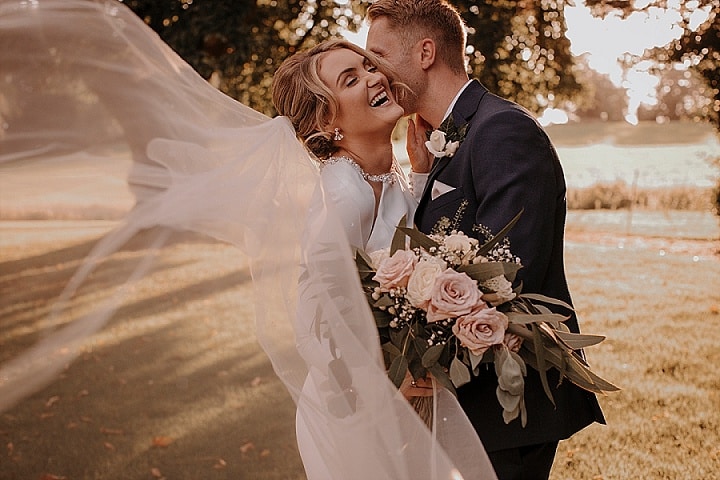 What made you start your business?
I went back to University in Derby to study Commercial Photography after a few years of not being well enough to pursue a career in Primary school teaching. I had M.E/ Chronic Fatigue Syndrome and found photography as a good way of being involved socially still when I wasn't well enough to be the life and soul of the party. My health gradually improved, I graduated with a First Class Honours and were able to start doing Weddings, Family Photo shoots and commercial work around having my children. Fast forward 10 years to the present day, my youngest of 4 children is now in nursery school so that I am able to put more week day hours into my business to make the switch to focus more on Wedding Photography and all that it entails.
When did you start?
Whilst at University in my first year approx 14 years ago.
Where are you based?
We live on the south-west side of Sheffield just next to the South Yorkshire/ Derbyshire border. I have done a great many family photoshoots in the Peak District over the 8 years we have lived here so know some great locations and areas that I am now able to offer as places for Wedding couple shoots and Elopement ideas.
What sort of geographical area do you cover?
I am happy to travel provided I feel that the Wedding is suited to my photography style and have even photographed Weddings as far as Australia. I do however know the Peak District extremely well and am happy to shoot there whatever the weather so that's why I am now offering Elopements in the Peak District.
How would you describe your style?
I like to have a laugh and capture others also having fun and laughing so I would say its a mix of natural happy images combined with real emotion of being in nature.
What is your biggest achievement so far?
Having and raising 4 children whilst running a photography business! I may not have always been as present as I am now on social media but this is why… I've done a lot of work over the years that I haven't had a moment to share, so now is my time to change that!
What makes you different to your competitors?
I love to embrace nature and the outdoors. I am happy to shoot whatever the weather,  I think from my childhood in Norway – they have the mentality that you dress for the weather and go out in it every day.
I like to always try to not replicate shoots, no two shoots are ever the same as your photos should reflect and show the couple to their best. I feel I get on really well with people so I am able to make people feel at ease and therefore get real honesty out of them through my photographs.
What do you enjoy most about your job?
Meeting new people! I am outgoing, so I love meeting people and always have a great time at every wedding I photograph as though I've known them all my life!
What sort of couple do you think you attract?
Adventurous, those that love a bit of 'wild' and are up for some fun!
What would be your ideal wedding to work on?
Elopements in the Peak District which is where I am taking my business currently, or any venue that is inspired by nature or the outdoors.
Can you give me some information on your pricing structure?
I tend to quote for the day and include getting ready all the way through to the first dance. I find my clients want the full experience and never want any shorter days, so that they can see their personal love story unfold over the time I am with them. Each quote will depend on location.
What advice would you give couples when choosing their wedding photographer?
Don't base your decision on price. If you love their work then go for it its the only thing you have left from the day.
What is your ideal way to spend a day off?
Ideally… it would be either far far away somewhere sunny having lots of laughs and adventures with my family and friends or doing absolutely nothing and sleeping all day!
What do you do in your spare time?
House renovations! My husband and I are very hands on so we try to do a lot of the house renovating and decorating between us. It can be frustrating yet rewarding… it feels like it will never end though!
We also like to travel, we go camping and especially love it around Bavaria and Austria… I think the mountains call us.
What can you never leave the house without?
Phone and glasses!
Which celeb would you like to photograph?
I'm not sure if she is classed as a celebrity as she is a designer but she was the first to come to mind SO really randomly it's Orla Keily! I just love her!
What would you do if you won the lottery?
I wish that the first thing I'd say would be to donate it all but I'd probably go on a nice holiday with the family first, pay the mortgage off and then be able to work and do shoots for free for people who were deserving of them.
If you weren't running your business, what would you be doing?
If a lockdown returned and I couldn't work again, it would be back to house renovating – I've a new wooden parquet floor arriving soon for the hallway and dining room…
For more information on Helen Rose Photography
www.helenrosephotography.com  / [email protected] / 07740353019 / FACEBOOK / INSTAGRAM / TWITTER
Venues used:
The Royle Forest Weddings
Tissington Hall
Osmaston Park
Peak District National Park
This is a sponsored post