Today I am taking you on a magical trip to Cyprus for this truly romantic styled shoot. Elopement inspiration, which features the most dreamy decoration, stunning beach backdrop and a to die for cake. The shoot took place on 16th March 2021 at Thalassines Villas Ayia Napa in Cyprus. It was put together by M.O.weddings to show the world what an amazing place Cyprus is to get married, both by day and by night. I just adore the soft tones of the flowers, which work perfectly with the twinkly fairy lights and the romantic Boho theme.
A Boho elopement at the Mediterranean Sea – could it be any more romantic? Add a secret garden on the beach, vanilla skies plus a beautiful dinner set up and you have your dream wedding in Cyprus
I wanted to show the couples from around the world that in Cyprus we can create an exquisite, intimate and really romantic boho wedding.
The pink sunset with the cappuccino haze during the summer twilight is the most romantic time for lovers. These delicate shades of cloudy pink and warm evening sand inspired us to create a 'boho romantic' wedding shoot.
We wanted to create a natural and relaxed atmosphere, with a touch of romance and sensuality. To make the picture moderately elegant, but with a special mood and unique style. And we definitely did it.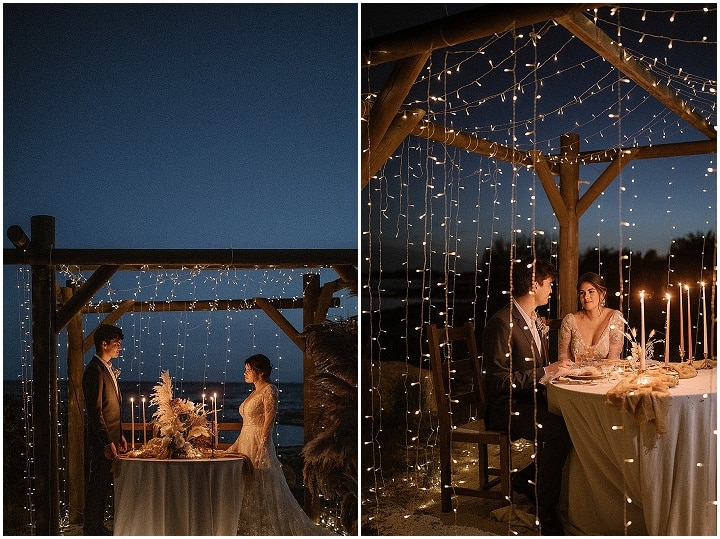 Supplier Shout Outs
For more info on M.O.weddings go to
www.moweddings.ru / [email protected] / FACEBOOK / INSTAGRAM