If you are in the midst of planning your wedding, you will know that there are many different elements that all come together to create your dream day. However, you might not be aware that many of those elements fall under what is known as your 'wedding production'. Everything from your wedding lighting to your tables and chairs fall into this category, so it's something that you are going to be spending a great deal of time considering. The good news is that, with the help of a specialist wedding production company, you can take a huge chunk of your organisational duties off your plate by hiring all of your equipment requirements from one outfit. That's why today on the blog we have enlisted the help of wedding production specialists On Tour Events to talk us through what you need to be thinking about when planning the perfect wedding production. These guys know EVERYTHING about wedding production and are here to guide you though each and every area.
Your Ultimate Guide to Wedding Production
What is Wedding Production?
Many of you may be unfamiliar with the term "wedding production", even though you'll be well acquainted with the items involved within it. In short, it refers to all of the equipment you will need to hire for your wedding event.
When conceptualising wedding production, it's useful to envision a film production, which is more similar to a wedding event than you might have first thought.
Just as is the case for any Hollywood set, you are going to need to hire professional sound systems, event lighting, and a stage fit for your celebration. Then you need to consider other items you will likely hire, such as dance floors, tables, chairs, and even cutlery. As you can see, much like a film set, your wedding production is made up of several disparate elements that all come together to transform your venue into one that reflects those of your childhood dreams.
In other words, wedding production covers pretty much all aspects (especially technical elements) of your wedding day that aren't style or decor-related (e.g., the flowers, the dress, or the table decorations).
As you can see, no matter how big or small your wedding day celebrations are going to be, you'll need to invest in wedding production services.
So with that in mind, let's make a start with the most important aspect of your wedding production – your event lighting.
Wedding Lighting: Your Production's Mainstay
There is no question that your wedding lighting is the most important aspect of your wedding production. It's something that has the power to completely transform the look and feel of your venue. From the fairy lights draped along your walls to the mood lighting fixtures placed at strategic locations and disco lights making the dance floor "pop", every inch of your wedding venue will interact with light – be it natural or from one of your chosen lighting options.
Thus when it comes to your wedding production, you will spend most of your time with the production team on working out which event lighting options you are going to go with. Those light choices will be influence by many factors such as:
Whether you have hired an indoor or outdoor wedding venue
The number of wedding guests
Existing lighting options provided by the venue
Your budget
Any specific features of your venue that limit or restrict your lighting options
There are so many potential lighting options for weddings that it's impossible to cover them all here. However, it is worth running over a few of the most popular event lighting fixtures that couples tend to hire regardless of the overall wedding theme. Of course, if you are looking for a touch of inspiration, you can always gather more information by looking through these lighting ideas for an outdoor wedding.
Fairy Lights: Something for Every Wedding
There is hardly a wedding that takes place in the UK these days without the use of fairy lights in some capacity. They fill most Pinterest boards for a reason! Not only are these lights extremely versatile, but they also create a magical sparkle that gives your nuptials that "fairy-tale" look and feel that no other event lighting option can.
You will have seen many examples of how they've been incorporated into wedding events on social media sites such as Facebook and this website. You can use them as semi-functional lights to give a warm glow to an outdoor area in need of lighting, or they are just as at home as backdrops to a reception room. Fairy lights are likely to be high on your priority list, no matter your wedding theme, due to the sheer variety of potential uses.
Mood Lighting: Transform Your Venue into the Space of Your Dreams
Pretty much all wedding celebrations make use of mood lighting. There are plenty of options when choosing your specific lighting fixtures to create a mood. Perhaps the most popular choice would be LED uplighters, which are floor-based lights that shoot beams of coloured light up walls and onto ceilings.
They can wash your walls in pretty much any colour of the rainbow, and they are perfect for highlighting any architectural features of your building. Many brides insist on these powerful lights for famous or historical buildings in London and Surrey, for example. They can circle through different colours throughout your celebration, which is great for moving your guests from a neutral dining mood to a party atmosphere.
Other choices include stages washes, which can really help bring your wedding stage to life, and moving "intelligent" lights that emit broad beams of light that move about the reception room.
Wedding Stage and Dance Floor Lighting
Most UK weddings will have a live band or at least a DJ to get everyone up and dancing, and they will be most likely housed on the wedding stage, the focal point of most wedding functions. Thus, it will come as no surprise that you, along with your planning partners, will spend time working out the details of your stage and dance floor lighting options.
Stage washes are solid bet here as they decide the look and feel of your wedding stage. Spotlights for your performers will also be required (if you've gone down the live band route). But then it's on to more performative lighting options such as disco lights, lasers, and maybe even a smoke machine to entice your guests onto the dance floor. This is the most joyous part of your celebration, so it's best not to skimp. There's nothing worse than dance floors with a lacklustre accompaniment of lights.
Spotlights and Pinspots
When it comes to wedding event lighting hire, these two lighting fixtures are often an afterthought for brides and grooms. However, forget about them at your peril. As mentioned above, you will likely need spotlights as part of your wedding stage lighting ensemble, and don't forget about the pivotal role they play in highlighting you as a couple during the first dance!
Next, perhaps the least talked about wedding lighting option is pinspots. They are the same as a spotlight, except they emit a very narrow light beam to highlight specific items. So if there is anything that you would like to draw your guests' attention to, you'll probably choose a pinspot to do it. You can use pinspots to highlight your photo booth, your floral arrangements, table decorations, or the wedding cake, for example.
Textured Lighting and Gobos
Here we are entering the realm of lighting effects. In case you're unfamiliar, gobos are stencils placed in front of a light source to project a pattern or an image/photo. You could use them to create a motif with your names and the date of your wedding. Alternatively, you can use them to project objects such as snowflakes onto the ceiling of your venue.
Textured lighting is similar. However, the patterns you can create are often a level above gobos, with a range of more sophisticated elements and designs available to project around your venue.
But that's enough about lighting. Let's move on to other critical aspects of your overall wedding production – starting with your sound options.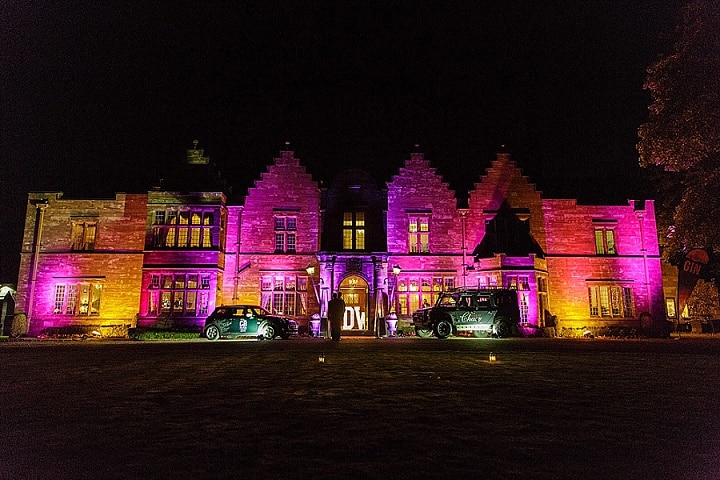 Your Wedding Production's Sound Systems
While perhaps not quite as pivotal as your lighting choices, you should still take great care over your sound hire choices. When you pause to think about it, you'll realise that several wedding elements depend on getting the sound right. From the musical accompaniment when walking down the aisle to throwing shapes with your guests on the dance floor, the quality of the soundtrack to your day will depend on the sound equipment you hire.
Even for a subtle and understated celebration, you will still need to hire wireless radio mics, a PA system including stage monitors, amps, a mixing desk, and maybe even an on-site sound engineer to mix your chosen performers.
Of course, you're not going to be an expert when it comes to sound equipment. But there's no need to become overwhelmed. All you need to do is call or email your chosen event production partner to discuss your celebration, and they'll be able to divine what you need and provide you with a quote.
It's always a good idea to pay that little bit extra to have a sound engineer on hand to eliminate the chance of that infamous screeching feedback from microphones or amps.
Your Wedding Stage: The Focal Point of All Wedding Productions
While lighting and sound are certainly the most pivotal elements of your wedding production, your stage follows closely behind. No matter the specific style or theme of your celebration, your wedding stage will always act as the focal point for your wedding reception.
You might not yet realise it, but there are actually plenty of options when it comes to choosing the look and feel of your stage. You can hire a standard stage for your live band or DJ, which is totally fine. Or you could opt to hire a stage to accommodate you and your nearest and dearest on the top table.
Other options include choosing your stage draping, backdrops, carpet colours, and whether you want to choose a tiered platform that descends onto the dance floor. For instance, do you want to create a red carpet experience as you descending those steps for the first time as a couple onto the dance floor for your first dance? Some clients even pursue a custom design to deliver the ultimate "wow" factor for their wedding stage.
However you want your stage to look, you can sit down with your event production provider to get into the finer detail. Some outfits will even be able to show you how it will look on your special day before you pull the trigger.
Your Wedding Production: Everything Else
Once you've made decisions on all of the above aspects of your wedding production, it's time to finalise the outstanding elements. These are your furniture necessities, such as tables and chairs (and cutlery) in most cases. Remember, wedding production is primarily functional in nature (although many of your lighting options may perform a decorative role), so we aren't talking about items such as the flowers or the cake here.
As you might expect, there are still plenty of options when it comes to your furniture. Chiavari chairs and circular tables represent some of the most popular choices for wedding celebrations. But there are no rules against hiring long, wooden Viking-style tables with accompanying bench seats to create a rustic dining feel.
In some cases, your wedding venue might provide you with a good chunk of your furniture, and cutlery may be included with your catering provider. However, if not, you will need to enlist the help of your event production partner.
Your wedding production will set the tone for what is one of the most special days of your life. From the fairy lights draped throughout your tipi marquee to the style of your tables and chairs, your choices will influence the event's overall success.
The good news is that you can hire absolutely everything you need for a perfect wedding production from On Tour Events. They handle all aspects of wedding production for celebrations across London, Surrey and the rest of the UK – right down to the style of knives and forks you want. They can even custom design and manufacture event production elements such as your wedding stage. You also reap the benefits of dealing with one company for all wedding production and related elements, leaving you to focus on other vital aspects of your wedding, such as catering.
If you want to learn more about wedding event production, simply head to the On Tour Events website for handy hints and tips for choosing the perfect wedding production.
This is a collaborative post