Happy Tuesday everyone, I hope you are all well and happy this sunny Tuesday morning! That is presuming it is sunny in your part of the world. It's glorious here in Sheffield, long may it last! Today I am taking you to Warwickshire for the Rustic Elegant wedding of Zara and Matt. This charming couple chose the most stunning of venues. Shustoke Farm Barns is the most gorgeous location for a wedding and suited them down to the ground. They filled the venue with rustic decor with accents of gold and blush pink, greenery, florals and hanging wheels. The whole look is beautiful, all captured perfectly by Aden Priest.
Your wedding day is such a mix of emotions, excitement, nerves & happiness all rolled into one! It was just the best day, everything went to plan and we were just so happy to have all of our closest family and friends there to celebrate with us.
Zara and Matt were married on 10th September 2018 at Shustoke Farm Barns in Warwickshire. 'We loved it the minute we walked in! The venue ticked all the boxes for us, having really good food was really important to us and we loved the rustic style of the venue. We also wanted indoor & outdoor space that was well connected so that it didn't feel as though half of our guests were missing during the reception. We had 70 guests and it took around a year to plan.  pretty much started researching as soon we were engaged!'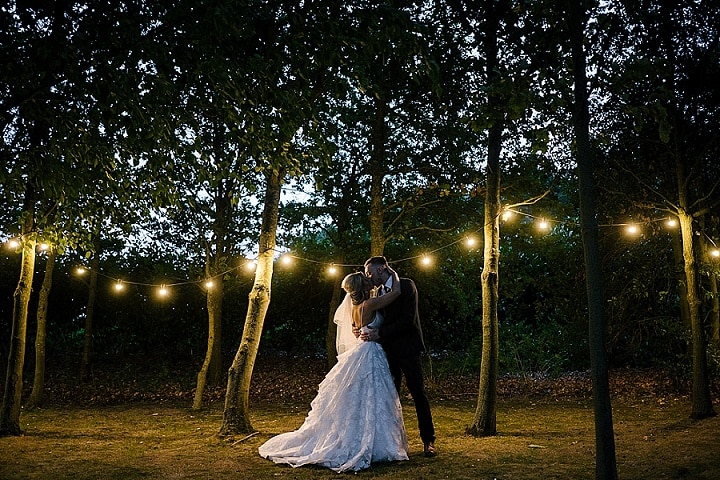 How they met 
We have been together 7 years this year, we met at Tesco head offices, where we both worked but for Tesco suppliers who happened to be competitors! The first time we met I had to provide Matt with some training on a barcode process as he had just joined… the rest is history!
The proposal
Matt proposed in Rabac Croatia in June 2017, with a beautiful ring which i had seen a few months before and thought I would never see again.
How did you allocate your budget?
To be honest we wanted to spend most of it on our honeymoon! Initially we got some rough ideas on costs for the venue based on estimated guest numbers. We knew the venue would be the most expensive part so started with that and allocated the rest of our budget from there.
Where did you splurge and where did you save?
We didn't really splurge, we tried to save and be resourceful wherever we could, yes it's your wedding day but it is just one day and we really didn't want to build up any debt or have any financial stress over it. The one thing that cost more than we budgeted was my dress, and that is only because i changed my mind after putting a deposit on my first dress! So then I had to get another dress from the same supplier and the only one I liked was double the price of the first dress. (Ooops).
We also got Married on a Monday which we took a risk on as we knew that it meant not everyone would be able to come. It did restrict our guest numbers in the evening, but the most important people were there and it saved us a lot of money!
We also didn't Hire a Wedding Car as we couldn't justify the cost considering i would only be in it for 15 minutes from our hotel. We used our own car and tied Ribbons to it and a Family member drove me and my dad.
How did you choose your photographer?
It was easy, we loved Aden's photography style, his personality, his values and approach to life and to his job. He also offered more than other photographers in his package. The selling point for us was that he stayed until the end and we really wanted some fun pictures from the evening. A lot of photographers will only stay until after the first dance.
The dress
My dress was Justin Alexander, Hair piece from Etsy, Earrings from Botias Accessories
The suit and bridesmaids
All of the Suits was Moss Bros. and the Bridesmaid Dress was from Coast.
Theme or colour scheme
I'd say the theme was rustic boho, with gold and blush pink.
Flowers 
A loose bouquet of Wildflowers, foliage and greenery, tied with blush pink silk ribbons.
Decoration 
We kept it simple and decorated with flowers and candles. We had Hanging floral wheels with foliage & burgundy/red amaranths, and simple foliage displays on the Tables.
Food 
For the main course we had BBQ triple thickness sirloin bricks to carve at the tables, with goose fat roast potatoes with rosemary and garlic and green beans with olive oil and black pepper. All of the food we had was Amazing (not that I ate much of it my dress was so tight!).
Wedding cake
We had a really simple two tier semi naked cake, I think it was chocolate sponge I can't remember, I don't think I got to eat any of it as we went on our Honeymoon the following day!
Entertainment
We had a band in the evening and we created a playlist of all of our favourite songs for the rest of the day on spotify. We were able to connect our ipad to the venues sound system so that made it really easy. We also purchased outdoor games for the courtyard that we knew we could keep and use afterwards rather than hiring them. In the evening we had a Smores station as the venue had open firepits.
Who supplied the stationery?
We found a designer on Etsy that we liked who created our artwork for us and then we had them printed using a digital printer. We requested stock samples from them prior to going to print and then had proofs sent to me to check before we ran the final set. We also purchased a personalised address stamp on Etsy for the envelopes and posted them all out!
Where did you go on your honeymoon?
We went to Dubai for 6 days straight after the wedding for our 'Mini Moon' and then we had our proper Honeymoon in the Maldives in February as we wanted to go when the weather was good. We stayed at Oblu Sengeli in the Maldives and The Waldorf Astoria on the Palm in Dubai.
Personal touches
Yes, I made all of the Napkins, I bought some Linen Tablecloths from H&M as this was a much more cost effective way of buying a large amount of linen fabric. Instead of hiring a photobooth, we purchased lots of fun photobooth accessories and created a wedding hashtag for our guests to take selfies and post on social media to share.
Special moments
Every single part was special, but the moment we saw each other was the best. Just a lovely feeling of happiness, relief and overwhelming emotion.
Advice for other couples
Don't stress about it. The main thing we found stressful was opinions regarding our plans as we did a few things differently, the best thing to do is keep it all as a surprise for the big day. And don't try to please other people, it's your day to enjoy however you want so if you want to do things a little differently then go for it!
Biggest surprise 
When Matt told me he hadn't had any sleep as one of his boys had been poorly all night! Not ideal on your wedding day, however the photographers were a great support with this and we couldn't have done it without them.
Supplier Shout Outs
Fore more information on Aden's work go to
www.adenpriestphotography.co.uk / www.adenpriestphotography.co.uk/blog / FACEBOOK / INSTAGRAM / TWITTER

[jprel]