Well hello you lovely lot and happy Thursday! Today feels like a Friday for me as the schools break up here in Sheffield for half term, so I'm not at work tomorrow. It feels like the first day with no rain for what seems forever, so spring may finally be here! Today we are going to Oregon for this beautiful wedding of McKenzie and Mat. As they got married last year, they did so under Covid restrictions, having to cut their guest list from 150 to 75. Never the less the day was more intimate and turned out perfectly. The classic decor, white flowers, wooden signage and beautiful outfits are just a few of the highlights for me. Big thanks to 7 Sisters Photography for the lovely photos.
Our wedding day was full of laughter, surprises, and so much love. Down to the weather and the most magical sunset we have ever seen in Bend, it was as if God was showing off.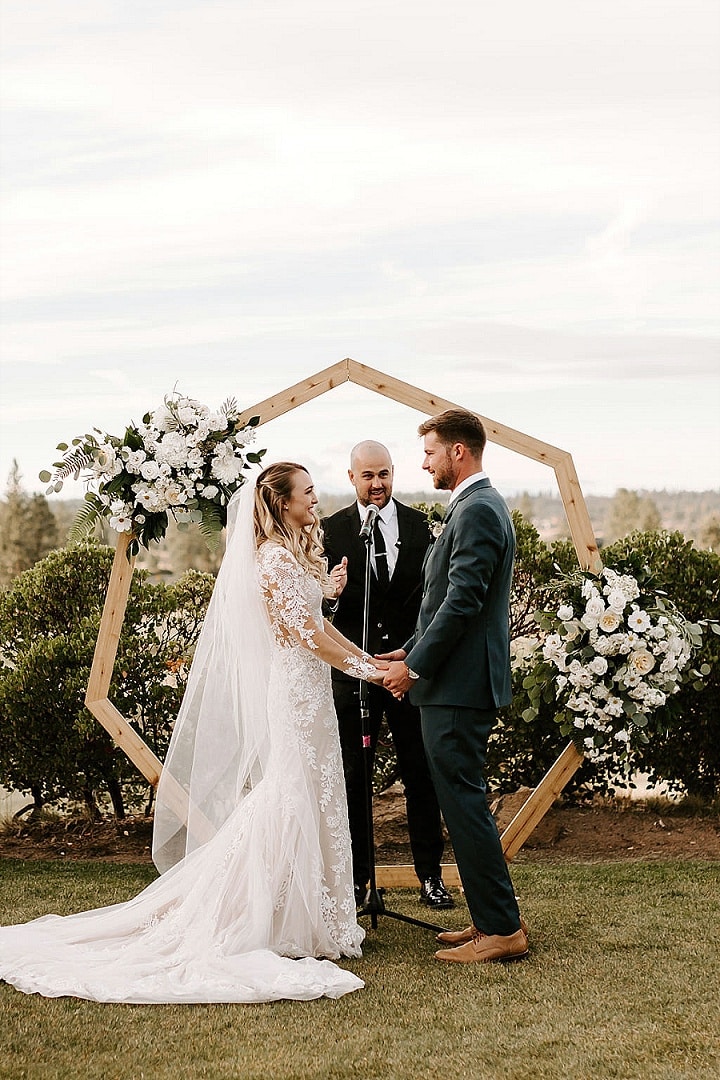 McKenzie and Mat were married on 17th October 2020 at Tetherow Resort in Oregon. 'Mat and I both experienced Summers in Bend, Oregon growing up, and upon meeting one another for the first time – both brought up how it was one of our favourite places on earth! Fast forward to our engagement, we were both looking for a venue that had our "modern" style, and something that highlighted the best things that Bend had to offer for our guests. Tetherow's large window's that opened up to the mountain views immediately sold us on the venue! Being married at a time where COVID was in full force, we brought our guest count from 150 to 75 total guests. With that being said, we truly did miss all that could not attend, but the intimate feeling of the 75 guests made our day so special. We both felt that it played out exactly how it was meant to. We got engaged on August 24th and were married the following October – so 1yr and 2 months to plan! The length in time to plan made everything so much easier on our budget and our sanity while juggling our jobs, moving into our first home, and planning our wedding all at once!'
How they met
Mat and I met while working at Baylor University within the athletic department. He was the Director of Operations for the Baseball team and I was the Director of Operations for the Acrobatics & Tumbling team. He had apparently seen me in a compliance meeting (very romantic I know) and had tried to follow me on Instagram after the fact – but I never saw it! Two years later, I saw him in the same compliance meeting and decided to add him on Instagram. He slid into my DM's from there and we then went on our first date shortly after! The rest was history!
The proposal
Mat had told me for months that he wanted to bring me to Malibu to visit his old college stomping grounds. For our 1yr anniversary gift, he made a reservation for a little Airbnb right in the heart of Malibu. As the weekend rolled ahead, Mat booked a flight to ask for my family's permission prior to the big trip. When he made it to Salem, I was convinced that it was just too good to be true that he got to see my family with his busy schedule and was jealous I couldn't see them myself! Little did I know, he asked everyone (sisters included) for permission during his visit (they of course said yes!). The day of the proposal, Mat and I relaxed at the beach, taking in our last day to get some sun. Towards the end of the day, Mat claimed that two of his college friends were coming to hang out. They joined us at the beach, and then everyone decided to head back to the Airbnb so that Mat and I could get ready for our dinner reservation. Before going to dinner, Mat convinced me that there was an amazing overlook view of the ocean right next to the dinner spot we were going to, called "Point Dume." Everyone was so excited to see it, including Mat's two friends, so up the small hike everyone went! At the top, Danny (Mat's friend), encouraged us to take a couple's photo. From there, Mat got down on one knee and asked me to marry him! I said, "Are you kidding me right now?! YES!!!"
How did you allocate your budget?
We first looked at the items that were at the top of our list – meaning the most important to us. We then worked our way down the list to determine what we could do without, and then started doing some research to look at costs associated with particular items. We looked at those costs and determined within our time frame, how we could pay for them over time, and what needed to be under a lump sum payment. We had a working Excel spreadsheet that we utilized to record our costs and also allowed our family to add items that we may have missed along the way.
Where did you splurge and where did you save?
One of the biggest items on our list was our photographer. As long as we had the best of the best – and made us feel comfortable on our big day – that was all we could ask for. It was HANDS DOWN one of the best decisions we made! Mat's "must" was the open bar. It was definitely worth it!
How did you choose your photographer?
Oddly enough, Mat's co-worker's wife was our photographer! We had gone to dinner at their house for a holiday dinner and I remember seeing her photos, thinking how much I loved her style. When we got engaged, Mat immediately brought her up, and it was honestly a no brainer. She was able to come to Arizona to take our engagement photos, and then flew to Oregon for us to shoot our wedding. Other than her amazing photography skills, she is one of the best humans I've ever met – which is what made our wedding day that much better. We were able to be completely ourselves around her and had no problems holding back and living in the moment! 
The dress 
I went with a Lillian West dress! I love the lace and boho/modern style. My dress was something I will always love. I wore my aunt's pearl earrings that she wore on her wedding day, and my grandma's pearl bracelet. My shoes were the Bradley Ankle Strap Sandal by Jewel Badgley Mischka. 
The suit and bridesmaids
The suit was from the rental company Generation Tux . We went with a steel blue color. The bridesmaids' dresses were from Show Me Your Mumu – the metallic gold color in different styles.
Theme or colour scheme
I wanted to go for a timeless feel, so stuck to mostly neutral colors – the steel blue of the suits was our kick of dark color. The bridesmaids' dresses really played up the suits, and matched perfectly with the dress!
Flowers 
For my Bouquet, I went with an all-white floral arrangement with greenery sprigs mixed in, and smaller arrangements for the bridesmaids. I wanted to have that "timeless" feel with our floral arrangements. We used this throughout, and went a little heavier on the hexagonal arch arrangement to tie everything in.
Decoration 
We ordered a "The Snider's" wood sign to place over the large fireplace in the ballroom. We kept all signage with the brown wood – and a family friend hand painted our welcome sign, our open bar sign, and our "mr. & mrs." table signs. We also had table numbers that we utilized from a friend of a previous wedding and used greenery to spice up the tables and décor themselves. We also bought floating candles as the center-pieces for the tables to lighten up the room, matching the falling lights from the ballrooms ceiling! Lastly, we did rent string lights that were on the outdoor patio to give some extra lighting and spice up the outdoor section where guests went to grab their drinks.
Food 
The appetizers were a BBQ brisket, the Spanakopita, and Hummus Cups! The entrees were the Wagyu sirloin steak, pan seared Salmon, and the three-cheese primavera, with potatoes and season veggies at the side items.
Wedding cake
Our wedding cake was a 6" marble swirl up cake, and the big dessert for our guests were donuts! They were cake donuts, vanilla with chocolate drizzle and sprinkles, chocolate peanut butter, pumpkin spice, and salted caramel! They were a hit!
Entertainment
We had a DJ! He had been the DJ for the Oregon Trail Blazers, the Crossfit Games, and several celebrity weddings. We got lucky and he was a friend of my mother's!
Who supplied the stationery?
I did! I actually downloaded a stationary set from Etsy and got them printed myself. I loved them!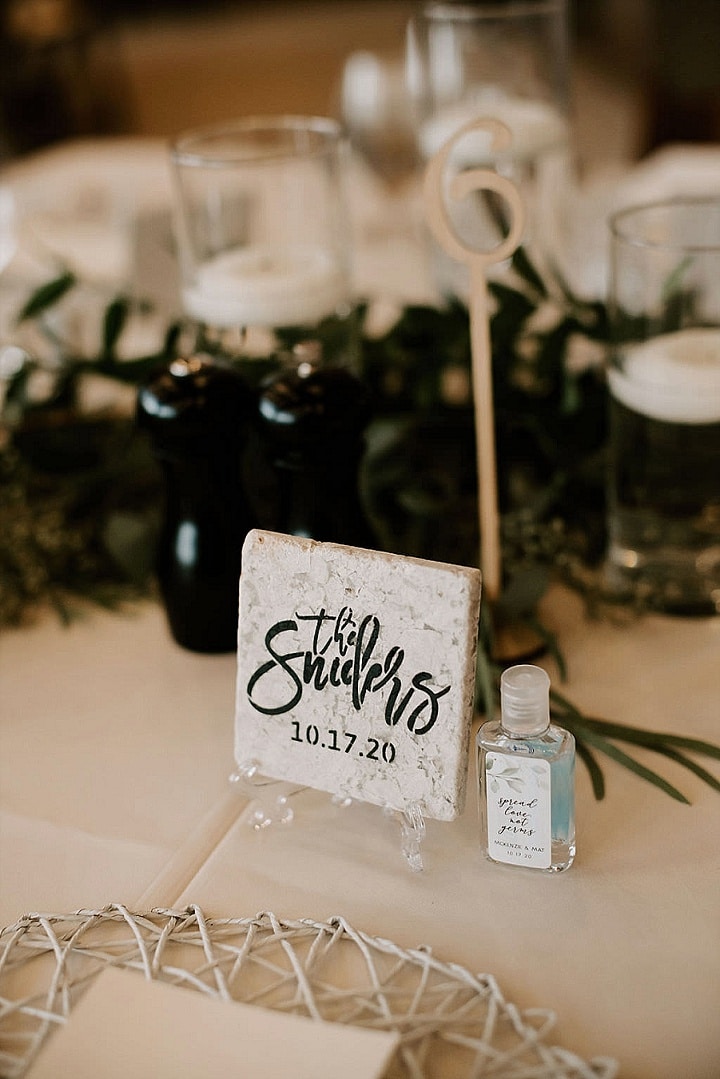 Where did you go on your honeymoon?
We went to Napa and stayed at the Meritage Resort. We spent a few days visiting wineries and exploring new areas and restaurants!
Personal touches
I designed and printed the seating chart and was able to rent a rose gold frame to hang this from! We also had my father, a tile setter, put together marble tiles to make coasters! With help from my stepmother, we were able to print on the individual tiles for the guest favors!
Special moments 
One particular special moment for me was when the groomsmen each left a gift throughout the morning at the house that myself and the bridesmaids were getting ready at! Whether it was coffee, champagne, food, etc., they all came with a note from each of the groomsmen saying why they were excited for the day and how special Mat was to each one of them and what made him such a great guy. Needless to say, I was already crying happy tears hours before the ceremony!
Another highlight of the night was the dance my father and I did halfway through the Father- Daughter dance. We started out with a slow dance and worked into a choreographed routine set to music. We only had one week to rehearse and told absolutely no one (other than the DJ) that it was happening! Not only did everyone love it, but my Dad and I had a blast putting it together and it made the transition into the dance party seam so seamless.
Advice for other couples
It will be extremely easy to get caught up in all the little things and spend a lot of money on things you will never notice on your big day. Everyone says the day goes by so fast, and they are absolutely right! Make sure to take small moments in between to look around and be 'in the moment.' Something we did as a couple that made time slow down, was having a private dance together as the wedding party left to grab sparklers. It was just the two of us on the dance floor and the DJ – with a song that we didn't care what anyone else thought about. It was something we'll look back on for the rest of our lives. 
Biggest surprise 
The biggest surprise of the day was honestly how emotional we both were! Seeing each other cry just made us cry more – but all happy tears. I think this also played out when I accidently dropped Mat's ring at the altar trying to place it on his finger. That is something he will never let me live down, but we laugh about it!
Supplier Shout Outs
[jprel]