Happy Friday everyone how are you all today? Today is an exciting day for me as I am off to get my 2nd jab of the vaccine at lunch time. I'm happy and feel very blessed that I will be fully vaccinated and just hope that we can get the rest of the country and indeed the world all vaccinated as soon as possible. And here we are with the first Bank Holiday weekend of the year. We are planning a family BBQ on Monday but now the weather doesn't look like it is playing ball, so we shall wait and see! I hope you have a good one whatever you do. Today I am taking you off to Rome for this gorgeous beach wedding. Carolina and Leon held this laid back wedding during the pandemic but still managed to have 40 guests attend their beautiful day. With Carolina as a florist the flowers are of course stunning, as is their backdrop. A super chilled day brought to us by Viviana from 913 Art.
It was a beautiful day, full of emotions, hugs and laughter that we will never forget. the thing we liked the most was that every person we love actively participated in making our day even more special!
Carolina and Leon were married on 23rd September 2020 at "Laguna Blu", Maccarese (Rome, Italy) with 40 guests. 'I (Carolina) am a florist and I have been working in the world of weddings for a long time so I can say that I had an advantage on the organization because I knew how to move. In February 2020 we completed the documents to have our marriage recognized both in Italy and in Albania (Leon is Albanian). We waited for the pandemic emergency to pass to book all the most important things like wedding dress and location.'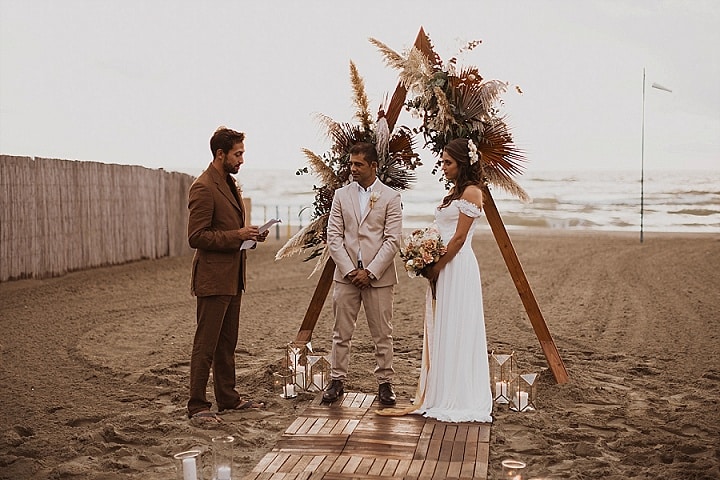 How they met
We met thanks to mutual friends. we have been together for two and a half years .. and it was really love at first sight!
The proposal
We love nature and we often go to the sea for walks with our dog or for surfing. In September 2019, Leon organized a walk to a special beach for us to see an amazing sunset and organized a small sunset picnic there. There was a breathtaking view and suddenly he knelt down and proposed. At first I thought it was a joke, then he gave me the ring and I couldn't speak and I started crying so much that he thought my answer would be no.
How did you allocate your budget?
We wanted to create a relaxed, bohemian and elegant wedding, we didn't have a specific budget
Where did you splurge and where did you save?
We wanted to spend adequately to have fabulous bride dress, good fish dishes and amazing music for our guests. We certainly saved money on flower arrangements, as we took care of them personally. Photos, video and make up were given to us.
The dress 
My dress was made by a small but refined atelier on the outskirts of Rome, precisely in Aranova. My friend Valeria was able to satisfy all my requests by creating the dress of my dreams …..very boho chic!
Theme or colour scheme
We had thought of a well-defined color palette. We wanted to include our favorite color (mustard) and neutral and earth tones with a few touches of gold. This appeal is also present in the long silk ribbons that finish my bouquet.
Flowers 
Handmade by myself : a hair vine with dried, stabilized flowers and my accessories were shells. I have selected some really luxurious flowers: golden mustard garden roses, toffee roses, white roses, white little roses, cappuccino carnations and white astrantia with some vine of dried fern.
Decoration 
The ceremony area was set up on the beach. Our backdrop was set up by a large wooden teepee hand-built by Leon and decorated with dried flowers, pampas and lunarie. The nave was decorated with minimal gold lanterns and glass candle holders. Inside area of the restaurant : we have set up two imperial tables for our guests. There was a long ivory gauze that ran along the tables and a rhythm of natural-style floral arrangements that alternated with lots of vintage candles of different heights. The atmosphere was truly romantic!
Food
All dishes based on fish. Two of our favorites were paccheri with octopus ragù, pecorino romano and mint the other was risotto with spinach, salmon and burrata.
Wedding cake
A fantastic chef prepared for us a "millefeuille" cake with cream and berries, it was really delicious! At the top, we put a cute personalized cake topper: a couple with a Labrador and a surfboard that says "mr & mrs Hyso"
Entertainment
we chose Roberta Vaudo and her band for our wedding. Roberta in addition to being a very good singer is a very sweet and competent person and she has been able to fulfill our every wish. Thanks to her voice, to the sound of the guitar and the double bass, atmosphere was truly magical and romantic.
Who supplied the stationery?
Laura took care of the stationery, menus, tags and invitation cards. All handwritten on white cotton paper.
Where are you going on your honeymoon?
Unfortunately due to the pandemic, we have not yet left for our honeymoon, our dream would have been to go to Hawaii or Bali for good surfing and beautiful excursions.
Special moments 
There have been many special moments. Among the many surely we could not forget our gazes that met before starting the ceremony, our loving dog, Bogart, who brought us the wedding rings, or the words that our best friend Cristiano said for us while celebrated the ceremony or our first dance
Advice for other couples
Do not wait for better times to get married, do not be overwhelmed by fears and anxieties by covid, if you know that your partner is the right one then "catch the moment" and get married!
Supplier Shout Outs
For more information on 913 Art go to
www.913art.com / www.913art.com/blog-c/ / [email protected] / +39 320 82 47 295 / FACEBOOK / INSTAGRAM
We are a couple in life and at work, we deal with both photos and videos and we love the naturalness of reportage but we leave nothing to chance.