Happy Tuesday everyone and welcome back to the working week. I hope you all had a delightful Easter? How was your bank holiday weekend? I feel suitably stuffed with chocolate and cake, Dexter has never received so many Easter eggs!! We had a lovely time getting out and about, meeting up with friends and family, it's been absolutely lovely to get some sort of freedom back. Still a long way to go but so lovely to be able to travel out a bit more and see some different sites. It's done us all the world of good in our household, I hope it has done for you too. So on with today's wedding as we travel back to the Autumn of 2019 for this charming Autumn themed barn wedding. Natalie and John wanted a venue that would hold both their ceremony and reception and Houchins in Colchester did just that! They made the most of the October backdrop and filled their decor with accents of autumn which worked perfectly with the barn venue. Big thanks to Grace Elizabeth for the lovely photos.
It was a magical day, especially as the weather had been so awful (tropical storm) the week before, but on the day the sun shone for the first time in weeks!
Natalie and John were married on 5th October 2019 at Houchins, Colchester. 'We wanted a modern barn style wedding and Houchins looked like the perfect mix of rustic and elegant, really light and beautiful.  It also had lovely grounds.  We wanted somewhere with a wedding licence so we could get married and have the reception on the same site so people didn't have to travel from one place to another.  There was also a beautiful farmhouse on site which we stayed in with our family and wedding party for the weekend. We had 90 guests and it took 2 years to plan.'
How they met
We've been together for 4 years and met on a well known internet dating site!
The proposal 
I love all things Spanish so John took me Madrid for the weekend and proposed one evening while we were walking in the Parque Retiro.
How did you allocate your budget?  
There were three things we thought were most important – free bar, good food and the music.  I had a giant spreadsheet with multiple tabs where I kept track of all outgoings against our estimated costs.
Where did you splurge and where did you save? 
We splurged on our band who were great.  We saved on my dress(es) and we didn't go all out with the decorations. We wanted to keep it simple and elegant – as well as cheaper!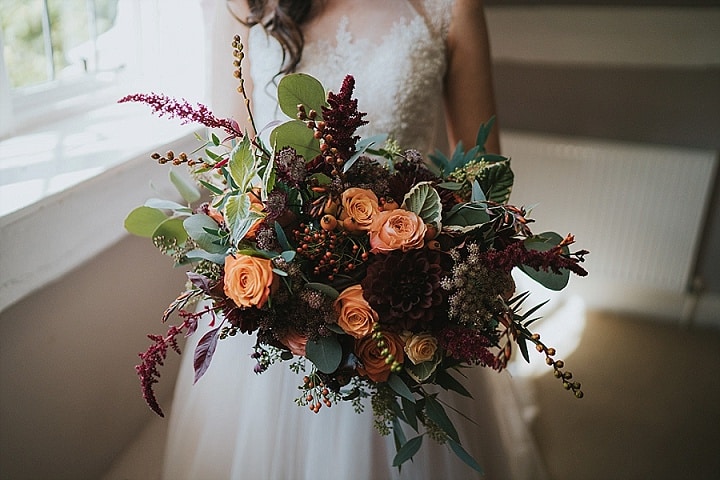 How did you choose your photographer?
We found Grace as well as a few other photographers online but after an initial chat we warmed to Grace the most personally.  We also loved her portfolio and the natural style of her photos.  After an engagement shoot with her we were so pleased with her pictures we knew we had made the right decision.
The dress
Dress was by Wed2B, jewellery various designers (mainly purchased from Wolf & Badger) and no idea about the shoes I'm afraid!
The suit and bridesmaids
Bridesmaids dresses were from Quiz.  Suit was from a boutique on Brick Lane, with the waistcoat bought from Etsy.
Theme or colour scheme
As the wedding was in October, we were working with an Autumn theme and colours – green, teal, orange, dark red
Flowers 
Mainly roses in autumn colours. I like the less formal bouquets so wanted a more natural shape.
Decoration
We kept our decoration very simple, just using greenery to decorate the barn, dried lavender bunches for the marquee and gin bottles with flowers for the tables.
Food 
Mezze platter, roast beef, wedding cake.  Evening buffet was cheese board and bread selection.
Wedding cake
Mix of rose and pistachio and Victoria sponge
Entertainment
We had a band called Soul'd Out who are local to Colchester and who brought the house down.
Who supplied the stationery?
I designed it myself
Where did you go on your honeymoon? 
We went to Sicily and stayed right at the top of a mountain in a beautiful resort.  We spent the week swimming, wine tasting, eating pasta (no dress to worry about buttoning up) and drinking lots of fizz!
Personal touches?
I designed the stationary, I work in Marketing and wanted to do something different.
Special moments
Walking down the aisle seeing everyone's faces. I thought I'd be emotional but actually it was lovely! I also did a speech before dinner and it was so lovely to stand up and thank all my friends for being there. I think it's important the bride says something. During the dinner Grace grabbed us for some photos as the sun was setting and we went into the wooded part of the venue's grounds and took some photos out by the fields, it looked beautiful and was a peaceful moment in the middle of crazy day.
Advice for other couples
I unfortunately missed out on all the evening food (I didn't even see it!) – ask someone to make you a plate up and bring it to you as by the end of the night I was hungry!
I had two dresses, one to change into after the ceremony as my main dress was huge, and I was so glad of having something slinkier so I could dance properly with everyone. Don't lose sight of the things that are important for you – as I said the main things for us was the food and the music, however it is super easy to get yourself into a spin and spend thousands on things that don't really matter.  Give someone your phone and ask them to take some pictures, it feels very weird when you wake up the next day and have no photos of the day on there (although Grace did send us a couple of beautiful ones the next day).
Biggest surprise 
The sun came out after the forecast saying there would be a tropical storm – a good sign for the marriage we hope!
Supplier Shout Outs
For more Information on Grace Elizabeth Photography go to
 www.grace-elizabeth.co.uk / [email protected] / 07807136033 / FACEBOOK / INSTSGRAM / PINTEREST / TWITTER
I'm Grace Elizabeth, an elopement, wedding and portraiture photographer. I'm based in the South West of the U.K., but I work anywhere and everywhere. I view life as an adventure. I throw caution to the wind and I throw myself fully into everything I do.
I live for documenting real, authentic moments, whether at a wedding, an elopement or a portraiture session. Getting under the skin of my clients, breaking down the barriers they put up to the world, and helping them open their lives to me is so important to me. The most beautiful moments are the intimate ones. The silent ones. I strive to document the things that may have otherwise gone unnoticed.