Happy Monday everyone and welcome along to another week on the blog! How was your weekend? Mine was lovely. We had a day sorting out the garden on Saturday, after a trip to the local garden centre, Dexter and I potted some plants and Nik cut the grass, it looks like Spring is here at last! Nik and I enjoyed a delicious dine at home meal from one of our favourite restaurants on Saturday night. Sunday I opened my hairdressing salon for the boys and then Nik's mum came round for Sunday dinner. So with it being the first day of the new lockdown laws, are you planning on any garden get togethers? Are you going to be out and about meeting up with a handful of your fave people? I would love to hear your plans. I am starting another busy week with the gorgeous wedding of Tara and Ian, who were married in Connecticut last year. Their 200 strong guest count was cut down to 80 due to Covid restrictions, but they had the best day ever despite the changes they had to make. The whole day is full of rustic charm and fall beauty with the stunning decoration and amazing venue. So many delightful touches in the detailing, the flowers and of course the wonderful couple themselves. Big thanks to Emily Kirke Photography for the gorgeous photos.
Our day was magical, not exactly what we had originally planned but exactly how it was always meant to be.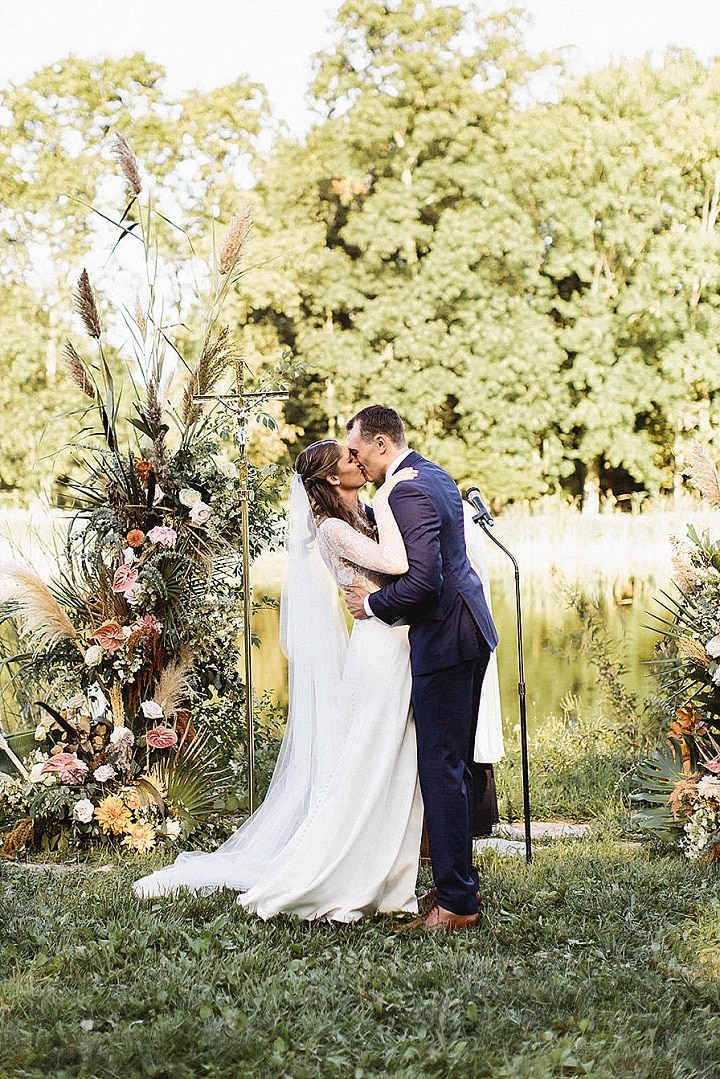 Tara and Ian were married on 12th September 2020 at The Hickories Farm in Ridgefield Connecticut. 'Ian and I  both grew up in Ridgefield, Ct. It is a small town in Connecticut, we loved the idea of a home town wedding where we got ready at our parents homes and then met in the middle. The Hickories farm is an untraditional wedding venue as it is a working farm but allowed us to be outdoors, surrounded in nature. We had 80 guests (pre-covid list was 200) and it took a year to plan. '
How they met
So happy you asked because I love telling our story. Ian and I were born in the same hospital, grew up in the same small town, went to the same high school and even went to the same University. But I really didn't know much of him besides a familiar name until he moved in five blocks from me in San Diego, California. I had already lived in California for about a year when a mutual childhood friend of both of  ours (who was in our wedding party) asked me to reach out to Ian to show him around because he had just moved to SD to get his Masters degree and didn't know anyone. One thing led to another and a few years later we found ourselves driving cross country together to move back home to the East Coast where we soon were engaged. It's like we followed each other throughout every stage of our lives never seeing each other but fate didn't give up on us, we were always meant to be.
The proposal
Ian, myself and a small group of friends went on a hike in the White Mountains of New Hampshire. After hours of hiking we finally arrived at the mountain peak and everyone went to take pictures of the view, when it was our turn for a picture together Ian got down on one knee and asked me to be his wife. I almost fell off the cliff but it was all worth it.
How did you allocate your budget?
Most of our budget went into making this working farm into a wedding venue. We had to bring in tents, bathroom, make a kitchen, all which added up quickly.
Where did you splurge and where did you save?
We splurged on the tents ect and saved on a lot of the decor which was DIY. I made the table numbers and seating chart (coasters with guest name on them), all the signage, napkin rings, macrame decor while my mother made the favors (honey jars since she is a beekeeper).
How did you choose your photographer?
Our wedding planner Emily Bonenfont has suggested a few good options in our price range. We went with Emily Kirke because her style included some more moody pictures and some more airy , we liked that could do both.
The dress 
My dressssss *swoon*. The Miranda dress by Leann Belter. I didn't want many accessories, wanted to keep it as simple as possible, I wore blue aquamarine stud earrings Ian had given me the day of our wedding.
The suit and bridesmaids
Suits were from Jospesh A Bank in navy and the Bridesmaids wore The Dessy Group, all different designs of dresses and jumpsuits in the color sienna.
Theme or colour scheme
"Desert Mountains meets Fall Farm" we wanted to combine the styles of our days in California with the tradition from Connecticut. I wanted to keep things minimal and  masculine with mid century modern flare and lots of earth tones.
Flowers 
We had large asymmetrical floral structures surrounding our ceremony space, tall structures on each tent pole and long greenery arrangements down each farm table. The types included: dahlias, garden roses, zinnias, lisianthus, tardiva, palms and chocolate cosmos.
Decoration 
I used a lot of dark wood to make signage, made macrame runners for tables and chair backs. One of my favorite decor elements were the two mid century modern lounges we had set up to create socially distanced seating.
Food 
Cocktail hour we had passed horderves from both California and Connecticut (such as mini poke bites from CA and lobster rolls from CT) we also had a raw bar seafood station and farm table charcuterie station. Followed by a seated meal of a beef, chicken or vegetarian option. An Espresso station and desserts to follow.
Wedding cake
A minimalist white hexagonal 3 tiered cake topped with a masked bride and groom.
Entertainment
A DJ, also a hometown local.
Who supplied the stationery
We used a stationary company, Ink Stationary, also from our home town of Ridgefield. We wanted to use as many vendors from Ridgefield as possible.
Where did you go on your honeymoon?
We originally had a trip to Ireland and Munich for Oktoberfest planned but Covid had other plans so we took a road trip of New England stopping in Lake George NY, Stowe VT and Marthas Vineyard MA. It was a blast.
Special moments 
One of my favorite things about our wedding day was the flower crown bar. The head farmer at the Hickories is also a very talented florist and a classmate of ours growing up. She made one of my dreams come true by making a flower crown bar at the wedding. At her station any of the guests could come up and she would assist them to make their own flower crown to wear for the night. Everyone was wearing one, woman, men, the young and elderly alike. It was so fun to see everyone bopping around in their crowns on the dance floor.
Advice for other couples
Planning a wedding during a pandemic is a rollercoaster of emotion. One day we were leaning toward postponing, the next thinking maybe we can get away with this. Cutting the guest list in half was definitely the hardest part with many many tears. My advice to other Corona brides is that your wedding day WILL BE the best day of your life. The amount of people, the venue, none of it really matters because this day will be a dream and the start of a new beautiful chapter. Try not to stress too much in the months leading up because you will be all smiles on your day.
Biggest surprise 
Since covid restrictions were in full force during our 2020 wedding the number of guests were limited. If we got married in a church as originally planned the guest list would have been even more restricted. To my surprise the catholic church agreed to  marry us on the farm! This is unheard of in the past but the priest came to the farm and married us right there next to the sheep, with hawks circling above. I got to have the best of both worlds, getting married surrounded by nature with my childhood priest there to celebrate. The pandemic made planning very difficult but in the end our wedding was exactly how it was meant to be.
Supplier Shout Outs