Happy Monday everyone, I do hope you had a lovely weekend and managed to get out and enjoy the sunshine. We went to Yorkshire Wildlife Park yesterday and had a lovely day. The sun was out, the animals were on good form and Dexter had an absolute ball! Long may the sunshine last, I am so looking forward to summer now! Today I have an absolutely delightfully wedding for you courtesy of  Aaron Collett Photography. Aaron is the brother of Adele the bride, so it made sence that he took the photos and what a wedding ti was. Set in a 'Secret Garden' Adele and Philip decided on a festival style tipi wedding, with a gorgeous outdoor ceremony and music filled reception. With so many amazing blooms to fill the tipi with this wedding not only looks like lots of fun, but is super pretty as well. I just love the flower crowns, the bar area and of course their super cute puppy who made a surprise appearance.
Festival vibes with non stop dancing, eating and drinking with family and friends. Hands in the air and sing to the top of your voice.
Adele and Philip were married on the 24th September 2016 at Secret Garden, Wymington, Northamptonshire. 'Myself and my now husband had a year of going to small festivals and decided if we ever got married we would love a mini festival of our own. We're not religious so planned to do the official marriage in a registry office a few days before and have a Celebrant to conduct the day. This basically meant we could get married were we liked. We just wanted a big party to celebrate our marriage with friends and family. Our main 'must have' was a Scandinavian Tipi. We knew we had to find somewhere that would cater for that and allow us to choose the vendors we wanted. We didn't want to be dictated to on who and what we could have. Luckily my brother is a wedding photographer and knows all the hidden gems around our area. At first sight we fell in love with the Secret Garden in the small village of Wymington, Northamptonshire. The lady that owns it (Mary-Ann) only hires it out 6-7 times a year as it is literally her garden. With tall conifer trees, small seating areas, a secret log cabin and flower gardens it was the perfect setting for our Scandinavian Tipi. We had 120 guests  and the wedding took 8 months to plan.'
How they met
We actually met on the dating app Tinder. We chatted for a few days and met up that week, obviously we hit it off straight away. We've been together for 3 years.
The proposal
This still makes me smile! Phil had planned a surprise weekend away in November 2015 but wouldn't tell me where we were going. We got to the airport and he had already checked us in, he wouldn't tell me the time either so even looking at the departure board didn't help. As we meandered round the airport I suddenly saw this horrified look on his face, he said "We need to run!" we ran to the gate and they were puling the barrier across, he had to beg for them to let us on haha, I still had no idea where I was going until we finally got on the plane and had taken off. "Welcome to this flight to Venice!!!"  I'd wanted to go there for ages so I was so excited and secretly thought 'Oh my god he might propose' as we'd been talking about marriage in the summer. He had a fancy meal booked on the Saturday night and as it came to the end of the meal I thought, this maybe it! Well he got the bill and off we went.  I would be lying if I said I wasn't disappointed! I was in a little mood actually but then thought; 'he's taken you on this amazing holiday so stop it'! I kept dragging him to different bars and he kept saying we need to get to the Rialto Bridge, in desperation.. he later told me "there's fireworks at 8pm" so I said quick lets go! We got to the bridge and whilst I was looking for where these fireworks were he got down on his knee and said a load of stuff which I cant remember as I was crying my eyes out in between saying yes! All I remember is an American woman screaming "oh my god he's proposing!" It was incredible.
How did you allocate your budget?
I looked online for the average budget of a typical wedding and drew a spreadsheet up from that, but knowing we could definitely save on a number of areas.
Where did you splurge and where did you save?
The Tipi was the biggest spend and actually the flowers.  I wanted this big flower crown and flowers lining the entrance to the tipi. We had jam jars packed with flowers running the up the centre of the tables and a huge centre piece on the top table. I went a bit mad but loved them and I didn't take my crown off all day and night.
Why did you choose your photographer?
Easy, my brother is a wedding photographer and luckily we love his style. He worked his socks off!! The only sad thing is that he missed being in most of the pictures, although he was happy with that as hates his photo being taken.
The Dress
My dress was by Watters from a Boutique in Weedon called Serendipity. My shoes where the rock stud ballet pumps by Valentino's which were a gift from my husband and bridesmaids.
The Suit and Bridesmaids
Phil is into fashion so actually was pretty excited about looking for his suit. He found a slim fit navy suit and white shirt on ASOS and teamed it with a tweed waist coat and navy bowtie. The groomsmen had the same slim fit navy suit, white shirt from ASOS and navy waistcoat from French Connection and bowtie.
I didn't want traditional bridesmaid dresses and I definitely didn't want them all in the same thing. They are all so individual I wanted to reflect that and for them to feel comfortable so they could totally enjoy the day. I set a £50 budget and headed straight for ASOS, although I wanted them in different dresses. I didn't want them to look disjointed so they had backless floor length fitted dresses bar the maid of honor who wore a one shoulder tulle dress which made her stand out. We completed the look with gypsophila head crowns and little bouquets.
Theme or Colour Scheme
The theme was a festival vintage vibe and the colours were based around Navy, blush, green and white.
Flowers
I wanted peonies but they were out of season by a long way so the talented Siouxzie at Sioux Phillips Floral Design came up with some beautiful in season vendella roses which give the same appearance as peonies. She mixed them with ivory avalanche roses, waxflowers, astilbe and rosemary.
Decoration
We kept it simple with the flowers and candles being the main focus. We had giant light bulb letters made by our friend and pink flamingos milling about.
Food
We had a hog roast for the main event. Phil is a hairdresser and one of his clients owns an event company who do hog roasts so that was easy. They provided a fantastic feast and the waitresses (thank god! we weren't going to have any) they took care of pouring the drinks after the ceremony and cleared up before the speeches and making sure everyone was topped up to cheers. You take that for granted when you have to organise everything yourself.
For the bar we had a fantastic old converted horse box called Heston from Tipple and Toast. It was their first year in business and i think we drank them dry, it just looked perfect.
For the evening we had a vintage fish and chip van rock up from Howe & Co. They went down a treat, actually the best I've ever tasted!
Wedding Cake
An amazing 4 tiered naked wedding cake made by Natalie at Manvell Farm Tearoom & Fishery. We had four flavours. Chocolate orange, followed by chocolate sponge with white chocolate filling, victoria sponge with raspberry jam and a lemon sponge with lemon cured and butter icing filling.
Entertainment
We had music requests on our wedding invites so had our iPod plugged in playing everything from 1940's to current charts. Alongside that we had a guy called Patrick Currier from Oxfordshire who played a few sets on his acoustic guitar. In the evening we had a really cool Ska band called Blue Meanies. They got the place rocking will definitely be hiring them for my next big birthday bash!
Stationery
I work with a design agency called Lion House who come up with a invite design which even had our own logo.  I then got them printed at printed.com. I also used the design on our paper cups
Personal Touches
Except for the toilets and the power, the land we used is a ladies garden so we had to do pretty much everything ourselves.
My dad made the swivel direction sign.  I wrote all the signs, made the table runners, confetti, seating plan and painted the succulent pots for the wedding favours. My friend made the A & P light bulb letters which now sit in our dining room, another friend made the cake toppers to go on the wedding cake and I drew up the French and British bull dog table numbers and had them made at Perfectly Crafty.

Special Moments or Highlights
I was dreading walking down the aisle, but as soon as the theme tune to Jurassic Park kicked in and I started walking down to see Phil at the top it was the best. Just seeing everyone around with beaming smiles and tears was the best.
Biggest Surprise
We have a French Bulldog who was about 10 months at the time. One of our friends snuck off and brought him to us, we'd just finished doing the thank you's when I saw him come bounding up with his bowtie on. He stayed most of the night just wandering about getting fuss and food. He even muscled in on the first dance and the cutting of the cake. We also had a cool 1973 Rolls Royce silver shadow called Bella which was used in the film RUSH.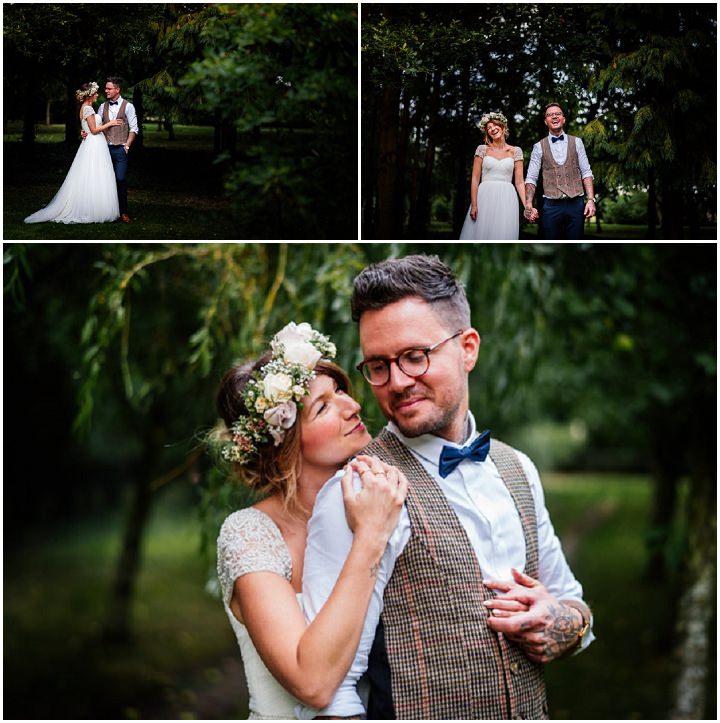 Advice for other couples
Get a budget in mind and do a spreadsheet. Don't just look at wedding stuff have a good look around and get ideas from blogs. Pull in favours, the little things add up so rope in friends where you can. We saved a lot of money by organising everything ourselves but if you are going to do this I would recommend having a master of ceremony or a manager for the day just so you know water is available or there's enough toilet roll etc. You don't want to have to do any of that stuff and although your trusty bridesmaids and groomsmen are there, by 3pm they are no good for anything, well mine weren't, ha ha!
Another good tip if you're doing a honeymoon fund as your gift list look at www.buy-our-honeymoon.com you can choose to have different payment methods, we had GoCardless as they only charge 1%
Supplier Shout Outs
For more information on Aaron's work go to:
www.aaroncollettphotography.co.uk / www.aaroncollettphotography.co.uk/blog / [email protected] / 07769 714716 / FACEBOOK / T: @aaronbcollett / I: @aaroncollettphoto
Based in Northamptonshire travelling throughout the UK and beyond documenting incredible wedding stories. I aim to get right into the action on a wedding day so I can capture real emotions and moments of magic.  Creative documentary photography.