Here in the UK the weather is pretty bad! It has been snowing here in Sheffield for days now and I have to say I am so over it, bring on spring! So today I am going to take you somewhere warm. Where we can remember what summer is, what it feels to leave the house without a million layers on and what it feels to be at a wedding! Natalia and Roger LOVE Sicily, they spent a lot of time there together, they even got engaged there, so it seemed like the natural choice to hold their wedding in Sicily. Then Covid arrived! Their original May wedding was postponed and after a few cancelled flights and a lot of rearranging it finally happened in September. With a smaller guest count and new suppliers, their micro wedding was just gorgeous. I can imagine I will be featuring  a lot of intimate weddings this year, I guess it's our 'new normal' for a while, and this intimate wedding is just charming! Big thanks to Adriana from Dazzled Events for planning such a fabulous wedding and for submitting it to me to share with you all.
This wedding was intimate and magical. The whole day was stress-free and full of smiles.
Natalia and Roger were married on 7th September 2020 in Sicily.The ceremony was held at  the town hall of Sicily with the Reception at Villa Saracena (Casa Imbastita). 'We both love Sicily. Roger took me on our first  holiday was to Sicily. We have got engaged in Sicily. The wedding couldn't be in different place. We had 10 guests (8 adults and 2 children). It didn't take long to plan because we had Adriana (Dazzled). The most difficult part was to arrange the wedding during the covid time. The lock down and flight cancellations have forced us to change everything: ceremony date, accommodation, photography, etc. We have started to talk with Adriana in August 2019 planning a wedding in May. Eventually we had it in September. We arranged everything through emails and WhatsApp.'
How they met 
We have been together for 4 years. We have met at work. We had to collaborate a lot but from the first day we did not like each other. One day we've met out of office and then something has changed. Sometimes we are still thinking how did it happen that we are together. What's the most interesting: we've had an argument maybe twice since we're together so everything has changed.
The proposal
We got engaged in Sicily – Terasini, after staying 5 days in Aceriale we decided to drive to the other side of the island where we had rented a penthouse apartment with an amazing view, and Roger had booked this dinner at a wonderful restaurant. He was quite strange that evening, but I was thinking it couldn´t be since we have been together for less than a year.  Nothing, we went back to the apartment I was super tired but he convinced me to have a glass of wine on the terrace and there he proposed to me, I was super choked and he was super stressed out. But ofcourse I said yes.
How did you allocate your budget?
We did not have a very big budget for the wedding day because we wanted to pay for the whole week in Sicily for our guests. What we knew was that we need a perfect, private villa with a swimming pool and a beautiful garden. Very important for us was to have delicious food and live music. In these aspects, we knew that we can spend more money. Regarding decorations, Emily has helped us to downsize our expenses but keeping the elegance and boho atmosphere we have wanted.
Where did you splurge and where did you save?
We splurged on a photographer to have magical memories (it was worth it), on a private chef instead of dinner at the restaurant, and on a vintage car. We saved on ceremony, decorations, and on a transfer for guests.
How did you choose your photographer?
I've received few options from Adriana and I immediately knew it will be Nunzio.
The dress 
The dress was created by our friend who is the best of the best in creating costumes for dancers in Poland. Accessories were from W.Kruk – Polish Jewellery. Shoes – VERSO.
The suit and bridesmaids
Suit – Hugo Boss. Bridesmaids: 1. Dress – ASOS 2. Pants and shirt – H&M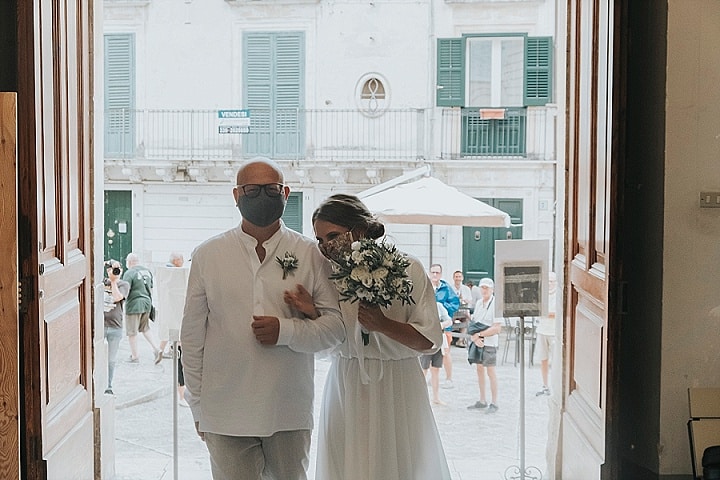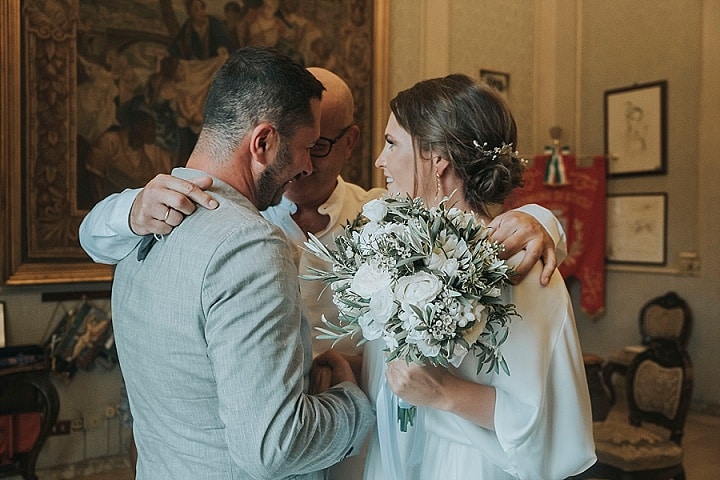 Theme or colour scheme
Yes but only with decorations. We wanted to have olive leaves motive.
Flowers
Olive leaves and few kinds of white flowers.
Decoration 
A table runner with olive leaves and white flowers, a lace table runner, natural placemats, various type of candles, a kids table, many lights, colourful plates, and crystal glasses.
Food 
Buffet: scacce ragusane, parmigiana di zucchini, couscous with vegetables and pesto, cheese board with honey and marmalade and caramelised onion, bruschetta, caprese salad, meat snacks, pizza, olive oils & bread, Focaccia, sweets.
First course: pasta with cream of fried zucchini, on tomato with pesto al pistachio.
For kids: pasta with tomato sauce
Second Course: fillet of beef in herbs of Etna, potato pure and grilled vegetables
Wedding cake
Tiramisu wedding cake.
Entertainment
Live music, kids table, polaroid station
Stationery
Together with Adriana, we have prepared vignettes and the menu.
Where are you going on your honeymoon
This is a difficult question considering pandemic. We are dreaming of Maldives but we have to wait for the next year.
Personal touches
Vignettes, welcome gift boxes for guests with typical Sicilian products, a photo album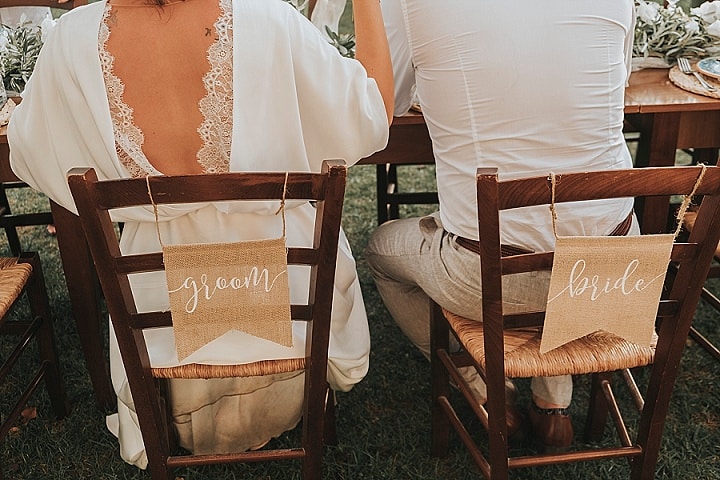 Special moments 
The most beautiful moments on that day was watching our parents smiling, not worrying about anything. … and our mums in the swimming pool with their full makeup and dresses, this is not an ordinary behaviour of our mums.
Advice for other couples
For us, the most important rule is to do what you really want. Make your dream come true. This is YOUR day.
Biggest surprise 
Rain in Sicily  There was no rain for the whole week before the wedding. Has started just before the ceremony. luckily it was over soon and we could enjoy outdoor dinner and dancing under the stars.
Supplier Shout Outs