Hello everyone and welcome to another week here on the blog. How are you all? As we enter week 3 of lockdown how are you all feeling? I was so ready for the weekend by last Friday. We had a delicious dine at home meal form local caterer PJ Taste on Saturday night, it was SO good! And then on Sunday Dexter got his new bed delivered, so that was all very exciting for him. Then we went for a super muddy walk which was quite the adventure and just what we all needed to blow the cobwebs away. So on with today's wedding and it's the turn of lovely Tyler and Katie who held the most beautiful wedding in Minnesota last year. This post is actually a surprise for Katie, as Tyler contacted me directly to ask if I would like to feature their gorgeous wedding and of course I jumped at the chance. Such a beautiful snow filled day, and as we have had so much snow here in the UK over the past week, it seemed like the perfect time to feature it. Big thanks to Adam Kennedy Photography for the lovely images.
With an unexpected 8 inches of snow the day prior of our wedding, we were ecstatic of the charm our venue had. The fresh blanket of snow covered the fall leaves and tress creating a rustic display of natural earth tones. It was a highlight of two people who love God and each other to make a lifelong promise to intertwine their lives together.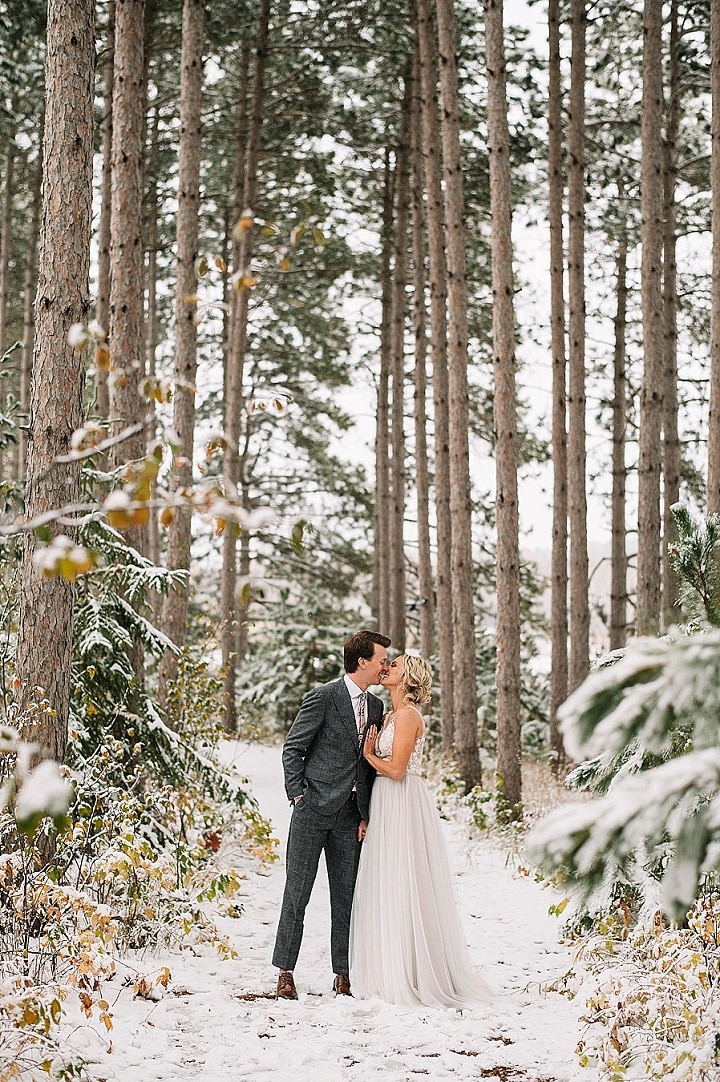 Tyler and Katie were married on 22nd October 2020 at Pinewood Weddings and Events, Cambridge, Minnesota USA. 'Both Katie and I being from the western states of the US growing up on the ocean and in the mountains, we wanted a wedding to resemble our childhood landscape. Now located a few thousand miles east of our genesis in the midwest of the United States, Pinewood was the best place to host our big day, nestled in a pine forest, it was the most resembling of the mountainous terrain we found ourselves exploring in our youth. We had 90 guests. We actually got engaged in the summer, the 3rd of July 2020 and started planning right away. Luckily for us, there were no hiccups which was an incredible blessing especially since it was a COVID wedding. Obviously there were a lot of friends and family that could not make it due to travel which was sad for us, yet it all worked out wonderfully.'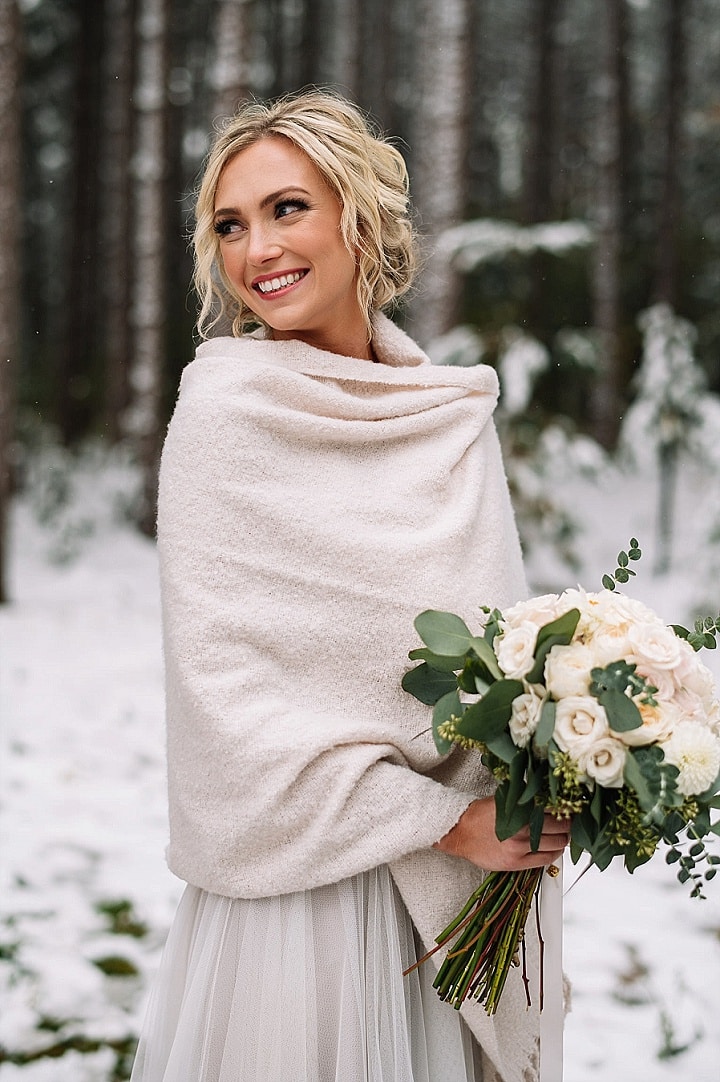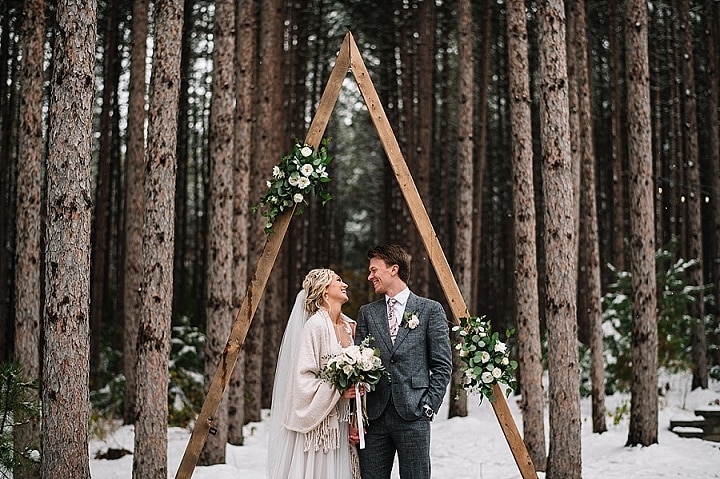 How they met 
It is actually a really neat story. We meet through mutual friends who thought we would be a "perfect" match and I reached out to Katie with a "Christian Bible pick-up line". Really cheesy but it worked! We started dating May 16th 2020, just 5 months prior to our big day! I didn't realize the "when you know, you know" saying until we met. It wasn't shortly after where I knew the right person has come and we continued to pursue each other and praying about what was next, I thought there is no reason to wait when we want to start our lives together.
The proposal
Another gem of Minnesota like our venue, the North Shore of Lake Superior is as close to feeling "out west" one can get. Where the edges of the vast lake of Lake Superior is met by cliffs, it is a place of hiking, biking, and other outdoor adventure. I knew of a specific overlook and planned a hike where Katie and I would "just so happen to run into friends with a camera" where we would take a photo together. Before she knew it, I was down on my knee and then celebrating with Champaign moments after.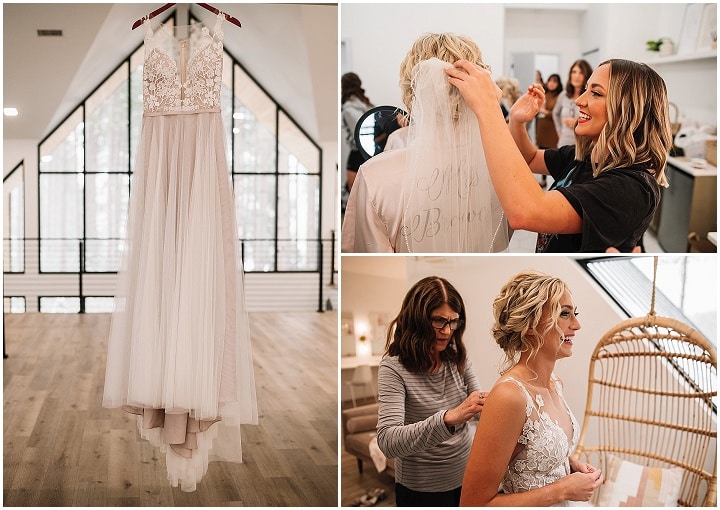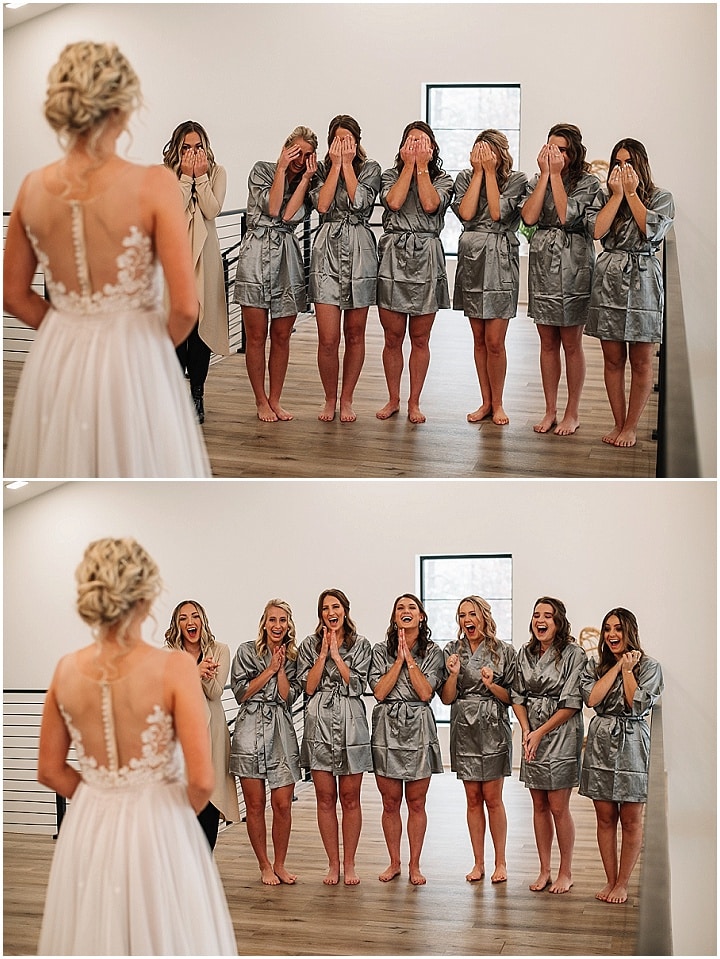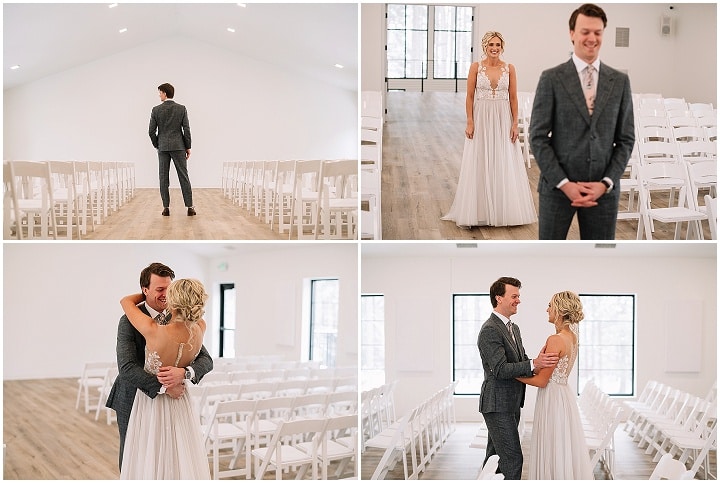 How did you allocate your budget?
We wanted to make sure we had a well rounded wedding where we didn't blow through our budget but make sure to spend intentionally on the details important to us. Thankfully we got a great deal at our venue for 2 reasons, COVID as well as it being a Thursday wedding. Then, we did a lot of the decorating through friends of ours who are artists, from the flowers to the signage, we had friends play a major role in our big day. We got a local caterer to prepare the menu who was incredible and less expensive than a larger company. We made sure to utilize our friends and families skills.
Where did you splurge and where did you save?
We splurged on the photographer, and videographer. I being a retired professional athlete now photographer and videographer myself, I knew that having quality photos and video was important to help remember the big day and the little moments that occur throughout it. We saved the most on our venue, literally we got it for half the cost which was a major blessing for us financially. Thank you Pinewood!
How did you choose your photographer?
Our photographer, Adam Kennedy, is an old friend of mine. We met when I was in high school, Adam was a mentor leading a small group of other classmates in my high school where he became a mentor and friend of mine. His wedding photography business continued to grow over the years I have known him and it was an unspoken assumption on both parts from about a decade ago that when the time came I was to get married, he would be there to capture it.
The dress 
Katies dress was made by Wtoo, shoes were Anne Klein.
The suit and bridesmaids
My suit was a custom suit from SuitSupply, and the bridesmaid dresses all from Azazie.
Theme or colour scheme
Blush/Dusty Rose and grey
Flowers
Callie Rae Garvin made the best assortment of spray roses, garden roses, dahlias, eucalyptus varieties, and a filler variety for decoration and wedding party flowers.
Decoration 
We had eucalyptus all over the dinner tables and wedding venue interior.
Food 
LeFebvre's Catering prepared an incredible dinner for us. It was a two entree buffet, Pot Roast and Champaign Chicken, roasted veggies, and sweet potato.
Wedding cake
We ordered our cake from the same place my parents did which was a fun touch. It was a local bakery in my dads hometown of Edina, Minnesota called Wuollets Bakery. The wedding cake was a two tier 9 inch cake. The bottom tier was red velvet and the top was vanilla with a double layer of cream cheese frosting on the entire thing. Hmmm delicious! We had that for ourselves, immediate family, and our wedding party, the other guests were able to help themselves from a variety of cupcakes from LeFebvre's Catering.
Entertainment
We had a DJ and photo booth set up for our guests to take photos at next to the dance floor. We also has a Polaroid film camera where guests photographed themselves then pasted it in our guest book with a note! Additionally, Katie and I had bought a new Bible and set it up at a table for guests to write a more heart filled note and underline their favorite passage.
Who supplied the stationery?
We used an Etsy template to support artists during COVID that we found and then ordered the stationary off a site called Prints of Love!
Where did you go on your honeymoon?
We went on a mini moon! Like this blog post for Boho Weddings, our destination was a complete surprise for Katie! We made running jokes that TSA Security would think something suspicious as I tried to blindfold Katie all the way to the gate and on the plane! She had headphones in listening to music and hummed anytime an announcement was made. It wasn't until a few minutes before landing in Arizona that she knew where we were landing! I made sure to help her pack for the trip, yet she didn't know where we were staying. I was able to surprise her further once we drove to Tuscan, Arizona where we had an incredible stay at The Joshua Tree House in their Saguaro suit. We had been gifted a private chef by my mom as a wedding gift to cook us a delicious 5-course meal our first night of the honeymoon. It was the best time of our lives.
Personal touches
My dad had an older pine tree cut down from his yard a few weeks prior the wedding due to the trees health and safety reasons. Katie wanted little wood coasters to set cups and candles on at our wedding so my dad and I spent some time fine cutting roughly 100 pine coasters from the dead branches. It was a great memory for us to share. Additionally, Katie made an incredible seating arrangement using an old 10 pane glass window. Each pane was a tables seating arrangement for the guests to view their seat locations. It had a big "B" for Brower in the top center pane. My sister did beautiful calligraphy of "Mr" and "Mrs" on signage that sat on the back of Katies and my chair. Aside that, we had our friend do our flower arrangement for the entire wedding including wedding party, and another friend who makes beautiful wooden signs create one for us as well to be displayed.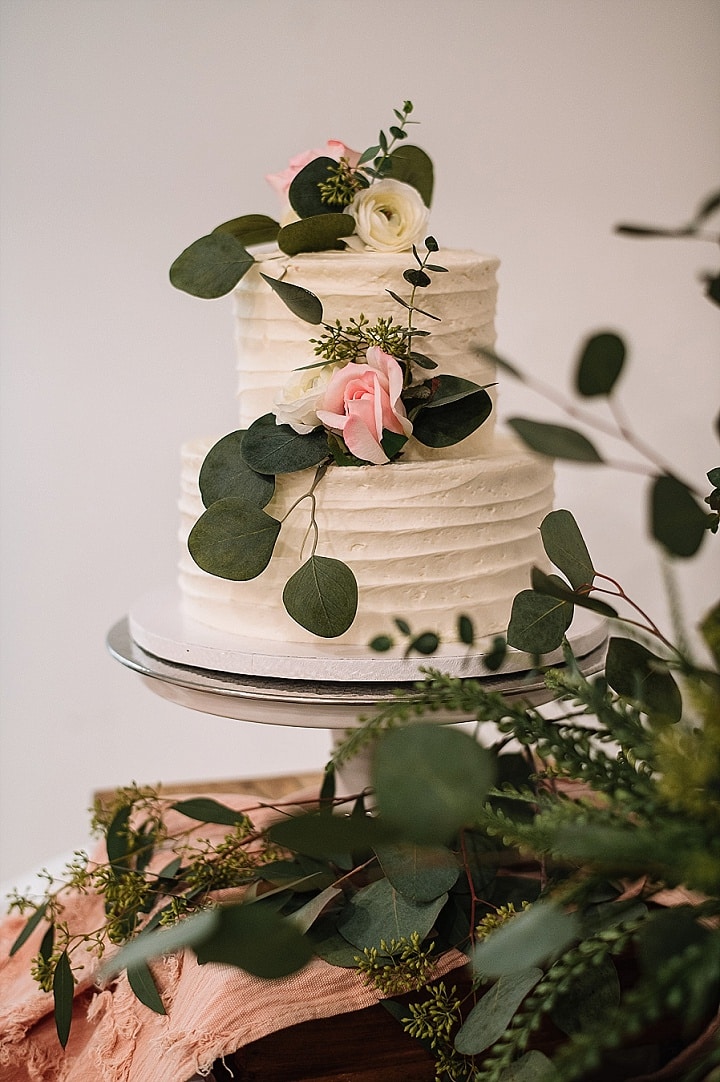 Advice for other couples
Don't put too much work into fine details because you won't have control over it day off. The day flies by and having a wedding coordinator was a huge help for us. Try to have everything wrapped up a week before the wedding to relax and enjoy the experience… And I personally think having a little Polaroid or any type of camera to take photos of the special little moments in your day was something I was so happy I did. Even if the moments snapped are memories between your ears, try to journal as much as you can about it after the wedding on your honeymoon or once you are back from your honeymoon.
Biggest surprise 
I think for Katie and I the biggest surprise was just how fun and care free we felt. We were so happy, and it felt like nothing else mattered in the world that day. Katie says her most surprising moment was when we had our first bite of cake, I secretly had a piece in my hand and rubbed it in her face. I can't wait to see the video our videographer, Eric, puts together because that was such a funny moment.
Supplier Shout Outs