Well hello Monday, and how are you all today? Week two of lockdown and I have to say I am counting down the days! We had a good weekend and managed to get out both days for a good walk, it was just nice to get some fresh air after a week of home schooling. Nik's mum came to visit which pleased Dexter and we drank a lot of wine and I made cake…….. standard lockdown weekend I guess! I am starting the week with this gorgeous wedding from Slovenia which has been sent into me by the couple's wedding planner Petra Starbek. The whole wedding is beautifully boho, with a super glam edge and I have to say that Stephany and Georges' are a match made in heaven. Such a gorgeous couple and so in love, it's like they are here on their own, with no one else around them. I'm sure this wedding will ease you into Monday morning perfectly.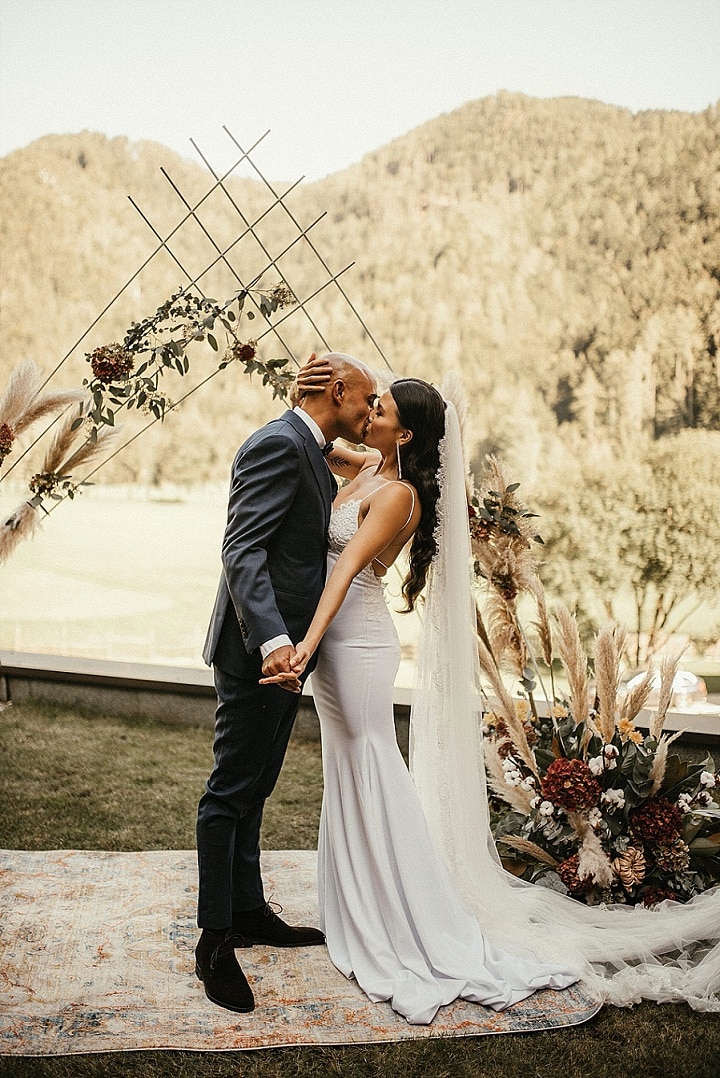 Petra Starbek the wedding planner tells us all about the wedding
Stephany and Georges' boho wedding at the phenomenal Villa Planinka, Slovenia was so amazing, I have run out of words to describe it! There were lots of beautiful moments throughout the wedding and the atmosphere was filled with warm emotions from all of the couple's wonderful guests.
It was a really special celebration and Vila Planinka's spectacular location in the green hills of Zgornje Jezersko was absolutely magnificent.
When we first met, Stephany, Georges and I clicked straight away. I loved working with them and we have become firm friends since that first meeting.
Stephany and Georges come from Bali (which was an instant point of envy for me), they wanted a beautiful church ceremony in a picturesque mountain location in Slovenia. Vila Planinka immediately came to mind and I was really pleased when they both fell in love with it at first sight.
The couple chose a contemporary blush, nude brown and rust palette for their chic, bohemian theme. It was a great colour choice that looked stunning against the venue's vibrant alpine setting.
We decorated the outdoor space with glorious arrays of eucalyptus, pampas and statement dried flowers. Lining the aisles and scattered throughout the grounds, the wedding florals featured all of Stephany's favourite flowers and were beautifully arranged by Sanjski Sopek – a talented wedding florist, sought after for her dreamy, striking creations.
The couple had opted for an outdoor ceremony to make full use of their spectacular surroundings so they had a monumental church blessing in the hotel gardens.
Stephany was escorted down the aisle by her dad to the sultry sounds of At Last by Beyonce and everyone particularly the smooth melodies played the fantastic jazz group that entertained us throughout the day.
Georges looked really dashing in his blue suit which perfectly complemented Stephany's stunning attire. Lovely personal touches during the ceremony included the handwritten vows that the couple both exchanged and having Zoe, one of Stephany's nieces, as the ring girl.
With the ceremony over, it was time to enjoy a drinks reception on the terrace which was superbly decorated with more awesome florals and stylish touches, courtesy of Hiša vizij.
Meanwhile, the happy couple slipped away into the alps with their wedding photographers, Aluna Wedding. These top Slovenian wedding photographers captured lots of phenomenal shots of the happy couple with the mountains and forests creating a sublime backdrop to the couple's special moments together.
Together, with House of Vision, we transformed the interior of the villa for the couple's evening of dinner and dancing.
Using gorgeous props and decor from From The Bride and Hisa Vizij, plus more flowers, Stephany's favourite candles and accents of linen, rattan, stone and brass, we decorated the dining space with stylish, natural, boho-style decor that made the space feel welcoming and elegant.
Topped with a delicious drip cake from talented Ema Koselj from Emazing Creations and more great music from our excellent jazz group, it was a fantastic evening of dinner, dancing and good times amidst the alps of Zgornje Jezersko.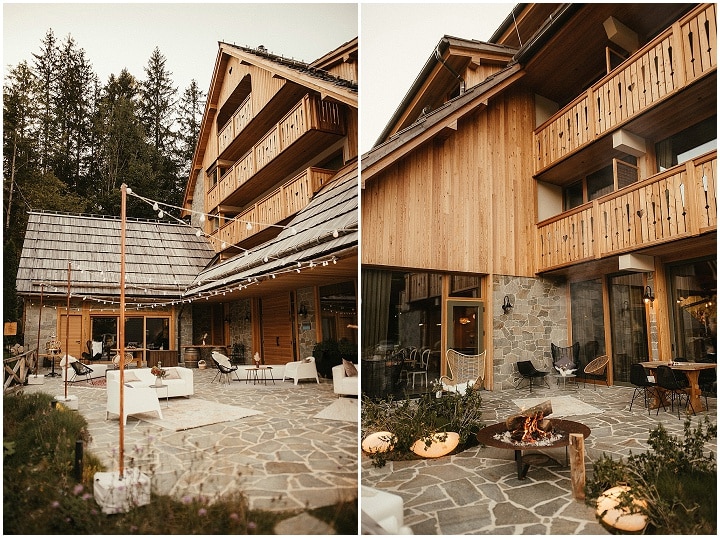 Supplier Shout Outs