Well hello Wednesday, yay it's already halfway through the week! Not that I am wishing the next few weeks of lockdown away, but the weekend is getting closer! How is your lockdown going so far? And if you are homeschooling, how is that working out for you? We are yet to start teaching, I'm going to ease into that one gently, anything to get us through this lockdown in one piece! Anyway on with today's wedding, and this is actually the first wedding of this year! The last two days I have been featuring my best of posts, which I have loved putting together. Today it's all about Kat and Zack who held a nature loving, chilled out, outdoor California Camp wedding. The whole wedding has a gorgeous vibe to it, relaxed, unfussy; all about bringing friends and family together. Mango Muse Events were on hand to pull the whole day together and were kind enough to submit this gorgeous wedding.
Our goal was to combine the serenity of being in the woods and away from civilization with the energy of all of our favorite people. Fortunately, that's exactly how it felt, like a two-day reunion of family and friends with a loose planning for daytime activities and low-pressure evening events.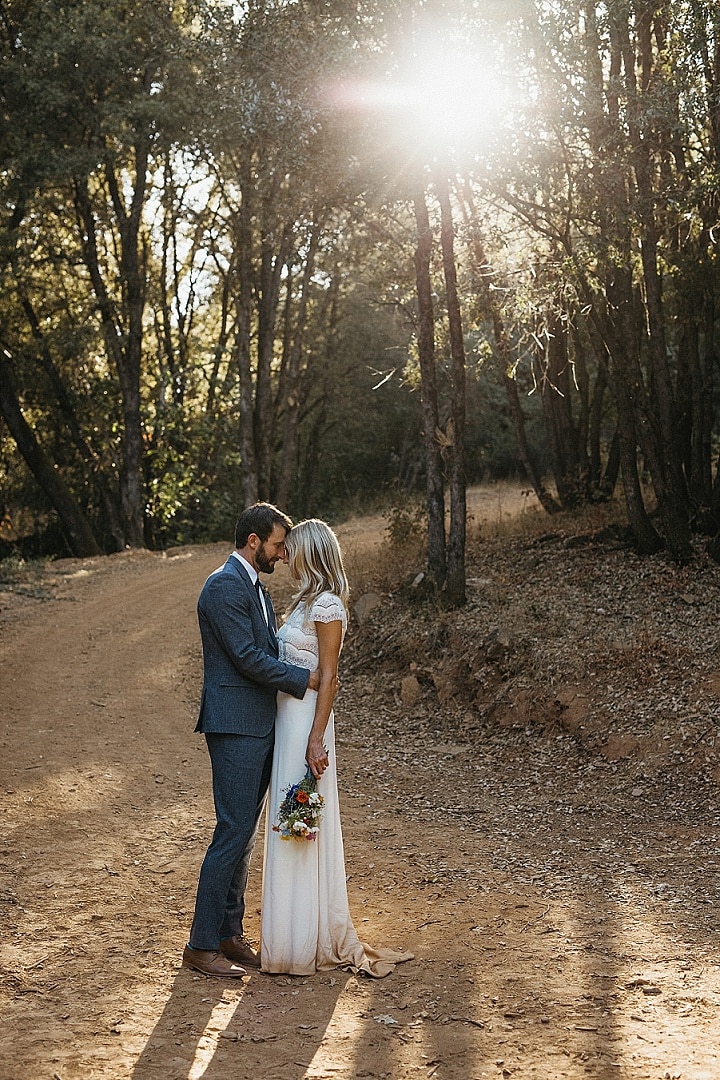 Kat and Zack were married on 14th September 2019 at Autocamp Yosemite in Mariposa, California. 'One of my favorite lines from one of my favorite books goes something like "the most beautiful thing in life is watching people you love fall in love with people you love." Being from opposite sides of the country, many of our respective friends and family have never met, and we knew once they were all together they would really hit it off. And we were excited to witness that. To maximize time together it was important to us to find a place where everything wedding-related could happen and that could accommodate everyone as overnight guests. We also wanted to be in nature or close to nature as much as possible. Autocamp Yosemite knocked it out of the park for all those reasons and more. We had 100 guests and it took 7 months to plan.'  
How they met 
We met through work, and on our wedding day we had been together for about five and a half years.
The proposal
We're both pretty active and enjoy running together. When we were in my hometown to celebrate the holidays with my family, Zack and I went on a run through the neighborhood where I grew up. For no reason, really, I ended up taking him past many of my childhood landmarks: my elementary school, middle school, and the first house my parents owned together. When we finished and were stretching to cool off, he got down on one knee in front of my childhood home—where my parents still live today—and asked me to marry him.
How did you allocate your budget?
We chose to invest in an incredible wedding planner (Jamie from Mango Muse Events) who—along with her team—took care of literally everything. It was one of the best decisions we made and I'm convinced that because of her we were able to save a lot of money on other vendors as well.
Where did you splurge and where did you save?
It was important to us to use local vendors as much as possible which enabled us to save on things like flowers, food, etc. Something that we were very much on the fence about was having a videographer but I'm so glad we decided to do it. Our videographer—Carlo Traversi—was easy to work with and so open to collaborating. He and Zack worked closely together to create something really custom and different, and I will always treasure what he captured of our family and friends from the day.
How did you choose your photographer?
We didn't want a lot of posed photographs but wanted to capture the day more naturally. For that reason we searched for a photographer who took great candids and whose posed shots felt and looked more effortless. We found exactly what we were looking for in Mary Meck, who was also just a kind person and really easy to work with.
The dress 
The wedding dress was by Laure de Sagazan and shoes by Soludos
the suit and bridesmaids
Suit was by Paul Smith. Bridesmaid dress was by Reformation
Theme or colour scheme
There wasn't a theme, but it was really important for the wedding to be personal, effortless and give guests a chance to connect and interact. Colors were a mixture of neutrals with bright pops of color.
Flowers 
Locally grown wildflowers in a variety of colors
Decoration 
We kept things eclectic but homey.  Decor consisted of bushels of wildflowers, centerpieces with funky vases, farm tables with linen runners, and a mismatched assortment of china patterns, flatware and chairs.
Food 
Our meal consisted of locally grown farm veggies and proteins with a focus on fresh, healthy, gluten free dishes. We started with a gem lettuce salad with purple daikon, artisan cherry tomatoes with a roasted grape vinaigrette and topped with toasted pepitas.
It was important to us that the meal had an inclusive, communal feel, so we continued with family style dishes of BBQ Niman Ranch Prime tri-tip with side of chimichurri and horseradish cream sauce; wild Sockeye salmon seared with lime basil; BBQ portabellas with balsamic reduction; stuffed roasted bell pepper with Basmati and brown rice, lentils, lemon juice, feta, herbs and sunflower seeds; and baked stuffed Tuscan eggplant.
We also arranged to have pizza delivered at around 10:00pm. Wedding meals are often served early, and then after hours of drinking, dancing, or both, people get hungry. The pizza was a hit, and we'd recommend a late-night snack of some kind.
Wedding cake
We didn't have a cake, but had some fun, comfort food desserts – rice krispie treats, cookies, and mini pies.
Entertainment
We had an awesome turntable DJ, who played great tunes throughout the evening. Our venue had a 10pm noise restriction but we asked if they would be open to a silent disco to continue the party and luckily they agreed. Our DJ absolutely nailed it with the perfect lineup of songs and it was a huge hit with our guests.
Who supplied the stationery?
We used Minted for the invitations and day of pieces.
Where did you go on your honeymoon?
We went trekking in the Himalayas in Bhutan. It was challenging, peaceful, and culturally stimulating—everything we were hoping for. We also took extended layovers in Bangkok and Singapore, which were fun for very different reasons.
Personal touches
Making sure the wedding was very personal and meaningful was really important.  So, there were lots of subtle and bigger personal touches we incorporated into the wedding. Here's a few examples:
Every year around New Years Eve, we sit down as a couple and go through a series of questions to reflect on the previous year and talk about what we hope for in the coming year. To kick off the wedding weekend, we brought their guests into their tradition with a card with similar questions.  Guests had all weekend to take some time for themselves and reflect, write and return the cards which the couple collected to send to them in the future, a fun surprise to get in the mail.
At the welcome dinner, we served Ben & Jerry's ice cream as a nod to the Groom's home state of Vermont.
We requested that guests not give any gifts but many friends advised that we provide options for those who couldn't resist. I'm an avid reader and we enjoy cooking together, so in lieu of a registry with traditional gifts we asked that guests bring a copy of their favorite books with a personal inscription, or one of their favorite recipes.
We both love being active and outdoors and we also really wanted a private, intimate ceremony, so the perfect ceremony spot was tucked away in the mountains and required a small walk/hike to get to. Guests wore comfy shoes, grabbed a cold beverage and gathered around to witness our ceremony.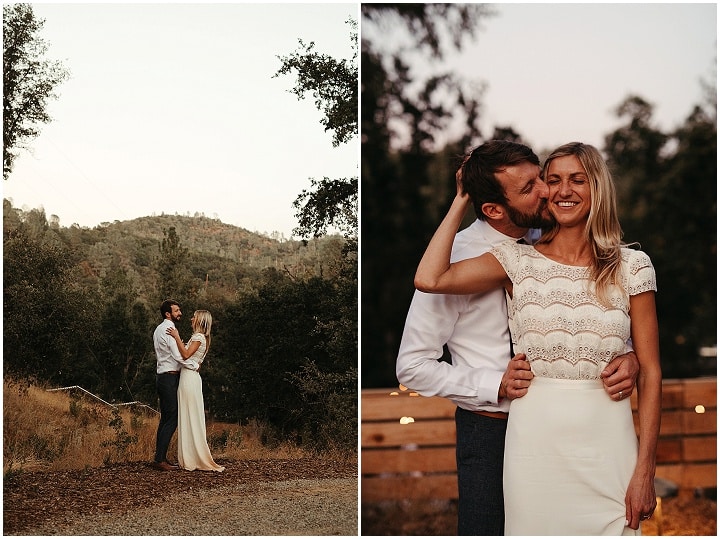 Special moments 
The speeches, the silent disco, and our vows.
Advice for other couples
Remember that for better or for worse, the wedding is just a day. Enjoy the planning and enjoy the day but always remember why you're having the wedding and what it means.
Biggest surprise 
I was surprised by how much I enjoyed saying our vows. I don't like being the center of attention and avoid it at all costs so was anticipating being uncomfortable during the ceremony with all eyes on me. But once I started talking it felt like everyone else just disappeared. Our vows were nontraditional and pretty personal, and I laughed while Zack cried the whole way through. Those moments were joyful in a way I hadn't at all expected.
Supplier Shout Outs