Happy Friday everyone, how are you all doing? It's been a looooong week here at Boho HQ and I am so glad the weekend is finally here! Dexter brakes up from school today, so from now until Christmas day we have something festive planned, I can't wait! I am finishing off the week of festivities on the blog with this gorgeous 'Nordic Christmas' styled shoot. As soon as this shoot landed in my inbox I knew I had to share it with you. I do love a festive shoot and this one is so pretty. I love a bit of Scandinavian styling, it's so simple and modern, the way I will definitely be decorating my house at Christmas once Dexter is a bit older! The shoot took place in October this year at Aston Hill Barns in Matlock, Derbyshire. It features a real couple who have been together for 10 years and I just love it, I hope you do too.
Christmas is a time that's full of magic and a Christmas wedding should be no different but such magic doesn't have to be created with tinsel and baubles. This Scandinavian Christmas wedding shoot, set at Aston Hills Barn in Matlock, took inspiration from nature to create an incredibly enchanting backdrop for an intimate ceremony and reception.
Our aim was to demonstrate that a romantic, magical atmosphere can be created with the simplest of materials. The models, Kiana and Tom, are a real-life couple who have been married for ten years and have five children. They said of the shoot, "The day was incredible. It reminded us of how much love we share for each other and how strong we have become over time. We had such a laugh together and this shoot has inspired us to renew our vows with our children accompanying us to mark how our love has grown."
A few years ago, my husband and I travelled to Finland just before Christmas and I was completely captivated by how magical it felt under the snow-capped trees. The only means of decoration they'd used were candles and fairy lights and yet it created the most romantic Christmas scene. It was this memory that inspired my poem titled "A Wintry Romance", which in turn formed the basis for this shoot. The full poem can be heard as a voice over on the video and two verses of the same poem are featured on the two hand-lettered backdrops from The Handmade Sign Company that hung either side of the aisle.
I wanted to recreate the scene that inspired my poem and bring the outdoors in. I pitched the idea to Bethan from Finishing Flourishes and together we came up with the idea of using elements from nature to transform the rustic barns at Aston Hill Farm into a winter wonderland. The barn was filled with pine trees and dusted with artificial snow. Playing on the literary aspect, Bethan also created some small pine tree table centrepieces from an old book. The magical wintry wedding dress made by Ryley and Flynn Vintage featured a delicate pearl and crystal trim along the neckline and around the waist, dramatic cape sleeves, a floor length circle skirt and a stunning train. A detachable cape veil with crystal clasps completed the look and the his and hers lace-up winter boots hand painted by Jodie Illustrates accentuated the Scandinavian look.
The stationery, created by The Cheshire Calligrapher, also featured snow-dusted spruce to create a quiet elegance for the invitation suite. The jewellery and hair accessories, handmade by Crazy Best, were inspired by the line "the pine trees were sprinkled with glitter" and sparkled beautifully just like snow. The simple yet elegant Scandinavian styled cake table from Little Chelly Cakes had just a hint of Christmassy red berry decoration and gold leaf. Perfectly complimenting the cake table were two pyrography wood slices with bespoke poems burnt by hand into the wood by Cowshed Creations. Another separate two-line poem of mine was delicately hand-painted onto the bride's upper back by The Mobile Painting Parlour.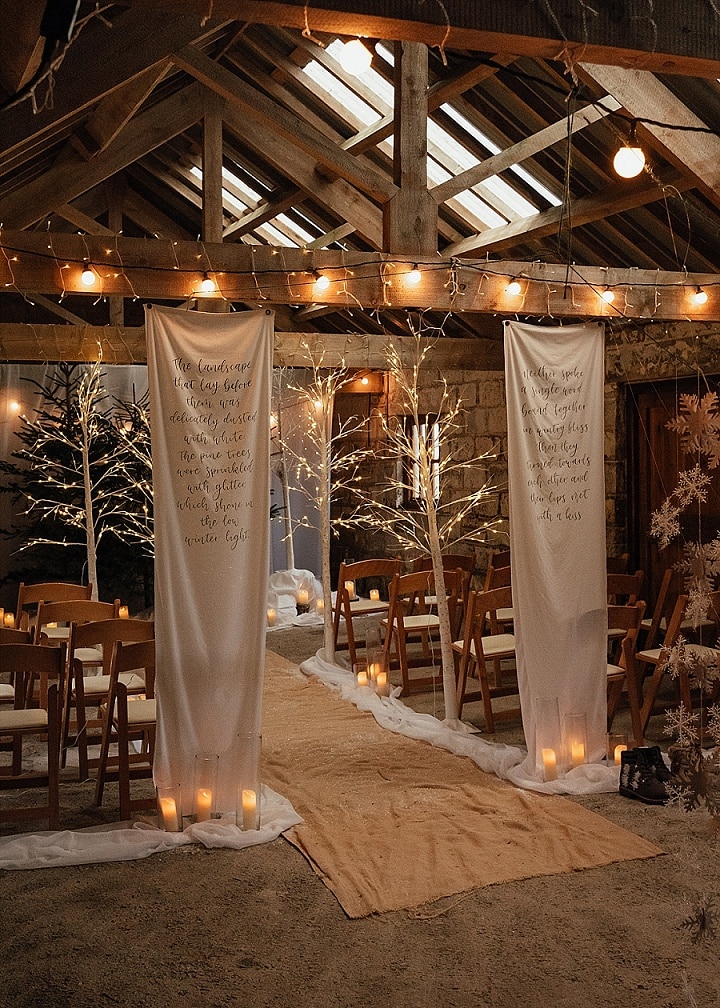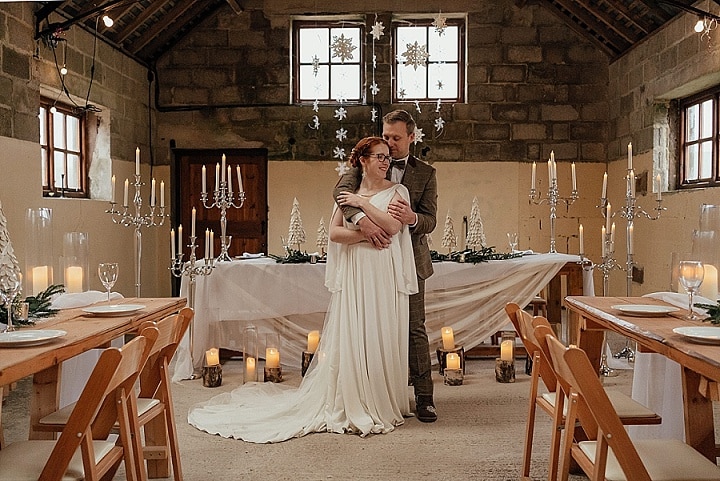 The suppliers who made the shoot possible