The Boho Wedding Directory is a hand-picked list of all awesome wedding suppliers in the business, ready to help you plan your Boho wedding. The Directory is located in the main menu bar at the top of each page and is super easy to use. It is split up into suppliers and regions making it easy for you to find the perfect Boho supplier for your wedding.
To make sure you don't miss any of the wonderful suppliers that have been added to the directory, each week I showcase the suppliers that have joined in a mini update. This weeks new suppliers added to the directory are:
Photography: Andrea Ellison Photography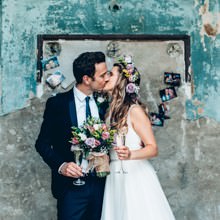 When we got married all we wanted was to have an amazing day… no fuss… no hours of formals… and something ace at the end to remember it by… Simply beautiful pic's and just enough formality to stop the mums from killing us… sound like you too ?… we need to talk.
More Information: www.boho-weddings.com/andrea-ellison-photography
Decoration: Rent Event
We are a wedding hire company based in Eastbourne, East Sussex. We supply a huge selection of amazing, unique and fun items to hire for your wedding day. Have a look at our web site to see the full range of items we can offer you
More Information: www.boho-weddings.com/rent-event-wedding-event-party-hire/
Photography: Clive Blair Photography
Documentary Wedding Photography, working throughout the UK and abroad for couples who want a relaxed and informal style of wedding photography coverage. This means you'll get those all-important natural story-telling images you can look back on to recall the joy of your celebration.
More Information: www.boho-weddings.com/clive-blair-photography
Film Makers: Added Insight
I believe in making wedding films that truly represent the day. I try to capture the events in a naturalistic way but looking with a creative eye. My style is subtle, unobtrusive and friendly. I offer an affordable price for priceless memories. Can't wait to hear from you.
More Information: www.boho-weddings.com/added-insight
Photography: James Malkin Photography
Hi guys, my name is James, and I'm a friendly Norfolk wedding photographer originally from Surrey but now based in King's Lynn. I like to photograph weddings in a documentary style with a hint of contemporary and a lot of creativity. I believe that the best Photographs are the natural ones that display genuine character and emotion. These are the photos that will be cherished for generations to come, and this is exactly what I aim to deliver from each and every wedding that I photograph.
More Information: www.boho-weddings.com/james-malkin-photography
Fim Makers: Race Wedding Videography
We can help capture your love, laughter and a happy ever after through contemporary wedding videography. We offer an affordable package all for £899.00 with no hidden costs, no extra expenses, no copyright, just a beautiful video that is yours to treasure for a lifetime.
More Information: www.boho-weddings.com/race-wedding-videography
IF YOU ARE INTERESTED IN GETTING YOURSELF ADDED ON TO THE 'BOHO WEDDING DIRECTORY' EMAIL ME AT 

[email protected]

 FOR AN APPLICATION FORM.
HAVE A GOOD WEEKEND
BIG BOHO LOVE
KELLY XX