Today I am taking you to Southern California for this gorgeous earthy farm wedding, courtesy of Chrissy Gilmartin Photography. Karen and Cory were married on 22nd February 2020 at The Riverbed Farm in Anaheim, a city outside Los Angeles, in Southern California. The wedding Gods say that if it rains on your wedding day it's good luck, and that it did for Cory and Karen. They didn't let this dampen their spirits though, they carried on and had the day of their lives. Filled with rustic touches and cute detailing, perfect for the amazing totally sustainable community farm they held the wedding on. The whole day is full of charm, laughter, lots of cake and a whole lot of love.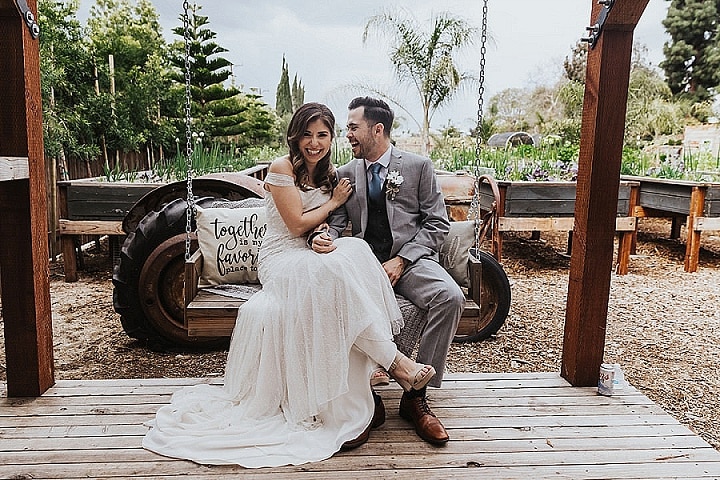 Chrissy the photographer tells us more about the shoot 
Meet Cory and Karen!!! These babes recently got married at the AMAZING Riverbed Farm and let's just say it was pure MAGIC!! This venue is just plain GORGEOUS! And the owners who run the place are some of the sweetest, and most "earth friendly" humans I know! The day started and ended with a bit of rain, but that didn't stop my fab couple, or their amazing tribe of friends and family from having the best time ever, celebrating these two cuties and the EPIC love they have for one another!! I don't know quite how to describe it, but they have this energy about them… this straight up PASSION, that you can just FEEL when you are around them… and it's obvious just seeing them together, their relationship was created to stand the test of time!! From the adorable "venue with a heart" , Orange County's first and only self sustaining farm, to the adorable country inspired farm fresh florals, to the tasty custom cocktails they dreamed up for their guests in custom cups to be taken home as favors, to shooting in the pouring rain… Every last moment was literal perfection!! And the best part… my couple!! Why… because they are just plain RAD… They are laid back… FUN… and oh so REAL!! And so are every last one of their FAB friends and family!! I could not of asked for a better crew to hang out with to watch these babes say I DO!!
Supplier Shout Outs
For more information on Chrissy Gilmartin Photography go to