Happy Friday everyone and how are you all? Are you excited for Halloween tomorrow? As Halloween is scaled down this year I have been making the most of all the Halloween events, and have really enjoyed taking Dexter on lots of lovely days out. We met up with friends yesterday and today Nik has the day off as well so we are going out for the day and then out for tea later on. Half term has been great so far, even if the weather has been totally rubbish! So today I have another fabulous Halloween styled shoot for you. I have a very special and super scary one for you tomorrow, so keep an eye out for that, as I don't normally post at the weekend. Today's Halloween shoot took place at Kimball Jenkins School of Art in New Hampshire, US at the beginning of this month and is filled with fashion forward Halloween inspiration. A super stylish corpse bride, the most amazing cake and some totally gorgeous flowers. Big thanks to Hanna Caroline Photography and her team of super suppliers for the wonderful images.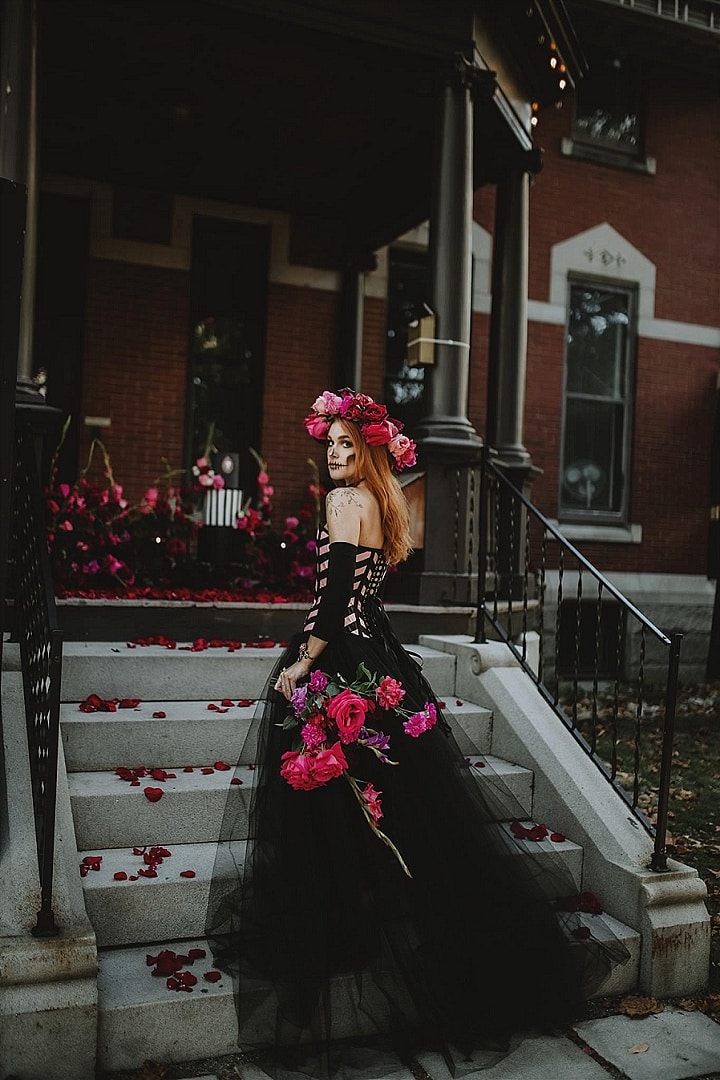 Hannah the Photographer tells us more about the shoot 
The Halloween season had Mary Trombley of Lotus Floral Designs wanting to do something fun & different for a styled shoot, so she decided to go with a non-traditional bride…and her vendor team was on board!
Our fashion forward corpse bride starts out in a couture style design by Lauralyn Bridal. The corset-skirt combination is less bridal & more runway for an edgy, somewhat goth style & look. But she also does like to get girly so we softened things up with a lovely BHLDN dress for a more vintage look for some outdoor garden portraits much like those that would have been done at the mansion decades ago.
For the florals, Mary decided to go vibrant to juxtapose the fall landscape & traditional with a lot of roses to align with the historical aspect of the property.
Kimball Jenkins was chosen as the location of the shoot due to it's beautiful mansion, property & also that it is rumored to be haunted. Kimball Jenkins is also an art school, so it was a great environment to get creative. In addition Kimball Jenkins is an actual wedding venue- so it was the perfect choice!
Our model Carter was not only amazing, but also did her own makeup! Amazing day had by everyone involved.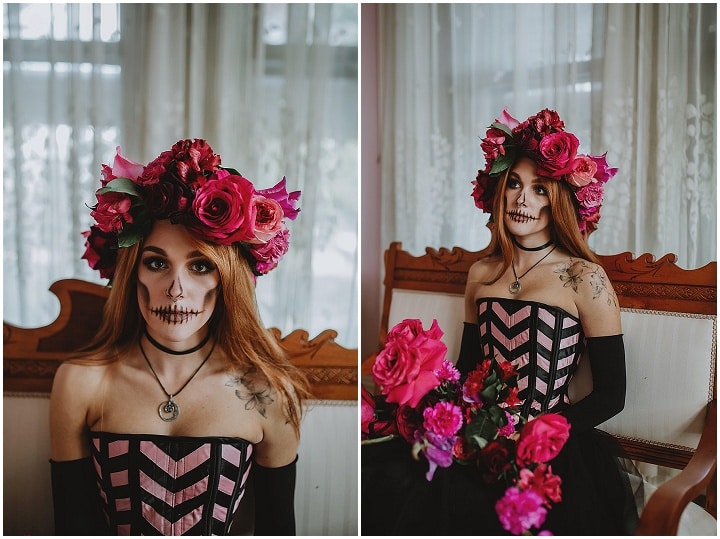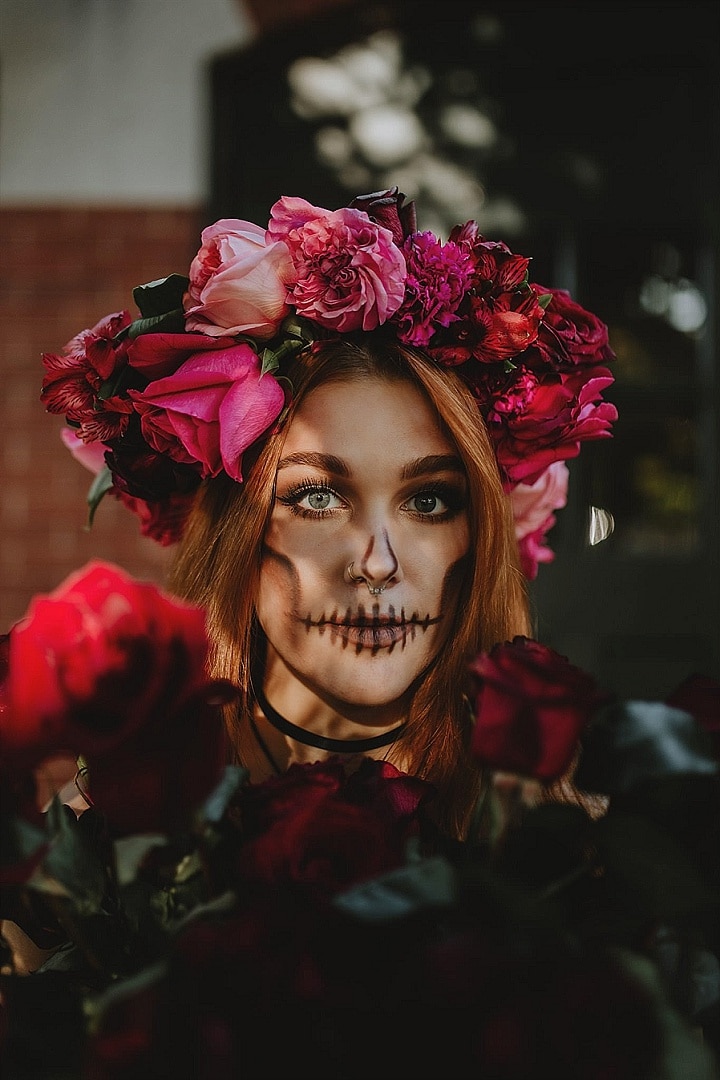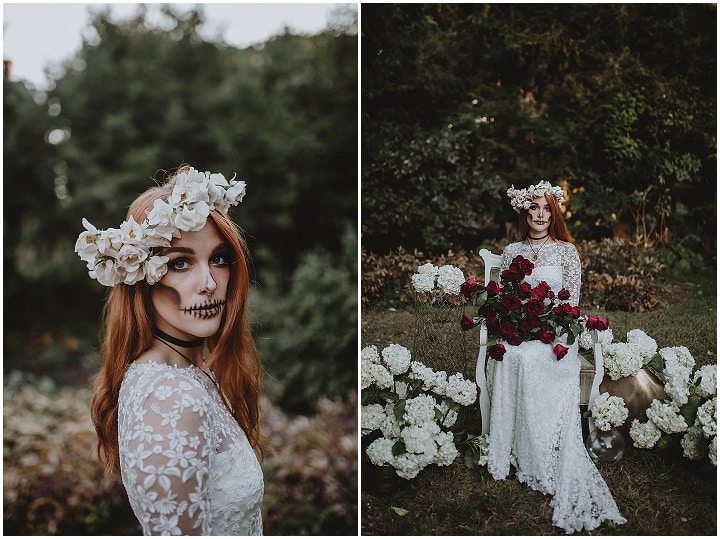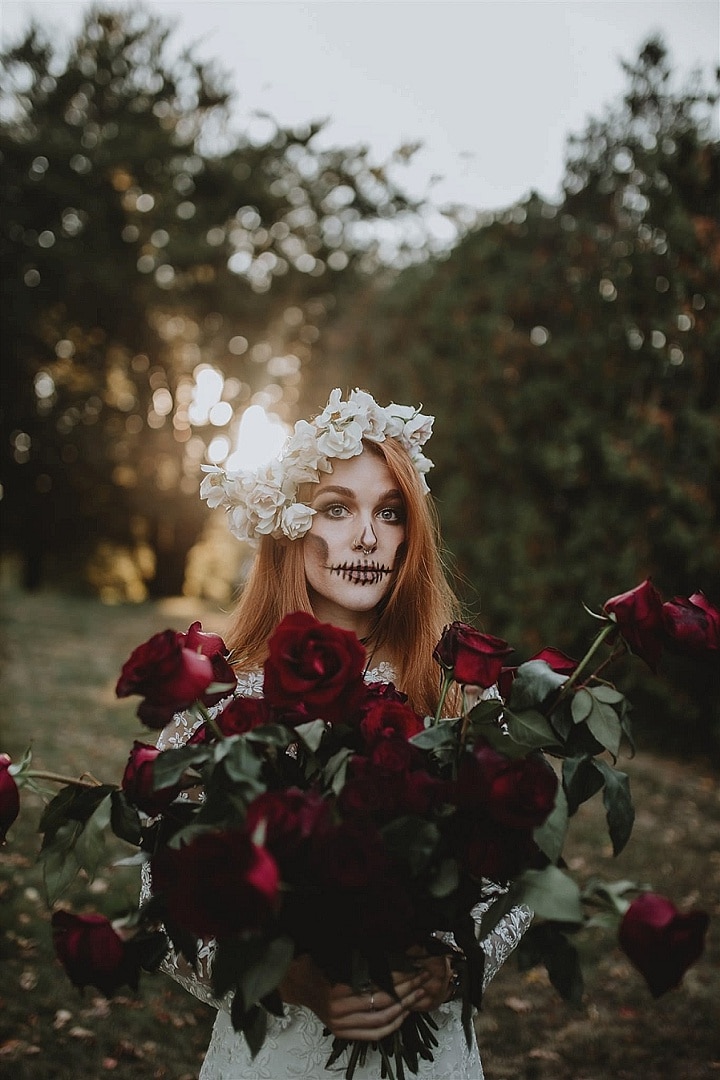 The suppliers who made the shoot possible 
For more information on Hanna Caroline Photography go to
[jprel]