I have a real treat for you today with this stunning 'Shades of Autumn' styled shoot. The shoot took place last month at the The Chilli Barn in Otley, Leeds, and was put together by Becky Kerr from Bec Kerr Photography  and a huge team of first class suppliers. Their aim was to showcase how a beautiful micro wedding could look in this stunning venue in the autumn months. The level of detail in this shoot is outstanding, from the low seating dining area, all of the delicious food, the beautiful cake, the ceremony area, the delightful flowers, it is all jaw dropping! It really does show that you don't need to scrimp on the detail when you have an intimate or micro wedding. We may not be able to invite as many people to a wedding at the moment, but we sure can make up for it in the design and look of the whole day!
A relaxed but carefully considered outdoor wedding with autumnal colours.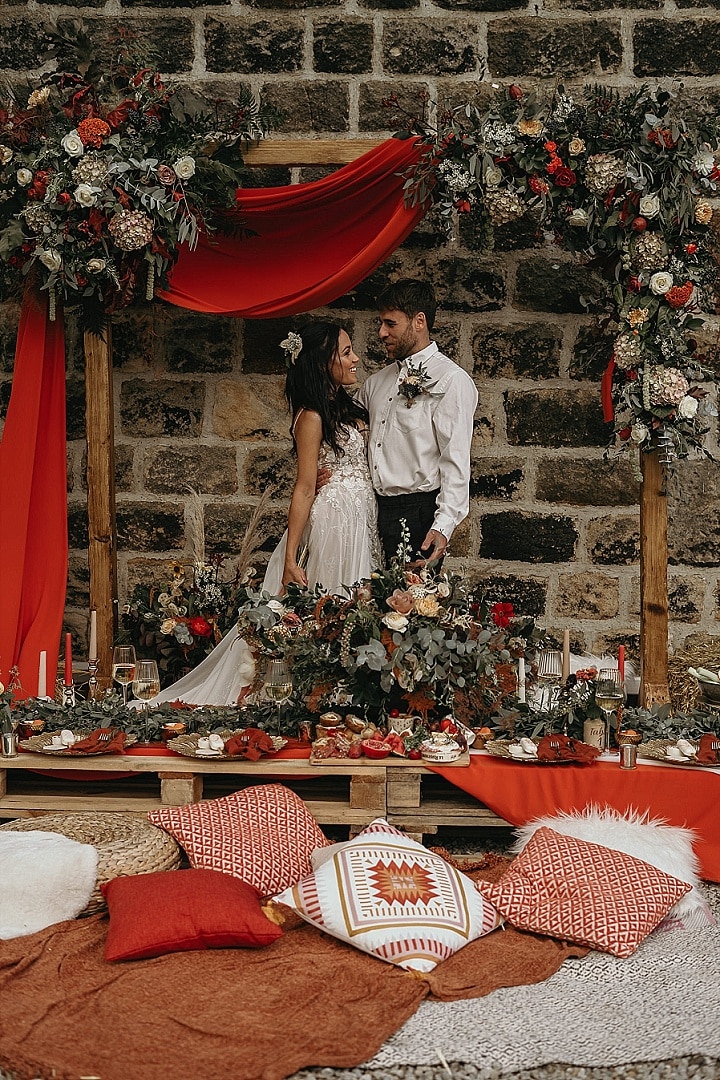 Becky the photographer tells us more about the shoot
Due to the far reaching effects of the pandemic, we wanted to showcase a set up for a really relaxed yet intentional micro-wedding. I feel really passionately that whilst the traditional 'big day' in terms of number of guests might be on hold for the time being that a micro wedding can still be big on dreamy details and gorgeous moments.
The shoot was inspired by the beautiful outdoor spaces at the Chilli Barn, which is an intimate wedding venue in Otley that is surrounded by picturesque Yorkshire countryside. The venue is surrounded by rolling green hills, dappled woodland and a beautiful stone courtyard, all of which are perfect for escaping the wedding receptions to capture some wedding portraits and having a moment of calm.
We were beyond lucky to have Loren & Dan, a real life couple, modelling for this shoot. Using a real-life couple for a styled shoot is a priority for me as the authenticity and chemistry between two real people in love is unmatched and you can really see the love that exists between these two in the photos.
I feel really passionately about continuing to create inspirational content during this difficult time and wanted to show that despite the restrictions on number of guests and the way we are able to celebrate weddings at the moment; a small wedding does not have to been seen as a compromise.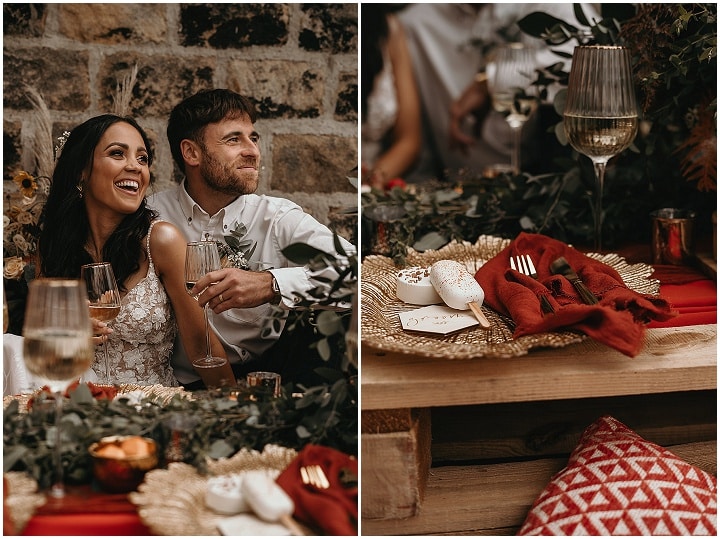 The suppliers who made the shoot possible