Todays wedding comes from London based Photographer Paula Broome. It's a different sort of wedding as it doesn't actually feature a wedding ceremony. James and Kim had a very low key wedding 2 days before the actual reception as they wanted to  hold their wedding on their 10th anniversary of meeting each other, which happened to fall in the week. The emphasis for their reception was then fun, dancing and cocktails with a huge nod to all things vintage!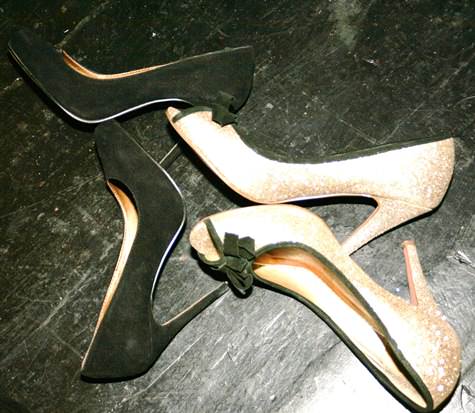 Paula tells us a bit more about the wedding
'James McGowan and Kim Ryan decided to marry almost ten years to the day of meeting on holiday.
 They were married with just their parents as witnesses in Chelsea Registry office in London on 15th September and decided to throw a big old bash on 17th September at the stunning 20th Century Theatre, a stone 's throw from Notting Hill's Portabello Rd for 90 guests.
They approached me to photograph their party as we share a love of all things vintage and their theme was the 1930's. I jumped at the chance!
 Kim wore vintage looking LK Bennett and James looked dapper in a sharp black suit with white brogues and a very fetching hat. Friends formed a band for the occasion as guests, dressed accordingly in 1930's garb, poured in as I snapped away in the manner of an old school Hollywood paparazzo. Guests enjoyed an array of cocktails and canapés before swing dance instructors taught people some classic moves.
Kim and James made all the decorations themselves and brought along a vintage suitcase for cards and notes to be dropped into. Guests were asked to donate money, if they wanted to, to the couple's cherished allotment instead of giving traditional wedding presents.
Bowl food and miniature cupcakes were served as friends and family mingled before the fantastic Five Star Swing band got everyone up to practice their newly acquired moves.'
Kim and James describe their day as 'Full of fun, love, laughter, cocktails, music and dancing! That says it all really'
How They Met
We met on a surfing holiday in Biarritz, south of France ten years ago. We ended up spending hours sitting on a green wooden bench overlooking the beach talking about anything and everything whilst trying to see a sunset before the end of the holiday. Many long and expensive phone calls and two months later I bought a one-way ticket from home (Isle of Man) to London where James lived and the rest as they say is history. We never did get a clear sunset on that holiday. Seven years later on a trip around France we went back to the camp for a couple of days and finally saw the sunset from the green bench.
The proposal
It was more of a casual suggestion! We were treating ourselves to afternoon tea in Bath just before New Year and talking about plans for 2011 and that it would be our ten year anniversary. So I piped up with the idea that it might be nice to 'make it official' to celebrate our anniversary. James didn't quite get what I meant straight away and said "what, like get a certificate?" Well yes, kind of.
The Venue
we wanted to get married on the day of our 10 year anniversary which happened to fall on a Thursday so we chose to keep the ceremony low key with family witnesses followed by champagne and dinner.
A Saturday evening seemed like a much better time to celebrate with friends and family – so we chose to organise an evening party a couple of days after our actual wedding day. For the big party we really wanted a stage for a live swing band and lots of space to dance, that was our shopping list when we looked for a venue.
The planning
We had about 8 months in total, however for around 3 months we had major building work done in our flat so the wedding plans took a backseat! The venue and caterer was organised pretty quickly and everything else was done in the 3 months before the wedding.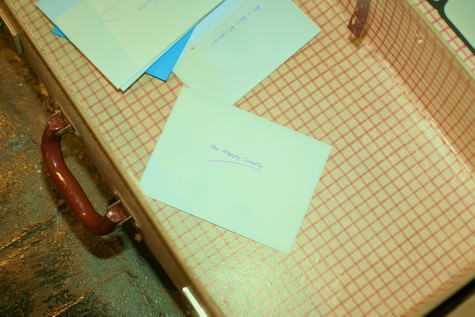 The dress
I wore a simple strapless dark blue dress from Coast for our wedding ceremony. For the party I wore a champagne silk and chiffon dress from LK Bennett with mary-jane shoes from Rachel Simpson. I wore a rose gold locket (to match my wedding ring) which is a vintage piece from the 1900's and I also wore a vintage style hair pin from Liberty in Love. My hair was styled by Issidora Petrovich in classic 40's marcel waves then pinned at the back and I did my own makeup.
The suit?
The best part of James' outfit was his white swing dance shoes from Revival Retro on Carnaby Street. Worn with a navy blue Ben Sherman slim fit suit bought in Debenhams and a matching navy trilby hat that we bought for £20 on eBay. He took style inspiration from good old Frank Sinatra.
Theme
We had a vintage 1940's feel with champagne saucers, cocktails, a swing dance lesson for all of our guests and a live 7-piece swing band.
Food
We served canapés with prosecco as guests arrived and then hot bowl food during the band's interval which included bangers and mash, thai salmon and a bean stew. This was followed by mini cupcakes on tiered cake stands and platters of cheese on rosemary shortbread.
Entertainment
Three friends played a few songs during the drinks reception in the first hour, we organised a half hour swing dance lesson with fantastic teachers from Swing Patrol and also a brilliant 7-piece swing band played two fantastic sets.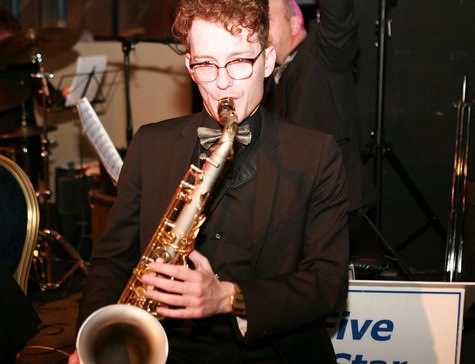 Decoration
Very simple – we handmade small table menus and had small round bistro tables and chairs lining the walls to create a dance hall feel. Vintage suitcases were used as a place for guests to leave cards and written messages. The venue is a 150 year old listed building and has a lot of character which didn't need too much decoration.
Personal touches
-Displayed framed photos from our ceremony on a fireplace mantelpiece
-Created our own cocktail menu with one dedicated to the surf camp where we met
-Made postcards for guests to leave messages
-Designed our own 'for one night only' poster displayed in the entrance for when guests arrived.
Special moments
Our friends who played a few songs early in the evening doing a Blues Brothers number complete with shades and a rap about us, seeing all of our friends and family laughing and having fun learning dance steps in the lesson, seeing everyone with a cocktail in hand and dancing together to our very own swing band.
Planning advice
Make sure you are totally clear about the terms of your venue before sealing the deal with a deposit to make sure it is exactly what you want – for example our venue was 'dry hire' only which meant we could only serve and not sell alcohol which might not suit everyone.
Plan what needs to be done, estimate how long you think it will take, and then double it! If you are making things by hand, it always takes longer than you think. I spent days designing, printing and mounting invitations then table decorations, guest note cards. It was endless!
On the day, just enjoy every minute of it!
Website: www.paulabroome.com
FACEBOOK
TWITTER