This afternoon I am bringing you a touch of drama mixed with soft pastel tones and some gorgeous decoration in the form of this Wuthering Heights inspired styled shoot. The shoot took place at The Bishop's Palace in Wells, Somerset and is the brain child of Chloe from Kennedy events. Chloe wanted to show how you can use a classic venue like Bishops Palace and transport it into a more relaxed and romantic setting. By bringing in a host of props, beautiful decor and stunning flowers, the venue was turned into a pastel dream. I love the use of fabrics, the stationery, as well as the dramatic cake and I just adore the colours.
Shades of Wuthering heights is a modern love story, incorporating the shades of the Yorkshire Moors, set against the history of one of the most historic Wedding venues in Somerset.
Chloe from Kennedy events tells us more about her inspiration behind the shoot.
I'm so fortunate to be the in house Wedding Planner at The Bishop's Palace and own my own Wedding styling business and I have wanted to bring the two together for over a year now. The Palace attracts quite a traditional style of wedding and I just wanted to show it can, be so much more.
The moment I saw the ruins of the great Hall at the Palace, with the grey skies rolling over it, I was transported instantly to my Northern roots. Now living in Somerset, I wanted to bring the two together. I really wanted to capture some of the history and show how you can use the building itself in different ways, dressing areas like the calligraphy present & card desk or the seating area with the book and whisky bar, using repurposed props from my own wedding prop selection.
Inspiring couples that you can use this vast space and make it unique to the couple.  From the moment I first saw the Palace, the Blue gown was fixed in my head and when Dandelion & Pearls agreed to make it especially for the shoot, I was delighted, as it turns out it's quite on trend now but I wanted to demonstrate you can still have a classical wedding but not to be afraid of colour.
The cake also really delivered for me, it had all the drama and colour, the use of edible calligraphy in the texture icing came out so well and it  looked just stunning against the backdrop of the Palace.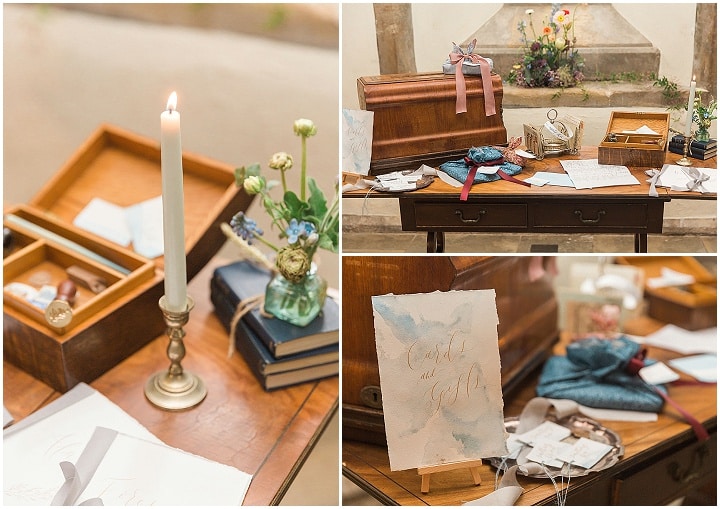 The Suppliers who made the shoot possible
[jprel]