Hello Monday, I hope you are all well? How has your weekend been? I got my nails done!! Woo Hoo, such excitement. After having my hair done last week and now with my nails done I finally feel like me again! Currently I am on my way to Cornwall with Nik and Dexter, to spend the week with my mum. I haven't seen her since November, so this trip is a long time coming. We are all so excited for a few days away, sun (hopefully) sea, sand, lots of lovely food. Nik and I both worked solid through lock down, while home schooling Dexter, so we are ready for a break. If you are interested I will be posting pictures of my trip via Instagram Stories. Today I have a homemade, homespun beauty of a wedding to share with you. Charlie and James held their DIY wedding on Charlie's parents farm, and they really went to town making pretty much everything themselves. From growing their own wild flowers, to making the signage, cake stand, invitations and even the tables and benches. The whole wedding looks fantastic, a real DIY dream of a wedding. Lisa Webb was there to capture the day in pure perfection.
Full of sun, fun, smiles and happiness. Having all our family and friends together in one place was the most amazing feeling and made us appreciate how lucky we are!
Charlie and James were married on 13th July 2019 at The Punchbowl Inn, near Bridgnorth, with the reception on my (Charlie's) parent's farm. 'We'd always hoped to have a more informal, relaxed wedding and when my parents moved in 2018 to a farm in Shropshire it was the perfect location. (We actually delayed planning our wedding for a year when we knew they were looking at moving, just in case they bought the perfect venue…!). We knew we had to do the legal bit elsewhere, and we really wanted to have it on the same day so all our guests could see us get married, so we were so lucky to find The Punchbowl Inn just a few minutes drive away. We had a quick ceremony in their gorgeous garden over-looking the Shropshire countryside, then headed straight back to the farm to start the celebrations. We had 100 guests in the day and 120 in the evening, it took 10 months to plan.'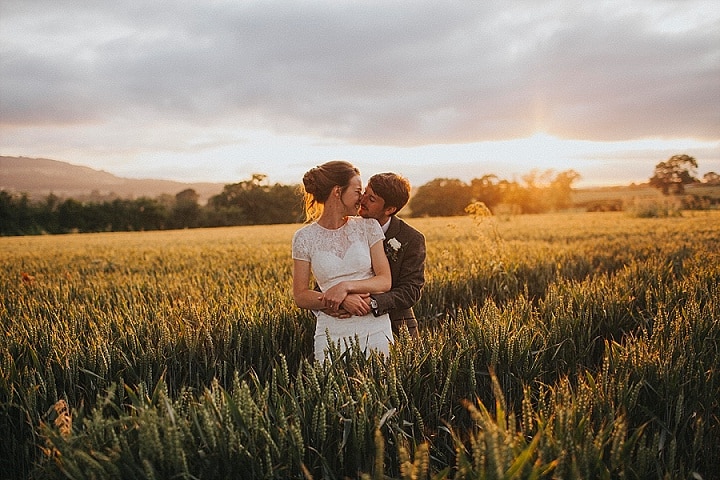 How they met 
We met at Glastonbury festival in 2009. My uni. housemate didn't want to choose between camping with uni. friends, and friends from home, so we all camped together. We got on so well and we've been together ever since.
The proposal
James took me for a surprise weekend away. He'd booked us a lovely little place near Padstow in Cornwall. Apparently, the plan was for a romantic proposal at Padstow harbour on Saturday night followed by a meal he'd booked. Instead, nerves got the better of him and he proposed in the middle of us cooking dinner in the apartment on the Friday night to get it out the way! The moment was still really emotional, and I'm actually glad we didn't have an audience, it meant I could have a little cry without people watching!
How did you allocate your budget?
I think like many couples we started off with one budget… and ended up with a different one! We didn't really have a detailed plan, but we knew we could save money by doing as many things as we could ourselves. Our biggest spending was on food and drink, the photographer, band and wedding dress.
Where did you splurge and where did you save?
Having originally thought we might cater the wedding ourselves, we decided we really wanted to have a 'proper' wedding breakfast, so our biggest splurge was definitely on the food, but it was well worth the extra spend!
We saved in lots of areas, we are starting up a cut-flower business at the farm, so we used the wedding as a trial and were able to grow lots of flowers for the wedding and arranged them ourselves. We also made the wedding stationary, wedding cake, bunting, 'LOVE' sign and sweet cart – it was all quite DIY! And I shouldn't forget the free reception venue, curtesy of mum and dad, that's quite a big one!
How did you choose your photographer?
We used Instagram to find local photographers whose photos we liked the style of. We chose Lisa (Lisa Webb Photography) because we loved the soft, natural style of her photos and the way she managed to capture the light so beautifully. Her website is honest and personal, we almost felt like we knew her before we'd even spoken, and we were sure she'd be the relaxed photographer we were looking for!
The dress 
My dress was by Vera Wang. I didn't really wear any accessories and I'm not sure if I should admit the truth about my shoes…I really struggled to find any that I liked, so I ended up spray-painting a really old pair of black kitten heals silver and hoping no one would look too closely!
The suit and bridesmaids?
The suits were by a company in Birmingham called House of Cavani and the bridemaids dresses were from Debenhams.
Theme or colour scheme
I don't think we had a theme, we just wanted to use lots of natural materials to fit in with the countryside setting and barns.
Flowers 
One of the most important things to me for the wedding was that we could have lots of flowers. We grew most of them ourselves on the farm (Ridges Farm Flowers) and bought some in too. With the help of my sister, mum and bridesmaid Em, we managed to arrange all the flowers in the 2 days before the wedding, it was a busy time but exciting to see what we could create! The flowers themselves were a whole colourful mix, especially in the barn. The bouquets main flowers were gorgeous roses and chrysanthemums and had orange as the statement colour.
Decoration 
We filled the barn with buckets, watering cans, and jam jars full of flowers. We also brought in small trees which we put fairy lights around, which definitely helped soften the barn and bring the outside in. James and my dad surprised me after my hen do weekend, having spent the weekend making a huge light-up LOVE sign! That was amazing. Other than that, we mostly just had lots of bunting and fairy lights. One of my favourite things were the fairy lights hanging from the big oak trees outside – it was quite a magical moment turning them on as it was getting dark!
Food
For the wedding breakfast, we had canapes, followed by sit down meal by 'The Wild Oven'. We had gorgeous anti-pasti boards to start, then citrus chicken, pulled pork and salads for main. They deliver it to the tables in big serving dishes so you can help yourself which we really liked as it makes the mealtime that bit more sociable. For dessert my mum had made white chocolate cheesecake and I had baked chocolate brownies, which we displayed on 3-tiered cake stands (made from a whole mix of charity-shop bought plates).
In the evening we had the most amazing wood-fired pizzas by 'Bare Bones Pizza'. It's our friend's families' business and, we might be biased, but honestly it is the best pizza!
Wedding cake
We made the wedding cake ourselves and had a Chocolate Guinness cake, a Victoria Sponge and a Lemon cake, displayed on beautiful wooden cake stand that my dad made.
Entertainment
We had giant noughts and crosses, skittles and coconut shy for a bit of daytime entertainment.
We are so lucky to have a friend who is the most incredible singer (Lizgonmad), she played an acoustic set in the afternoon on the lawn, then played in the evening with her band, they were incredible and the dancefloor was packed all night. Our friend, and best man, Will, used to be a DJ so helped us continue the party once the band had finished.
Who supplied the stationery?
I made all the stationary myself to save costs, with card and paper bought from Hobbycraft.
Where did you go on your honeymoon?
We went to Italy for our honeymoon in September. We stayed for 4 nights on an island called Ischia, just off the Amalfi coast, then another 4 nights on the south east coast of Sicily. It was absolutely beautiful. We definitely ate and drank to much!
Personal touches
We made lots of things ourselves for the wedding which we were so glad of because it meant the day felt really personal to us.
The biggest things we made were the scaffolding board tables and benches. Lots of people thought we were mad (and perhaps they were right, they took us about 6 months to finish in the end!) but we loved them and they gave the barn so much character, and definitely added a lot to the décor. We named the tables after different stages and tents at Glastonbury festival as a nod to where we met.
Special moments 
Seeing friends and family who'd never met before happily chatting away and getting to know each other, I was so glad we'd been able to create an environment where people felt relaxed enough to do that. All the speeches were great too, we didn't stop laughing.
Advice for other couples
Planning really well before the day takes so much pressure off on the day itself, especially if you're doing a DIY wedding. There are enough nerves and emotions on the day you don't want a million questions flying your way too! We wrote out a list of who was responsible for doing what on the day, we got all the groomsmen and bridal party involved so no one had too much to do (we wanted them to have a good time too!) but it meant the day was stress-free and we could focus on the most important things – spending time with our guests enjoying ourselves.
Biggest surprise 
We had 2 surprises on the day.
Firstly, seeing my adult brother 'driving' at snail's pace into the barn on a child's mini electric Landrover, during the best men's speech, as part of a joke about James' passion for unreliable cars.
And secondly, when my bridesmaids took to the mic to do their version of 'In Da Club' along the lines of 'Hey Charlie, it's your wedding….' it was hilarious and definitely and surprise!!
Supplier Shout Outs
For more information on Lisa's work go to
 www.lisawebbphotography.co.uk / www.lisawebbphotography.co.uk/blog / [email protected] / 07969745526 / FACEBOOK / INSTAGRAM

Lisa Webb is a creative and relaxed wedding photographer based in Shropshire. She's best suited to chilled out couples who want to do things a bit differently.

[jprel]