Today I have something special for you as I take you to Provence for this beautiful edgy but super romantic styled shoot. The shoot took place on 10th September at Clos des Charmes in the Dordogne, France. The shoot was sent to me by Ajna from Oui, Mon Coeur, who worked with a huge team of incredibly talented suppliers to create this shoot, highlighting the fact that not only does Provence offer rustic chic weddings but also caters for the more experimental couple; couples looking for a beautiful location but with edgy styling. The shoot showcases how smaller weddings can still be full of details and amazing decor and how intimate weddings really are the way forward. We are also celebrating the fact that it is pride month with these two beautiful brides.
An edgy Provence elopement story using lavender, and rock and roll details to celebrate a cool and creative couples' unique personalities for their intimate French wedding day.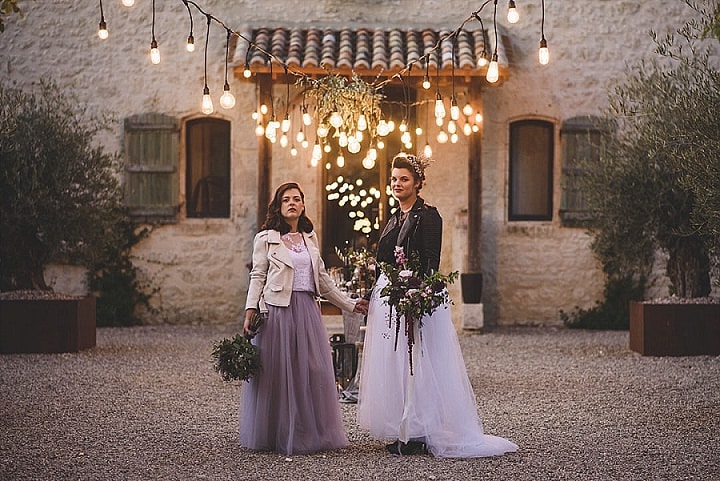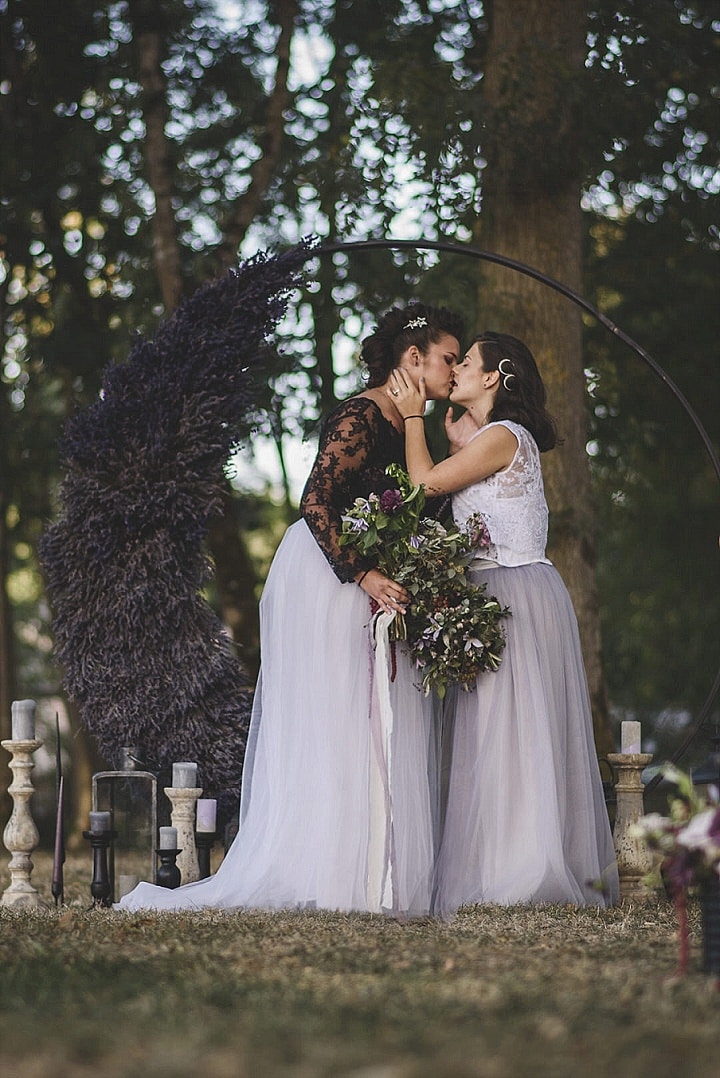 What made you decide to do the Shoot?
2 reasons:  Because unfortunately we know that same sex couples have an extra layer of worry around destination weddings and how friendly foreign places might be to them. (Which is ridiculous that they even have to think about that in 2020!!!) So we wanted to help make sure they know they are welcome and represented in Southwest France.
Because being based in the South of France we do get asked for the same style of wedding over and over again ("sort of rustic chic with lots of lavender and greenery…") – so we wanted to challenge ourselves to use lavender in a more creative / less traditional way.
What was your inspiration behind it?
Obviously, "Edgy"  isn't the first thing we usually think of when we hear the word "Provence."  But we wanted to showcase that there's more than one way to have a beautiful wedding in the South of France.
So we created a French elopement story around two brides who feel very deep ties to their native Provence region, but who also might have also felt very stifled by the sometimes overly traditional / conservative mind-set and ideas about what a wedding is "supposed to" be or look like.
So we set out to design an intimate French wedding day that would reflect that;  referencing some of the more traditional elements often associated with a Provence wedding, but reinterpreted for a couple who does things on their own terms. With a colour palette of dusty lavender (bien sûr) plus multiple shades of greys and black – we also incorporated classic French materials like linen, antique silver, olive trees and dried lavender, but used them in unique ways.  And we also played those traditional elements against some more modern/industrial materials and textures like concrete, iron, perspex and vegan leather! We also tried to incorporate details personal to our two brides' story – like star and moon imagery their all-vegetarian French wedding menu, and their adorable French bulldog ring-bearer, Maiki.
We used a real engaged French couple as our models – Adeline and Miléna (or "Sylvie and Luna" our two brides for the purposes of the editorial – as they wanted to ensure than none of their nearest and dearest mistook these photos for their actual wedding which is happening later this year!) And we staged everything at a Dordogne wedding venue called Clos des Charmes .  It's a very cool place with a laid back vibe and a sort of "Provence" feel to the exteriors and their stunning courtyard (perfect for an outdoor French wedding dinner!) while the interiors have a more modern / industrial look to them. The juxtaposition of those two different styles were very much an inspiration for the overall look of our Edgy Provence elopement!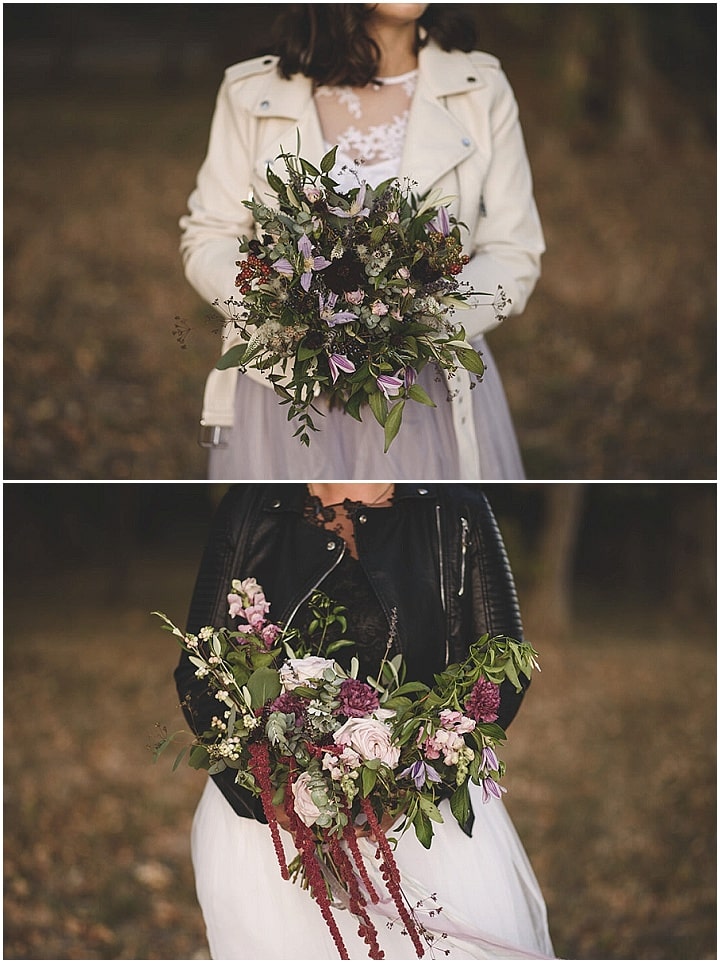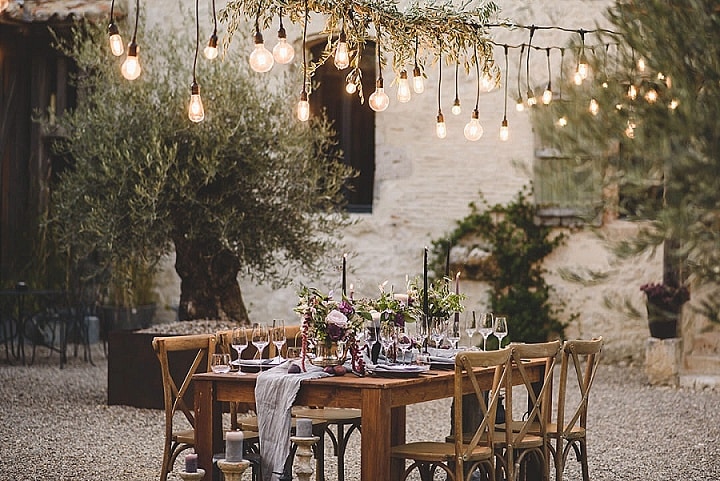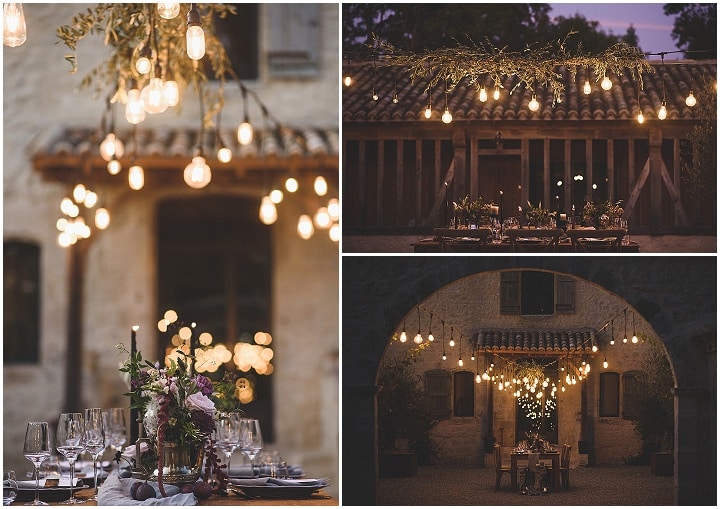 The suppliers who made the shoot possible
[jprel]