Happy Monday everyone and how are you all this fine Monday morning? Did you have a good weekend? Did you manage to get out and about a bit more this weekend. I got in my car for the first time in 3 months, which was a real treat. We went out for a walk, had a bit of a picnic while we were out, and how lovely it was! I also made a big chocolate cake, a trial run for Nik's birthday in a couple of weeks, which was delicious! And we had a takeaway for the first time in months and months! I know living the dream!!! Anyway on with this weeks weddings and I am starting off with this summer filled, relaxed tipi wedding, full of hand spun gorgeousness. Ally and Edd wanted a relaxed day, filled with food, drink and lots of laughter. It was a true team effort with all their friends and family pitching in to make the day happen. Weddings by Sally Rose was there to capture the day in all it's sunny glory.
It was the best feeling in the world having all our favourite people together in our favourite setting! It was relaxed, hilarious, memorable, joyful, exhausting, but so worth it.
Ally and Edd were married on 17th August, the ceremony was at the local church in Great Wakering, Essex, and the reception was at a field in a friend's farm nearby. 'We knew we wanted to make as much of the wedding outdoors as possible and a family friend had kindly said we could use a field on his farm which was fab. We looked at options for outdoor ceremonies, but these were limited in our area (and it was before the law changed making this easier!). So we just decided on a chilled ceremony in our local village church. We had 85 guests in the day, around 15 more in evening, it took about a year and a half to plan.'
How they met 
We met at school, and have been together for 10 years (in fact the wedding was on our 10 year anniversary.
The proposal
We don't have a flashy story, and that's just how we like it! We were just chilling at home on Valentine's day, drinking tea & eating mini eggs and then Edd popped the question!
How did you allocate your budget?
We knew what our budget was from the beginning, and did a little Googling to figure out roughly how much things cost so we could start allocating costs. Some areas ended up being pricier than we expected, and others we managed to save loads on – so it balanced out in the end.
Where did you splurge and where did you save?
We definitely splurged on food & drink (free bar woohoo!) – we wanted people to feel content and relaxed, and this definitely worked! We also spent more on the tipis, as other than the field, this was our 'venue'! After a lot of deliberating, we also decided to get a videographer, because my parents always say how much they love their wedding video…and it was a great decision and definitely money well spent. We spent less on dresses, suits, rings etc, as for us these weren't as important as ensuring all our guests were having a great time. We have a family allotment, so we also managed to save money by growing a lot of our own flowers, and making our own confetti.
How did you choose your photographer?
We did a tonne of research (probably looked at 30+ people and made a spreadsheet..maybe a bit OTT..) and in the end we chose Sally Rose. She was a delight, and gave us the most beautiful record of the day.
The dress 
It's a not-so-secret secret that I got my dress in the January sale at Monsoon in Westfield Stratford! I knew I wanted to get something from Monsoon Bridal, as their dresses are beautiful and really well priced. I'd tried a few on that just weren't right, and then found this one which was actually a bridesmaid's dress. My mum & I did a lot of pondering about whether it was 'bridal' enough, and in the end we thought.as long as we like it, it doesn't really matter! It was so comfortable, and was great for dancing the night away long into the early hours. The shoes were just my favourite Havianas flip flops. Don't fix it if it ain't broke, right?! (Although I did buy a new pair so they were sparkling clean!)
The suit and bridesmaids
The boys knew they wanted something Peaky Blinders-esque – and they ended up getting several of the suits from Slaters Menswear (including the Dad's kilts!). The bridesmaids dresses were from Next – after some Pinterest research, we knew we wanted something floral & full length, and not too formal. It was surprisingly tricky to find them, and especially to get the colour right next to my dress which in some lights had a pink-ish tone. But the girls loved them (and again, they were great for dancing..which you may be able to tell by now was a priority for us!)
Theme or colour scheme
Outdoorsy, meadowy, hobbity! This is going to sound nerdy, but we always loved the scene in Lord of the Rings where they have a huge party with lots of food and laughing and fireworks. That was the vibe we were going for! We didn't really have a colour scheme either – we just wanted it to feel relaxed & summery.
Flowers
We'd grown several of the flowers on our allotment, including some dahlias, asters and cornflowers. Some of our family & friends also offered pickings from their gardens, including roses, verbenas & achilleas, and ferns, eucalyptus, and pineapple mint for foliage. It's amazing what you can find in the garden! My mum is green-fingered, so she made my bouquet – and a couple of her friends who are florists kindly helped with all the other bits & bobs. They had the smart idea of making the arrangements portable, so we could set them up in the church for the service, then move them over to the tipis for the reception.
Decoration 
We wanted the decorations to be a subtle reflection of all the things we love, including:
Our favourite places in the UK as table names
A sign on the gate, inspired by LOTR saying 'No admittance except on party business'
A pallet with pictures of family & friends who weren't able to be with us
Wildflower & chili seeds as the favours
Origami chains that we made at the hen do
Food 
BBQ, BBQ, BBQ. And more BBQ. We worked with a great company called Hungry Hog, who did pretty much everything from canapes to late night hot dogs. They were fantastic, and the food was delicious. The BBQ set up worked really well, as it meant people could eat flexibly and it was easy to cater for dietary requirements too. We also hired a Rossi's ice cream van (Southend's best export!), which was also a hit with guests. They let us choose 8 flavours that they would serve..this was one of the hardest decisions of the whole planning process!
Wedding cake
The cake was made by a lovely lady who lives locally called Dena – she'd made some great cakes for special family birthdays, and could make the cakes gluten free which was important for us. The three tiers were chocolate, gluten free lemon, and white chocolate & raspberry…and we all ate it for breakfast the next morning!
Entertainment
The DJ we booked dropped out last minute…and because the wedding was in a field, we were totally reliant on a DJ for all the sound systems, background music, microphones for speeches etc. But thankfully the farmer's superhero son stepped in, and saved the day. He was better than we could ever have hoped for, and the guests loved him. They chanted his name a LOT!
Who supplied the stationery?
We'd looked around and seen some beautiful stationary on Etsy etc, but realised it wasn't really something we could afford – so in the end, we used Vistaprint. They seem to have a constant sale on (or there are always voucher codes available), so can be really good value. Plus we were able to choose recycled card which was also a win.
Where did you go on your honeymoon?
We love a road trip, so we went adventuring around Florida in a Mustang. We are big kids, so started in Disney World – we then meandered through the Everglades National Park to Miami. From Miami, we drove the whole way down the Overseas Highway in the Florida Keys to Key West. We'd never been to Key West before, and it ended up being one of our favourite spots we've ever visited.
Personal touches
There was so much we had to do ourselves without having a venue (or even a building nearby!). The main thing was having no running water, so we needed to find a way to provide water for showers, washing etc. In the end we found a 1,000 litre water tank which worked a treat! Edd even created an amazing bucket shower – despite the lack of warm water, surprisingly our guests loved it – and it's still sitting in our garden today. The other key thing we did ourselves was the entire set up & clean up – this isn't to be underestimated with this type of wedding…we needed all hands on deck for about 3 days either side of the wedding. It was a lot of hard work, and our family & friends were really brilliant at lending a hand. It wouldn't have been possible without them – so we made sure to keep them well fed with leftover wedding cake & McDonalds runs!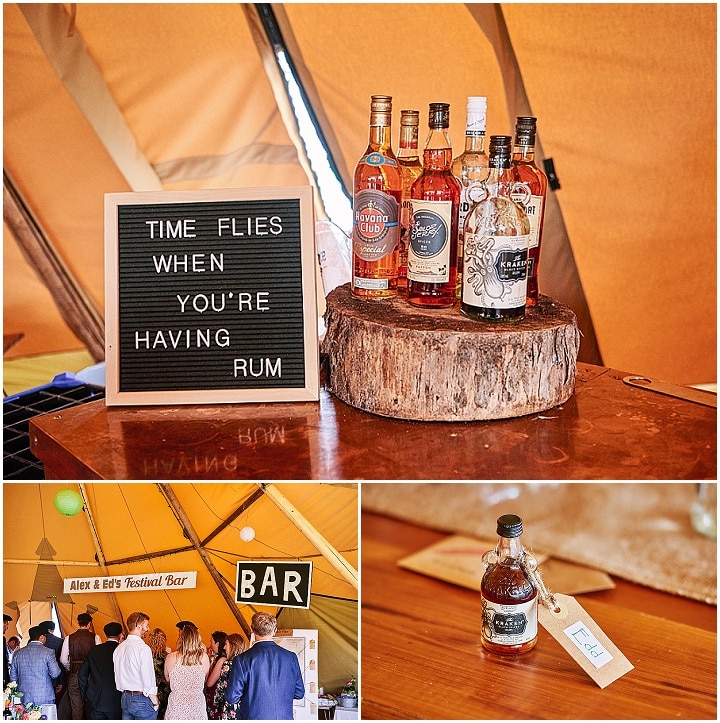 Special moments 
The dancefloor was definitely a highlight for both of us – our guests' dance moves were on point! Plus just taking a moment every so often to step back and watch everyone enjoying themselves was really special.
Advice for other couples
Figure out what is important for you two personally – you don't have to do things just because they are traditional or 'the done thing'. But equally you can do those things if they are right for you! We did a bit of both, and it worked out great.
Also, recycle as much as you can.
Biggest surprise 
My Dad arranged a song at the end of the speeches, and he'd printed out little song sheets for everyone – so all of our guests & suppliers ended up singing and dancing to Harry Belafonte's Wedding Song. We had no idea it was planned, and it was a great way to end the speeches and start the 'fun'!
Supplier Shout Outs
For more information about Sally Rose go to 
www.weddingsbysallyrose.com / www.weddingsbysallyrose.com/blog / [email protected] / 07739318996 / FACEBOOK / INSTAGRAM / PINTEREST

Hi, I'm Sally Rose – I'm a professional wedding photographer based in London. When it comes to capturing your big day my aim is to provide you with beautiful photos that you can cherish forever, whilst at the same time making sure not to be too intrusive on the day. My style is relaxed, happy and colourful. I like to take a documentary approach and capture candid moments as they happen. Each wedding is unique and I love to show this through my photography from the tiny details to the big moments. I love travelling and I'm more than happy to travel to your wedding, be it in Sussex or South Africa! 

[jprel]