Happy Monday everyone and welcome along to another fabulous week on the blog. I hope you all had a wonderful weekend? Did it snow? We have had snow and it looks like we are going to get some more over the next few days. Dexter LOVES it, personally I'm not so keen. Today I am taking you to gorgeous Oxfordshire for the laid back, fun-filled wedding of Rosie and James. The whole day is a magical collection of homespun gorgeousness, rustic goodness and so pretty! The food, the drinks, the games, it all looks so much fun. The tipi is decorated to perfection, and Rosie and James look so happy. What a stunning day, all captured beautifully by Eva Photography.
A fun and relaxed party surrounded by the very best friends and family.
Rosie and James were married on 28th July 2018 at a tiny local church and the reception was held at Maybush Weddings in Newbridge, Oxfordshire. 'We toyed with the idea of having a London wedding for a while as it's where we live but we thought logistically it would be harder and we wanted the day to be as chilled as possible. I grew up in Oxfordshire so we started looking at options there when we found Maybush Weddings – a tipi in a field alongside the river with a whole village of bell tents for camping and a shepherd's hut for us, we loved it! Simon the venue owner was amazing; super helpful and willing to help build any wacky idea we came up with. A few months before the wedding we visited the venue and discovered that he had built a boat bar! We had 110 guests for the whole day. We got engaged in August 2017 so had just under a year to plan.'
How they met 
James and I met through our University Korfball club. Being a mixed-sex sport with lots of socials the club saw many a relationship… Whilst on a night out at a tournament James asked me if I wanted to dance – I told him I wasn't drunk enough so, being the resourceful man he is, he soon corrected that and the rest is history. 
The proposal
James proposed whilst on holiday in Australia visiting his brother. We spent a day walking at the Blue Mountains where I found an insta-perfect spot for a plandid photo of us looking out at the view (yes, I was that girl). I sat down whilst James set up our go-pro on self-timer. After a while I turned around to find out what was taking him so long to find him on one knee with a ring in his hand. I could not have been more shocked! And somehow the picture is incredible.
How did you allocate your budget?
We didn't really set a budget. How do you decide how many thousands of pounds (that you don't own) you're going to spend on your wedding? I don't know. We just decided we'd do our research carefully and make it work. Everything was more expensive than we had anticipated, and we definitely got looser with our spending towards the end! We still don't know how much we spent in total and it's probably best it stays that way.
Where did you splurge and where did you save?
We splurged on alcohol and music – the two things you need for an excellent party!
Having a free bar was really important to us to begin with, though the venue we fell in love with was licensed so we weren't able to save there by buying our own alcohol. We pre-ordered prosecco, wine and beer and anything else was paid for. Simon couldn't quite believe how much prosecco we bought.
Having a band was a non-negotiable but also something that we had no idea about cost-wise. We had a 7-piece band with horns and they were worth every penny.
How did you choose your photographer?
Eva photographed my sister's wedding two years before ours and we absolutely loved her photos. We had the added benefit of knowing how she worked on the day and she actually lives just around the corner from us in London so it worked perfectly.
The dress 
My dress was Rebecca Ingram by Maggie Sottero and I had pink shoes from Boden.
I thought finding a dress was going to be the hardest thing and found online research so overwhelming. I started by visiting a local boutique with my mum and sisters just to get the ball rolling and see what kind of thing suited me. I had absolutely no expectation of finding anything that day but I fell in love with the second dress I tried on. I went to a couple of other shops to make sure I wasn't making a rushed decision but nothing compared so I went back and bought it.
I wore a pearl bracelet that my sister wore on her wedding day and pearl earrings that James gave me the morning of the wedding.
The suit and bridesmaids
James and the boys wore bright blue suits from Ben Sherman – he wanted something that 'popped'! The bridesmaids wore blue dresses from Oasis.
Theme or colour scheme
We just wanted a beautiful country feel.
Flowers 
I had a hand-tied bouquet with snapdragons and David Austin roses, with stocks, jasmine and greenery. They were beautiful!
Decoration 
We decorated the tipi with metres and metres of white bunting, we had lots of greenery decorating the ceiling as a centre piece, bright country flowers, fairy lights and multi-coloured candle sticks.
Food 
Trailer Trash did the catering for the whole day from their converted caravan, which fitted in beautifully with the tipi's and boat bar. The girls are so lovely and did an amazing job especially given the adverse weather conditions!
We had halloumi fries, sausage rolls and brie and apple crostini for canapes followed by a sort of Persian BBQ for main with salads and potatoes. We had an ice cream van for pudding which was great fun.
In the evening we had bagels inspired by the bagel shop on brick lane – our favourite drunk munchies spot. The bagels were freshly made sourdough… heaven! This is still one of our favourite decisions. 
Wedding cake
Our cake was stunning and handmade by my younger sister and her boyfriend. It took a bit of talking them into the challenge but they did an amazing job.
Entertainment
For entertainment we had a giant game of Bride v Groom flip cup, a photo-booth and later on the fire-pit was lit for toasting marshmallows.
Groovestone provided the music for the evening. They were recommended to us by a friend and they were incredible. They had everyone dancing all night and people still comment on how great they were.
Who supplied the stationery?
We did. My sister and uncle designed and printed the invites, Order of Service and table plan and one of my best friends beautifully wrote out all the table names.
Personal touches
Lots! We wanted the day to be as personal as possible so roped in help and got friends and family involved wherever we could.
I handmade 110 personalised, stamped, iced biscuits for our favours/ name settings. This was quite a feat – the idea felt like such a good one until I was 12 hours deep, the day before the wedding!
In the church, one of our friends played the guitar as I walked down the aisle. We asked some of our friends and family to do readings and prayers and my sister, cousin and friend performed Christina Perri and Ed Sheeran's Be My Forever as we signed the register.
A family friend did all the flowers and the greenery in the tipi bringing my Pintrest dreams to life.
And there were so many more! Our cake, the stationary, hundreds of metres of handmade white bunting, pallet signs and chalkboards, our first dance… the list goes on.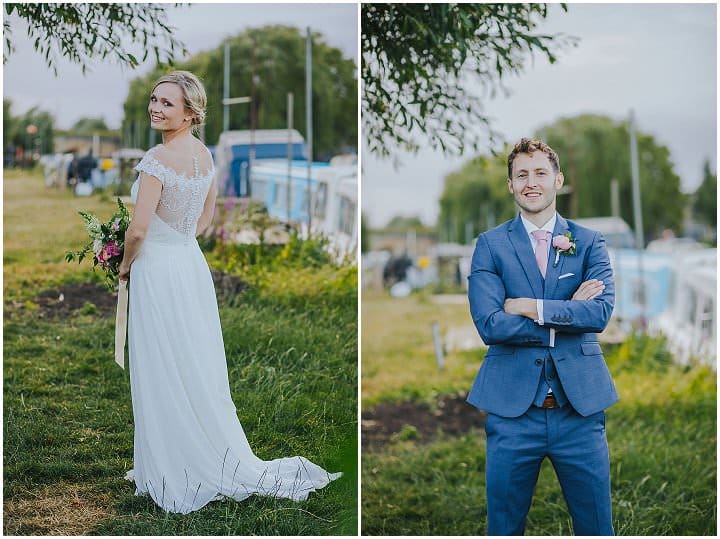 Special moments 
We did a choreographed first dance to George Ezra, Paradise. This was my idea of a nightmare, but a friend convinced us to do it and choregraphed it for us. It was cheeky and fun, and I am so glad we did it. As soon as it had finished everyone surrounded us on the dance floor and we were so high on life.
Advice for other couples?
Don't stress. Not everything will go to plan, but you will not notice. Nothing could have rained on our parade on the day! 
Biggest surprise 
The weather! During the hottest, driest summer in years we experienced four seasons in one day… sun, hail, rain and winds of 40mph. We couldn't have written it, but it certainly added character and my Dad managed to capture a photo of the most amazing rainbow over the tipi's.
Supplier Shout Outs
For more information on Eva's photography go to
www.eva-photography.com / www.eva-photography.com/blog / [email protected]  / FACEBOOK / INSTAGRAM

Eva photography – modern wedding photography for non-traditional couples. I'm based in London and love the city weddings but happily venture with my couples to anywhere in the country. I offer a documentary style with a bit of an edge. Crazy laughs, kisses, dancing, stars in their eyes, first dances, last moments before 'I do',friendships, good times, tears of joy, so much love – all this in the pictures!

[jprel]