I have a real treat for you this wonderful Wednesday morning, courtesy of the ever so talented Emma Lucy Photo. It's a beautiful woodland wedding set in the most gorgeous of locations with a festival 'Weddingfest' theme. The couple James and Inger decided to strip back their wedding plans to keep costs down and by doing so they created a wedding that was truly personal to them, with minimum fuss but keeping all the beauty. With such an amazing location you really don't need 100s of details and decorations this amazing venue really does say it all. A gorgeous outdoor ceremony and a truly beautiful outdoor recption with dancing under the stars really is all you need. Massive congratulations to the lovely couple.
'Weddingfest' was exactly what we'd planned. As much like a one day festival as possible, with live music and DJs, hog roast, camping and a fire pit.
Inger and James were married on Saturday 6 September 2014 at Wasing Estate Secret Garden, Woodland. 'Wasing Estate is a country estate that offers weddings with a difference. It's a beautiful open-air place to get married, in a garden overlooking fields, and the ancient woodland is a stunning glade. We wanted somewhere unique that offered a festival feel and camping but that wasn't too far from London. At Wasing, you're in the middle of the countryside, but only 10 miles from Reading.
Another big factor was that you had to bring everything to the site. So rather than being tied to a list of approved suppliers, we could make our wedding very personal and fun. We had 50 guests to the wedding and the planning was done over about a year. We tried to simplify the planning by limiting things like how much decoration we would do, for example, to save time.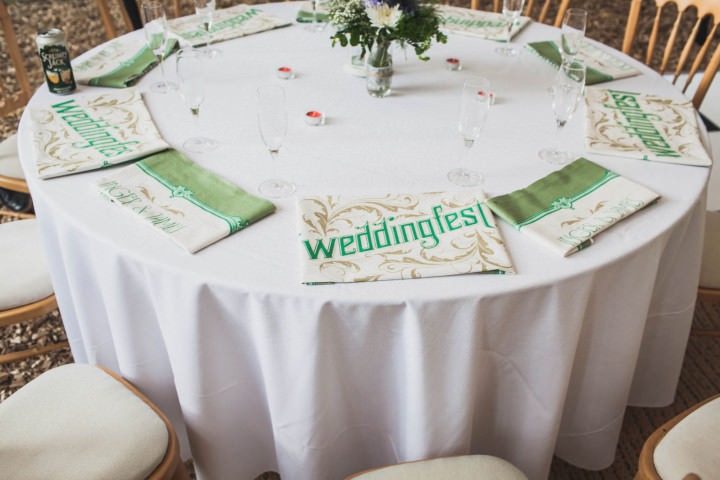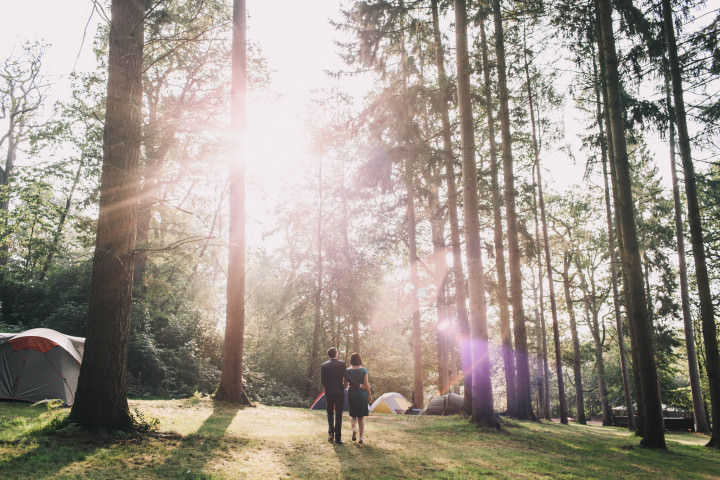 How they met
We met speed dating in The Book Club Bar in Shoreditch, and hit it off straight away. We'd been together 4 years by the time we got married.
The Proposal
It was at a quiet spot over-looking the Grand Canyon at sunset, mid-way through a road trip of California and Nevada. When James went down on one knee and said 'I've got something very special to ask you' I had a pretty good idea what it was.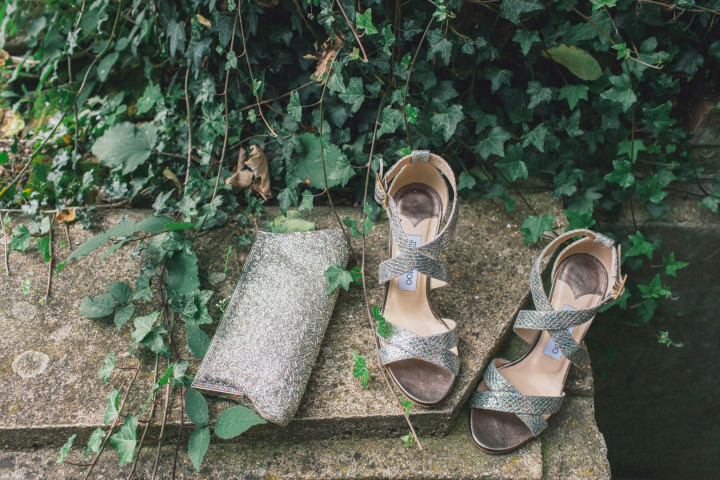 How did you allocate your budget
The venue cost the most, followed by the lighting and electricity generator, then the photographer. We tried to keep food simple (hog roast) and decoration minimal (the site was so lovely it didn't need anything) to save money. We also asked everyone to bring a bottle to save hiring in a bar. Being creative did help keep costs down, but there were so many small things we initially missed off the budget, we did go over it!
How did you choose your photographer
We'd seen Emma at a previous friend's wedding and were really impressed by her laidback approach and reportage style. She's incredibly friendly, practical and easy to work with and, from her portfolio, we knew the final photographs would be fantastic.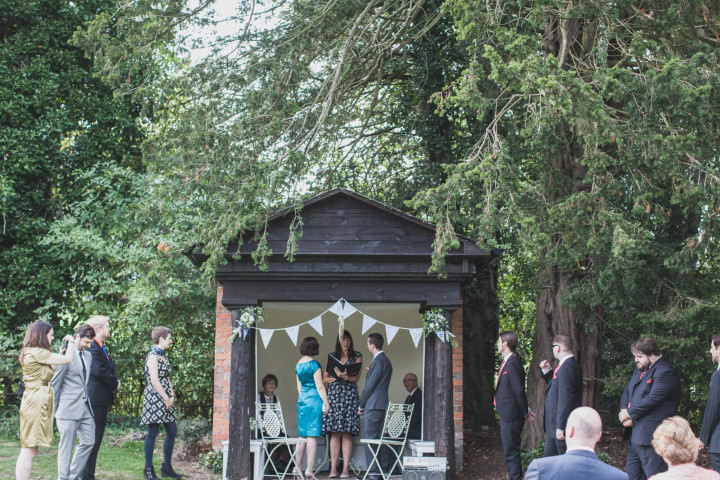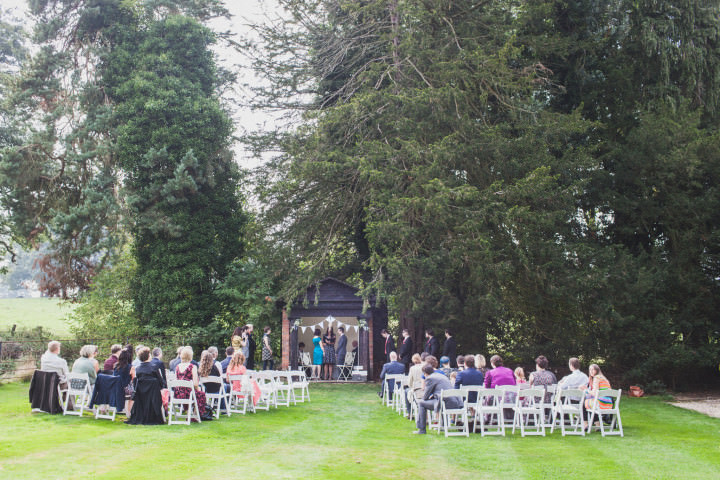 The Dress
Dress – 1950s style satin dress from a shop in Crouch End. It originally cost £50 and I'd had it for years and loved it, but James had never seen it before. The shoes were silver disco sandals from  and silver retro handbag borrowed from a friend. My vintage style hairclip was from Primark.
The Suit and Bridesmaids
James' suit was from Ben Sherman. Rather than go for bridesmaids, I had a bridal entourage of 2 men and 2 women, who all wore whatever they liked.

Theme or Colour Scheme
The entire wedding was festival themed, from the 'Weddingfest' invites to hand-painted signs for the main stage, bar and camping. On the main stage, one of groomsmen played acoustic guitar, followed by three friends DJing. We considered brewing 'Weddingfest' branded beer, but it would have blown the budget. We settled for commemorative tea towels to double as napkins!
Flowers
My friend Karen did a brilliant job on the flowers, getting up at 7am the day before to buy in bulk from New Covent Garden market near Vauxhall in London. She spent hours arranging them, and the results were incredibly professional. The flowers were British 'cottage garden' style flowers in blue, white and yellow.
Decoration
Very little! Fairylights for night-time glow and bunting to add to the festival feel, plus flowers and commemorative tea towels on the tables.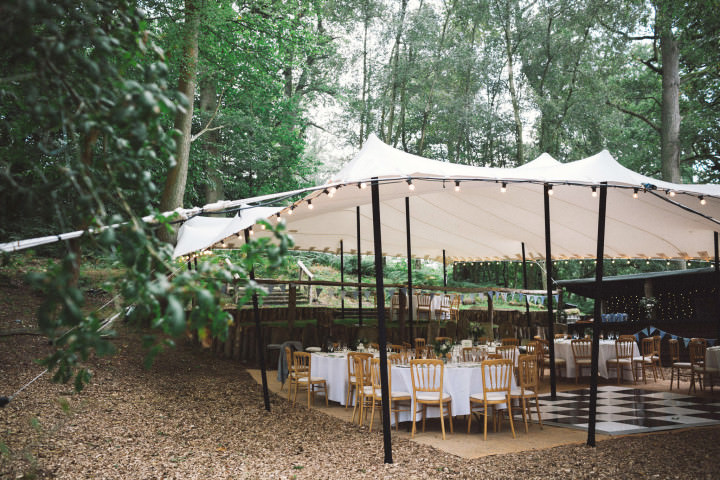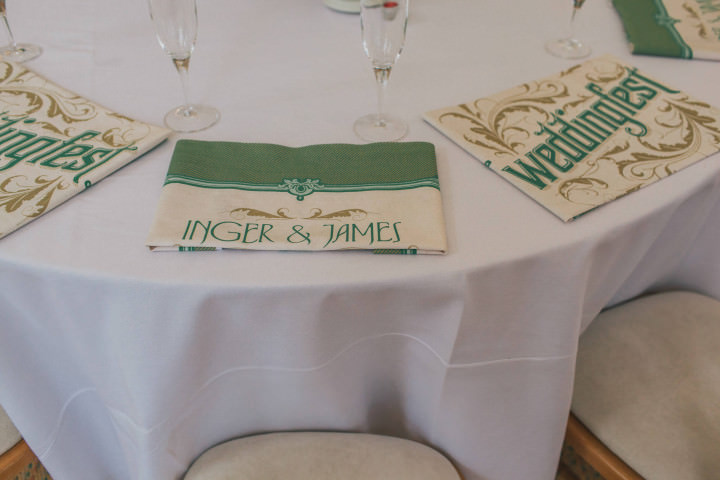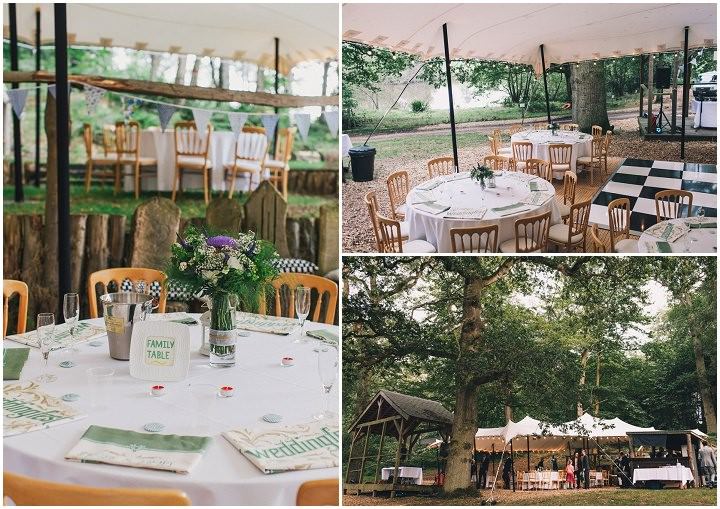 Food
Hog roast from The Big Roast Company with loads of salad and bread rolls. For pudding, we ordered brownies from Konditor & Cook, and added blueberries & raspberries, and cream from the local supermarket, and asked everyone to make their own pud!
Wedding Cake
No cake – we thought everyone would be happy with brownies!
Entertainment
Hedley, a groomsman, played a short set on his acoustic guitar. The various friends hit the decks. James took the headline spot as the main DJ.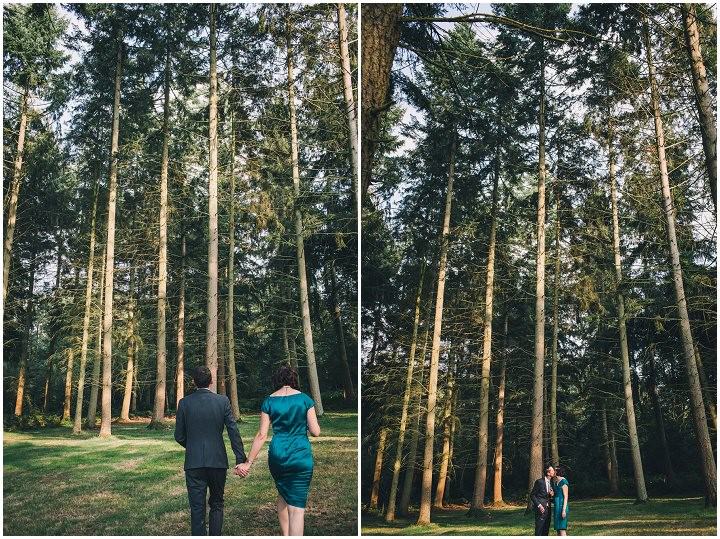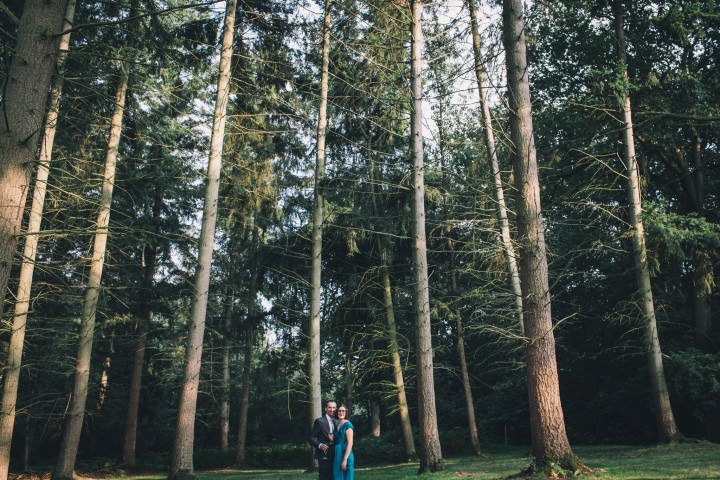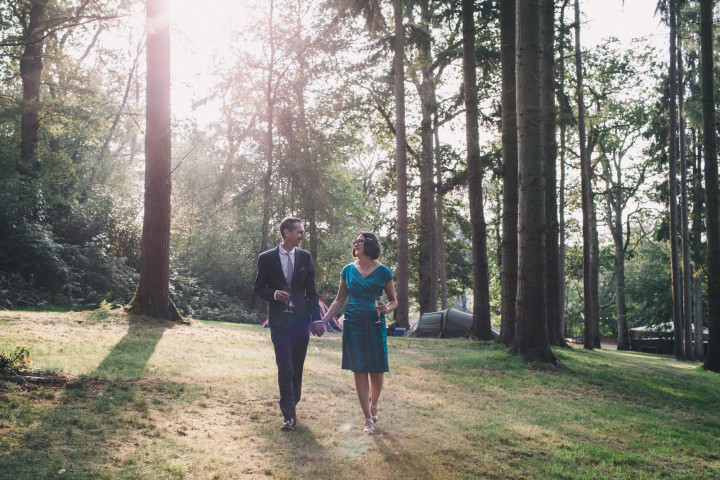 Buy or DIY your Stationery
A friend, Steve, is a graphic designer who's designed many music festival posters. He did a brilliant job on the invites. For the family table, a lady called Katy with a company called Oh, Squirrel! made hand-crafted fridge magnets to use as place settings.
Personal or Handmade Touches
The day before, and on the morning, we were running around assembling furniture, setting tables, pinning up bunting and even painting some last minute signs.
James hand painted the wooden signs, using reclaimed wood and tester paints from Homebase.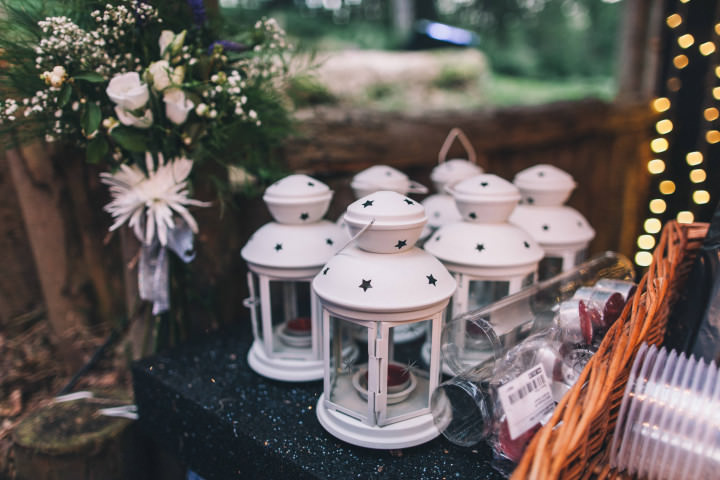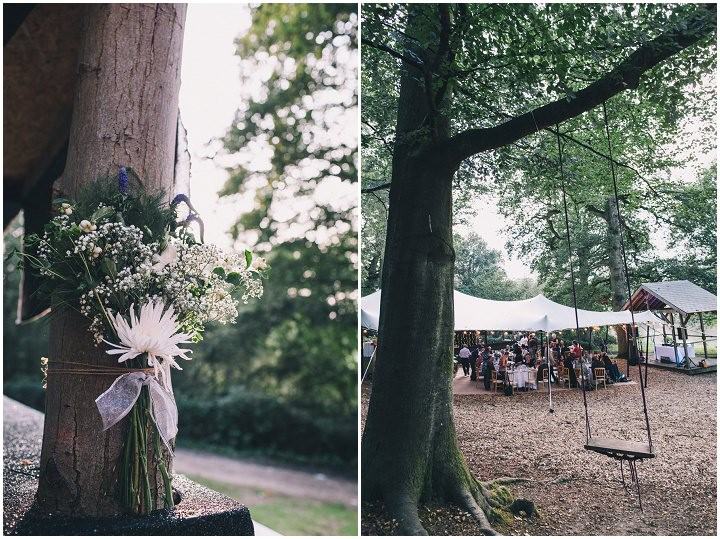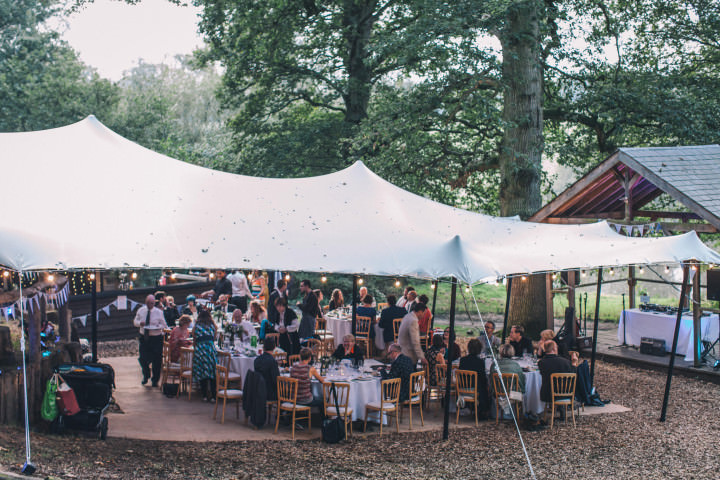 Special Moments
Actually walking down the aisle outside in the glorious sunshine with my husband to be waiting was fantastic.
Getting through the first dance without falling over was definitely a highlight and James loved being main DJ!
Having 10 minutes in the Victorian secret garden for our own photoshoot was lovely – it gave us some time together.
Biggest surprise
The weather! Gloomy at 10am, glorious sun by 3pm.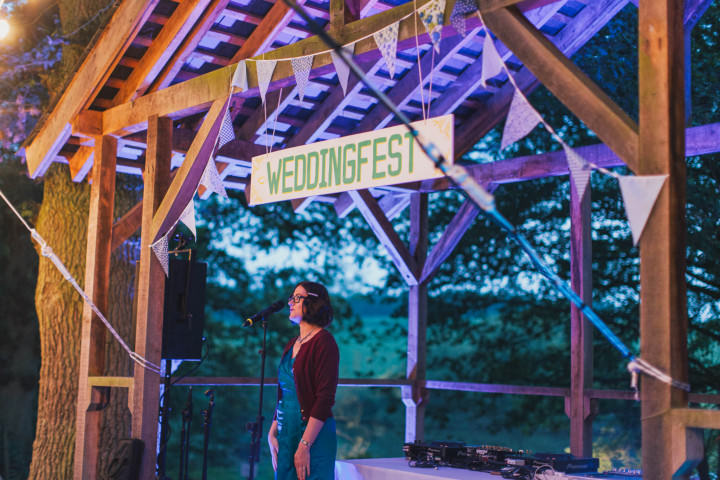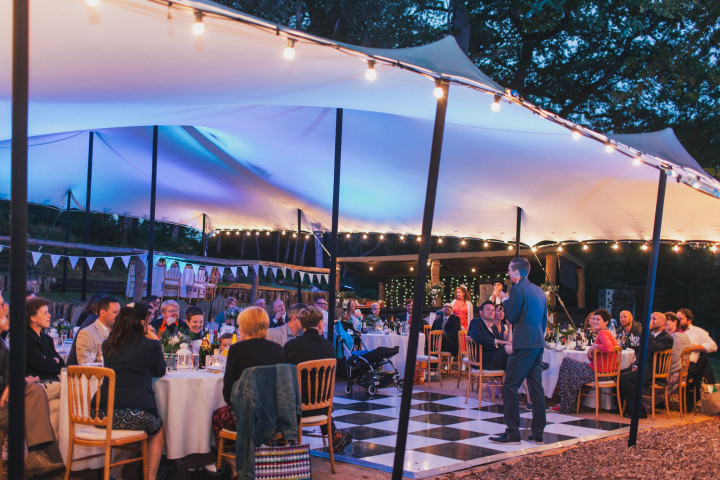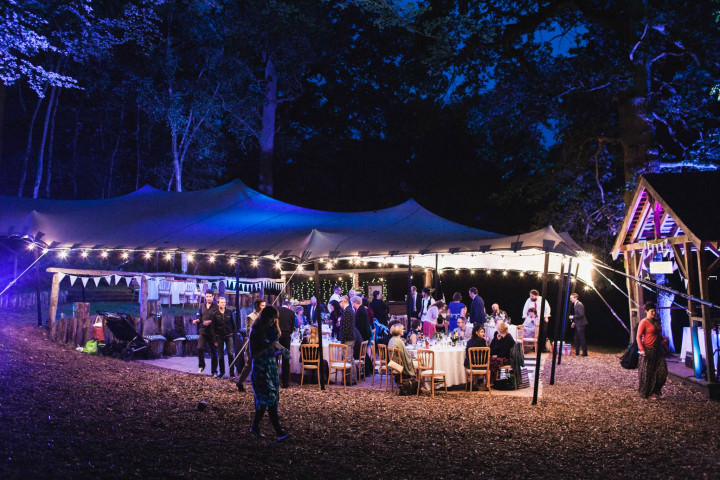 Advice to other couples
Put some contingency cash in the budget for the things you forget to list out initially… if you're better at planning than we were, then you'll have extra cash for the honeymoon!
Sit down together and agree your priorities early on… we wanted a relaxed festival wedding, which made it easy to save money by dropping things we weren't bothered about, like a wedding cake or expensive clothes.
If you're doing a DIY wedding, make a spreadsheet of everything you need to bring to the venue and another of all your suppliers, contact details and when they're expected to arrive. It is definitely a big help in avoiding last-minute panics.
If your wedding, like ours, is all outside, let people know. Our guests were prepared (and quite happy to deal with) evening chills and the prospect of rain.
On the day tips
If you're getting married later in the day (our ceremony was at 3pm) try and eat something filling for lunch – I cooked an emergency bacon sandwich! Then you won't be drunk on champagne and starving by 5pm.
If you're going to be walking on grass or dancing on a polished dancefloor, consider having 'back-up shoes' that you know you can dance on/walk in. My Jimmy Choos I wore for the ceremony looked fantastic but were a nightmare to walk down a country lane and dance in… luckily I'd hidden a spare pair of lower heels under the table!
Nervous about the first dance? Consider a Northern Soul track… you'll be done in 2.5 minutes!
Delegate wherever you can – it helps reduce stress and people often love to feel part of the day. My best friend was in charge of the fire pit, the groomsmen served champagne, a couple who love to dance got everyone on the dancefloor.
Supplier Shout Outs
For more information on Emma's work please go to:
www.emmalucyphotography.com
FACEBOOK
TWITTER