Today on Diary of a Boho Bride we welcome back Kate to the blog. With only 3 months to go things are getting to the business end of the wedding  planning. Last time Kate talked us through her DIY invitations that went down a treat with you all. Today it is all about the hen do and a bit of an update about her dress. Hen do's are very personal things and can vary enormously depending on the bride in question. Some brides to be love to party, while others like to take things easy. Kate's hen do sounds fabulous, spread over a weekend, she has manged to incorporate many activities into one weekend (including cake eating) which must have kept everyone happy. It sounds like they all had a wonderful weekend!
I'll pass the blog over to Kate…………
Hi there everyone, and happy Friday! I am a day away from the '3 months to go' mark and that makes me feel about 80% excited and 20% panicking! It feels like there's so much to do, and yet most of the big things are sorted – it's the little DIY bits, which I really want to do, that are still hanging on in there on my rather large 'to do' list! However, as Alison said in her post last week, some things have to go on the 'would like to do if I have time' list, and it really won't matter if they don't get done at all! That's what I have to keep reminding myself!
Aside from all that though, this blog post is mainly going to be about my Hen Do. Yep, it was 2 weeks ago now (which some might say was a bit early, but I'm glad there is a good amount of space between the hen do and the wedding – gives more time to focus on both!). It was ace. My chief bridesmaid pulled a blinder with her 'gifts' for everyone, and the company we hired in were brilliant. I will tell all below…
The Dress
First though, a quick update on my dress. Well, I say update, but I don't think I've mentioned it that much before. I'd originally bought a second-hand dress, which is utterly stunning. But the more I tried it on, the more I realised that, even though it is beautiful, I didn't feel beautiful in it, and nothing I could do to persuade myself otherwise was putting my mind at rest. After many sleepless nights, and agonising conversations with myself, I finally mentioned it to my Mum and we decided to go and try some more dresses on in the hope that I would then realise how much I did actually like the one I had!
But, of course, it went the other way, and I found the dress which made me feel like a million dollars. We both agreed that if there is ever a time when you should feel like you look beautiful, then it is your wedding day, and so with a spring in my step (and a second-hand dress to sell on again!), I left the bridal shop knowing that I had made the right decision.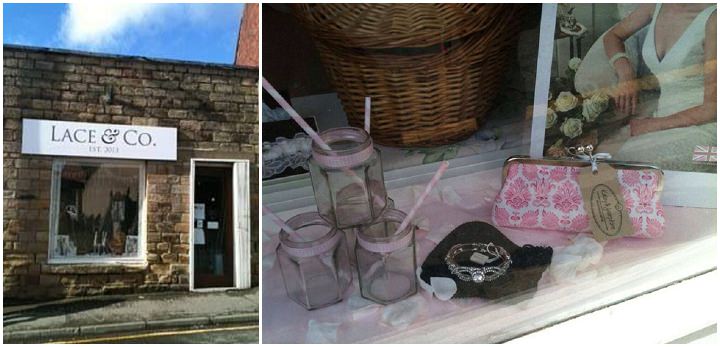 I feel I should also mention the bridal shop that I went to, as it was, beyond doubt, the best experience of bridal dress shopping that I have had. Lace & Co. in Horbury near Wakefield is the cutest boutique you could find. Heidi the owner opened the shop last November after years researching the industry and she definitely knows her stuff and has an eye for it! She was so welcoming and friendly, and instantly made us feel at ease. She sells House of Mooshki and Charlotte Balbier gowns… yum yum…
Lace & Co. is also now our first bridal supplier for Katey & Josephine's new lace bridal/bridesmaids bags  Yay!
And so to the Hen Do.
It seemed like my hen do was doomed a few months ago, for a few reasons! Firstly, we had not realised that the weekend we chose was when the clocks changed, which meant we lost a whole hour!! Such bad planning. It was also Mother's Day on the Sunday (although, for many of us who are mums, the lie in was what every mother wants!), and also six people pulled out after paying the deposit!
Myself and my chief bridesmaid Jo, spent many nights trying to salvage what appeared to be a nightmare of a situation – after paying £600 deposit for the hire of a barn for 18 people, we now only had 13 people, who would have to foot the bill for those that dropped out! Anyway, we begged on bended knees to get a discount off the barn price, and we managed to get one, meaning we could still just about afford to stay there, and continue with the activities as planned! Phew!
So what was the plan? We hired an amazing barn in the Peak District (www.peakdistrictholidaybarn.co.uk) for two nights (and the barn has little windows where birds nest, keeping an eye on all the goings on!). We also arranged for An Era of Experience  to come on the Saturday afternoon – They are a group of businesses who come together to provide three activities – a head-dress-making workshop (think 1920s flapper-style), afternoon tea with sandwiches and to-die-for cakes on the most exquisite china, and then a vintage-style make-over session on said hen, with make-up available for everyone to try.
I think the photos will probably say it all, but it was brilliant! Jo and I were like kids in a sweet shop when all the beautiful brooches, lace, buttons, feathers and pearls were put out, and two hours making the head-dresses just flew by. I could've done that all day! But of course, we had afternoon tea to consume! Delicious…
Then came the transformation of me. And it really was a huge transformation – I was barely recognisable after my hair and make-up had been done!
After that, we donned on our glad-rags, 1920s style, and started the evening off with a spot of Blackjack courtesy of my sister-in-law-in-law (husband to be's brother's missus!) who used to work as a croupier. I would've lost a fortune but luckily it wasn't for hard-earned cash, it was just for fun!
The whole weekend was so enjoyable and relaxing. The weather was kind to us, so we went for a beautiful walk on the Saturday morning, and our homemade pizzas were perfect for our first night there. But my resounding memory of the weekend is of THE most amazing gifts that Jo made for everyone – Andy masks! Genius. I was crying with laughter when everyone opened them, especially because I know how 'talented' Andy is at pulling daft faces – 13 different faces? Easy.  I didn't get a mask though – I got a cushion with Andy's face on! Thought I was getting away from him for the weekend, and then there's 13 Andys in front of me!! At least it meant I didn't miss him too much!
They were put to very good use in a video of 10 of us, wearing the masks, dancing to the Birdy Song – am thinking of putting it on YouTube but I'm not sure if its just one of those 'you had to be there' moments, or whether it is truly hilarious!
Jo also bought slippers for everyone and put everyone's names on them in beads. I'm wearing them now, as I type! And she made everyone the cutest badges, out of 'hen' fabric, and stitched a crown onto the hen on my badge. Jo is a star. I really don't know where she found the time!
So all in all, it was just really nice to get away with all my best girly friends, and have the most perfect 'activity' for me! I so wish I could do it again (but obviously that would require divorce and another engagement so that's definitely not what I want!). A big thank you goes out to all my hens, and I would definitely recommend An Era of Experience for any hen do.
And so, with the sadness that my Hen Do is over, its time now to focus on the main event, the big shindig, the day of all days, the W word…  3 months and counting…
With big wedding love,
Kate xx