For those of you who are regular readers of the blog you will know all about the Older Wiser Married feature.  The idea of the feature is for couples who are married to share with you their wedding story and experiences and also the things they would do differently if they could go back and do it again. We also focus on the positives and the things they think really worked, what they have learnt and how their marriage has changed their reparations.
Last time we spoke to Nicola from Nicola Thompson Photography as she talked us though her wedding day and the highs and the lows. Today it is the turn of Kari Bellamy from Kari Bellamy Photography
Name –

Kari Bellamy


Name of Company –

Kari Bellamy Photography


Date of wedding –

29th December 2009


Location of wedding & venue –

 C

eremony: Wayfarers Chapel, California. Reception: La Opera, Long Beach California


Number of guests –

40


How long did it take to plan – 

Just under 10 months.  Plus we had the added layer of difficulty of being a destination wedding.  We did a lot of planning in just a week that we were visiting southern California.
My husband and I met while living in London.  His family is from Alberta, Canada, and mine is from the east coast of the United States. At the time we were living in Washington State (west coast U.S). So a lot of people all over the place!    We opted for a destination wedding as there was going to be travel involved no matter what.
My mother and I stumbled across the Wayfarers chapel when traveling in southern California when I was about 10 years old. It's this beautiful glass chapel, set in a small garden, on the cliffs of Southern California.  There's the amazing breeze blowing off the ocean, you can hear the waves crashing below, and Catalina island is in the distance.  I just remember it being this magical place that stuck with me, although it never occurred to me at the time that I would get married there.   When Paul and I discussed getting married in Southern California, it instantly sprang to mind, and I knew that no other place would match it.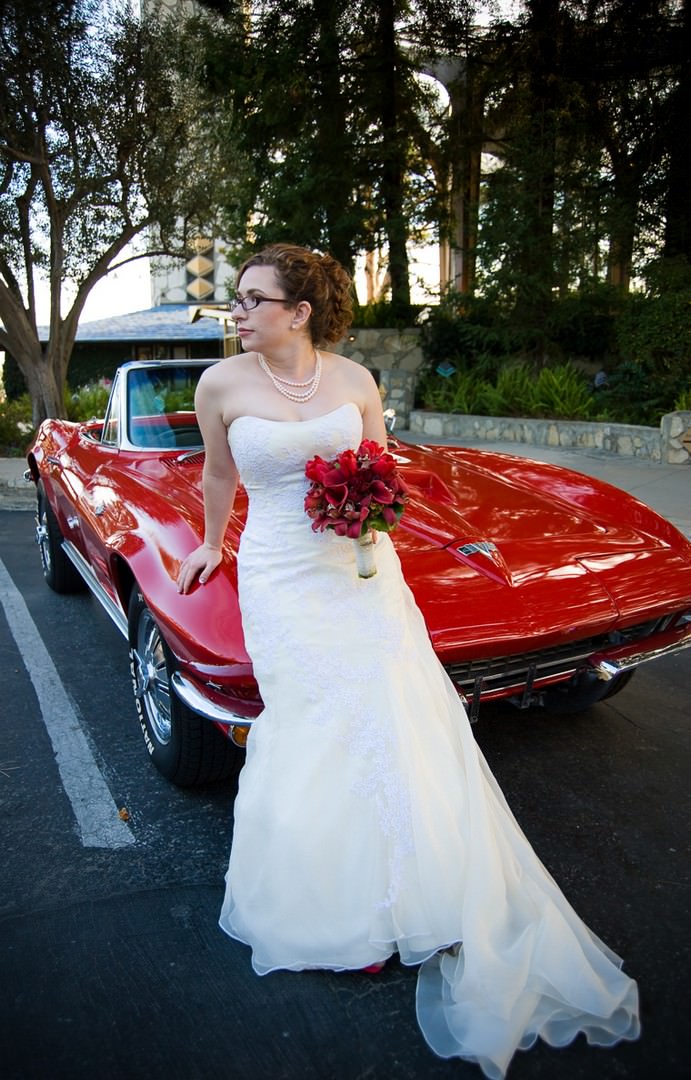 Best Decision
Buying wedding dress on line
Custom Graphic Design
The Florist
Wedding Breakfast
Wedding Dress
Buying a used wedding dress online: I was able to get the dress I really wanted for a fraction of the price.
Graphic Design
Spending money on custom graphic design: I had custom invitations, wedding program and a wedding guest book poster made.  I feel like it helped make the feel of our more wedding unique.
Florist
The Florist from Long Beach, California  was brilliant.  I just told her the colours of the wedding, and the general feel.  I also asked if i could have a pomegranate and an apple as our cake toppers, and then told her to do whatever she pleased!  She took the pomegranate and apple idea and just ran with it, using them as the foundations of our table centerpieces, and the on all layers of the cake. I was so surprised and excited by the whole thing.
Wedding Breakfast
Having our Wedding Breakfast at a nice Restaurant: Food was amazing. They even made us a Creme Brulee Cheesecake as our wedding cake.  We didn't need to worry about sourcing anything for dining.
What would you change?
Antique car
Destination wedding
Christmas wedding
Antique Car
We hired a self drive antique car for our wedding day.  While it looked amazing in pictures, it was so stressful to drive, especially in a place we weren't familiar with.  Instead, I wish we would've just hired a nice modern car and saved on the stress.
Destination Wedding
No matter where we would have been married, someone's family needed to travel.  However, I wish we didn't get married so far from all of our friends.  At the time, a lot of of friends were in university, so couldn't afford the travel expenditures to be apart of our day.
Having a wedding so close to Christmas
We liked the idea that all of our family would be already gathered around together to celebrate the holidays- however the extra layer of planning christmas with a wedding did add a bit of stress.
What would you spend more and what would you save on?
We had a "custom" tailored suit ordered for my husband from China- didn't really come out as nice as I would've hope.  I would've spent more on proper tailoring for him.
I wish we spent the extra money for a wedding band.  I've been to a lot of weddings since my own, and I've seen some amazing entertainment.
Better bridal shoes: Nothing sucks more than having sore feet!
The whole wedding ended up costing about $10,000 (£6,400) so I didn't spend money on things I really didn't need.
What you learnt from your wedding day?
Even if you normally deal with stress quite well, the wedding day can be a whole new experience.  It was amazing how just the littlest things put me on edge.  It's also really hard to sit back and enjoy the event when you have so much invested into making it all work.
Find wedding vendors you love and let them do their thing.  I'm so over the moon with my flowers, and had i been more in control of what the florist picked, i don't think i would have been nearly as happy or surprised by them.
While decorating the details of your wedding is a tremendous amount of fun, the things I remember most are the interactions with my family.
Etsy for weddings is the best place ever for unique wedding items
Do you think marriage has changed things in your relationship?
I just asked my husband this question, and he responded "well, I'm stuck with you now…" I don't think marriage has significantly changed our relationship, we're just as dorky together now as we were before.  It's nice to be able to call him my husband, "boyfriend" just wasn't the right word after awhile.
How your wedding business came about?
I've always really like weddings, but I never wanted to admit that as I secretly thought it must be my desire to plan my own wedding.  But as I was planning my own wedding, I accepted the fact, that I just really liked weddings.  Being a part of the wedding industry is so much fun, especially being a part of someone's wedding day.
www.karibellamy.com
www.karibellamy.com/blog
[email protected]
FACEBOOK
@karibellamy
Thanks so much to Kari for sharing her wedding story with us all! What do you think? are you married,  Do you think about what you would do differently? I'd love to hear your thoughts!
If you are a wedding supplier who would like to get involved in this new feature then please get in contact I'd love to hear from you. 

[email protected]
Supplier Shout Outs