For those of you who are regular readers of the blog you will know all about the Older Wiser Married feature.  The idea of the feature is for couples who are married to share with you their wedding story and experiences and also the things they would do differently if they could go back and do it again. We also focus on the positives and the things they think really worked, what they have learnt and how their marriage has changed their reparations.
Last time Kari Bellamy talked us through her wedding day and the highs and the lows. Today it is the turn of the GORGEOUS Amy Clutterbuck from Vintage Styler.
Name –

Amy Clutterbuck


Company name –

Vintage Styler


Date of wedding –

21st August 2010


Location of wedding and venue –

Barnston Church, Wirral followed by a marquee reception in my parent's back garden!


Number of guests Approx. 8

5 and an extra 25 ish at night


How long did it take to plan –

We met on the 21st August 2004, got engaged on 21st August 2008 and married on 21st August 2010 so exactly 2 years to plan!
My sister got married in 2005, and had their in a marquee in my parent's back garden. The day was so lovely that we decided to do the same with a few differences, and it's great that we can both say we were lucky enough to have had that personal touch to our weddings. I had visited loads of venues when I was travelling around the north west doing wedding hair and makeup, but none of them were close enough to home or meant anything to either of us. We both have pretty big families, my husband comes from a traditional, huge Irish family who wouldn't have let us get away without a good party! Which is why we ended up with a bigger wedding than we had originally thought! (Thanks to Millennium Marquees)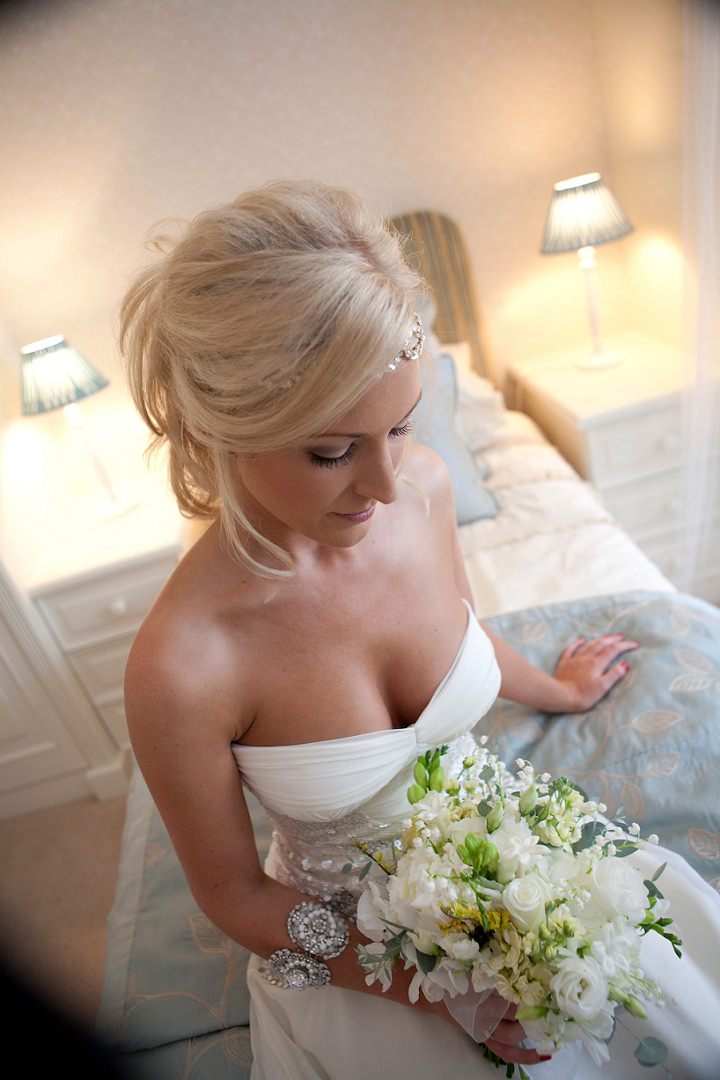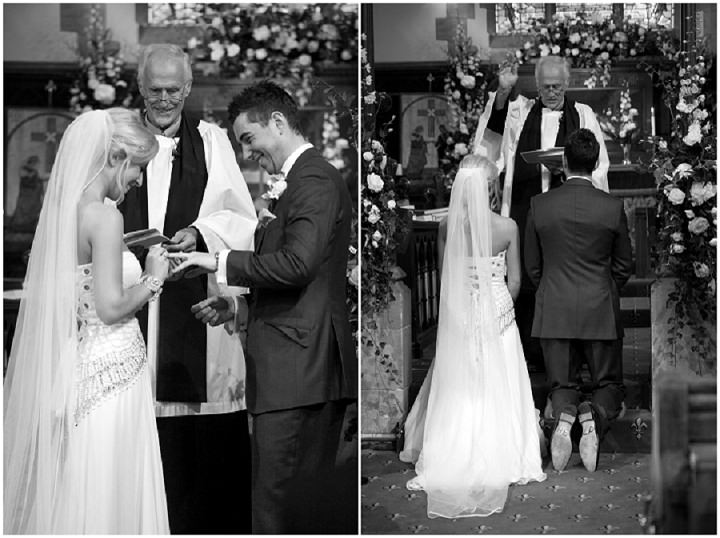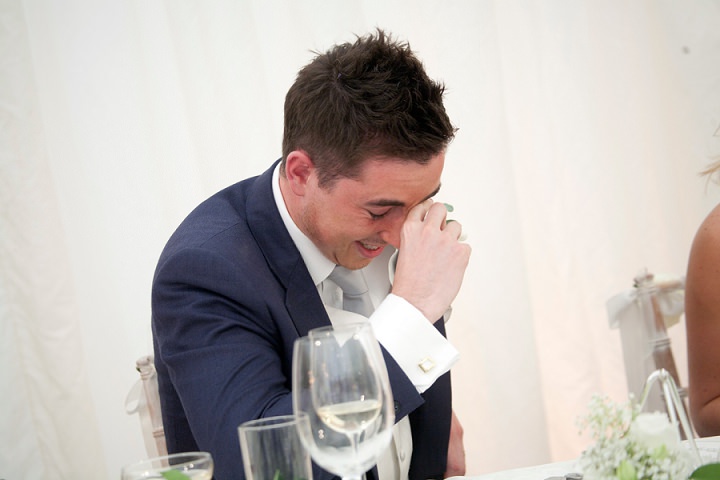 Best Decision
Videographer
Cake
An early wedding
The music
The Food
The favours
To have a veil
Speeches before the meal
Videographer
Our videographer  www.b2bproductions.co.uk was fab, I would 100% recommend having your wedding filmed. I searched for a none-cheesy videographer and he was it! We barely noticed he was there, and I can honestly say we watch our DVD SO much more than we get our album out
The Cake
I have a slight wedding cake obsession. Well, cake obsession in general! I came across the amazing Peggy Porschen at a wedding show. I had originally put her out of my mind as she was based in London and I didn't want to make a 3 hour trip the day before to pick it up….but after a bit of thinking (and begging) my godfather who lives in Kent was kind enough to meet the cake ladies on the motorway and drive the cake up for us! It was beautiful, and I genuinely think I spent more time picking that than my dress.
Having an early wedding.
We got married at 12pm and it gave us so much more time to speak to everybody and enjoy it. Yes, it may have been a rush getting ready but I wouldn't have changed that at all
The music
We had a string quartet in church who played various theme tunes from some of our favourite films like Jurassic Park (!) and Charlie and the Chocolate Factory, as well as some of our songs including Oasis and the Beatles while we were signing the register. It was hilarious to see people's reactions on the DVD afterwards and made an otherwise slightly boring part of the service fun while the guests tried to guess what would be next!
The food.
We picked our favourite childhood dishes (but slightly more updated!) which went down really well, especially the slow cooked beef and colcannon mash for the Irish side. Thanks to The fine dining company.
The favours.
We didn't give favours, I know you should thank your guests but I have too often seen them left on the table or on the floor. Instead we donated the money to the relevant charities of family members who should have been at the wedding but sadly had passed away between us getting engaged and the wedding itself. It meant a lot more to people than something that would have easily been forgotten about
To have a veil.
I was pretty sure I didn't want one, but I changed my mind as it was a church wedding and just felt as though I should. Looking back on the pics I love it and wish I had kept it in for longer!
Early speeches
On behalf of my husband, doing the speeches before the meal. It meant my dad, the best man, and Danny could enjoy their meal and relax with a glass of wine instead of worrying.
What would you change
Photographer
Shoes
The amount of guests
Bridesmaid dresses
Children
Photographer
I would have shopped around for my photographer. While I do love my pictures, for the price I felt a bit restricted as I was only allowed to choose a certain amount for the album and the same ones on the disc, I wish we could have had all of them! We also spent a lot of time having our picture taken instead of mingling, and I had thought that there would be less formal posed shots.
My shoes
I never get sore feet as I wear heels all the time but I chose a pair of gorgeous shoes which unfortunately didn't have a platform so I felt every lump, bump and bit of broken glass on the dancefloor! I ended up throwing the bottom of my dress over my arm and dancing in my bare feet, even though I ended up covered in spilt cosmo's and beer!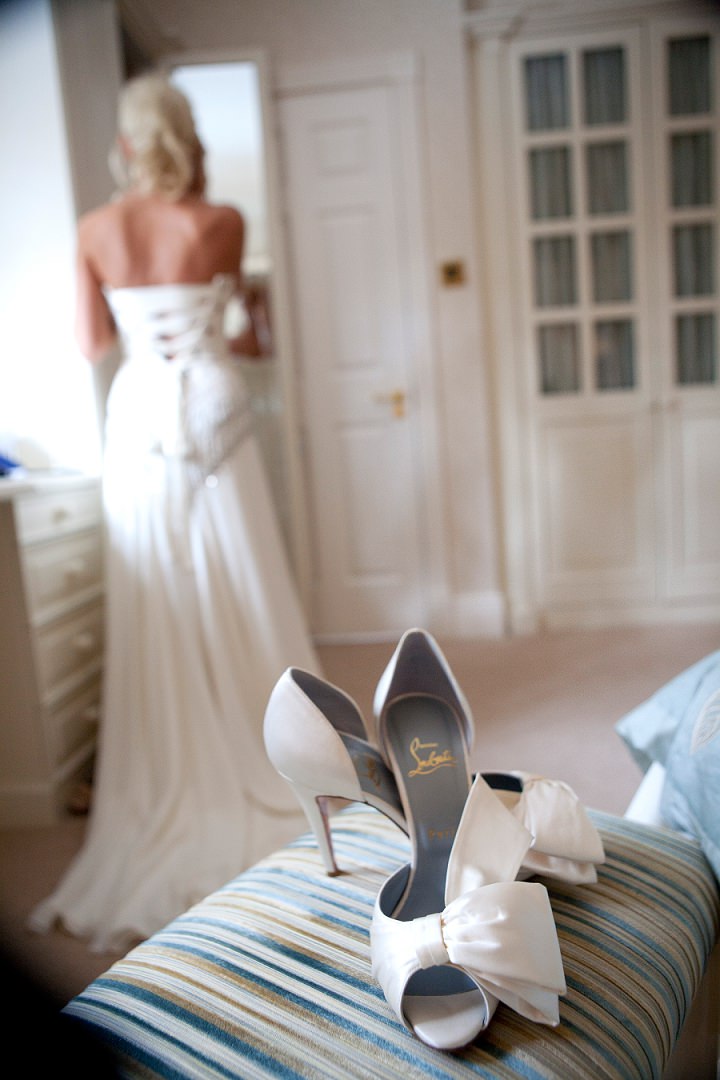 The amount of people we invited
We had everybody there that could have made it, but we also had a lot of people who we since haven't seen. It was just part and parcel of having a fairly big wedding I think
The bridesmaid dresses
I was after 2 different styles for my sister and my friend, and I wanted a grey colour which I searched and searched for but in the end gave up! I went for some lovely navy blue knee length dresses which were gorgeous but they just weren't 100% right on either of the girls in terms of their own personal style
Children
A slightly controversial topic I know, but we chose not to have children at the wedding other than nieces and nephews. We had to do so because there would have been about 30 kids altogether and we would have needed to add another small marquee somewhere to fit them all in. The only reason I've put it in the things I would change is due to the arguments it caused. It's a tough one, some guests agreed and some didn't, but you can never please everyone.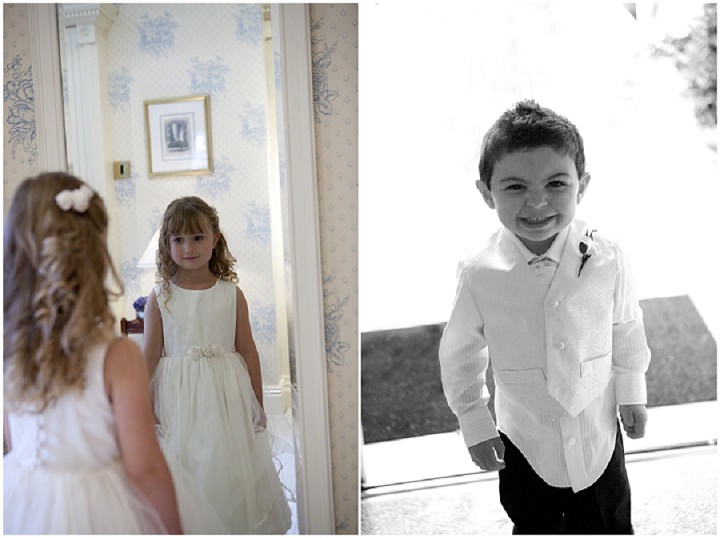 What would you spend more on and what would you save on
I maybe could have saved a bit on the dress. I loved it, it was just what I was after and it was so comfy which was the main thing I looked for when I was trying them on. It's just heartbreaking to spend such a lot of money to see it now just hung up…and I can't bring myself to sell it!
What you learnt from your wedding day
I think the main thing I've learned is not to get too stressed out. Some of the little details don't really matter, like the colour of the icing on the cake or the size of the centrepieces…It's loads of fun to plan a good old party and spend hours looking at flowers and lovely things so I wouldn't say it's not important to enjoy it, but getting married is the most important part of a wedding so I tried to keep that in mind when I had a meltdown about something that in the long run I knew wouldn't really matter. Although I would be fibbing if I said that helped save me from the panic of walking down the aisle and speaking in front of all the guests, I was a bag of nerves!
Do you think marriage has change things in your relationship?
I don't think anything has changed, and I didn't expect or want it to. I had heard that it can be a bit of an anti-climax after the day and the planning is over. While it did feel strange after everything settled down, I also felt it was a bit of a weight off my mind and all the nerves disappeared too which was great! I do feel we have grown up a little bit as a couple, and we tend to talk things over a lot more, and there are less little bickers then there used to be! Overall, it's just a really nice feeling – that's the best way I can describe it!
How your wedding business came about?
I began as a bridal makeup artist and hair stylist before moving into hair accessories using the knowledge I had gained over my 8 years of experience. Vintage Styler aims to provide bridal styling advice along with each hair piece.
Vintage Styler is an online wedding accessories boutique specialising in vintage inspired and original vintage hair pieces, jewellery, bags, belts, birdcage veils and lots of other lovely things!
www.vintagestyler.co.uk
[email protected]
@VSBridal
FACEBOOK
Thanks so much to Amy for sharing her wedding story with us all! I'm sure you will agree that Amy looks absolutely STUNNING!! What do you think? are you married,  Do you think about what you would do differently? I'd love to hear your thoughts!
If you are a wedding supplier who would like to get involved in this new feature then please get in contact I'd love to hear from you. 

[email protected]
Photo credit:  Andrew John Photography