Sorry for yesterdays lack of real weddings, I haven't been very well over the last few days so my blogging scedual is a bit hit and miss at the moment. However I went to the doctors yesterday and found out I have Labyrinthitis, which basically is an ear infection which leads to lack of balance. It has left me feeling kinda sea sick mixed with a drunk spinny head feeling, but not in a good drunk way! Anyway I have tables now so I am making a good recovery.
So today while I get myself better there is only one blog post, but it is in the form of this beautiful wedding by the lovely ladies at Cotton Candy Weddings 
It's the  wedding of Ami and Adam who were married on 15th April at Crondon Park, Stock, Essex. They had 70 guests in the daytime and around 110 in total for the evening. I just love what Philippa & Gemma have done with this wedding, they have captured it perfectly in their own beautiful style, while adding in a few more experimental processing techniques.
Ami and Adam describe their day as 'From the outset, when planning our wedding we always said that the most exciting and important thing to us was to have all our favourite people in the world altogether in one room, celebrating with us. Turned out that really was the best bit… All the rest was just decoration!'
How they met
Adam and I have been together for 10 years, we met before either of us went to university, luckily we both decided on a university either side of London so it worked!
The proposal
We both work in London, and one Friday night after work we had planned to meet up with friends for dinner and drinks (or so I thought). When I arrived Adam told me that our friends had cancelled but he'd managed to get us some last minute tickets to see Les Miserables instead, I was thrilled as I'd wanted to see it for ages. After the show we were walking back to the tube station through Leicester square and it started raining, I was chatting about work or something equally boring, and he cut me off mid-sentence to pop the question! In the rain. I cried so hard (which was weird because I'm not usually a big crier, little did I know this was a sign of things to come, and my tears were a regular occurrence in the run up to and pretty much most of the wedding day!) So anyway, here we were, standing in the rain, people staring, with me resembling a soggy Alice Cooper, I just about managed to hold it together enough to say yes and then ask if we could go for a big drink… The rest is history!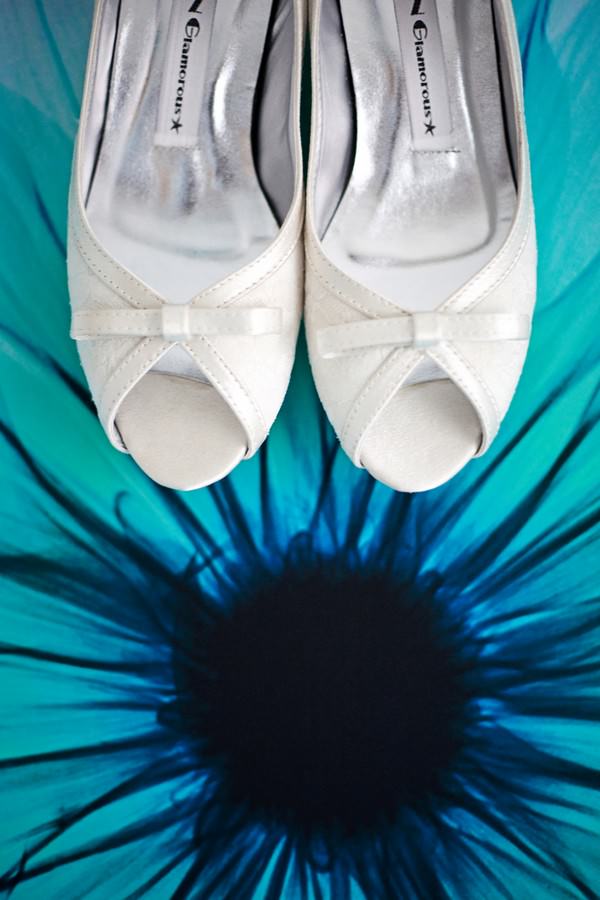 Planning the wedding
We had 9 months to plan the wedding, which felt like a good chunk of time – I did end up taking a couple of months off from all the wed-min in the middle as I thought we had ages, but time has a way of creeping up on you so it did end up being slightly hectic towards the end. Big tip to all the Brides-to-be out there, take at least a week off before the wedding day itself, I originally hadn't planned on taking any time off before the wedding, so glad I changed my mind as that week off was my saving grace! Looking back, I loved every minute of the planning and was sad when I no longer had to think about table plans, name places, favours, decorations, flip flop baskets & and stationary.
Venue
As soon as we walked into Crondon Park Barn we knew it was the place for us. It's close to both our families and where we live and easy to reach for people that were travelling from further afield. It had everything we wanted and more, surrounded by beautiful English countryside, great service (special thanks to all the wedding team there, they did a great job of diffusing my panicky wedding nightmares by emailing constantly with reassuring messages and brilliant ideas), lovely ceremony room, and most of all the beautiful barn itself, I could imagine us being married there, surrounded by all our friends and family.
The photography
The photographer was one of the most important decisions for us. The photos are the one thing that totally captures the essence of the day and that you will look at for years to come. Enter Gemma & Philippa from Cotton Candy Weddings… To start with they take the most amazing pictures, but not only that they are two of the loveliest girls I have had the pleasure to meet! They felt like I had another two of my friends there on the day, and made Adam (who is slightly camera shy) & I feel so comfortable and at ease.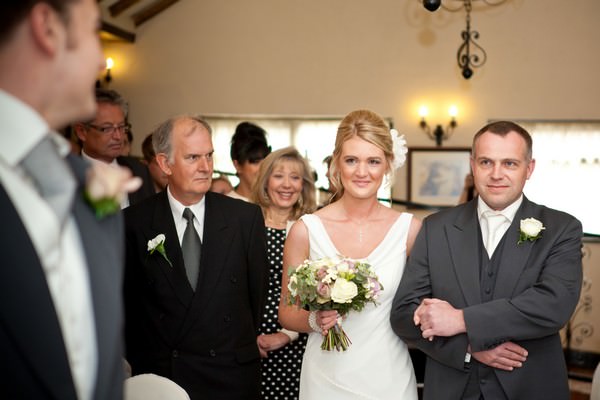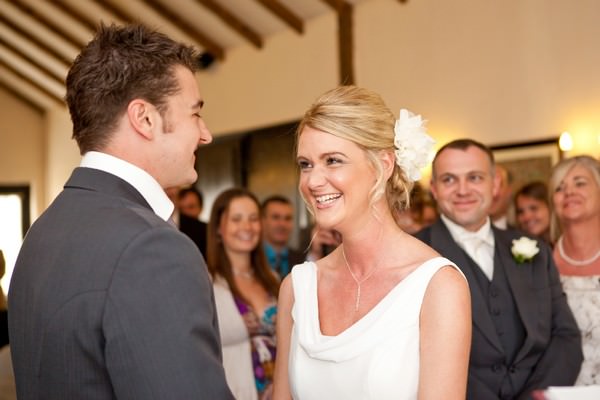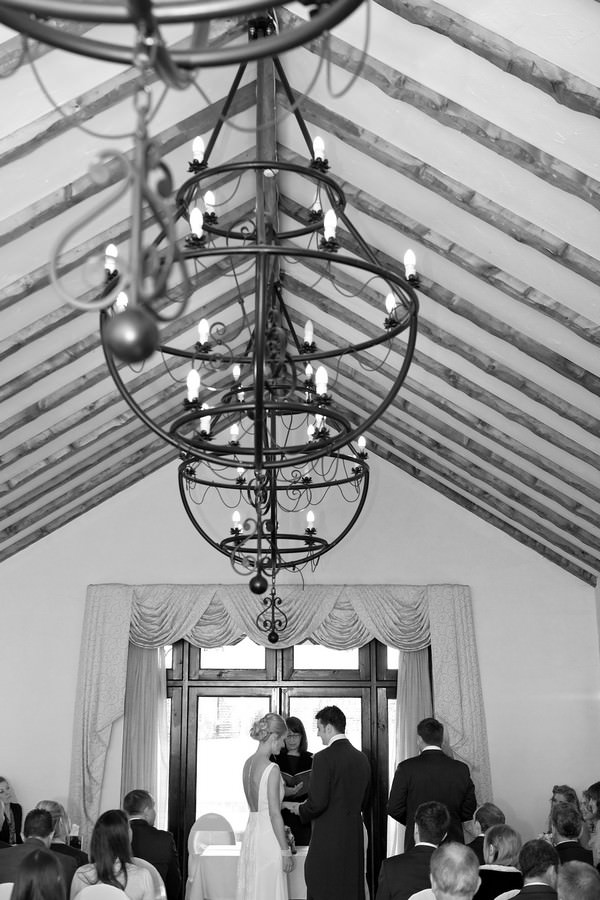 The Dress
My dress was by Peter at Heart Brides a team of lovely people who design, make and sell individual wedding dresses in the local area to where I live. I know a lot of brides who say they surprised themselves when choosing a wedding dress by going for something completely different to what they imagined they would choose, but I actually ended up with a dress almost exactly as I imagined. It was the very first dress I tried on and fell in love with it completely. My earrings were a gift from my lovely hubby to be the Christmas before the wedding. The stunning pearl cuff was my something borrowed from my gorgeous Maid of Honour and it was also my something old as they started their life as her Nan's pearl necklace. The back-necklace was something that I made myself as I couldn't find what I wanted anywhere!
The suit and bridesmaids
The gorgeous bridesmaids….Their dresses were from House of Fraser and again, they were the first dresses they tried on (see a theme here?). I knew a pastel shade would fit in with the style of the day, but which colour specifically I didn't know, so that gave us a lot of free reign when it came to choosing their dresses. Luckily the high street did us proud and we found these gorgeous little numbers! Their shoes were slightly more difficult to find as the shade of violet was proving difficult… Debenhams came up trumps though with three pairs in the sale that were perfect. I know my Maid of Honour still has sore feet even now from those shoes, but I think it was a small price to pay for looking so pretty Ha-ha!

Theme
We didn't have a colour theme as such for the day (I am not a matchy-matchy kind of girl at all) but we did have a relaxed kind of rustic/country garden type theme running throughout the decorations and tables.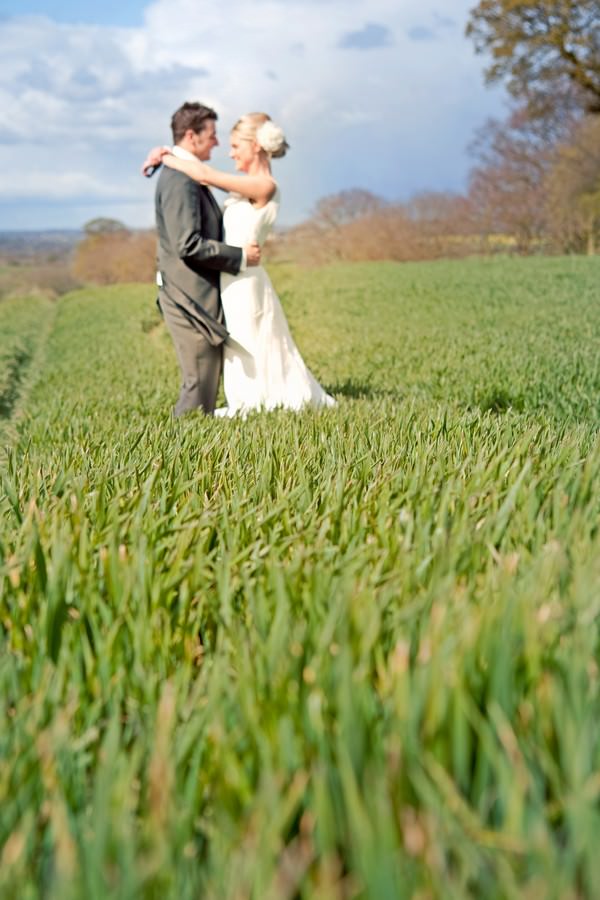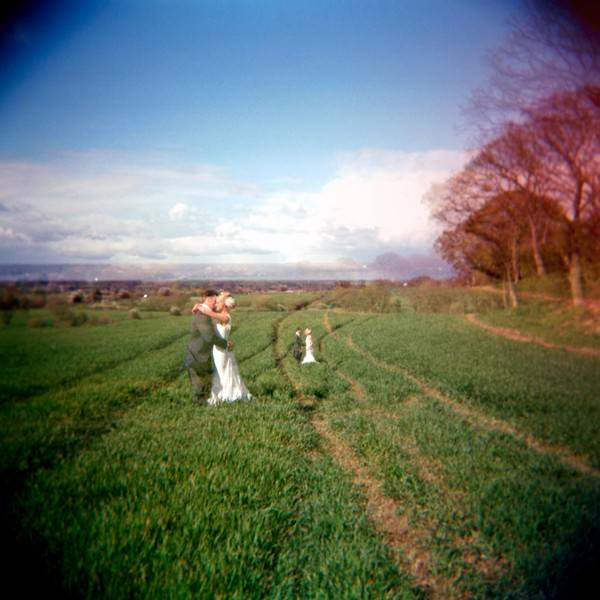 Food
The food was amazing. I was fearful that I wouldn't eat due to nerves on the day which turned out to be a pointless worry, because as soon as I saw the food I tucked in very happily! We had tomato and cheese filo tartlets to start, with chicken wrapped in parma ham for main, followed by strawberry shortbread tower.
Entertainment
We had a DJ in the evening from Make-it-a-hit wedding discos, they were great and kept everyone on the dancefloor for the whole night.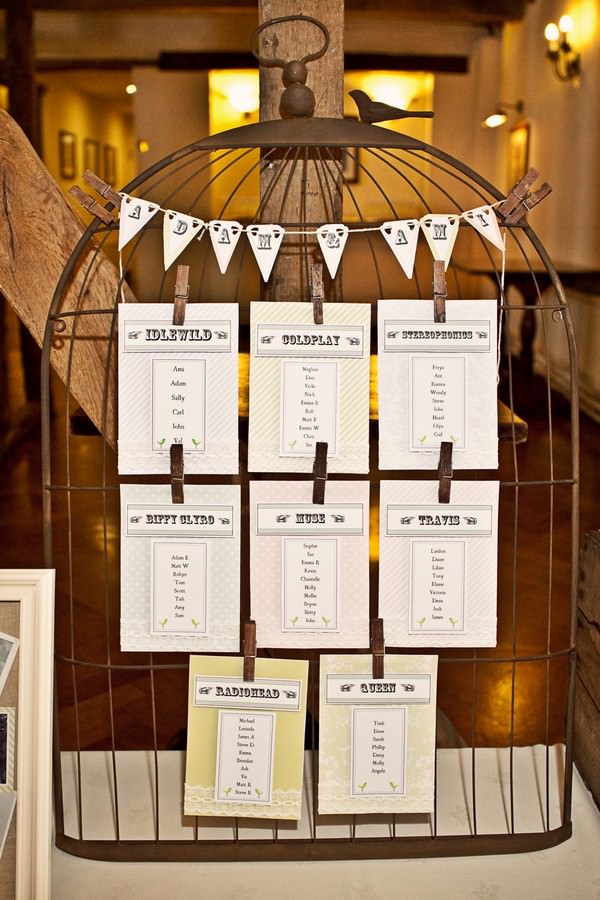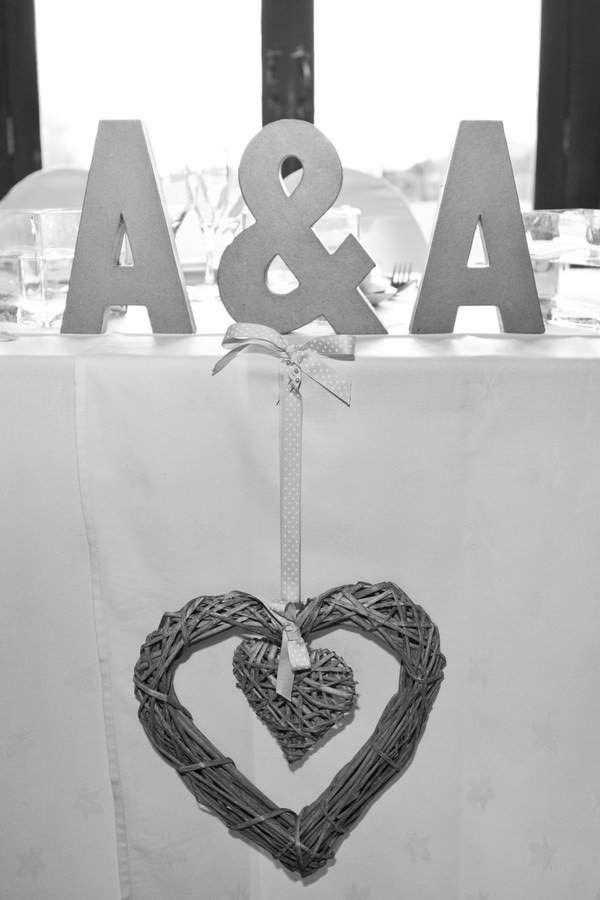 Flowers
Blue bee flowers in Stock were our florists and boy was I glad we chose them! The flowers were absolutely incredible, they were far better than I could ever have imagined. I had collected lots of glass jars and bottles throughout the planning, which I had covered with lace and ribbon, the ladies at Blue bee then filled them with the most gorgeous blooms of amnesia roses, daisies, white roses and lots of other flowers that looked like they had been picked from the garden. We had vintage birdcages filled again with gorgeous wild flowers. All of which tied in with our bouquets and the boy's buttonholes.
Personal touches
There were lots of DIY items featured throughout the whole of the wedding, I love being creative so spent many a happy hour holed up in our study or wandering the aisles in hobbycraft making and creating all sorts of pretty things for the day!
• I designed and made our invites as I already had a strong idea for the design that I knew I wouldn't be able to buy in the shops.
• The wrought iron birdcage table plan was bought from notonthehighstreet.com then the name cards themselves were made to tie in with the rest of the stationary.
• I also made the cake toppers of Adam and me, simply printed and cut out from card, a light-hearted little bit of fun!
• The A & A signs were a bargain from my favourite shop hobbycraft once again, the guests actually hijacked the letters later on in the evening, and we still haven't got them back…
• Instead of a guestbook we had a fingerprint tree which guests were asked to print their fingerprint on and sign, it now takes pride of place on our living room wall.
• For table confetti we found an online shop that sold cut outs from romance novels in lovely little heart shapes that had the rustic look we were aiming for.
• For favours we couldn't ignore the fact it was Easter time so we had mini-eggs in cute little laser cut boxes at each place setting. Who doesn't like mini-eggs!?
• For the evening we provided a basket of flip flops for the guests that would most likely have very sore feet, so they could continue dancing the whole night!
• Also as a bit of fun and something for our guests I had arranged some baby photos of Adam and me in frames.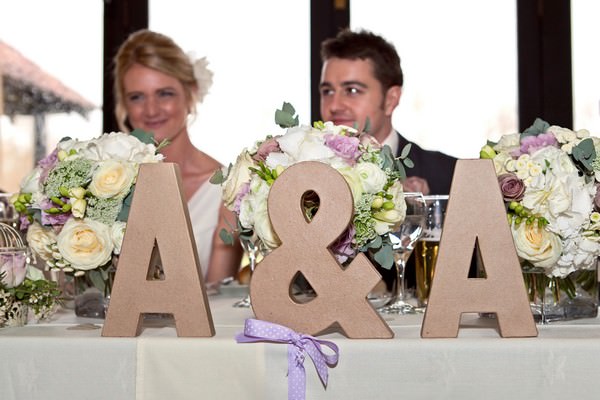 Special moments
The highlight for me was when I walked down the aisle with my Dad literally holding me upright, not being able to even sneek a look up as I knew I'd start crying my eyes out (again the crying thing!), I only looked up when I knew I was almost there, then catching sight of Adam, and sharing a look of 'phew – it's ok we're here together now, we can do this'. Another highlight was the time spent straight after the ceremony driving in our beetle with beers in hand, sitting in the back of the car letting it sink in that we were married.
Advice
Don't let the little things annoy you. We had a fire alarm go off at around 10pm in the middle of the evening, which at first really irritated me, as I didn't want to move from the dance floor (my inner Brizdezilla making an appearance) and was worried that it would spoil the party atmosphere. But I got over it and actually looking back it was a funny moment of the night and everyone made the best of it and continued the party out into the car park!
Biggest surprise
The biggest surprise for us was that the sun actually came out! The morning started off very gloomy with the threat of rain, then as soon as we were married the sun came out, it couldn't have been better timing. My biggest thrill of the day was first realising that we were actually married (eek!) then looking around and realising that all these people in this room are here because they love us and are happy for us, and seeing them have fun altogether was the best feeling in the world.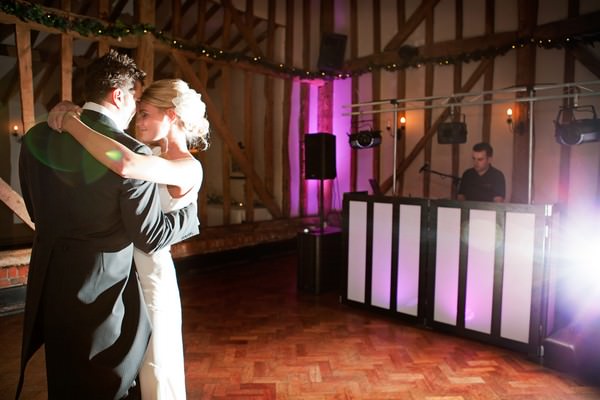 Supplier Shout Outs:
For more information about Cotton Candy Weddings go to:
Philippa & Gemma
www.cottoncandyweddings.co.uk
www.cottoncandyweddings.co.uk/blog
[email protected]
FACEBOOK
TWITTER
P: 07887 523 365
G: 07595 166 159
♥  You can see more Real Weddings featured on the Blog HERE  ♥