Welcome to another week! I'm hoping for a super productive one as I have a stack of jobs to get done at Boho HQ! To ease you not this Monday I have a gorgeous wedding from the even more gorgeous ladies at Cotton Candy Weddings. Philippa & Gemma are two of the nicest people I have met in the wedding industry and sooooo much fun! Having them along at your wedding would really be the icing on the cake!
The lovely couple getting married are Carrie and Olly who tied the knot on 17th September. They held their ceremony at The Square Tower, Old Portsmouth with 45 guests and the reception at hen Manor Barn in Chichester (a friend's barn) with around 100+ guests
They describe their day as 'An incredible, relaxed day, surrounded by all of our friends and family showering us with lots and lots of love. We want to do it all over again!'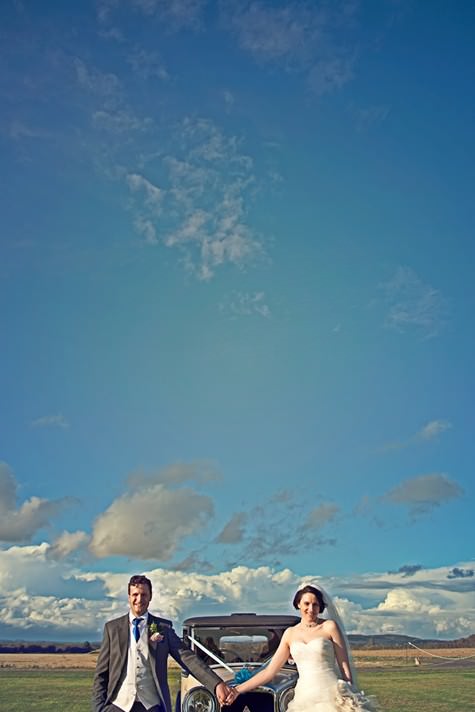 How they met
We met at Tower Bridge in March 2010. I worked as an event's organiser for Tower Bridge, and Olly is a chef who came to cater one of the weddings within the Bridge. I guess you would say we met at a wedding, even though we were organising it rather than attending it!
The proposal
Umm, there wasn't really one! We started dating in the July 2010, then moved in together that October. By January we were certain that we wanted to be together. That, and we had already found a wedding venue we loved on the seafront in Portsmouth! We booked the wedding and then bought the engagement ring!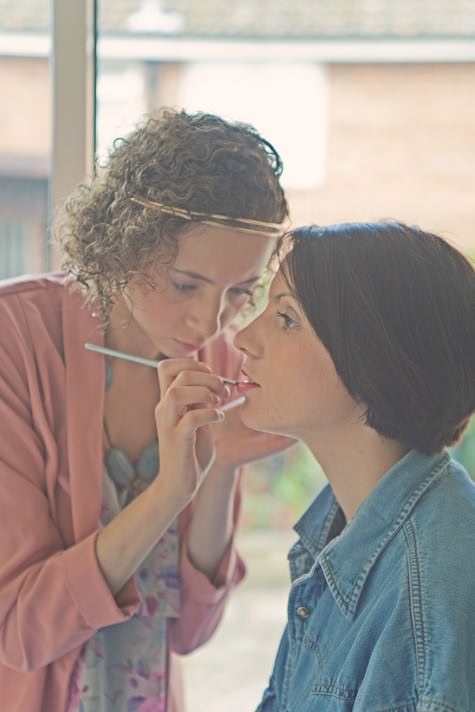 Planning the wedding
We booked the venue in the January and got married about nine months later – although when I went to get my wedding dress they told me I had left it far too late (8 months) and that I wouldn't get anything! Luckily they managed to have my gorgeous dress ready two weeks before the big day!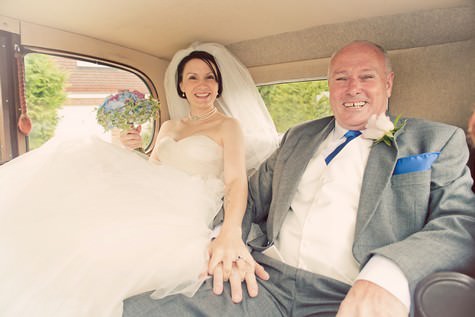 The venue
Although we met in London, we found out straight away that we grew up around 20 minutes from each other, me near Portsmouth and Olly near Chichester. We decided the wedding should be in Portsmouth and the reception in Chichester.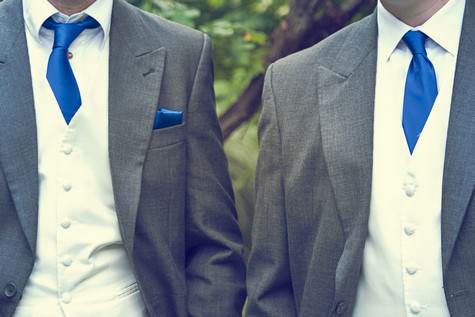 The Dress
My dress was an Ian Stuart design, the shoes were Beatrix Ong (they were so high I ended up in flip-flops for the reception!), and the pearl accessories were lent to me by friends and family.
The suit and bridesmaids
Bridesmaids from Monsoon bridal, and suits hired from Moss Bros.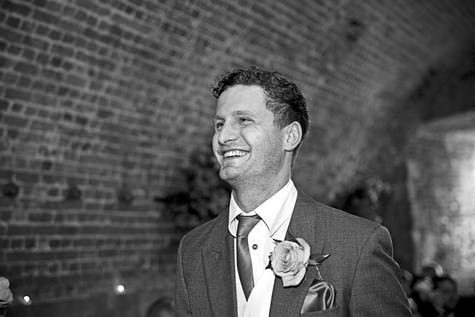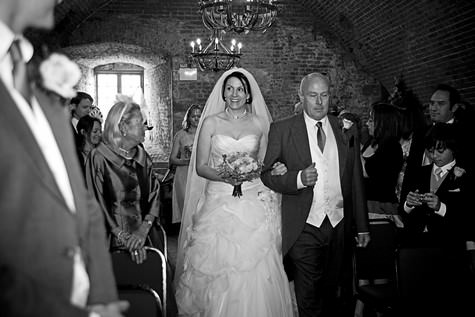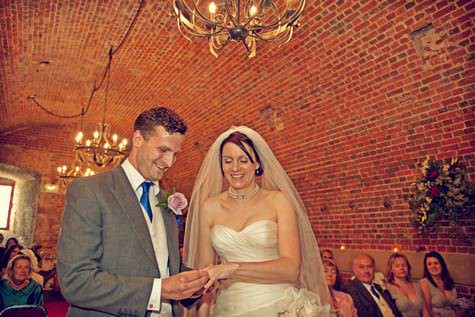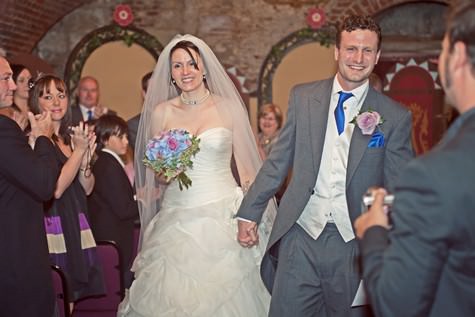 Theme
It sort of evolved as we found bits and bobs we liked. I had originally wanted the bridesmaids in jade green, but couldn't find anything at the time of year that was suitable, so when we found the Silver dresses the wedding became a little more vintage.
Flowers
The bouquets had blue hydrangeas, and two types of vintage roses, Amnesia and Memory Lane. The buttonholes were the same roses, and we scattered the blue hydrangeas in the birdcages we borrowed from The Globe Theatre in London. These were then hung from the ceiling throughout the barn.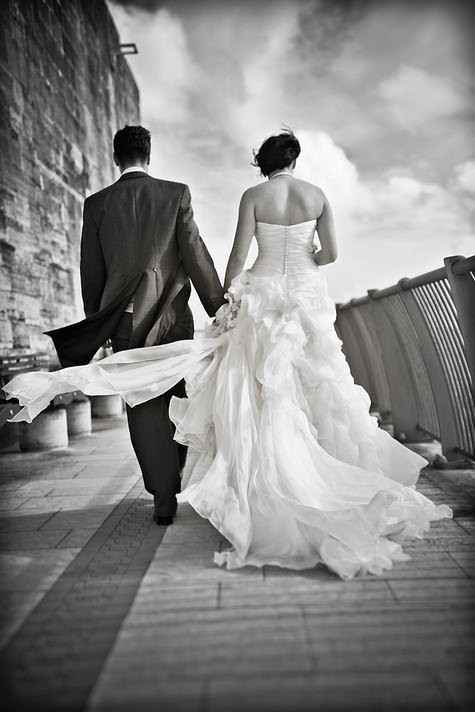 Food
We run a catering company, so we did the food ourselves. Lots of lovely canapés, followed by slightly larger bowl food and then a hog roast and BBQ in the evening. A bit of everything really, including a well-stocked free bar!
Entertainment
We had friends and family playing as many of them were in bands, and then stuck a massive playlist on the iPod for later in the evening.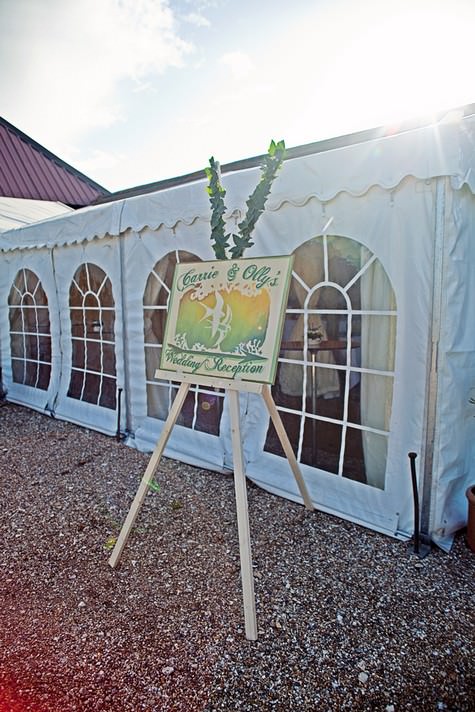 Decoration
We took all of the ivy from around Olly's parents back garden, and dressed the barn pillars with it. We hung around 15-20 different birdcages around the ceiling at different heights, filled with the hydrangeas and fairy lights. My aunt put together some lovely table centres that complemented the colour scheme, and had little silver bookmarks poked into them with birdcages, love hearts and our initials as wedding favours. We had a lovely designer Gemma who did the fabulous signs for us, and an oyster tray and cheese table at the back of the room for people to help themselves, again decorated with signs Gemma had made.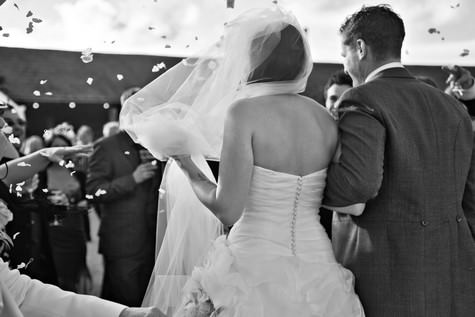 Personal touches
Our whole wedding was DIY! We particularly loved Gemma's design work, which carried through from the invitations all the way through to the day, and Cotton Candy (our photographers), were brilliant, very relaxed and quite happy to get on with their thing even though it was complete chaos! Our MC and Head Chef pulled out at the last minute so the day was a little bit shambolic, although I don't think anybody noticed as it was so relaxed. At least we're hoping they didn't notice!! We had fun anyway!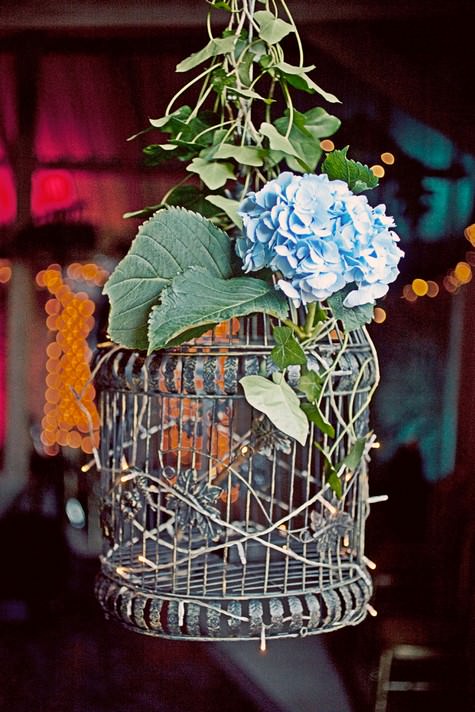 Special moments
Seeing each other for the first time on the day, and then the speeches – everyone did a brilliant job (even Olly who wrote his in the car between the wedding and the reception!). The photo booth that Cotton Candy put together for the end of the evening was hilarious, nobody could get enough of it. A brill idea by them, and it worked so well. Definitely a talking point!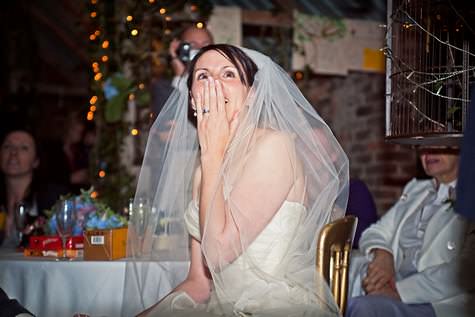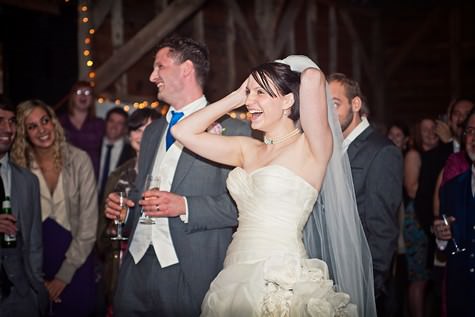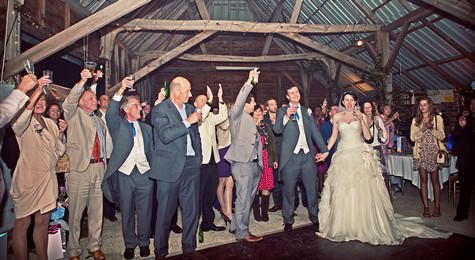 Advice
Rope in any and all of your friends to help out with little bits and bobs. We were really too busy to plan the finer points (such as timings for speeches – we forgot to cut the cake… I think the free bar didn't help), so I would say if nothing else, appoint somebody to run the day overall. Usually the caterers do this, but as we catered ourselves it was quite difficult to do.
Finally, when it gets to the big day, just relax, you've done everything you can, so just enjoy yourselves!
Biggest surprise
How quickly the whole thing went. We want to do it all again!
Supplier Shout Outs
By far the biggest thank you's go to Cotton Candy Photography, Phil and Gemma were fabulous – I recommended them to a friend for her November wedding and they were already booked up, so I'm so pleased they are doing so well!
Our other most favourite supplier was Gemma Jones, the lovely lady who designed all of our wedding bits and bobs (signs, invites etc). Her email is

[email protected]

and she is just starting out as a designer – we found her through a wedding we catered for two of our best friends. She's really friendly, keen to produce your vision and just lovely to work with!
The dress was from London Bride Couture in Pimlico
flowers were done by Luv Flowers in Botley (near Southampton).
For more information about Cotton Candy Weddings go to:
Philippa & Gemma
www.cottoncandyweddings.co.uk
www.cottoncandyweddings.co.uk/blog
[email protected]
FACEBOOK
TWITTER
P: 07887 523 365
G: 07595 166 159

[jprel]