Today I am taking you on a little trip across the water to beautiful Croatia for this stunning bohemian wedding from Viktor Pravdica Photography. This wedding is a prime example that you don't need loads of decorations and endless details to make a wedding perfect. What makes this wedding perfect is the couple themselves, their love and the amazing energy they give off for each other. Beautifully photographed this wedding reminds us all what weddings are all about…….Love!
'

It was a perfect sunny day with a lot of love

explosions and positive energy, spontaneous moments of people we love so much

'
Lara and Filip were married on 24th July 2015 at Church Saint Jacob from the 15th century in Opatija and the reception was held at Hotel Royal in Opatija, Croatia  'We wanted a simple but traditional wedding ceremony so we picked a little old church from the 15th century.  We had 64 guest in total. It really was a quick planned wedding with a lot of help from our friends and parents.  They made it look perfect, spontaneous and simple just how we imagined it to be.  
How they met
We met during one night out with our mutual friends…although he was spotting me a long time before and he organised the whole meeting. It happened on the 24th of July 2007 and because of that we chose that day to be our wedding day.
The Proposal
The proposal was not so glamorous but really special to us because it happened where we met on that day(24th of July) with our friends. It was in front of one ugly city fountain in Opatija. We were walking around that place and suddenly it happened. He asked and pulled the ring out of his pocket…I think he was waiting for the perfect sparkle…We were crying like babies a lot… I didn't expected it at all. I think he wasn't expecting it also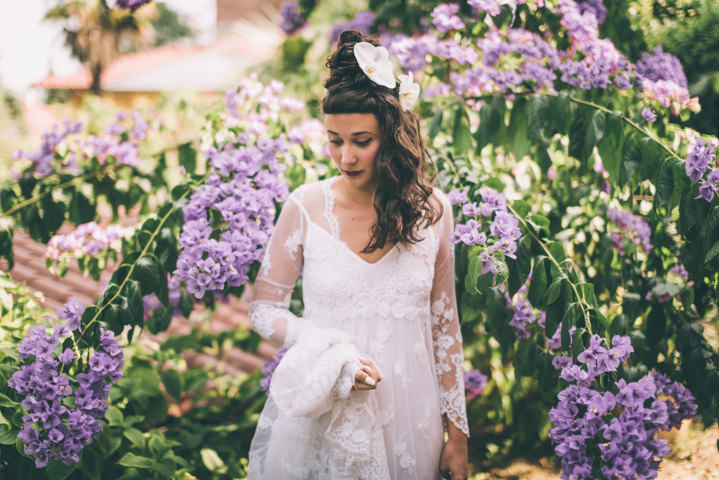 How did you allocate your budget
Thanks to our great Mother's they helped us a lot
How did you choose your photographer
We were looking for some spontaneous photos not taken on the common and expected places like some photographers usually do.When we saw Viktor Prvdica's beautiful melancholy, endless photos we said this is it. These photos were showing people emotions really amazingly good but like he was not there at all…Really great photographer
The Dress
I designed my wedding dress since I'm a textile and fashion designer. And at that time I was working in the National Theatre in Rijeka. I had a really big help with sewing my dress pizzicato thanks to my special ladies and costume makers in the Theatre workshops. The lace for my wedding dress is from Italy, Trieste, from one special traditional boutique Fratelli Sorgi.
When I was looking for shoes I was looking for something neutral yet effective and romantic to suite my dress. Like a touch I decided to put some real white orchids in my hair.
The Suit and Bridesmaids
Filip choose his pants really quickly in Hugo Boss Italy, shoes in Baldinini and his frak shirt more quickly in one no name store… My Mom, his mother in law bought him non sleeve jacket on Rhodes island, Greece. So nothing was really planed in our case, nor we searched for some particular things the only thing we searched for was that red bow tie with dots… Think we looked for some casual vintage look. But I think we were not searching for any theme or look, we were just picking things that we like. There was no "wedding dress code" so our friends decided to dress how they wanted and liked and I think because of that they felt so free spirited that day… and I liked it a lot, that's how I imagined it to be.
Theme or Colour Scheme
Everything that we choose was what we liked and not what we planned
Flowers
We had everything that my friend Masha choose cause I left that part to her. She is a decorator and botanic expert and because of that I really don't know which flowers we had. She made it perfect and every table had a different but similar decoration.
She made some beautiful paper decorations hanging from palm trees and inside from one artificial tree made of lamps…It was beautiful and simple, but nothing pretentious.
Food
It was really hot and I only begged for some Gelato although there was plenty of good traditional domestic mediterranean food and lot of fruit and cakes.
Wedding Cake
The cake was the best part. A chilly fruity fresh cake with orange, cheese, lemon and blueberry.
Entertainment
In front of the church we had a string quartet, really classy and beautiful. Later we had a DJ with some combination of modern and summer hits along with some vintage old songs and a little bit of Rammstein and Prodigy for my husband and his best man and friends
Personal or Handmade Touches
I illustrated our invitation cards…we looked like cartoon characters but not in the funny way. Now this invitation card is the cover for our photo-book. Later our photographer had an idea to use it like cover for our wedding book… I also illustrated some inside pages with motifs from animal and botanical garden world which he perfectly incorporated with our wedding photos
My future husband put some red stickers on the car saying Just Married with our nicknames and red hearts, but this was his and not my wish. But in the end the car looked great.
Advice to other couples
I would just say keep it simple but make it special for you two…Don't bother with details. With good spirited people and smiles on your faces everything perfectly accidentally matches in the end.
For more information on Viktor's work please go to:
www.viktorpravdica.com / [email protected] / +385(0)915706461 / FACEBOOK  / T:@viki2win  / I:viktorpravdica / PINTEREST
'For me photographs are not born in the common, expected places, I'm not the one to get excited by the "city attractions" or "beautiful flowers and greenery", photo-worthy images are to be found anywhere and everywhere…The same goes for wedding photography – I'm not going to place my clients in and around "beautiful" locations as if they were cardboard

cutouts

– it is all about how they feel and their emotions on that day, there and then…my photographs of their wedding serve as a sort of a diary for them… It is very important to me to create a friendly relationship with the newlyweds, as the easiest way to achieve desired results is in a relaxed atmosphere and with mutual cooperation. Based in Croatia but I'll go wherever you need me to'